In this article I will guide you through - how one (perhaps you) can define custom even based goals in Google Analytics reports - and I will give you a real example - how to track Outbound links to Amazon.
With this post I'm starting a new topic series in my blog - Web Analytics. I have already previously covered different topics related to web analytic you might find useful.
So, now let's go back on our topic subject - Setting Goals:
Goals are everything, right?
Before we are speaking of goals, be sure you have already registered for Google Analytics and your website visitor are counted. If you, just like me are a Drupal friend - here is a quick reference how to add Google Analytics to your Drupal website.
Please note - to use my suggested option for tracking outbound links - you should use Universal Google Analytics tracking code:
Universal Analytics introduces a set of features that change the way data is collected and organized in your Google Analytics account, so you can get a better understanding of how users interact with your online content.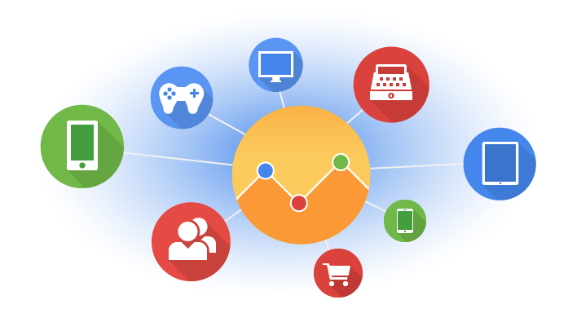 Some notes I will highlight in this article I have found on Paul Koks Online-Metrics blog (For a reference go and see what Paul has to say on Goal Values)
How to setup Goals on Google Analytics:
Log in to your Google Analytics account
Navigate to the admin page (you need to have the rights to "edit")
Select the "View" for which you like to add goal values
Click on "Goals"
Add the appropriate goal value
How to setup Event based goal on Google Analytics
Now, we are willing to setup an event based goal to track our Outbound link to Amazon site.
Give a name for your Goal and choose Event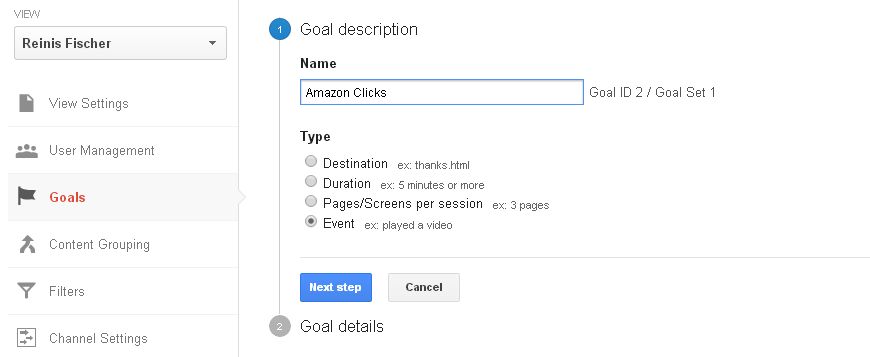 Setting Google Analytics Goals
First set Category to equal Outbound links, then Label - Regular expression - www.amazon.com (I found this combination effective)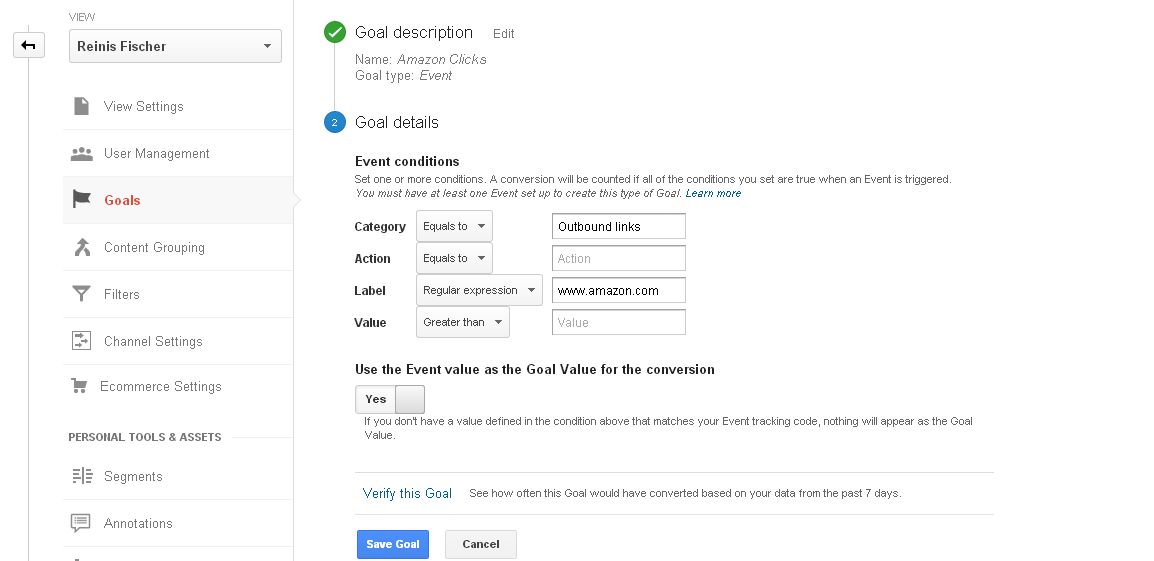 How to track Outbound links in Google Analytics
Google Analytics give's you a tool to Verify your Goal - you can use this tool, to verify - is your goals settings correct. Here is what I got by verifying my goal:

Verify Google Analytics Goal
One another option you could setup for such goal - Goal Value. But here you need to now average earnings you receive from a click to Amazon or any other affiliate site you are tracking)
By knowing my averages I will set my goal value to $1 (and later I can adjust it).
Here is the complete Goal: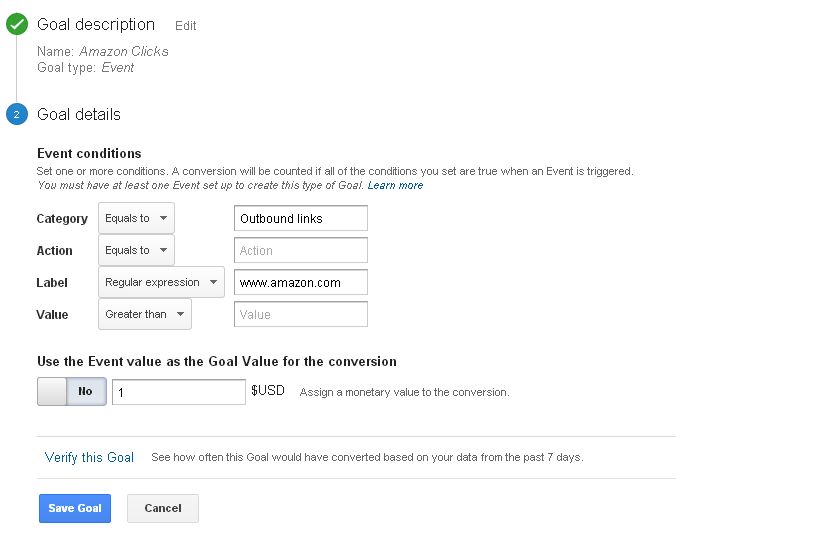 How To Setup Google Analytics Amazon Click Goal
By now we have setup our event based goal to track our Amazon affiliate links. Now we should see it in work.
Understanding Goal Value
Now, when we have our reports created, in our Google Analytics we should see something similar to this in our Google Analytics reports: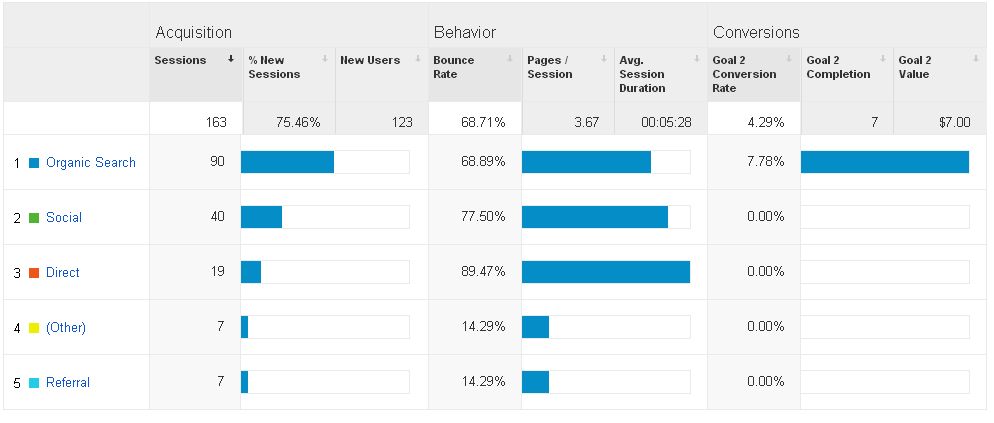 Google Analytics Traffic Source Goal Values
Goal 2 in my case means clicks to Amazon.
As you can see from image above I had an overall Conversation Rate of 4.29% .
And now - the most important part - what drives the conversations?
Yup, in this image you can see that Organic Search is responsible for all the conversation rates in that day.
It's important to measure each traffic channel separate, to better understand which channel works best for you.
Now you got your understanding why it's important to have on board such a powerful tool as Google Analytics equipped with Goal Values.
They can help you drive your online business - pointing you to bottlenecks or any other issues related to your website.
Google Analytics are not just for measuring visitor count - if handed to right hands - it might be one of the most powerful tools.
Drop a comment, or share your opinion bellow!