I took me a lot of time to decide either to publish or not to publish post regarding my experience of being Amazon Associate after the first year, but since I like transparency (Read my monthly online income reports) and in fact in past I have done similar reviews, like I covered something about my earnings after my first year of blogging (Read: One Year Blog Anniversary) and my total online earnings in 2014, I decided well - it's OK to publish my findings of being an Amazon Associate after the first year.
I first opted in for Amazon Associates account back at he end of June 2014, and made first sale at the start of August 2014, so in this blog post I'm covering a time period August 2014 - July 2015: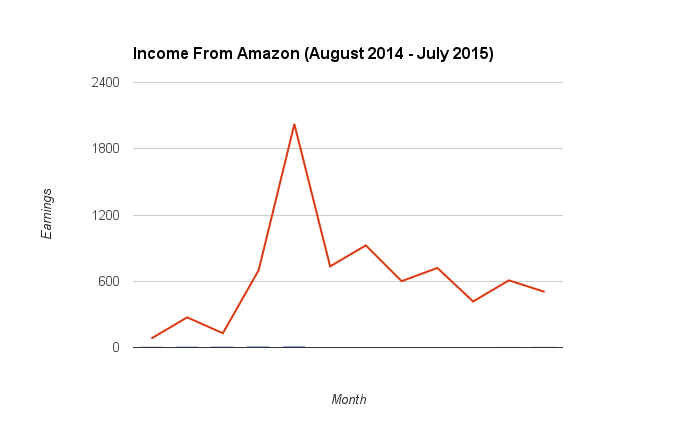 Monthly Amazon Associates Income graph
In total for the last year period (August 1st, 2014 - July 31, 2015) I have earned in commissions from Amazon pretty impressive amount of money - $7,636.62, it is around $20.92 per day or $636.38 per month (equals to minimum wage in Portugal ($653) or average salary in Latvia ($667)
Now, that huge spike is made on December 2014, when I was surprised to learn the power of holiday season. After then earnings have felt sharply, but I'm looking for some good growth rates for last quarter of 2015 (again, it's holiday season approaching).
Blog Traffic Report 
I have been doing monthly traffic reports since the very first month of blogging (October 2013) but I decided to add a general traffic report for the last year.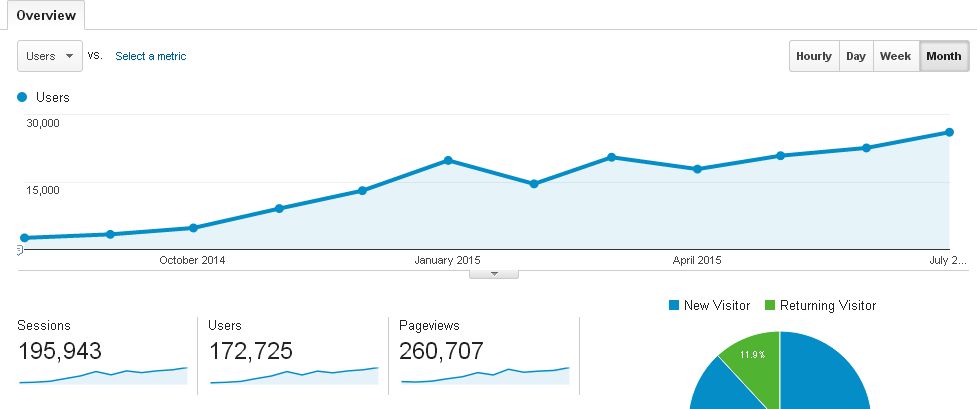 Blog Traffic report: August 2015 - July 2015
Traffic to my blog have grown from 2,584 users in August 2014 to 26,063 users in July 2015 and I find it a pretty impressive blog traffic growth. In total for the last year my blog has attracted 172,725 users and 260, 707 page views. If I would like to express how much I have earned per 1000 users or per 1000 page views, here is what I would get:
Earnings per 1000 users: (7,636.62/172,725)*1000 = $44.21
Earnings per 1000 page views: (7,636.62/260,707)*1000 = $29.29
Well, in general I'm pretty satisfied with above numbers, since I'm using other streams to monetize my blog, like Google Adsense, Amazon CPM and Svorn - I believe if I would stick with them only I would earn max one tenth of the total number I have earned with Amazon Associates. By now I can tell - Amazon Associates have been the most successful discovery for me.
Amazon CTR for 12 months
Not every month is equal, there have been ups and downs. By now I can confirm that holiday season (December) are most profitable while Summer months makes less. A lot of is affected by actual purchases, measured by CTR. And so for the last 12 months I have been measuring my Amazon CTR closely and here is what I got:
| | |
| --- | --- |
| Month | CTR % |
| August 2014 | 4.71 % |
| September 2014 | 5.6 % |
| October 2014 | 2.38 % |
| November 2014 | 4.04 % |
| December 2014 | 7.26 % |
| January 2015 | 3.16 % |
| February 2015 | 4.19 % |
| March 2015 | 1.99 % |
| April 2015 | 2.55 % |
| May 2015 | 1.85 % |
| June 2015 | 2.05 % |
| July 2015 | 1.68 % |
Top 3 months for me have been: December  2014 (7.26%), September 2014 (5.6%) and August 2014 (4.71%), while the worst performing months have been July 2015 (1.68%), May 2015 (1.85%) and March 2015 (1.99%).
In fact by now overlooking those figures I find it a bit interesting that my first month with Amazon Associates on board generated me very good CTR. Speaking of December - it's holiday season, and I expect to see strong growth in CTR for this December (2015) as well.
In overall I'm pretty satisfied with CTR above 2%, anything more is brilliant, less - not so good.
What works best
I have tried several ways of promoting Amazon products and yet I have found that the most effective way is to make a top/best seller lists. Speaking of products I promote I'm always looking for products that I'm interested myself and which price is above $100.
Any goals for next year?
At first I will definitely stick with Amazon Associates and will do my best to comply with their rules, for now I have already implemented Amazon API for retrieving prices (it's against TOS to display price in some other way), I'm always adding a brief explanation for such posts, like I'm doing affiliate marketing and by clicking on links, images e.t.c. I will earn an income from that. 
Speaking of numbers - I will be very satisfied if I will manage to triple traffic coming to my blog (it would be awesome to see 500K users for the next 12 months) and to double my earnings from Amazon. 
On the other hand I'm actively seeking other affiliate income streams to diversify my online income stream, and for now seems that I have found one another very interesting affiliate program for bloggers - Bluehost.
Thanks for reading, commenting and sharing!