Update: This article originally was written back in 2014 - a lot has changed since then, mostly prices and services - prices have gone up, service in some cases have gone down - I've removed any contacts listed in this article - please read comments section for up to the date information. 
See: Tbilisi - Yerevan Transfer by GoTrip.Ge Review
Those of you looking to travel from Tbilisi to Yerevan, or from Yerevan to Tbilisi, you have few options to choose - I'm not 100% sure but one of the options is by plain, the second option is by train, the third option by bus, another option by minibus (marshrutka) - the best option so far I have found is by private taxi car.
Actually, I have never traveled to Yerevan by plane or train from Tbilisi. I'm always choosing a private taxi car.
Update: Rend a car in Tbilisi
By saying a taxi car - I do not mean a regular taxi - you can chase on every street corner. Probably you can get with them too to Yerevan, but the price might be too pricey.
There are literally tons of privately held - semi-official, unofficial firms that offer Tbilisi - Yerevan transfers.
Best of it - they will pick you up at your place, you don't even have to go to some special place in the city to be picked up. You can negotiate about best times you want to go e.t.c.
Private taxis are a very convenient way to travel from Tbilisi to Yerevan and back
Now let's talk about the price!
The price will vary - but typically they are asking 50 GEL per person for one direction (see comment section for updated prices). To make it easy to calculate for you - 50 GEL equals $29 or EUR 22. This is the same price you would pay for the train or marshrutka.
Actually, the price could be easily bargained down to 35 GEL ($20 /EUR15)
Anyway, the driver should agree for 100 GEL in total. Depending on how many passengers you are - (the maximum one car can take is 4) - the price will vary.
SEE comments section for latest price information
How to find Tbilisi - Yerevan taxi cars?
One option is to search them in Avlabari (close to Avlabari metro station), another option is in Ortachala station.
Aram took us from Yerevan back to Tbilisi for 35 GEL back in 2014 (we were 3 passengers in a car)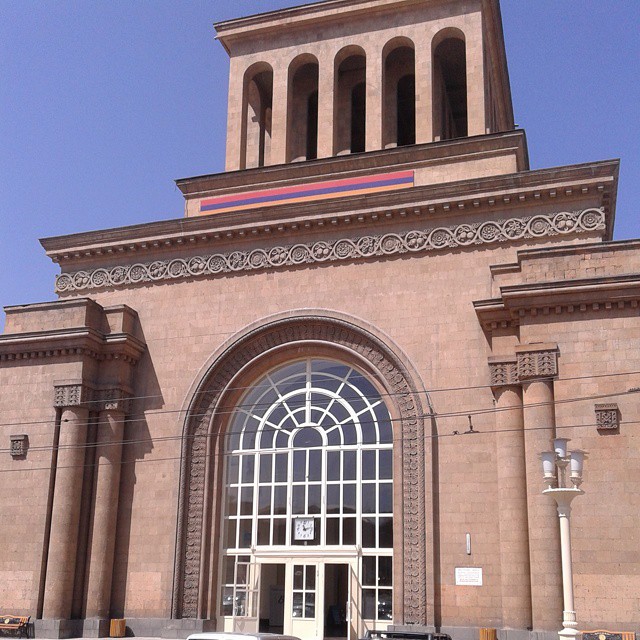 Yerevan Railway Station where we met with our driver Aram
Aram was a pretty "crazy" driver and he took us through very beautiful but a bit dangerous road, near Lake Sevan up near the border of Azerbaijan. Aram was so excited to drive here, to watch Armenian snipers. But he agreed - that if a passenger asks for safety reasons he can avoid this dangerous road.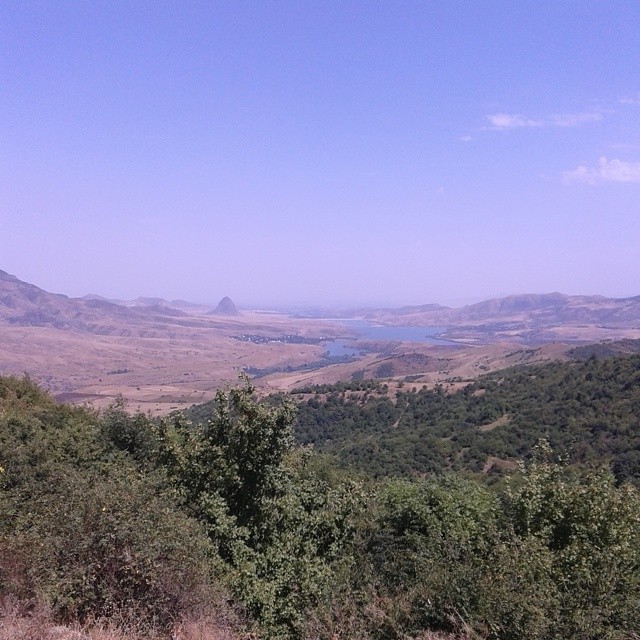 Dangerous Road Near Novemberyan
Any time you like you can ask a car driver to stop. We did so in one of the Armenian town-lets to buy delicious meat.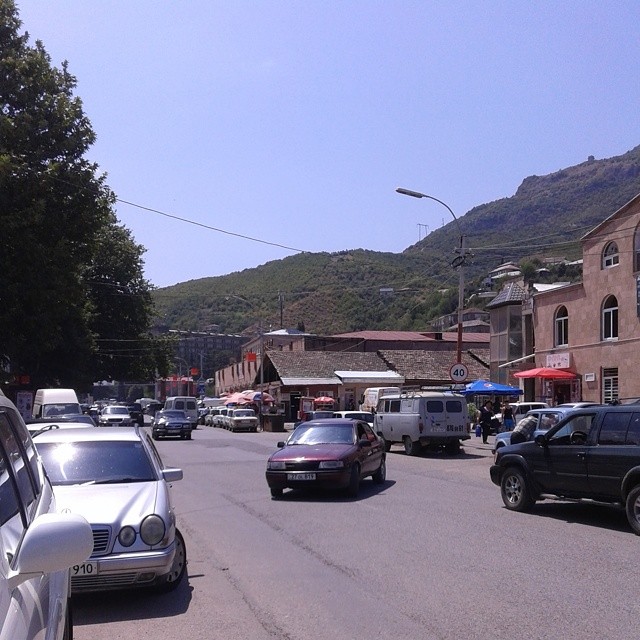 Armenian town-let
About crossing Georgian/Armenian border
See: Georgia / Armenia Border Crossing at Sadakhlo / Bagratashen
You definitely should have your passport with you. Depending on times you arrive at border point - there could be and there could be not a queue. On the Georgian side, you will be asked to step out of the car and to cross the border by foot with your belongings.
On the Armenian side, you will stay in your car. The border crossing doesn't take more than 15-20 minutes (usually).
On the Armenian side, the driver will need to fill out some customs information, so you can enjoy your time, by visiting some coffee on the border.
Oh, yeah in Georgian side there is Tax-Free shopping available.
Those privately held semi-official (unofficial) taxi companies are one of the best ways for fast transfers between Tbilisi and Yerevan. The drives usually take some 4 and a half to 6 hours. The price varies starting at 35 - 50 GEL per person. It's recommended you know some basic Russian or at least have a Russian-speaking assistant who could help you arrange this transfer.