This article was planned originaly as part of my building a Drupal site from scratch series, I did at the end of 2013. For some unknown reason I didn't published this article back then in 2013. Recently working on a Drupal project I faced this problem again - how to explain for an end-user how to work with user roles and permissions on Drupal.
Depending on creating a site for customer or for yourself, it's smart to create a separate user (users) for working with content (adding/editing posts).
In case for creating a site for customer, customer doesn't need to be involved on knowing how to perform administrative tasks, like working with views. Depending on users proficiency user can work with administrative tasks, of course. This is one of the reasons we love Drupal - we can seperate different user roles for different tasks.
Today I'll show how to create a new roles and assign a users for them.
By default Drupal ships with to roles:
Anonymous user
Authenticated user
Anonymous users are all users, accesing your Drupal powered website, not been logged in.
Authenticated users are all those, who have been logged in your Drupal site.
So if we want our users to work with content in our Drupal site, we must authenticate him.
Working with end-users I prefer to create a new role, like - Content Editor, depending on complexity of your site, you might consider to create a few more user roles, like Content Reviser, e.t.c.
In this tutorial I'll stick with one role - Content Editor:
Go to admin/people/permissions/roles to create a new role - Content editor:

When a new role has been created, you should edit roles permissions:

In case of tourism web companies web development, I have created a new Role Content Editor, and assigned permissions to create/edit/delete Tours (In part 1 of this tutorial we created a content type Tour), for now I'll save these settings.
Now we must add a new user, go to admin/people and click add a new user: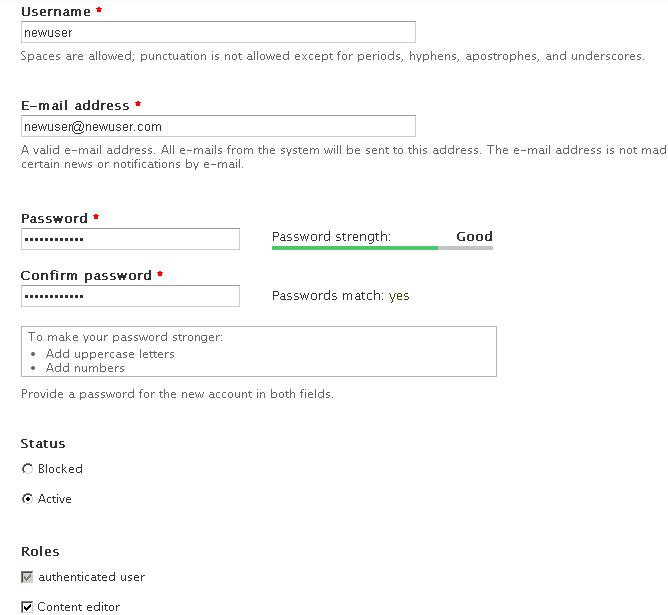 Pay attention, I have assigned newuser to role Content Editor. So when this user will log in, he/she will have options we defined in permission settings.
That's it - now we can let our Content editor (s) in our site, and let they put all information, regarded their needs.