Entrée is a popular chain of coffee bars located in Tbilisi which serves great coffee, pastry, sweets and even bakes a bread. Today I will write about Entrée located on Agmashenebeli Avenue 86 (close to Marjanishvili square) in Tbilisi.
As usual for taking photographs I'm using my Samsung phone and using Instagram (then taking them from Instagram and adding to posts - you can read a blog post on how I turned my Instagram account into a photo blog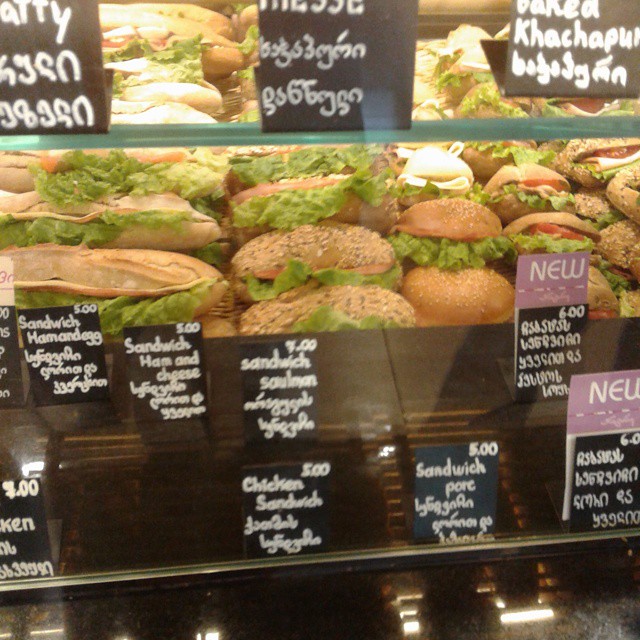 Sandwich bar at Entrée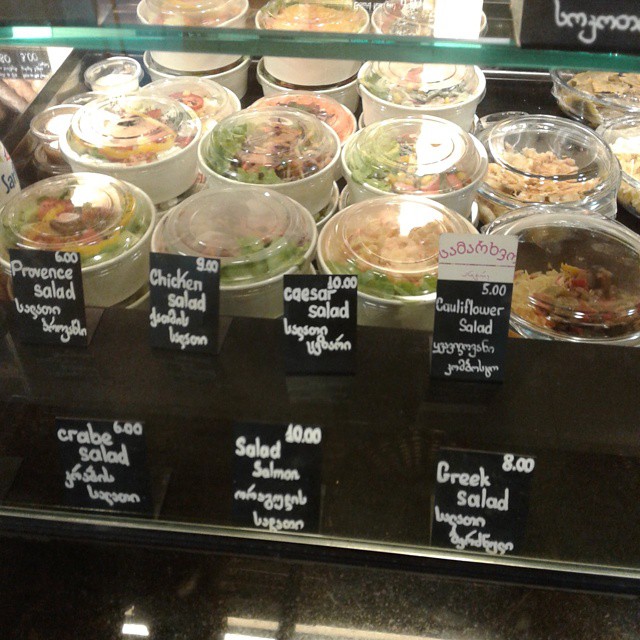 Salad bar at Entrée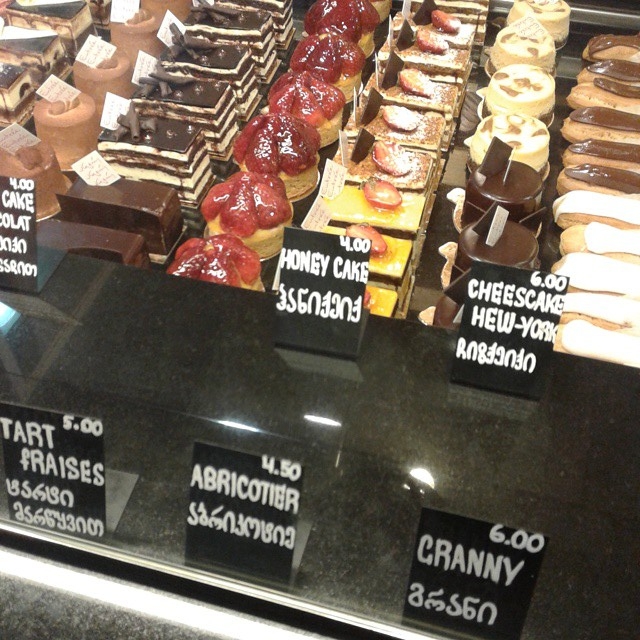 Desert bar at Entrée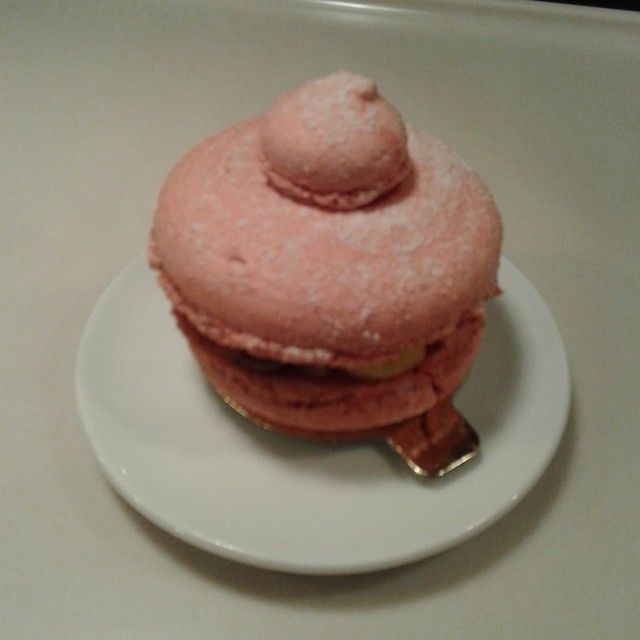 Macaroon at Entrée
Mmm, really delicious macaroni here, though they have named them as Pasta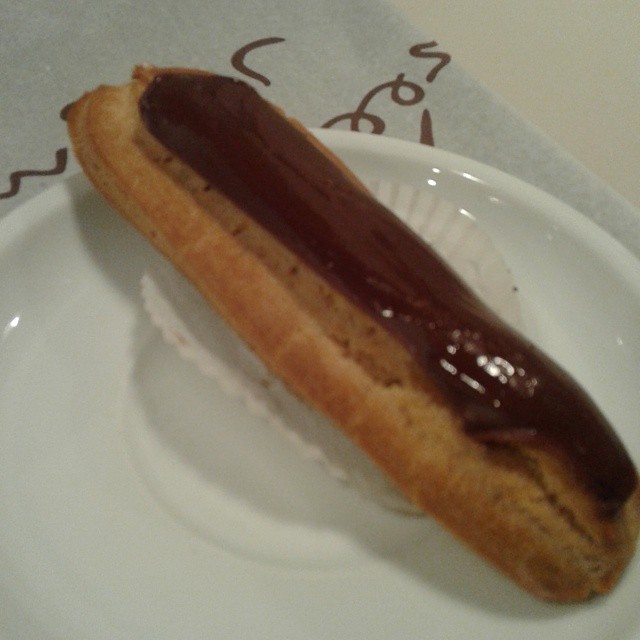 Éclair at Entrée coffee bar
Now - I definitely prefer éclair over some macaroon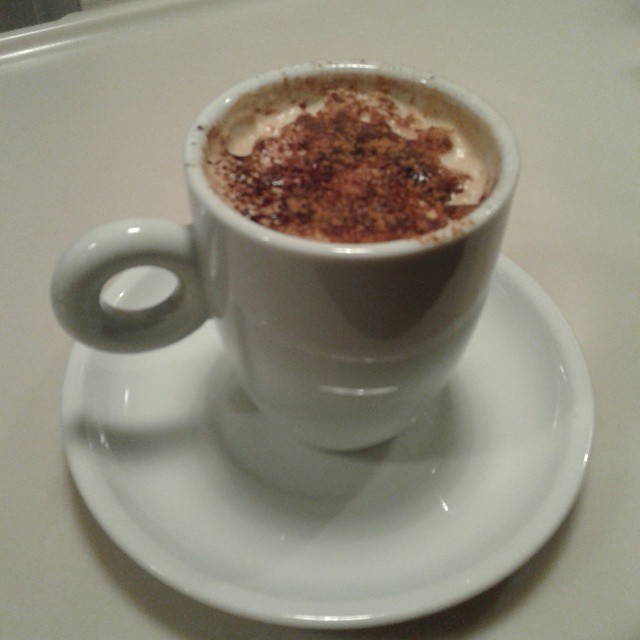 Coffee a latte at Entrée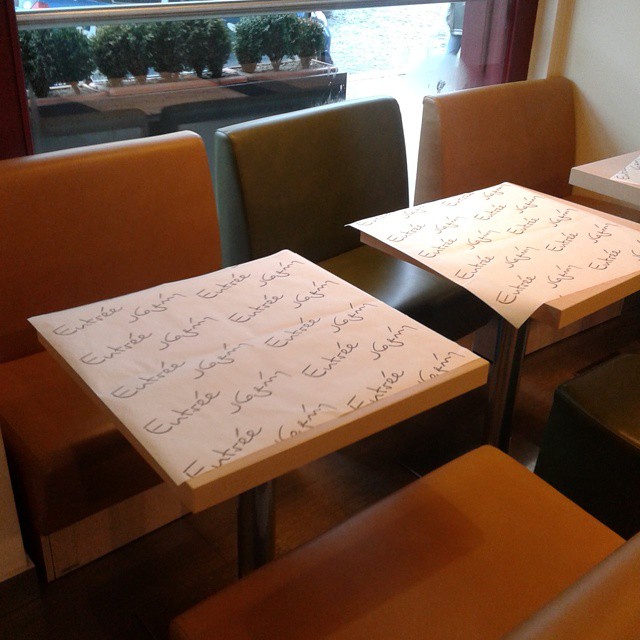 Table at this coffee bar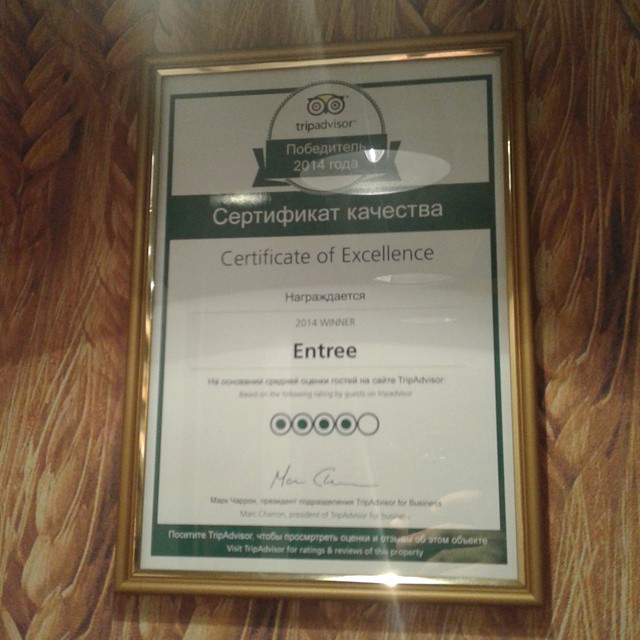 Certificate of Excellence from TripAdvisor
The Bottom Line
Coffee bar Entrée is one of the rare places in Tbilisi were smoking is not permitted and that's huge if you aren't into smoking. Pastry, sweets and coffee here is just delicious. Stuff speaks English very well. Go try it for yourself!
About Entree
On December 2nd 2008 we created a new network of coffee bars and the "ENTRÉE" in Tbilisi was born. Currently we have 6 locations of our Café: On Rusataveli Avenue, in Vake on the corner of Taktakishvili Street and Abashidze Street as well as in bagebi – chavchavadze avenue #78 on Ts. Petriashvili Street on Pekini Street and Agmashenebeli Avenue #86.
The coffee bars of Entrée are an original concept having a solid image of a smoke and alcohol free establishment for the whole family to enjoy and drawing attention due to our high international standards.
Together with our French partner we are focused on turning the Entrée brands into the "islands" of French cookery and fine cuisine, according to the wide assortment of products, diverse menu, ambiance and exemplary customer service.
All Entrée products are cooked under the direct supervision of our staff of highly trained French Chefs and Cooks.
In addition to French bakery products, pastries, croissants, soups, salads and our home made Italian ice creams, we offer European, American, British and other breakfast classics every morning from 8:00am-11:00am.
Entrée also has our own take out packaging for all of our products including hot drinks, soups and salads which allows you to taste all of our delicious and healthy products anywhere…..at home, on a picnic, in the office as well as our coffee bar a smoke and alcohol free environment.
When the Entrée network was under development consideration of the human factor was our primary focus. From the elaborate selection of our products to the ambiance of our smoke and alcohol free café, every feature was taken into consideration. Our principal is that every element of our baked goods, our fresh baguettes, croissants and pastries has certain significance along with the traditional symbols associated with France such as the vineyards of Bordeaux, "Gitanes" smokes, perfumeries and the Eiffel Tower.
We are open everyday from 8:00AM till 10:00PM
Visit www.entree.ge