Back in 2013, we embarked on an epic journey across the United States that began at JFK Airport in New York City and ended in Houston, Texas. Although we had initially planned to reach the West Coast, we eventually decided to cut our trip short due to two reasons: we were travelling on a budget using Megabus, and we were exhausted after a month on the road.
While Megabus was an affordable option for us, there were no other economical choices to reach the West Coast. This led us to reflect on the transportation options in the United States. It became clear that unlike in Europe, high-speed trains were not a popular mode of transportation in the United States. Instead, many Americans preferred air travel, even for short distances like Dallas to Houston.
However, after seven years, a time and cost-effective alternative may soon become available. Plans are underway to build a high-speed rail network connecting Dallas and Houston, which would be the first of its kind in the United States. This 240-mile project is expected to take only 90 minutes, with an estimated completion date of 2021, pending federal approval and funding.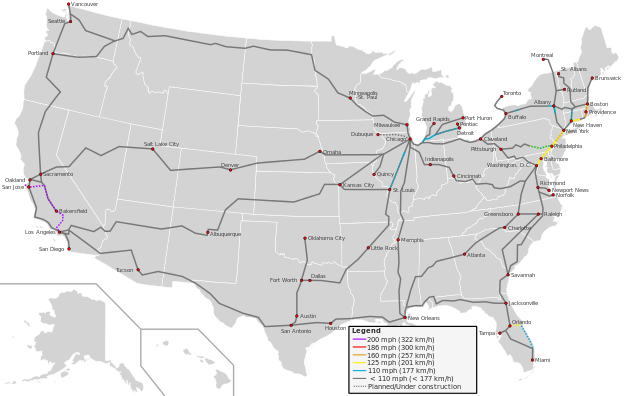 During a public meeting in Dallas, potential locations for the line's endpoints were unveiled. The downtown station would make it easier for the project to tie into existing public transit at both end points. Dallas City Council members lobbied for Union Station to serve as the North Texas terminus. This station serves two Dallas Area Rapid Transit light-rail lines, an Amtrak line and the TRE passenger train that connects Dallas and Fort Worth.
The company planning the high-speed rail project, Texas Central Railway, plans to build the entire project with private funds and has already begun soliciting investors. Although the company has not disclosed the project's cost, it is estimated to be approximately $10 billion. The company also has the power to use eminent domain for the project, with two routes selected for closer consideration that largely follow existing rail lines or utility rights of way, which would minimize the need for land purchases or seizure.
With a projected growth in population, officials estimate that the drive from Dallas to Houston, which currently takes about four hours, could take six hours by 2035. They estimate the average speed on I-45 between the two cities will drop from 60 mph to 40 mph over that time. The high-speed rail network is expected to become the biggest game-changer in transportation since the establishment of the federal highway system.
In conclusion, the Dallas-Houston high-speed rail project will bring a significant shift in transportation and travel between these two major cities in Texas. It is a fascinating development that will change the way people travel, and it will be interesting to see how it unfolds in the coming years.