During our short 2 day trip to Yerevan, Armenia, in time we celebrated my 29th birthday - we tasted a lot of great Armenian and European food. 
Now, looking through my Instagram account - I decided to add photos of food I have taken with my Android phone. Unfortunately I don't remember precise locations and names for many of those lovely Yerevan restaurants, but still it's pleasant to view some food photos.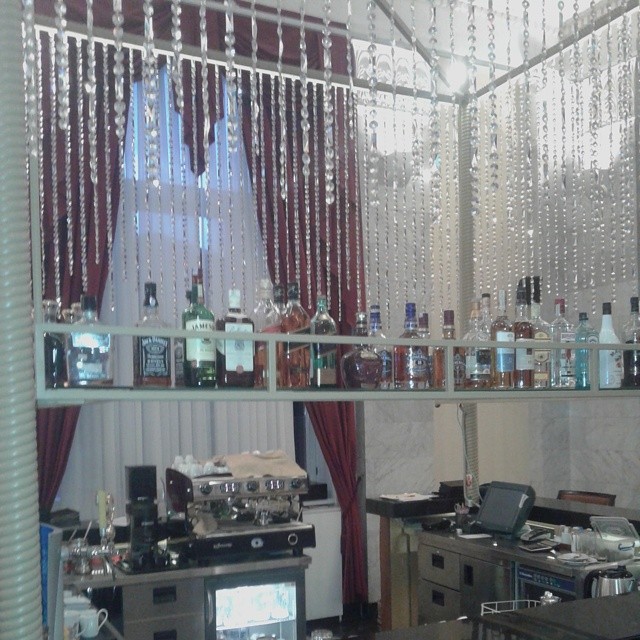 We started our food adventures at Marriott Hotel in Centre of Yerevan at 6 AM.
We didn't use any alcoholic beverages here - instead we had a fine coffee with delicious Armenian truffles. One of the best truffles I have tasted. Our overall cheque here was about EUR 15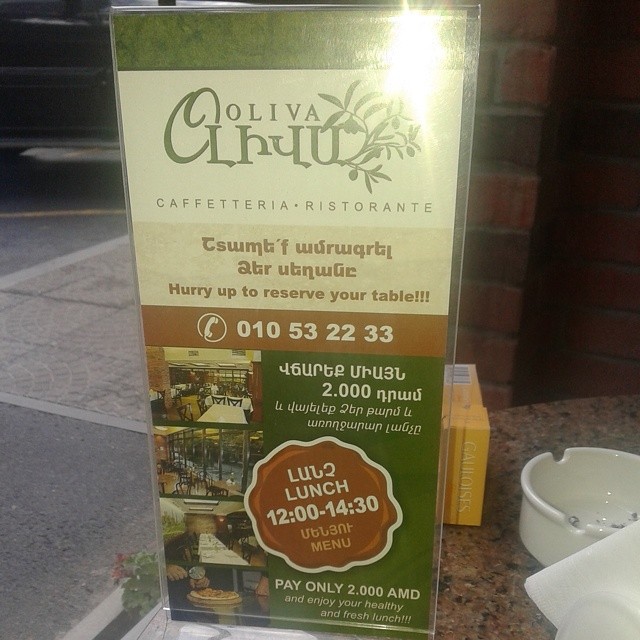 After couple of hours, we stop at the Olivia place. Kinda Italian restaurant.
Nothing special here, but they have breakfast menu here for 1000 Drams (About EUR 1.83)- scrambled eggs. Coffee, tea, soda must be paid separate. Overall cheque here some EUR 10
Then we found an excellent place for dinner - at bottom of the Yerevan cascade, there is Paulaner restaurant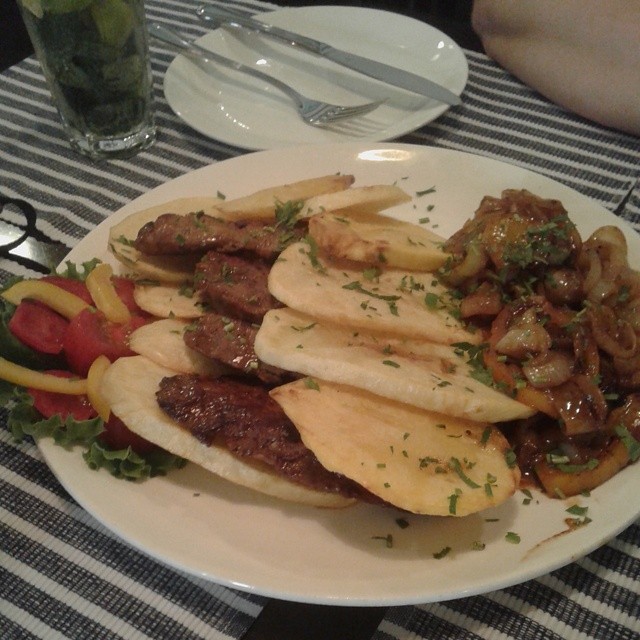 We took chefs special - steak, potatoes and grilled vegetables. Some additional Eastern Coffee (Don't try to order "Turkish coffee" in Armenia - they call it Eastern or Armenian coffee) Coca Cola - overall cheque here some EUR 15
We continued this evening with more dinning out in fabulous Yerevan restaurants, next choice was made thanks to the taxi drivers recommendation: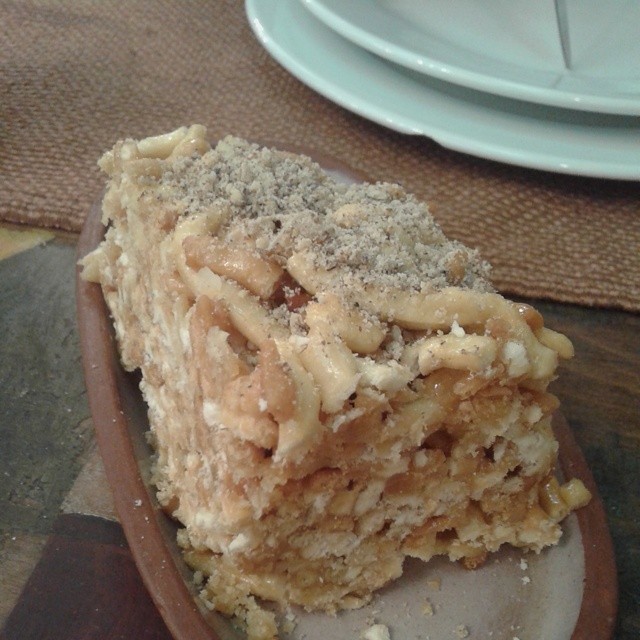 I was quite naive and looking through menu - I decided I would like to have Rhsta Halva for desert - as I thought it is some Eastern sweet - turned out it's just cookies blended with condensed milk. Delicious, but far from Eastern sweets.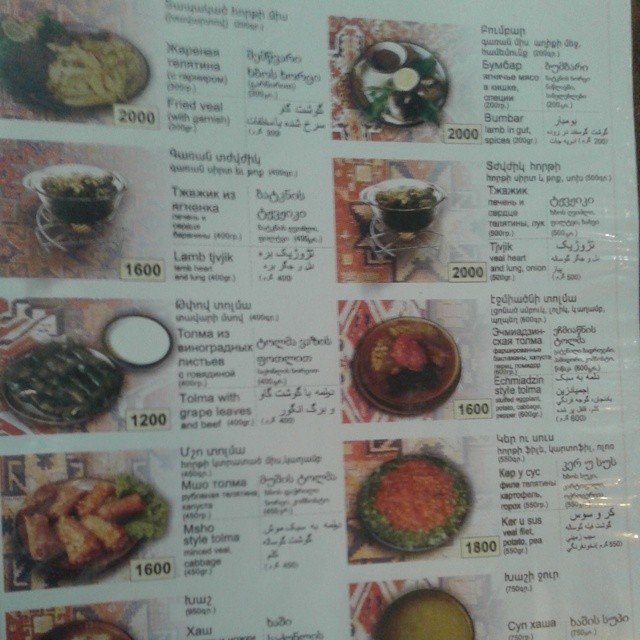 Speaking of menu at this place (Damned, I cannot remember the name - something Caucasian...) - this menu is over-flooded with items and it was really hard to decide.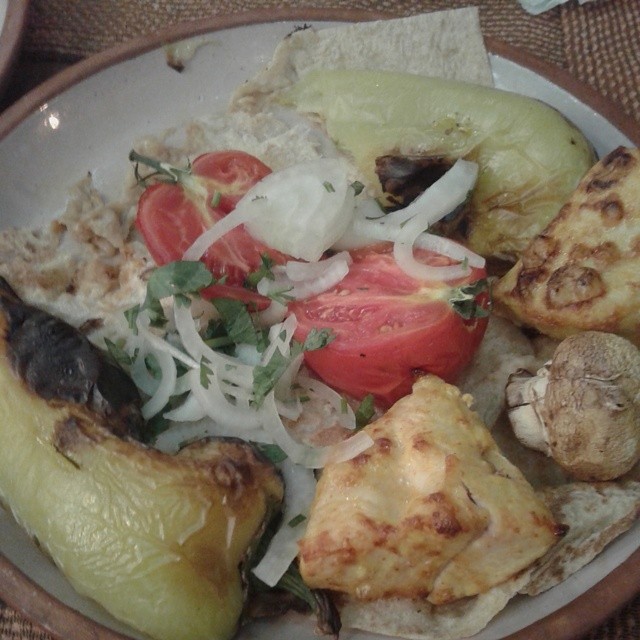 So I stick with Adana (chicken barbecue with grilled vegetables)
Armenian's know how to prepare meat - chicken barbecue was really delicious at this place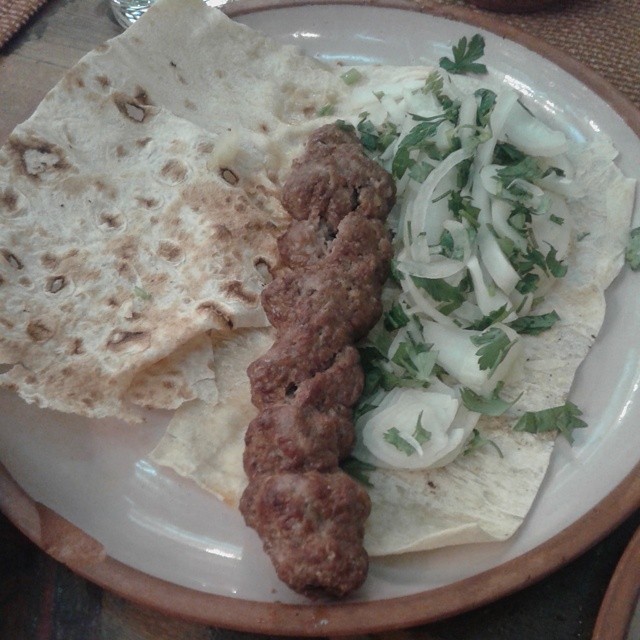 We ordered kabab here as well - Again - it's nowhere on earth were meat is so tasty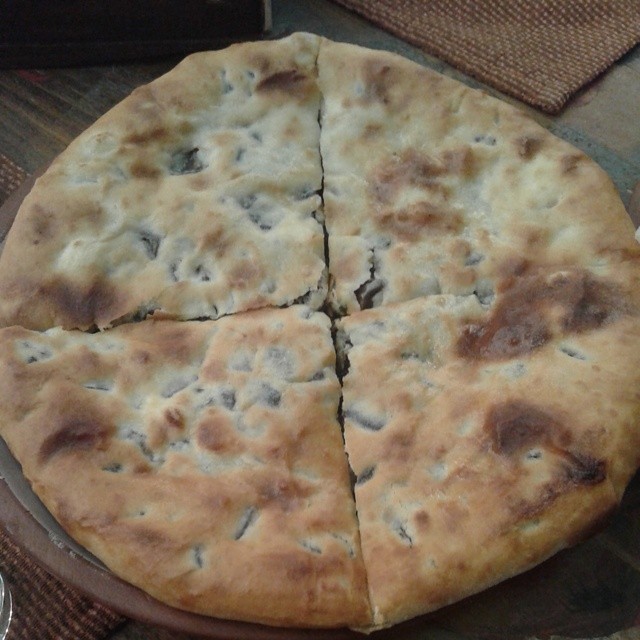 And Kubdari (Caucasian traditional meat pie) - here it was so wrongly prepared, filled with spinach, that I refused to eat this Armenian Kubdari (So far - best Kubdari I have found just in Georgia)
Next morning was my birthday morning and we enjoyed our free meal at our hotel - Republica Hotel Yerevan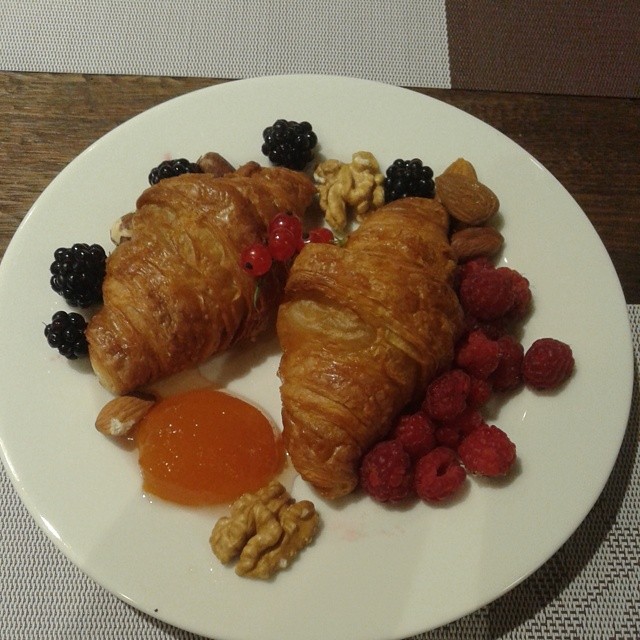 Croissants at Republica Hotel Yerevan
After breakfast at our hotel we headed to city, for shopping and decided to visit newly built Yerevan Mall
Here we found Jazzve coffee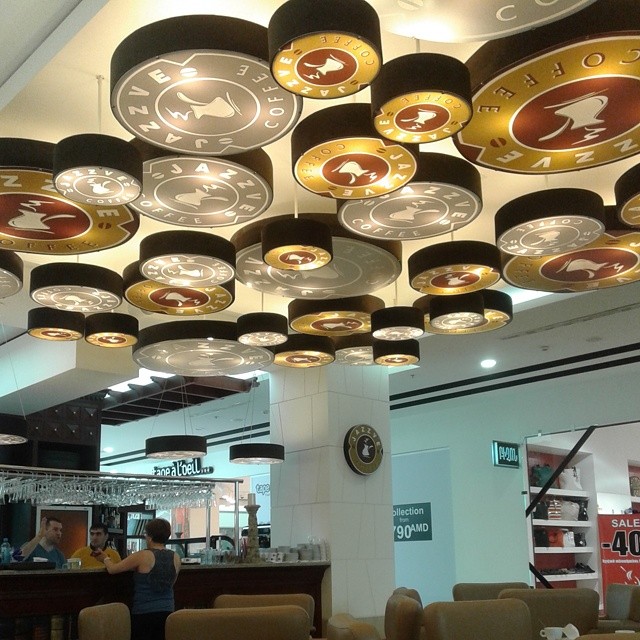 Jazzve coffee at Yerevan Mall
Where we enjoyed authentic Eastern Coffee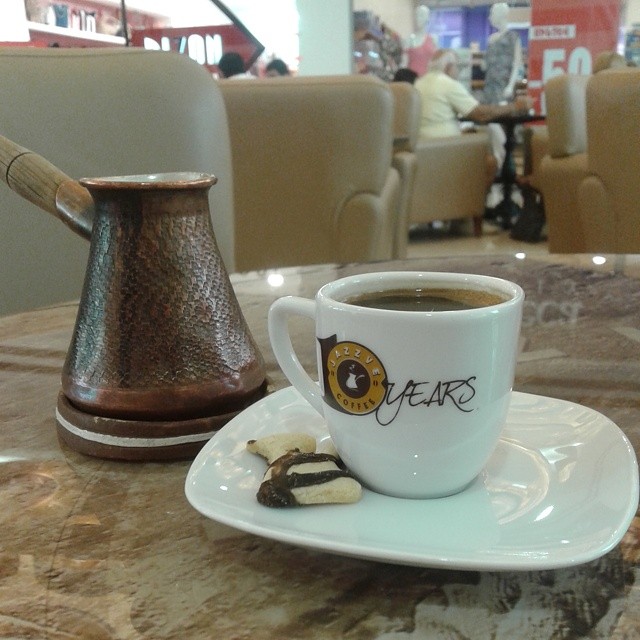 Eastern coffee at Jazzve Coffee in Yerevan Mall
and strawberry daiquiris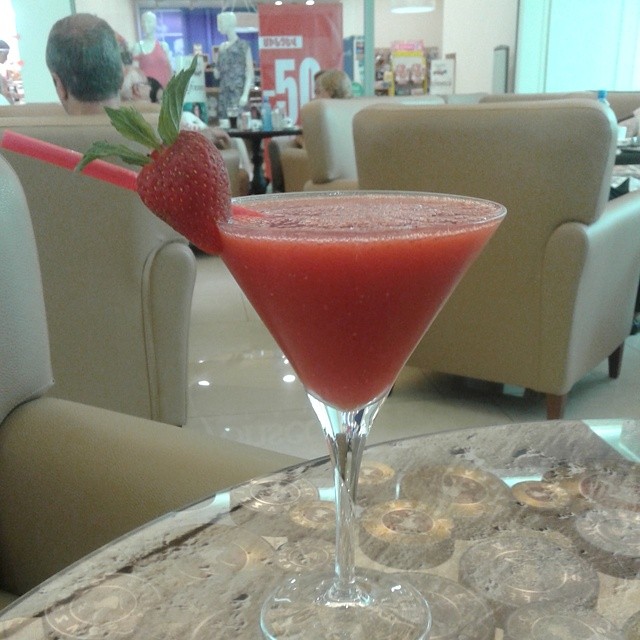 Strawberry daiquiri at Jazzve coffee in Yerevan Mall
In the evening we again headed to Yerevan Cascade and again to Paulaner's place, this time opposite to first one. This Paulaner resaturant was a grill bar. Actually a nice neat, to have a two restaurants each one opposite to other.
For starters we ordered delicious brochettes: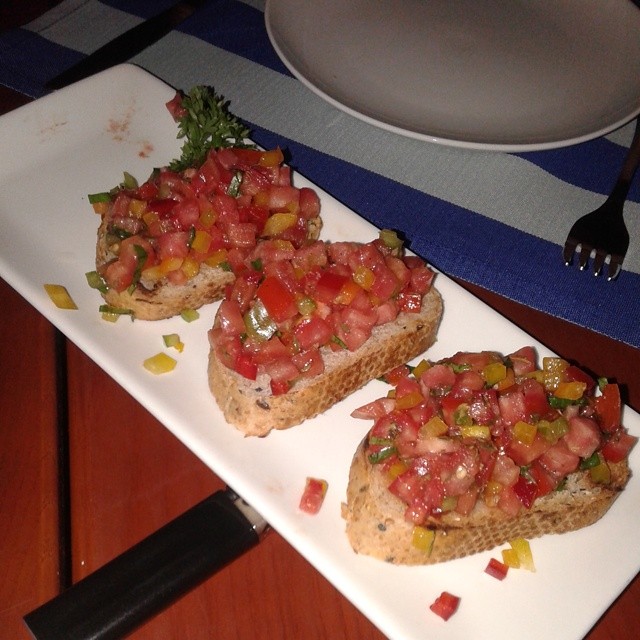 Then again we trusted chefs menu: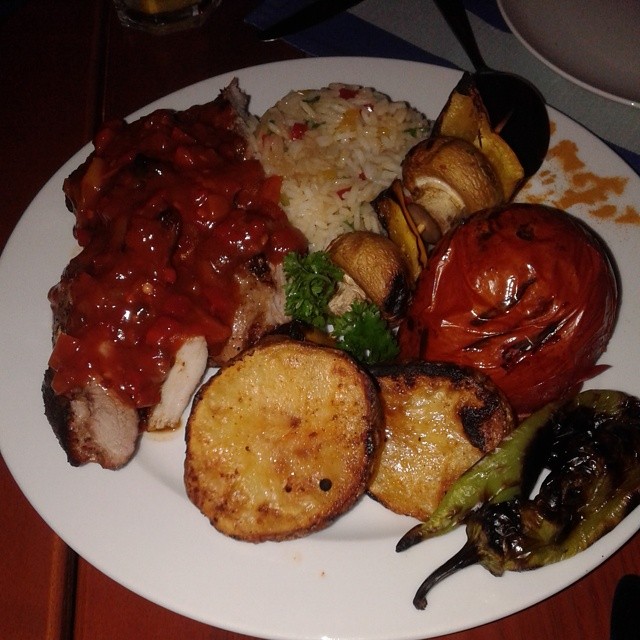 Meat in spicy sauce served with rice, potatoes and grilled vegetables
And we ended evening with cheeseballs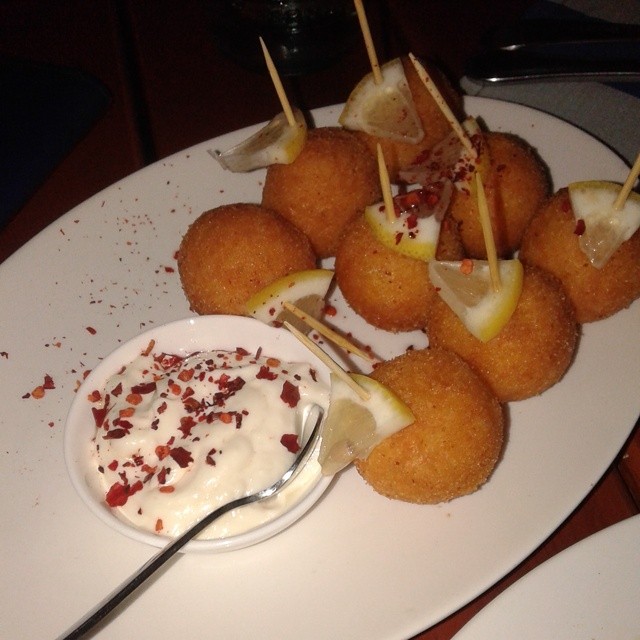 Please forgive me my forgetfulness - that I cannot remember all the names for those lovely places. In total for two days in Yerevan we spent something between 50 and 70 EUR for food. For really delicious food.