Lately I have been paying more attention to power of Google+ and so I decided to give a try to Google+ comments on a Drupal site.
Google for me generates about 70-80 percent of traffic, and so I guess most of the users will have Google account, to comment without need to login/register onmy site or let's say Disqus comment system I'm currently using on my blog.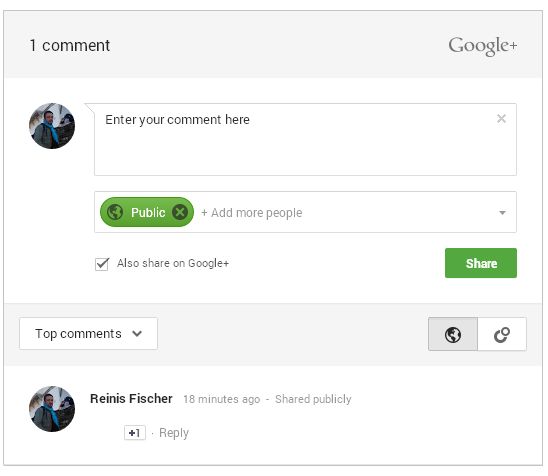 As you can see - comment block is really nice, and taking in consideration it's Google comment system I guess it might only help you to be more discoverable on Google.
How to add Google+ comments block to Drupal site
You can find a module on Drupal.org site: https://drupal.org/project/gplus_comments_block
Please take in consideration:
Until Google launches an API for the Google+ Comments feature...

This module provides a custom block.
Once this block enabled, it will display the Google+ Comments form and people will be able to comment on your pages.

It's important to keep in mind that this is an unofficial way to add Google+ Comments and Google can always change the code or remove some features.
What comment system you find most suitable for your Drupal site? 
P.S. If you are considering a hosting for your Drupal website check out Bluehost, their shared hosting starts as low as $3.95/mo or read more about cheap Drupal hosting.