It has been a week already since I'm a little bit worried about not receiving a letter with check inside from Amazon Associates here in Republic of Georgia. During my short panic attacks I have already twice contacted local Georgian Post once by phone, once visiting a branch on site. Both times - answer were negative - no mail received.
Actually you can learn more about my struggle both with Georgian Post and local banks of processing such simple thing as a check in following posts:
The good sing - I have received one payment here in Georgia and have cashed it out already, so the precedent has been set, though as I have raised my concerns in previous posts related this check thing, there are few bottlenecks in all of this process.
Anyway since I haven't seen a sticker from post lately sticked on my apartment's buildings entrance doors I started to get worried.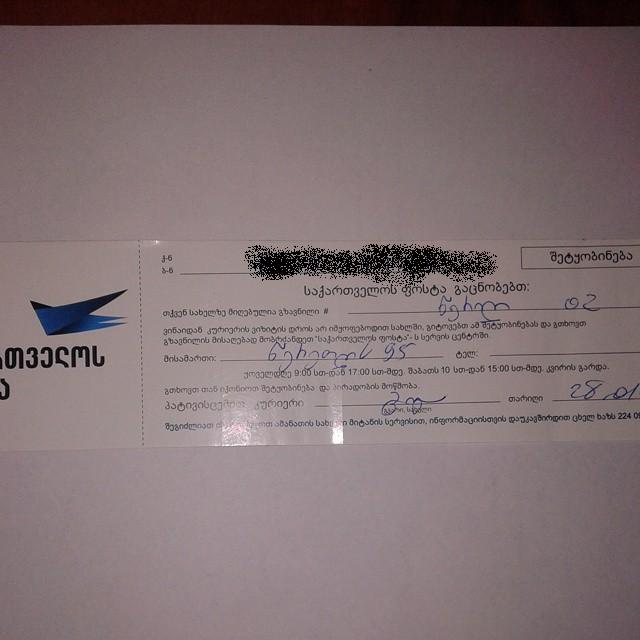 My first Sticker from Georgian Post - Read the whole story here
After negative answers from Post Office I decided to lookup through Amazon forums, there are plenty of entries related to delayed payments, instead of writing just another lame - where is my money post on forum I decided to contact Amazon Associates Support directly. And that's what I did.
I'm adding both my question and answer from support team, in case you are figuring out what to do with lost payment check:
Hi,

I'm contacting You regarding payment sent by check on January 29/2015 (November earnings)

I still have not received it here in Republic of Georgia, I have contacted local post - and they told me - I should provide them with some Letter Tracking Numbers, so they can clarify is there some delays for this international mail.

Do you use some Tracking Id available for international post usage?

I do have a second question - I have changed my mail address on Account settings page to other country (Other Country's Name) and I see that payment has been already sent by check on February 27 (for sum of My December Earnings) - is it going to address in New Country or Republic of Georgia?

Thank you for looking into this
Shortly I got an answer in my inbox:
Hello Reinis,

I'm sorry you have not received your check for $Amount that was sent out at the end of January 2015. I've requested that our Accounts Payable department verify the status of this payment with our bank.

As soon as we know the check hasn't cleared our accounts, we'll void and reissue it to:

My New Address

I'll follow up with you via e-mail once I have confirmation from our accounts payable team that the payment has been resent. This generally takes 2-3 weeks.

Also, I have checked your payment for $Amount that was sent out at the end of February. I can confirm this was sent to your old address since your new address was not updated prior to February 1. I have also requested that this check be voided and reissued as well. This will also take approximately 2-3 weeks to be sent to your new address.

** Important to note: should the original payment check(s) arrive in the next few days, please don't attempt to cash them as they will be voided immediately, and your bank may charge a fee for depositing a voided check. **

You can differentiate the original payment check from the replacement by the respective dates of issue printed on each check. If you have any questions about how to determine which check is the original and which is the replacement, I suggest contacting us before depositing either so as to avoid potential bank fees.

Thank you for your patience in this matter.

Best regards,
Haley K.
The Bottom Line
If you haven't received your Amazon Associates Payment by Check - Contact Support to clarify all your questions. In case of lost checks, seems it's not a problem to re-send a new one(s). It's just a matter of time.
Speaking of contacting Amazon Associates Support - From my experience by contacting them 3 times yet - I can only add - fast, accurate, informative.