Governments across the former Soviet Union have felt the impact of currency devaluations, but currency depreciations and related economic problems in Georgia and Moldova are exposing their governments to major political pitfalls this year, including even potential government collapse. Both countries have been pursuing greater integration with the West but are still heavily linked to Russia, making them susceptible to Russia's economic downturn. Economic difficulties will undermine both countries' efforts to achieve greater political and economic integration with the European Union and will be a boon to Russia's strategy of slowing the West's push into the former Soviet periphery.
The former Soviet Union has experienced substantial currency devaluations in the past several months. Russia and Ukraine, preoccupied with the conflict in eastern Ukraine, have predictably been the most affected. The Russian ruble lost 43 percent of its value in 2014 and has fallen an additional 11 percent since the start of 2015. Ukraine's currency, the hryvnia, has lost nearly 40 percent of its value in 2015. But the two countries are not alone. Countries that export and produce energy, such as Azerbaijan, Kazakhstan and Turkmenistan, as well as states strongly integrated with the Russian economic bloc, such as Belarus and Armenia, have also felt the impact.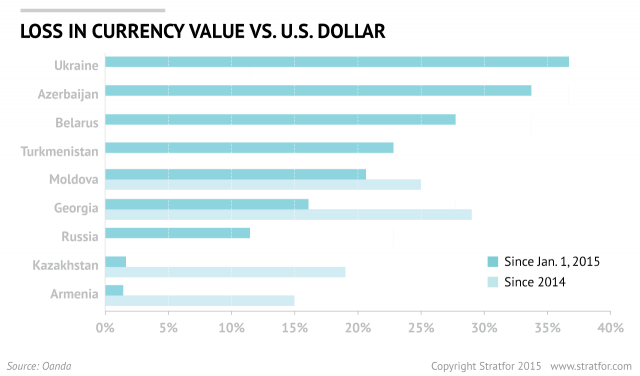 Georgia and Moldova are two countries that do not fall into these paradigms because they are neither energy producers nor members of Russia-led economic groupings like the Eurasian Economic Union. In fact, both countries are Western-oriented and are pursuing greater economic integration with the European Union, having signed free trade agreements with the bloc in 2014. In spite of this, both the Georgian and Moldovan currencies have suffered. The Georgian lari has tumbled by nearly 30 percent over the past four months, and the Moldovan leu has lost 20 percent of its value since Jan. 1.
Worrying Indicators
The countries' reliance on remittances from migrants working in Russia drives these depreciations. Moldova saw a 20 percent year-on-year drop in remittances as of January, and Georgia recorded a 23 percent drop. Moreover, while neither country is a member of Russia's economic bloc, they are still dependent on trade with Russia, which accounts for 26 percent of Moldova's total exports and 13 percent of Georgia's total exports. Moldova's exports to Russia nearly halved in 2014, and Georgia's total exports fell by 30 percent — largely because of loss of trade with Ukraine and Russia.
The worrying economic indicators are as much a result of a poor regional economic climate as they are a consequence of a deliberate Russian response to both countries' Western integration efforts. Russia has increased import restrictions over certain goods exported by these countries and has also enacted structural regulations on migrants from states outside of the Eurasian Economic Union.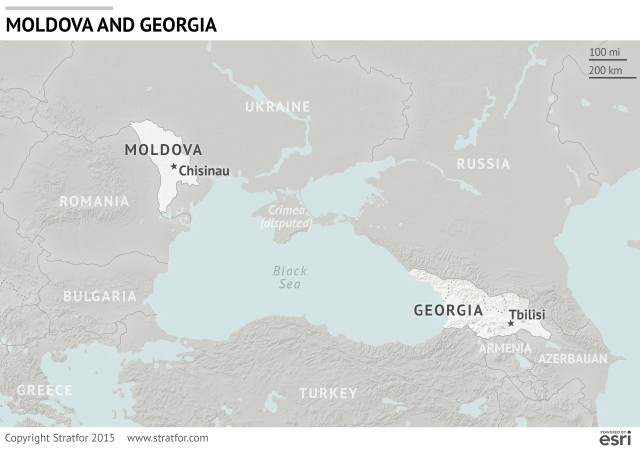 As a result, both countries have attempted to mitigate the effects of their currency depreciation by raising interest rates while selling foreign currency reserves. However, the relatively small size of their economies — Moldova's GDP is less than $9 billion while Georgia's is around $16 billion — hampers their ability to manage the depreciation and increases the impact of even minor fluctuations. Georgia has spent $120 million in currency reserves, bringing the total down to $2.5 billion. Moldova has sold $87 million of its currency reserves, bringing it down to $1.96 billion.
Both countries have received some EU financial assistance as part of their trade agreements, but the amount, in tens of millions of euros, has so far been minimal. Both countries have also planned tax hikes and public spending cuts for 2015, and additional assistance from foreign lenders such as the International Monetary Fund would likely come with further austerity measures.
Georgia
Such economic headwinds would prove politically troublesome for any country, but Georgia and Moldova are particularly vulnerable given their volatile political situations. In Georgia's case, the emergence of the Georgian Dream movement led by billionaire tycoon Bidzina Ivanishvili in 2011 and its victory in both the parliamentary and presidential elections in 2012 and 2013 ushered in a new era for Georgian politics.
However, over the past year Georgian Dream has been subject to increased infighting over internal differences, as seen in the dismissal of former Defense Minister Irakli Alasania and the departure of his Free Democrats party from the ruling coalition. Alasania even announced he would challenge Georgian Dream in the next parliamentary elections in 2016.
The infighting and poor economic conditions have led to public protests. Several hundred people demonstrated Feb. 25 in Tbilisi, calling for the resignation of the government over currency depreciation. The opposition United National Movement, the party of former Georgian President Mikhail Saakashvili that Georgian Dream replaced, has also seen a resurgence in popularity. The United National Movement has called for fresh nationwide protests on March 21.
These conditions could aggravate the fracturing within the Georgian Dream movement and complicate the government's ability to address the economic crisis and salvage its position from political rivals. Growing rifts within the government would also undermine Georgia's plans to integrate with the European Union, though its plans to increase cooperation with NATO are less likely to be affected.
Moldova
Moldova's political system is even more fractured than Georgia's. Since 2009, the parliament has been split almost evenly between EU- and Russian-oriented parties, creating a deadlocked government. Parliamentary elections held Nov. 30 produced a weak minority coalition of the pro-EU Democratic Party and the Liberal Democratic Party, but they needed the support of the pro-Russian Communist Party in order to elect the politically inexperienced Prime Minister Chiril Gaburici. Moreover, given that the coalition only has 47 of 101 seats and will depend on the Communists to push through key legislation, the new government will have a difficult time staying together.
Under a fractured political landscape, the Moldovan government will face domestic political pushback, threatening its stability. Some 400 people demonstrated against economic conditions in Chisinau on Feb. 24, with more protests expected. The government will also face setbacks to its EU integration plans. There are already several groups opposed to Moldova's integration process, namely the pro-Russia Socialist Party and the autonomous and breakaway regions of Gagauzia and Transdniestria. A minority government will find it difficult to overcome such opposition and pass integration policies.
Furthermore, reports from Moldovan media suggest that Russia has agreed to import certain Moldovan goods without taxes in 2015, including value-added tax, a decision that would represent a notable shift from Russian import restrictions in 2014. If the reports are true, this would run contrary to Moldova's efforts to distance itself from Russia in favor of the European Union, potentially derailing Chisinau's Western integration ambitions. These shifting relations with Russia and Europe as well as political unrest will define Moldova and Georgia.
"How Currency Woes Undermine Georgia, Moldova is republished with permission of Stratfor."