I have been a proud Amazon Associate since this summer and during this time I have made some (as I think) pretty solid income from Amazon Associates program.
Nowadays for me it's hard to remember what impulse got me to switch to Amazon, because for more than 5 years I have been using Google Adsense only to try to monetize my internet assets. But I'm glad that such impulse happened.
Well - why I'm mentioning Google Adsense here? Simple - Amazon CPM ads (I will talk about them latter on this article) might be the real alternative for Google Adsense. I'm liking to look to both of Google Adsense and Amazon CPM ads as - set and forget tools to monetize your website. But difference is here - while you will get paid for clicks with Adsense, you will get paid for impressions with Amazon CPM ads.
What is Amazon CPM Ads?
Amazon CPM Ads is a display advertising program that enables you to show ads from Amazon and other premium advertisers on your web site(s). You will be paid on a cost per thousand impressions (CPM) basis for each ad impression served.
How to get started with Amazon CPM ads
If you are an Amazon Associate already, you might noticed a new screen on your main page at affiliates dashboard

Amazon CPM Ads
If you are a new to Amazon Affiliates and would like to learn more read this article on how to apply for Amazon associates.
Once you are in - move forward:
To get your ad code, you will need a target CPM and passback code
Target CPM:
We'll show ads if we can meet your target CPM (cost per thousand impressions). We suggest you use your current average CPM for the ad unit as the target.
Passback Ad Code
We'll pass any unmatched ad requests to your specified ad provider. Please copy and paste the provider's ad code from your web site or ad server.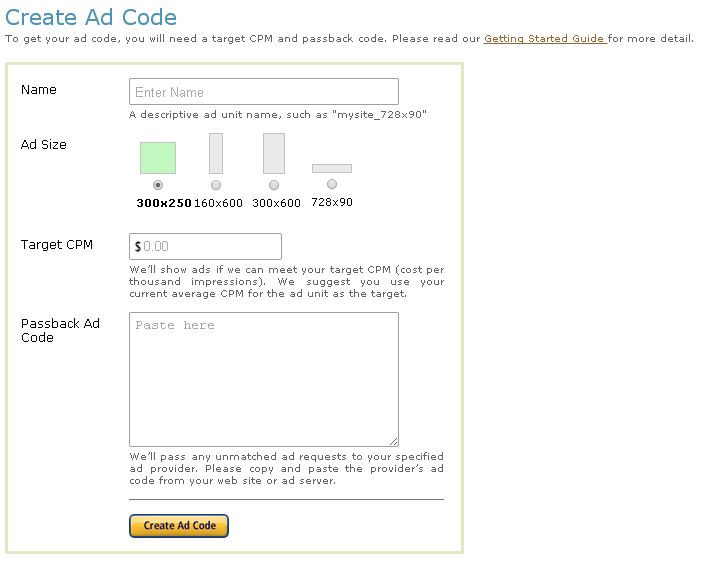 Amazon CPM Ad Code
You can chose your ad size from 4 defined dimensions: 300x250, 160X600, 300X600 or 728X90 (if you are already using Google Adsense, you will find they are standard dimensions and there should be no problems to implement them on your site)
For a passback Ad code you can choose to show either ads from Google Adsense, Amazon Banners or create some of your custom banners.
Speaking of Target CPM - i did set them to $0.1 to get started, latter on you can change it to higher values.
You will get ad code which you should add to you website.
Amazon CPM ADS Dashboard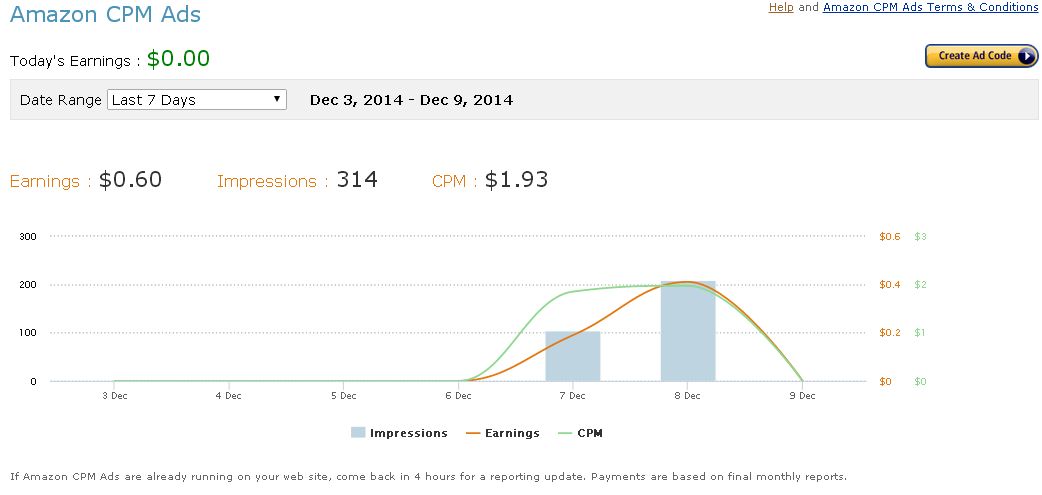 Amazon CPM Ads Dashboard
You will be presented with the results for up to last 30 days, the results seems are with 4 hour delay.
Payments
If you are already getting paid with Amazon Affiliates the sad thing is earnings made with Amazon CPM will be issued as separate payment. If you are not using affiliates and or not interested of using them - it should be fine with you.
Will my Amazon CPM Ads earnings payment be combined with my other Associates program earnings?
No. You will be issued two separate payments – one for Amazon CPM Ads earnings and one for all other Associates program earnings.
In conclusion
Amazon CPM Ads might be a great alternative to Google Adsense, but still I wouldn't suggest using it (or Google Adsense) if you are receiving less than 10,000 Pageviews per month.
So if you are into your blogs starting process - and looking to make some money online - work hard to get as much page views as you can :)
On the other hand - I'm 99% sure CPM ads wont reach such high levels like affiliate marketing could. Though speaking of affiliate marketing and Amazon Associates in particular - I'm seeing here treats to Amazon Associates program here - it might turn out, that Amazon is looking for ways how to shot down it's Affiliate program, and Amazon CPM Ads might be the solution. I mean - Amazon has data and they can target your websites visitors as well as Google can, so they can provide you with really targeted CPM Ads - while paying you pennies (I'm not familiar what's CPM for others, but mine CPM of $2.00 is pennies compared to around $50.00 per 1000 page views I got with affiliate links.
But again - it's like comparing oranges and apples. Display Ads vs Affiliate links.
What are your thoughts, are you using Amazon CPM Ads? Leave a comment!