Andernach indeed is one of the loveliest German towns I have visited lately. In fact, I haven't visited Germany a lot. We arrived here after picked up a friend in Koblenz.
The town of Andernach is located just some 20 km North of Koblenz. I know some will find it strange to leave a city of Koblenz not seeing it much (just a railway station and a few elevated roads) but that;s the way I (we) like it. I believe we will return to Koblenz some other time.
I was very surprised by seeing Germany what I seen here at Rhineland, it was a Germany I hadn't seen before.
Original story and photos are from May 2015, with little photo-editing (post-processing) in December 2018. For a complete trip, see My Germany and The Netherlands Travel Guide: also I have updated story about tour in the Mossel Valley 3 day leisure trip to Germany (The Mossel Valley)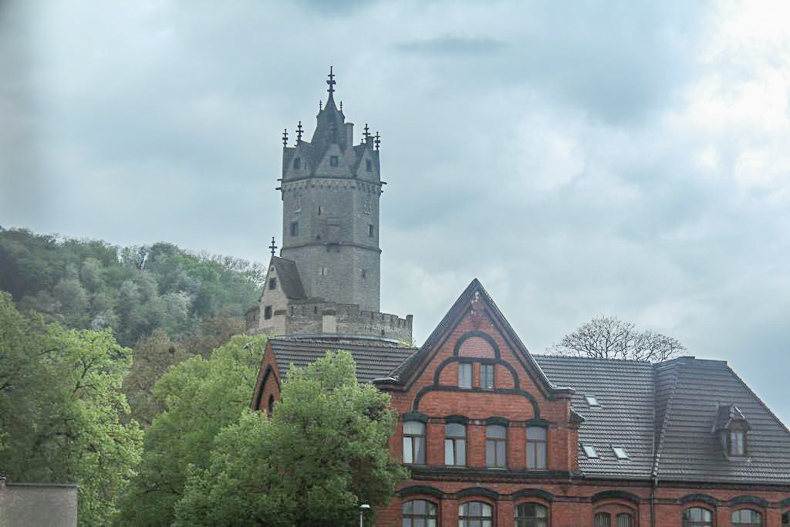 Some Castle Tower in the city of Andernach
Should I complain here - a tripod is a must have accessory if you are up for a good photography? Well, it all happened in a bit rush that I was lucky enough to shoot this picture from Andernach.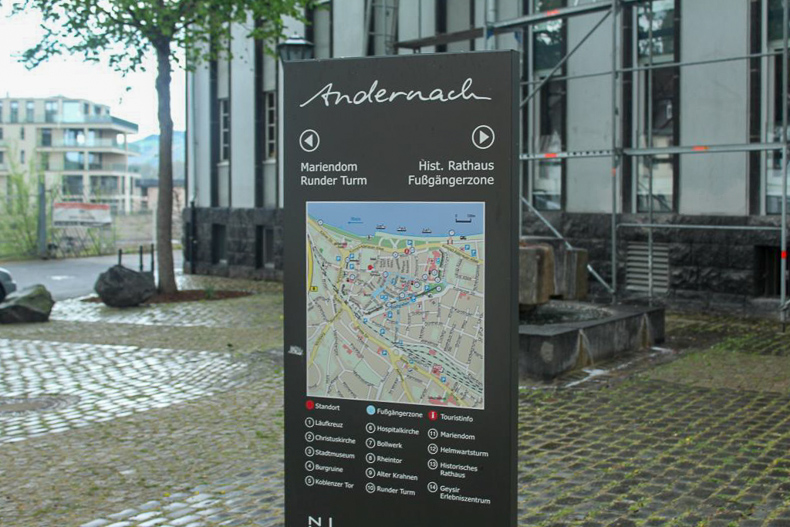 City plan of Andernach, Germany
Well, I felt lucky I found this table, prior to that I didn't know the name of this city.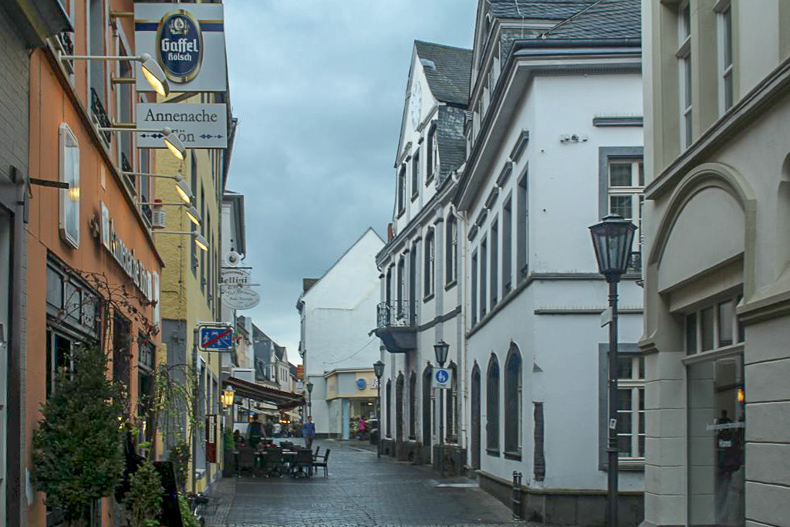 Old Town of Andernach
Here we find a restaurant street and had a lovely dinner at one of the local one.
We didn't find here any German style restaurant, instead, we found pretty many Italian style restaurants here and ordered our meal at one of the Italian restaurants. I found it as strange as you might.
Restaurant 'Bellini' In Andernach, Germany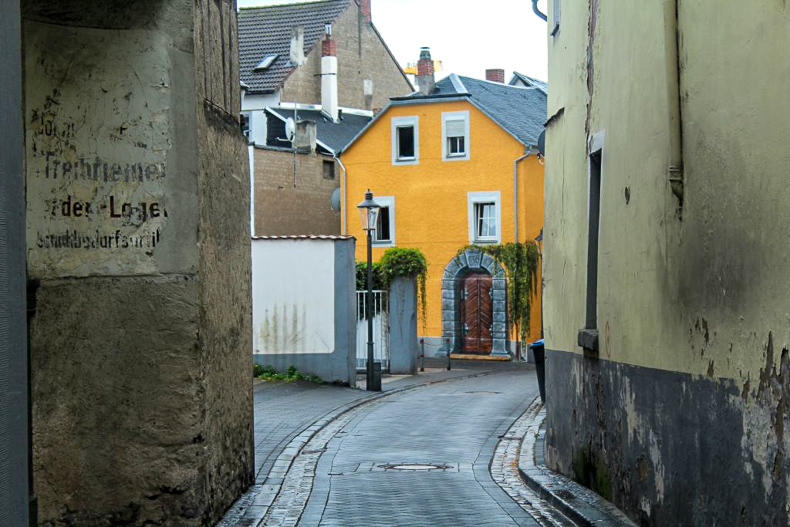 Streets of Andernach
This is one photo I'm proud of myself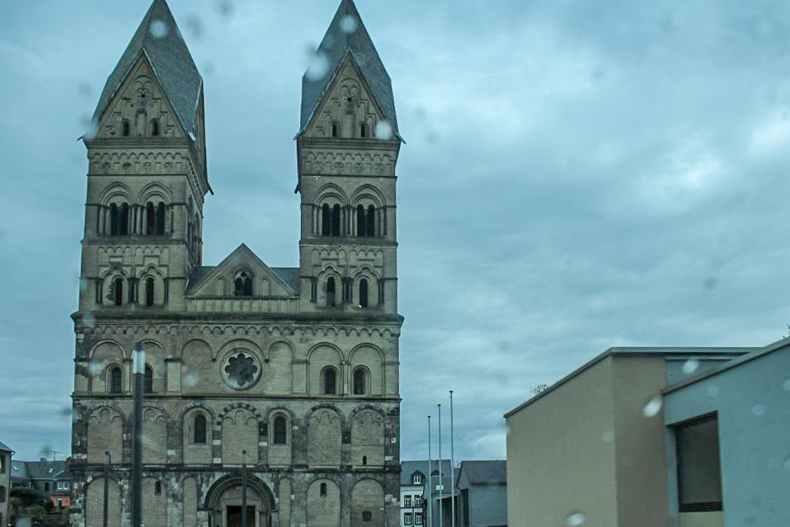 Cathedral of Andernach
Ah, just a lame shot from a wind shield, but they do have a cathedral there at Andernach and a pretty impressive one I would say.
Road to Andernach
The city pictured above is not Andernach it's some other. But that's how it looks like if you travel here from Koblenz near river Rhine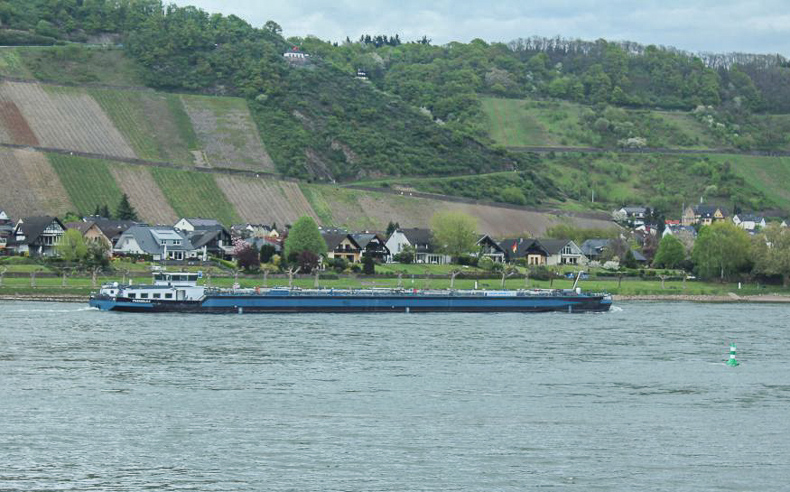 A nuggar sailing river of Rhine
Again I was surprised to learn you can sail river of Rhine. Such nugagrs there are plenty of them sailing.
Although we spent here just some 3 hours (from which 2 hours we spent at local Andernach Italian restaurant) this is a city which showed me Germany in totally other light. One I know for sure - I will return both for Koblenz and Andernach any time soon.
About Andernach
Andernach  is a town in the district of Mayen-Koblenz, in Rhineland-Palatinate, Germany, of currently about 30,000 inhabitants. It is situated towards the end of the Neuwied basin on the left bank of the Rhine between the former tiny fishing village of Fornich in the north and the mouth of the small river Nette in the southeast, just 13 miles (21 km) north of Koblenz, with its five external town districts: Kell, Miesenheim, Eich, Namedy, and Bad Tönisstein.
A few hundred metres downstream of Andernach the Rhine valley narrows from both sides forming the northern part of the romantic Middle Rhine stretch. Already in Roman times the place the narrow passage begins was named "Porta Antunnacensis" or Andernachian Gate. It is formed by two hills, the Krahnenberg (engl. Crane hill) and the Engwetter (Narrow weather) on the right bank near the wine village Leutesdorf (external town district of Bad Hönningen). The crane hill is named after the old crane beneath his foot; in earlier times (until 1650) the hill was named "Geiersberg" ("Vulture's hill").
Founded by the Romans as Antunnacum in 12 BC on the site of an old Celtic settlement probably called Antunnuac, Andernach is one of the oldest towns in Germany which as such held its "Bimillenary feast" in 1988. Both the Roman and the Celtic names mean "village or farm of Antunnos/us"—a man not yet identified. It was the southernmost outpost of the Electorate of Cologne from the 12th to the 19th century.
In addition to the touristically appealing medieval remnants of the old town fortifications, the city of Andernach is the location of several old industrial plants such as a huge malt mill (the last one of more than ten mills and breweries from the 19th and 20th centuries dismantled in 2008). Among the more modern of its industrial / manufacturing base is a large steel-mill to produce cold formed tin plate and companies manufacturing medicinal products, raw food materials, cast iron products, engines and engine parts.
Tourists who come to the region usually visit the medieval fortifications such as the 183 feet (56 m) tall "Round Tower" (Ger. "Der Runde Turm") finished in 1453, the archiepiscopal (Electorate of Cologne) castle ruins with a well-preserved keep, and the remains of the town wall with several well-restored wall towers and two gates: the "Rhine Gate" (das "Rheintor") built around 1200 as the "Grain Gate" (die "Kornpforte"; last renovation and reconstruction in 1899 after 17th century plans) and the "Coblencian Gate" ("Koblenzer Tor"), originally called the "Castle Gate" ("Burgpforte"); in medieval and Renaissance times up to the 19th century the German word "Pforte" (from Latin "porta") was used for town and church gates instead of "Tor".