This post is a round up post from my birthday celebrations in capital of Armenia, Yerevan, at start of the August.
Idea of visiting Armenia, arise soon after I decided it might be fishy to flight to Mestia (Georgia). That was first option - to visit mountainous region of Svaneti in Georgia. I even expressed my joy, learning that regular flights has been launched from Tbilisi to Mestia. After several attempts to contact aircraft-carrier - they didn't expressed much trust for me - like - on questions, when is the flights, where are they from (it's some airfield out of Tbilisi) - the answers were typical lame - call tomorrow e.t.c. So screw you Mestia - it's time for Armenia.
This was not the first time we headed to Yerevan, Armenia, this was second time this year, and third time in total. Seems I'm found of Armenia.
So we did quickly found a car transfer service from Tbilisi to Yerevan, and our trip started. 
Click on the above image to find out how to travel cheap by taxi car from Tbilisi to Yerevan
Prior to visiting Yerevan, we booked a Hotel Republica Yerevan in city centre.
Read my review for Republica Hotel Yerevan by pressing image above
We arrived at early morning in Yerevan, and first thing first - we headed to VivaCell-MTS to get an Armenian SIM card and mobile internet.
As it turned out - our check-in in hotel started at 2:00 PM. We had a plenty time to spend in Yerevan. The problem - we were damned tired. For a starter we headed to Marriott Hotel to enjoy morning coffee with delicious hand made truffles.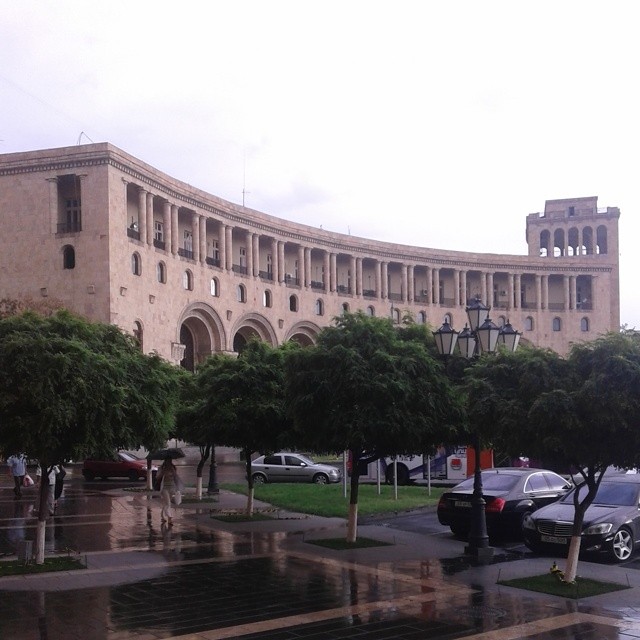 Republic Square Yerevan
Then we decided we should at least find a precise location for our hotel, since it was in the city centre, and we were in centre - we thought there should be no problems of finding it. Actually there were no problems at all - it's just to dramatize my tale.
Our first strange experience happened at the supermarket - Moskvichka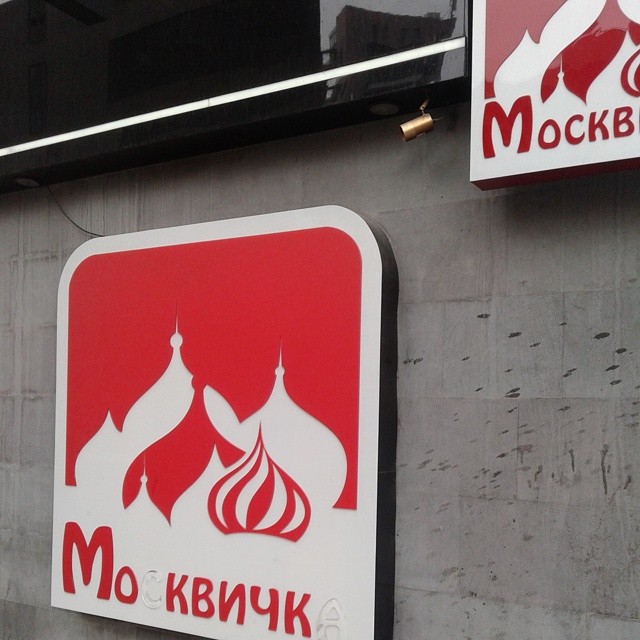 In this lovely store, with very Russian name, even written in Cyrilc I tried to speak Russian with sales persons. And for a surprise for me, they all as one objected on that - and kindly asked me to speak in English. I asked the simple question - Why does personal at Moskvichka store avoids to speak Russian?
Anyway - the tensions with Russian language in Armenia I have observed already in previous trips to Yerevan. The most funny fact is that - everyone knows Russian language, but some people pretends they don't.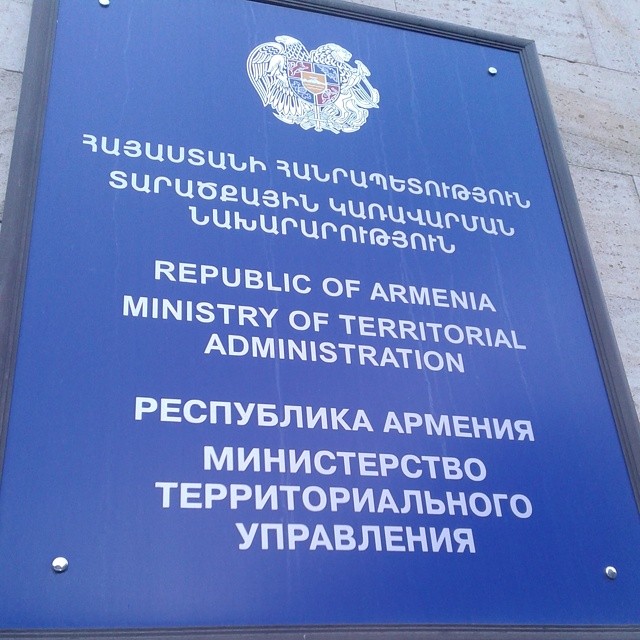 Multilingual signs in Yerevan
This is phenomena I have observed in other Post-Soviet countries as well.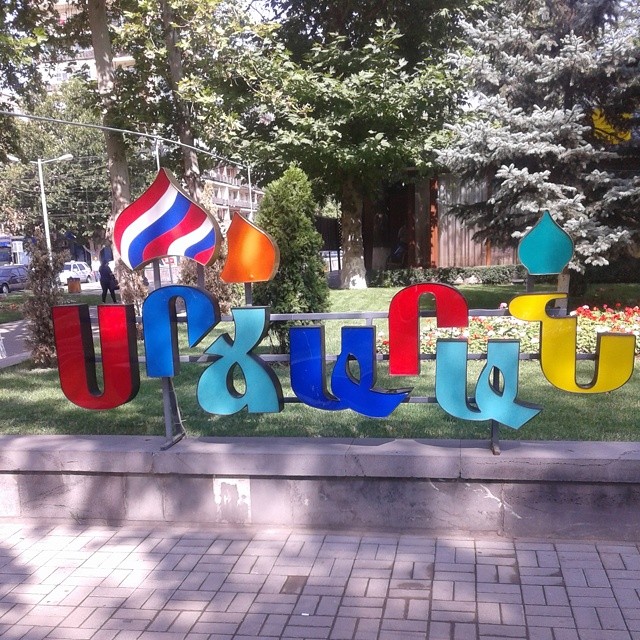 Park in Yerevan
Anyway - the ambivalent feelings accompanied us all the stay in Yerevan, to know when to speak Russian and when it's better to speak English. For example, taxi drivers will prefer Russian, while at the hotel they will speak English.
Enough about strange multilingualism in the streets of Yerevan.
We still had a plenty of time till check-in in our hotel, and I suggested that we should visit The Cascade of Yerevan - much heard, but never before seen. Said - done! We grabbed a taxi and went straight to the top of Yerevan Cascade.
Yerevan Cascade
At Yerevan Cascade I took plenty of photos, you can see them here
We had delicous food adventures as well, you can read about Finde Dining place in Yerevan here.
Next day was my birthday, and we strated our day by heading to Yerevan Mall, where I got a really nice gift - a scarf.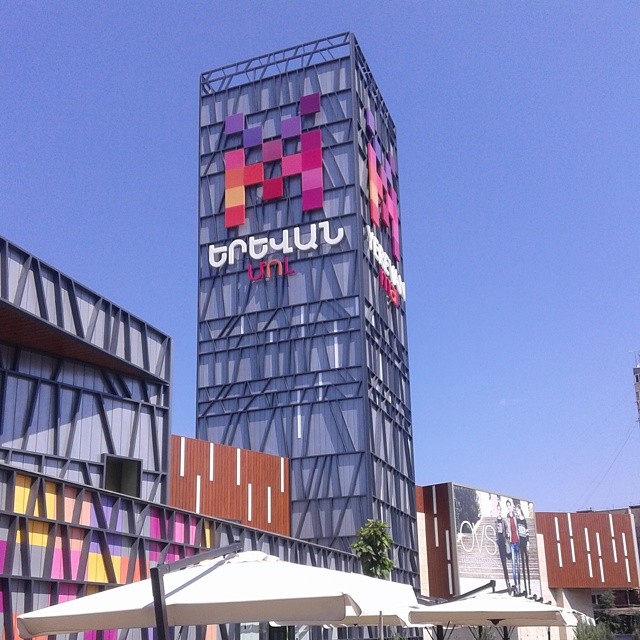 Yerevan Mall
After couple of spent hours in Yerevan Mall, where I found new Carrefour store is to be opened soon, we headed to famous Erebuni Fortress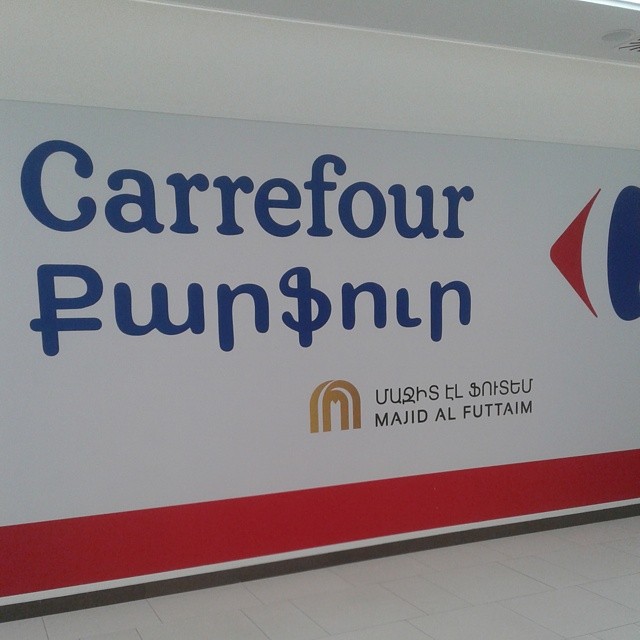 Carrefour store to be opened soon at Yerevan Mall
So we then headed to Erebuni Fortress on what you can read article here
And finaly in the evening we headed to Republic square in the centre of city to watch musical fountains, I even managed to record a video here.
Please enjoy Sarah Brightman & Andrea Bocelli - Time to say goodbye / Yerevan Republic Square, August 7, 2014 (around 11PM)
So that was our short 2 day trip to Yerevan in one blog post.