Welcome to the #2 renewed blog traffic and income reports covering blog traffic and earnings for the month of December 2022.
These reports help me track my progress or failures and also can give some glimpse behind the scenes and hopefully can generate some ideas for you as well.
About Blog traffic in December 2022
The last December comes with a -4.86% traffic dip compared to November and resulted in 20,598 unique users visiting my blog.
I was hoping to reach at least 25,000 in December, but that just didn't happen.
If compared YoY to December 2021 that is a -10.53% traffic drop. It has been about 12 months already since my blog actually lost its stem and right now I put my effort to stop the loss and return to growth.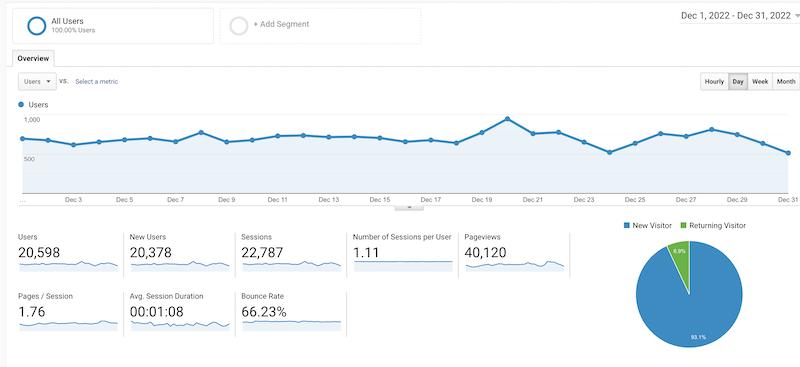 20,598 users is a -4.86% drop if compared to the previous month
decline by  -1,052 users
20,598 users in a month are about 664 daily users
For a blog that has had more than 120,000 monthly visitors in the past these numbers are very humble., I'm looking to grow the blog back to at least 50,000 monthly users. I believe it will take both good article writing while updating older ones.
Last December I fixed two core issues for the blog - returning Disqus comments and fixed AMP. In the month of December AMP served pages counted to about 28% from the total pageviews. 
About Income in December 2022
To monetize this website I use Amazon Associates and Google Adsense, total income from both:  $411.86
Thoughts on January 2023
I'm looking at the month of January with ambivalent feelings - I mean the holiday season is over and there might come some drop in revenues, while ont he other hand I'm hoping AMP will give a boost.  I will stick with a somehow high forecast for myself, but modest for more pro affiliate marketers - January should reach $500,00. Speaking of traffic - 25,000 users would be great to have at the end of January 2022.
How did it go for you in December? Any passive income money made? Drop a comment, readers and I would love to hear.