Welcome to the #1 renewed blog traffic and income reports covering blog traffic and earnings/expenses for November 2022.
It has been already 7 years since my latest blog traffic and income report. As I enjoyed them back in 2014-2015, and because both the blog traffic and income have decreased significantly in the past year - I decided to renew these reports to get a better understanding of what's happening behind the scenes as they help me track my success or failures and hopefully can generate some ideas for you as well.
About Blog traffic in November 2022
Past November comes with a small but important - 3.96% traffic growth if compared to October, and resulted in 21,651 unique users visiting my blog.
But if compared YoY to November 2021 that is a -38.64% traffic drop. Back in the Summer of 2021, I did a major blog upgrade, upgrading it from Drupal 7 to Drupal 9 (as Drupal 7 become more and more obsolete) I believe the traffic drop is related to the blog upgrade as not all went smoothly like I had lost pictures, gmap module support and also AMP. I have managed semi-manually recover gmap and pictures, but haven't yet recovered AMP usability for the blog.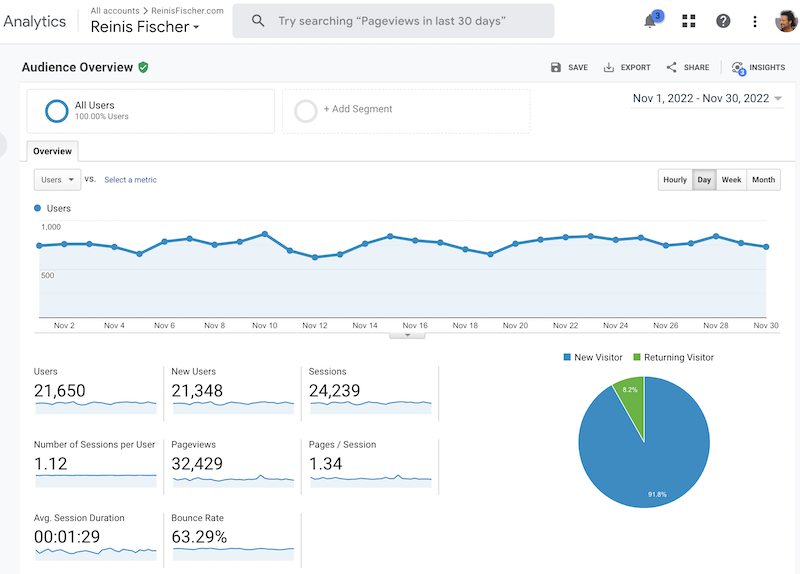 21,650 users is a  - 3.96% growth if compared to the previous month
growth of  +824 users
21,650 users in a month are about 721 daily users
For a blog that has had more than 120,000 monthly visitors in the past these numbers are very humble. I like the growth month on month, but for the next 12 months, I'm looking to grow the blog back to at least 50,000 monthly users. I believe it will take both good article writing, updating older ones, and fixing some technical things, like getting back AMP usability for the website.
Top 10 Articles
The top 10 most-read articles on the blog last month were about monthly average salaries in the EU, top best-selling laptops (Black Friday and Cyber Monday at the end of November helped to boost such style articles) also my photo article about making Cranberries in Powdered sugar back from 2016 made it among the top 10. 
About Income and Expenses in November 2022
To monetize this website I use Amazon Associates and Google Adsense, total income from both:  $398.52
Expenses:
Thoughts on December
I'm looking at the month of December pretty concerned - I mean the holiday season is in a full swing, but the last year for this blog has been challenging, with massive traffic drops - there could come a further drop in revenue. I will stick with a somehow high forecast for myself, but modest for more pro affiliate marketers - December should reach $500,00. Speaking of traffic - 25,000 users would be great to have at the end of December 2022.
Here are two things I'm looking to re-enable next month (might help to return some of the lost blog traffic)
Disqus comments
AMP expierience
How did it go for you in November? Any passive income money made? Drop a comment, readers and I would love to hear.