European Union with 28 member states, with population reaching over 500 millions, for some might sound as the Worlds largest Economy, if looking to European Union as a whole, solid brick creature. In 2012, GDP in EU was $16.6 trillions.
But lets break things up, and see what makes European Union? Today I would like to speak about smallest economies of EU
The Smallest economies of European Union:
I decided to call a small economy, if it's Gross Domestic Product is less than $100 billions.
In 2012 in European Union there were 10 countries with GDP less than $100. Malta, Estonia, Cyprus, Latvia, Lithuania, Slovenia, Bulgaria, Croatia, Luxembourg and Slovakia. Population total in these countries made 28 millions.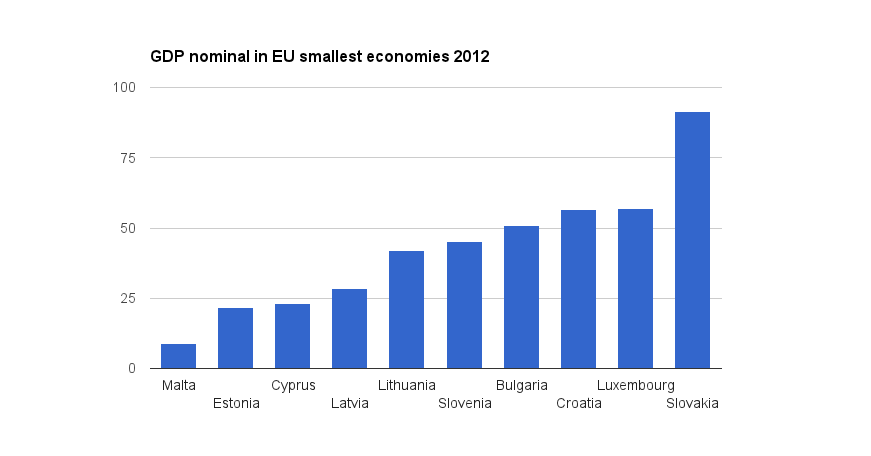 In total 10 smallest economies generated $425 billions of GDP.
According to chart above, we can expect in closer future to see Slovakia to left list of smallest economies. In 2012 Slovakia's GDP was $91.604. I truly believe that in close future we should see Bulgaria too to be removed from this list as well. In 2012 Bulgarian GDP made just $51 billion, with it's population of 7.3 millions, making Bulgaria the poorest country by GDP per capita in European Union in 2012. In 2012, GDP per capita in Bulgaria was $6.980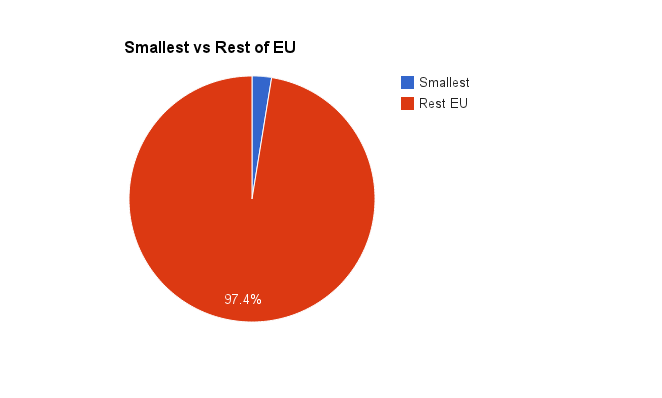 In 2012 these 10 smallest economies of EU generated just about 2.6% of total economy. 
GDP per capita in EU smallest economies
In average GDP per capita in those 10 countries was $15,00.19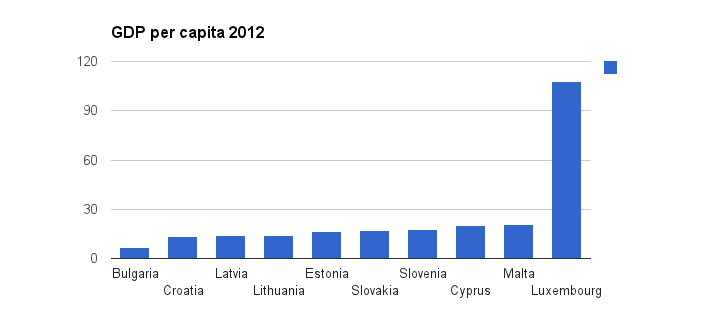 Smallest GDP per capita was in Bulgaria, making just $6.985, while the highest was in Luxembourg - $107.560 per capita.