Welcome to my second attempt of being a food blogger - in this post I will try to demonstrate how to bake a Russian 'Pirozhki' and a cinnamon buns using yeast dough.
Please pardon my English language it's not my native language.
I'm complete profane into cooking and I'm a super complete profane in English culinary language. But hey, that's what for my blog is used for - to learn new things and improve my language skills.
I believe the culinary English is a great way to improve English language skills.
Back to the subject - 'Pirozhki' in Russian stands for small pies stuffed with some filling. This time we used ham & onion and egg & green spring onions for our version of Russian 'Pirozhki' filling.
From a leftover dough we made a few cinnamon buns as well.
This yeast dough is universal, it will suite for baking different pastries, tarts, buns and other pastries.
From bellow seen amount of dough we prepared 3 plates of 'pirozhki' and 1 plate of cinnamon buns.
Ingredients for yeast dough
5 cups flour
1.5 cups milk
1/2 tsp. salt
1 egg
1 packet of dry yeast (11 grams)
2 tbsp sugar
2.5 tbsp oil or butter.
Ingredients for 'Pirozhki' with ham filling
300 grams ham
1/2 Onion
Pepper
Ingredients for 'Pirozhki' with egg and spring onion filling
Onion Springs
2 boiled eggs
50 grams soft butter
Ingredients for Cinnamon buns
Preparing a yeast dough
Add flour to a bowl then add dry ingredients (sugar, salt) follow with adding egg and finally by adding a warm milk (not boiled).
Add a yeast to a warm water, stir well.
Then add a water with yeast to a bowl.
Stir well, once you are satisfied with consistence of your dough - sprinkle some additional flour for covering a dough then cover bowl with a cloth and put it for 50-60 minutes in a warm place to leaven.
Preparing filling for 'Pirozhki' with ham
Cut and slice ham into small pieces, add chopped onion and pepper
Preparing filling for 'Pirozhki' with egg and spring onions
Boil two eggs, cut them. Add chopped spring onions and soft butter
Cooking directions
Put pirozhki in a heated 180-200 degrees oven. Bake until they become brown (5-8 minutes)
Ingredients: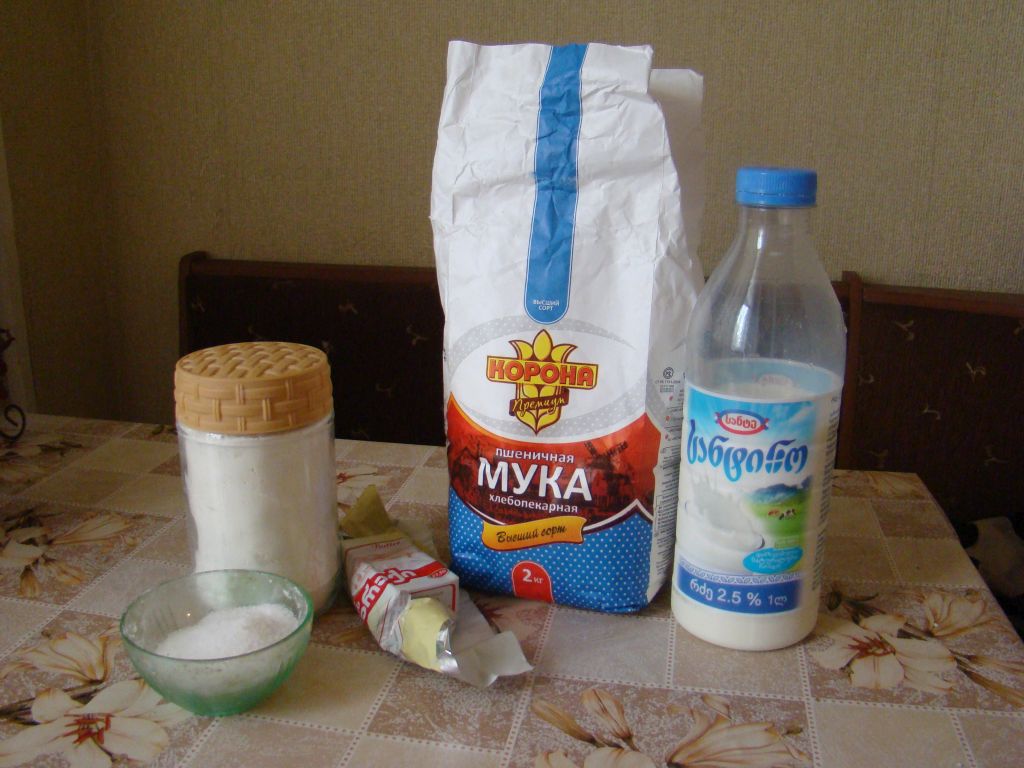 Ingredients for Pirozhki dough - flour, butter, milk and salt
Eggs and green spring onions bought at local Tbilisi Dezerter Market
Preparing a dough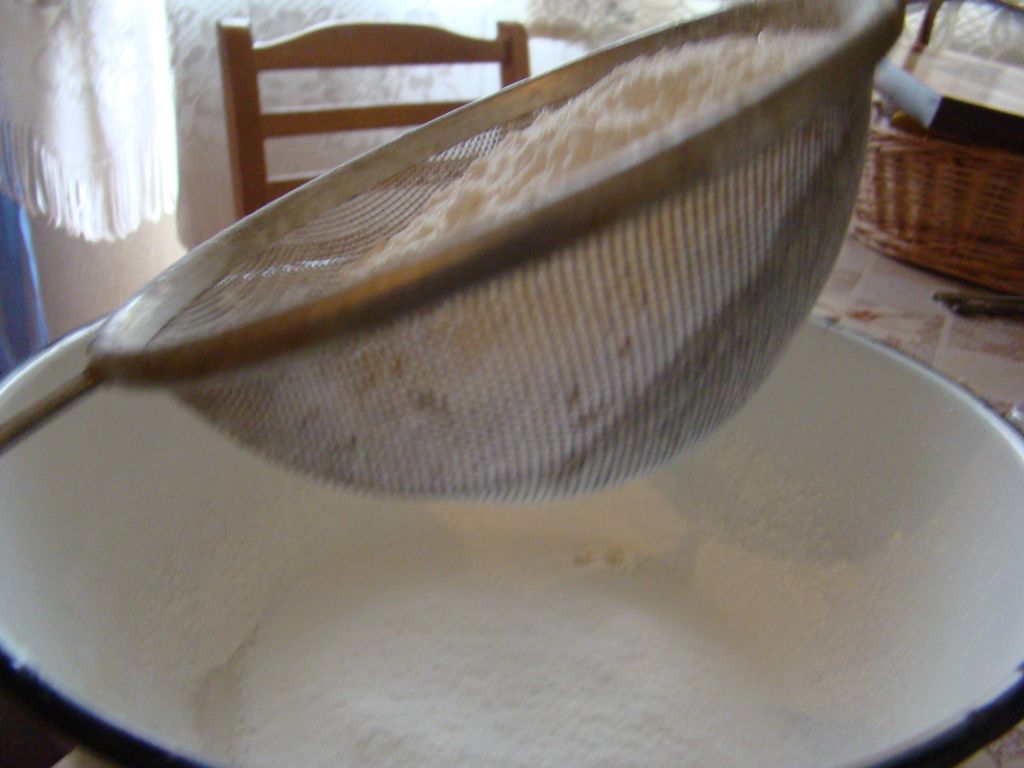 Sift flour in a sifter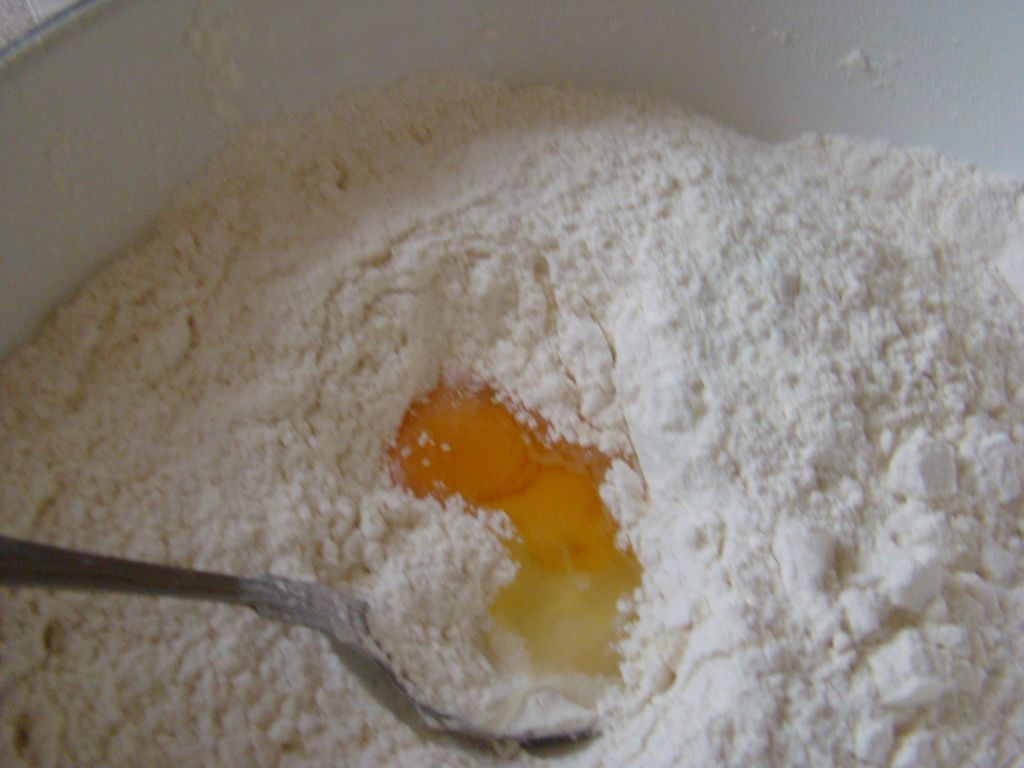 Add eggs to flour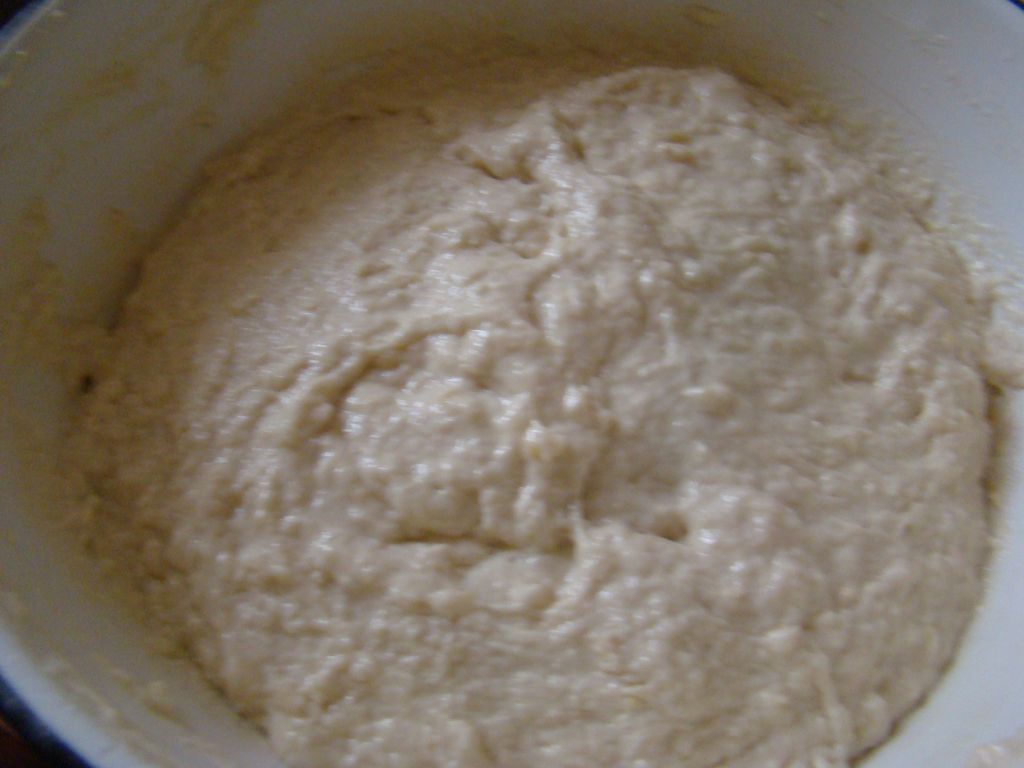 Dough with yeast added
Fillings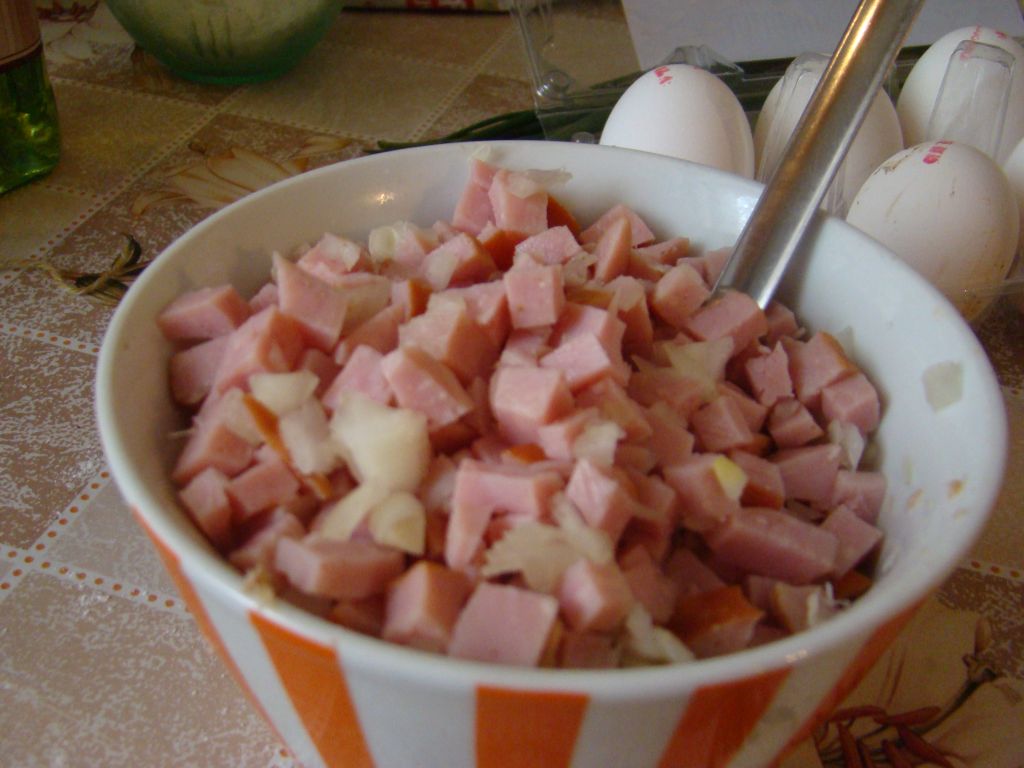 Ham and Onion filling for dough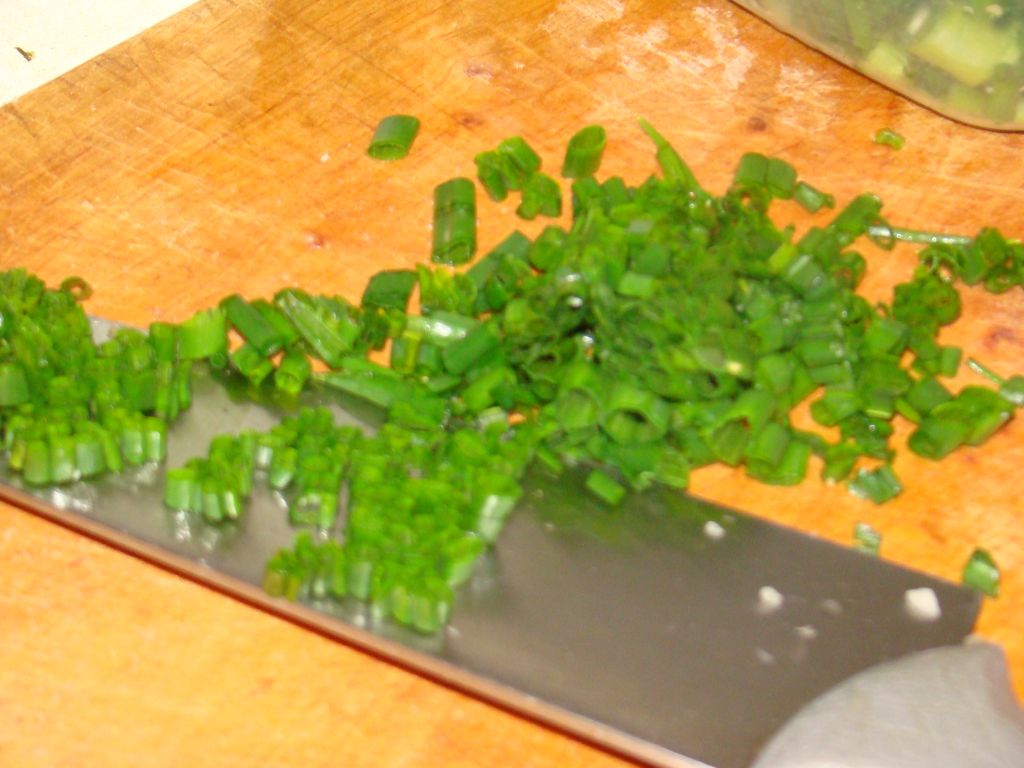 Sliced spring onions
Put a dough in a warm place for 50-60 minutes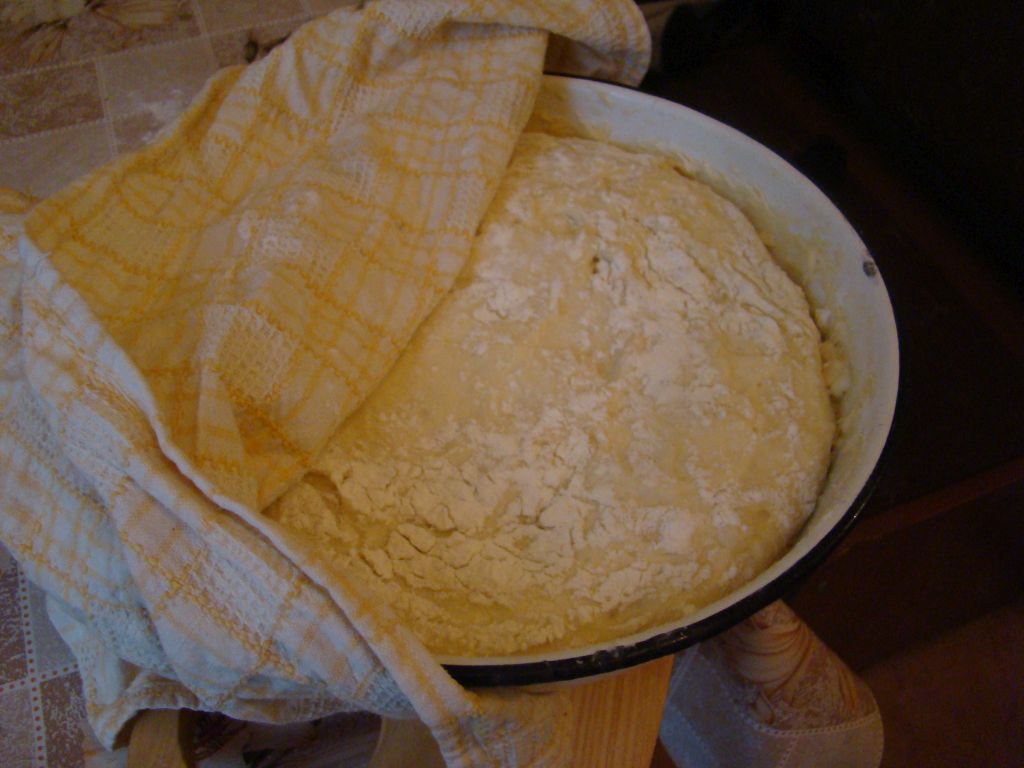 Yeast dough
Making 'Pirozhki'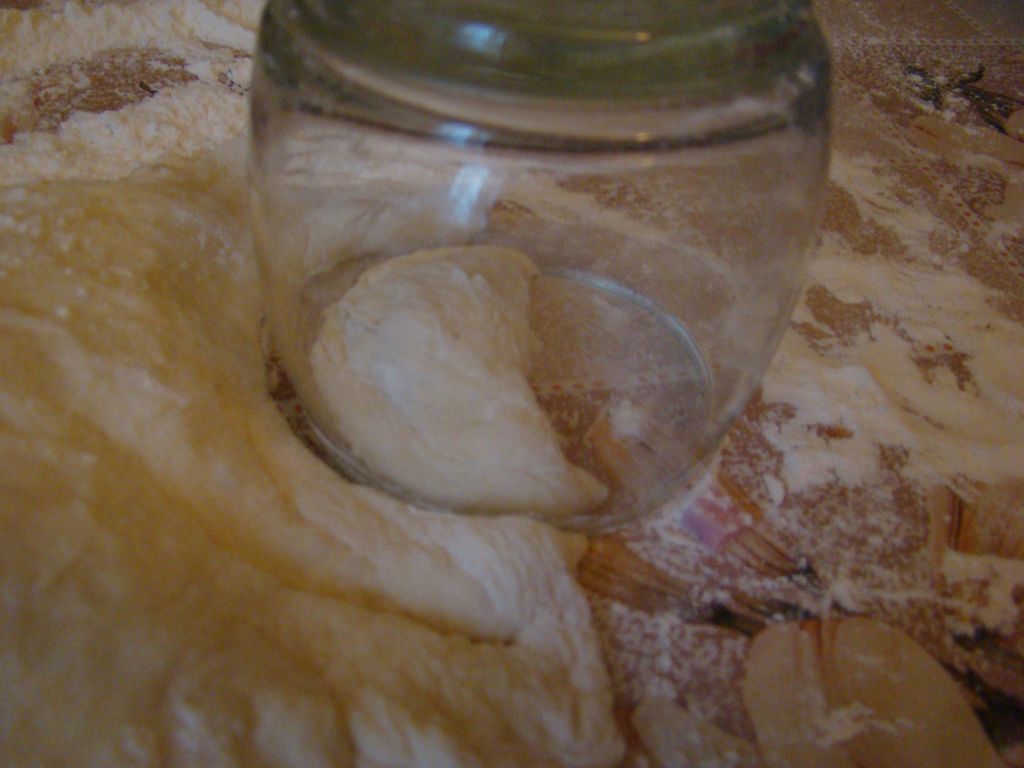 Making pirozhki with a glass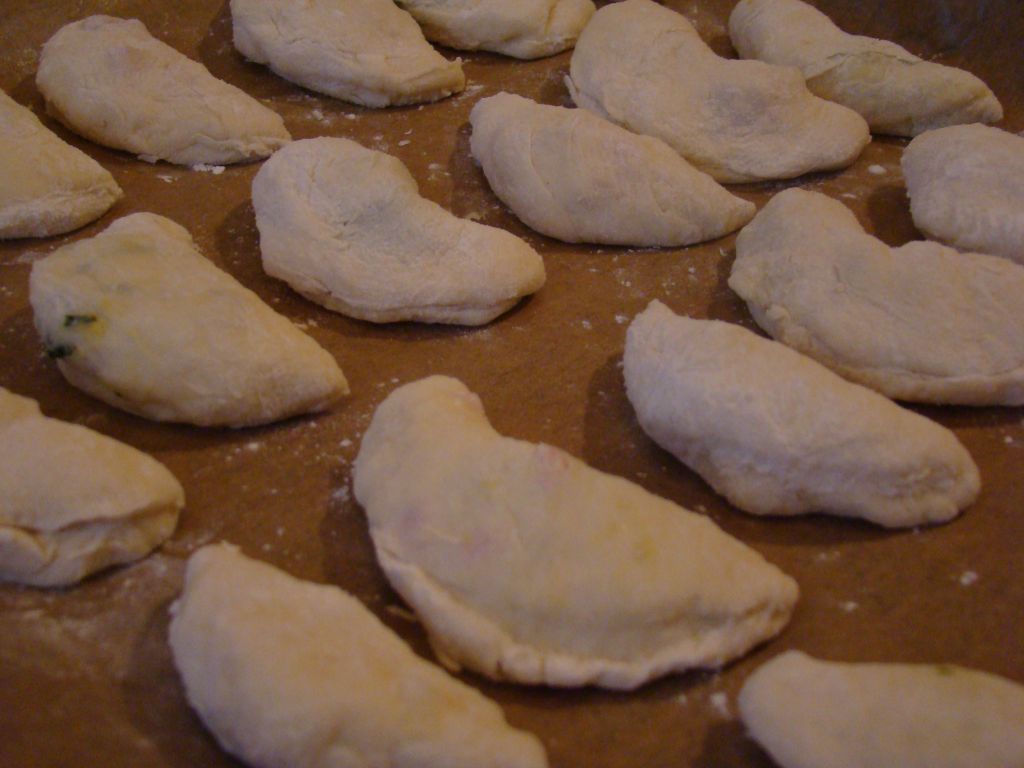 Pirozhki on a baking paper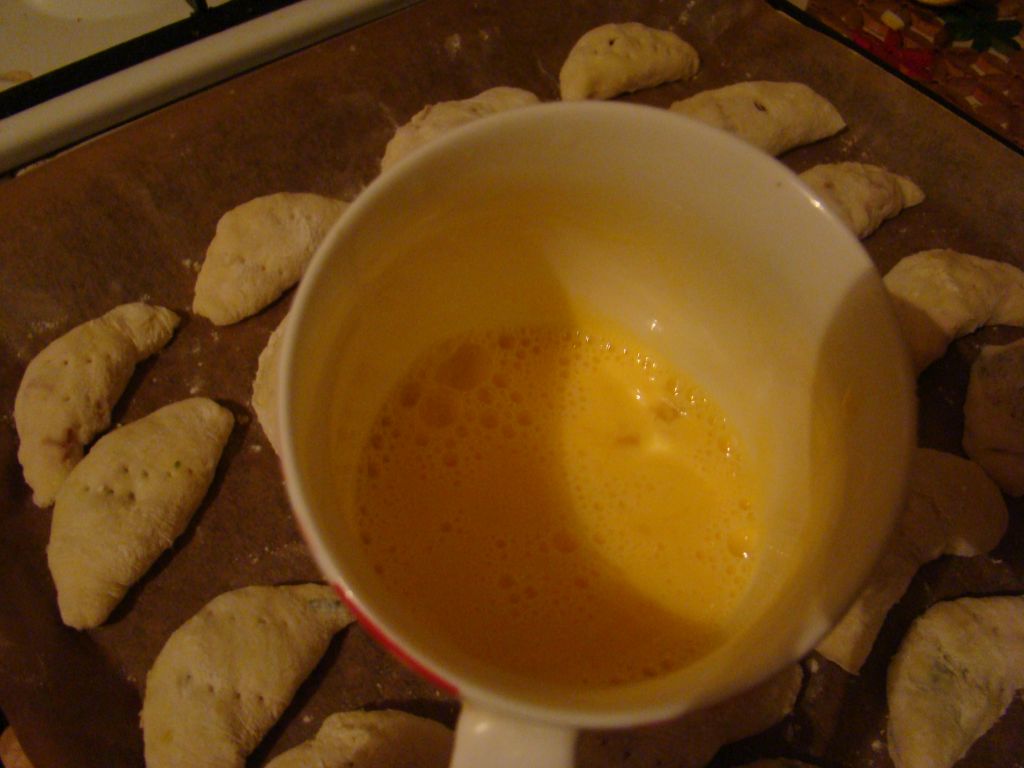 Whipped egg for pirozhki covering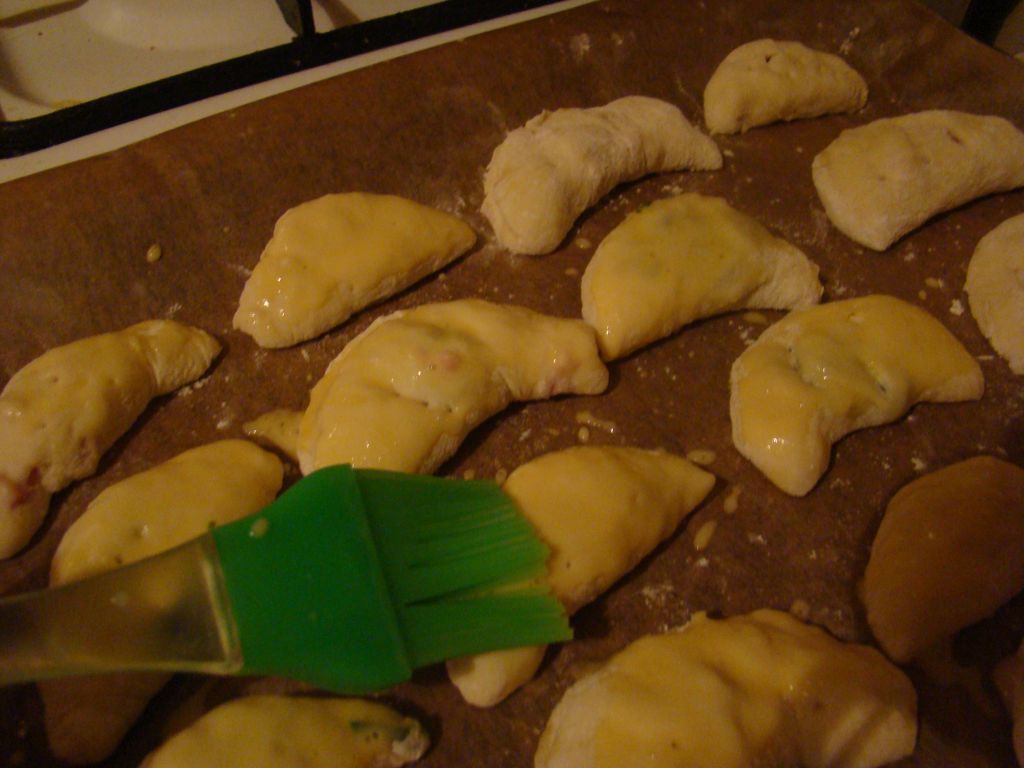 Pirozhki painted with whipped egg
Before putting pirozhki in oven they must be stabbed with a fork and puddled with whipped egg. After taking of from the oven put pirozhki in a bowl and cover with a cloth, to make them soft and puffy.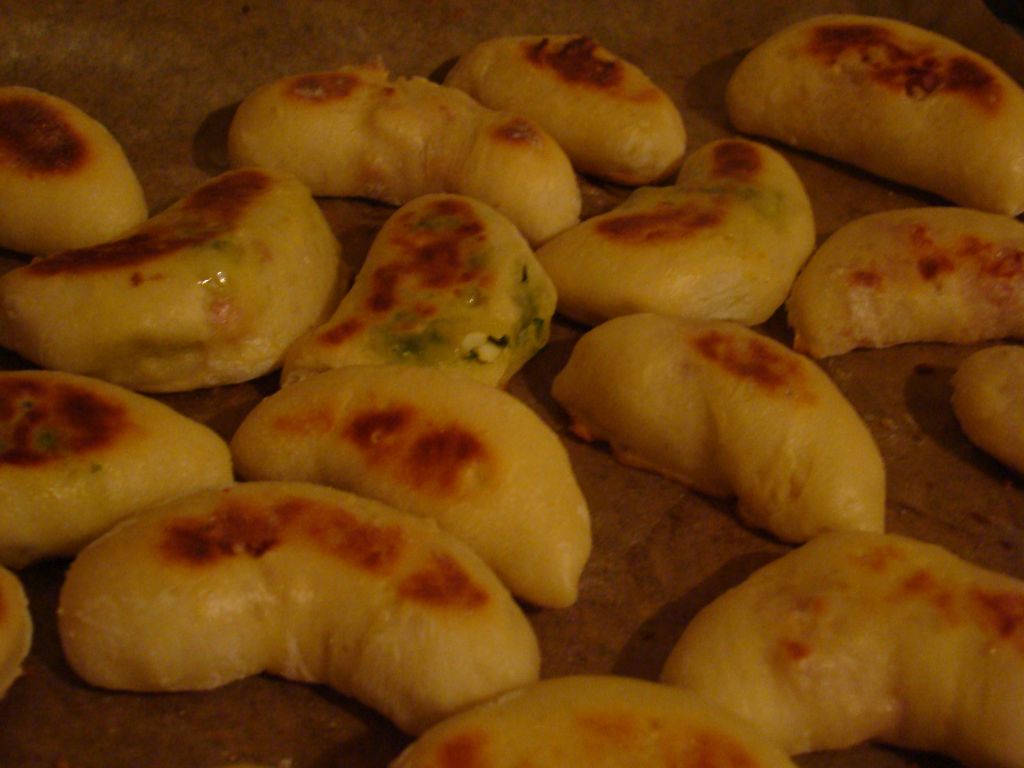 Freshly baked pirozhki just from oven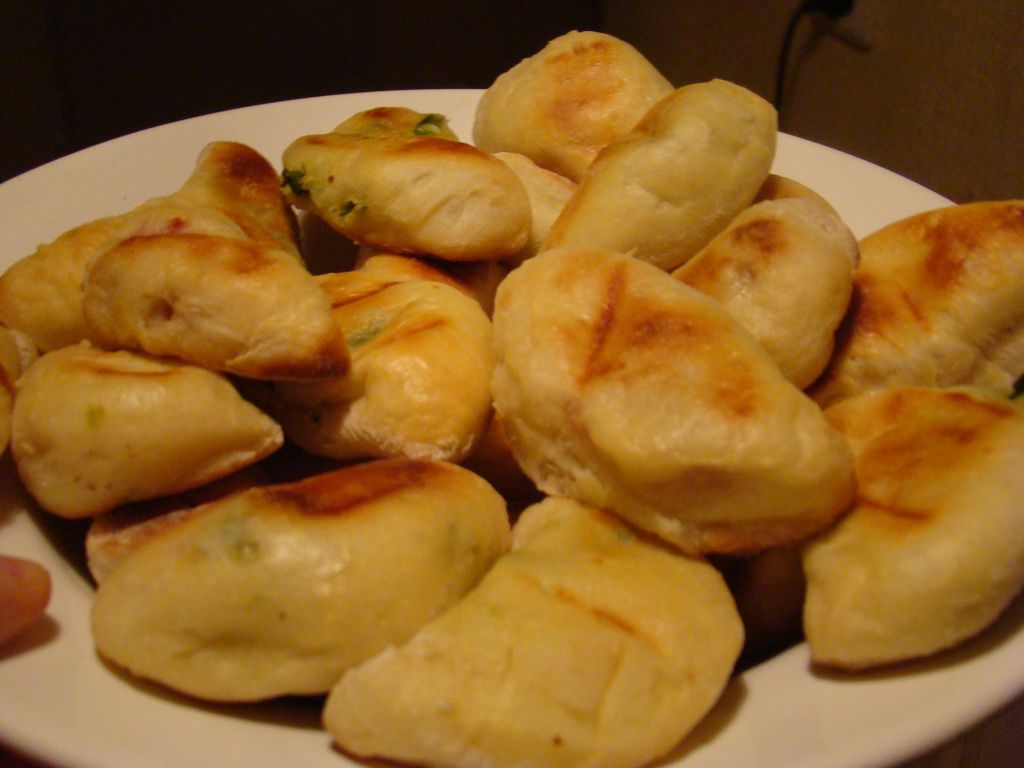 Pirozhki served on a plate
There is a huge possibility you will have a leftovers of your dough, you can bake a cinnamon buns from it for example:
Preparing Cinnamon buns
Roll out a square form dough, puddle it with whipped egg, heartily strew all the dough with sugar and cinnamon so no place of dough leaves uncovered. Then take the wider - longer side of your rolled dough and roll it into a roll. When a sausage form has been rolled out, cut approximately 2 finger wide slices. Then take sliced pieces, using your fingers close their bottoms, so all the filling stays inside. Take a top part of slices and open it in a form of rose (using your fingers).
At the top of it ad a little piece of un-melted butter.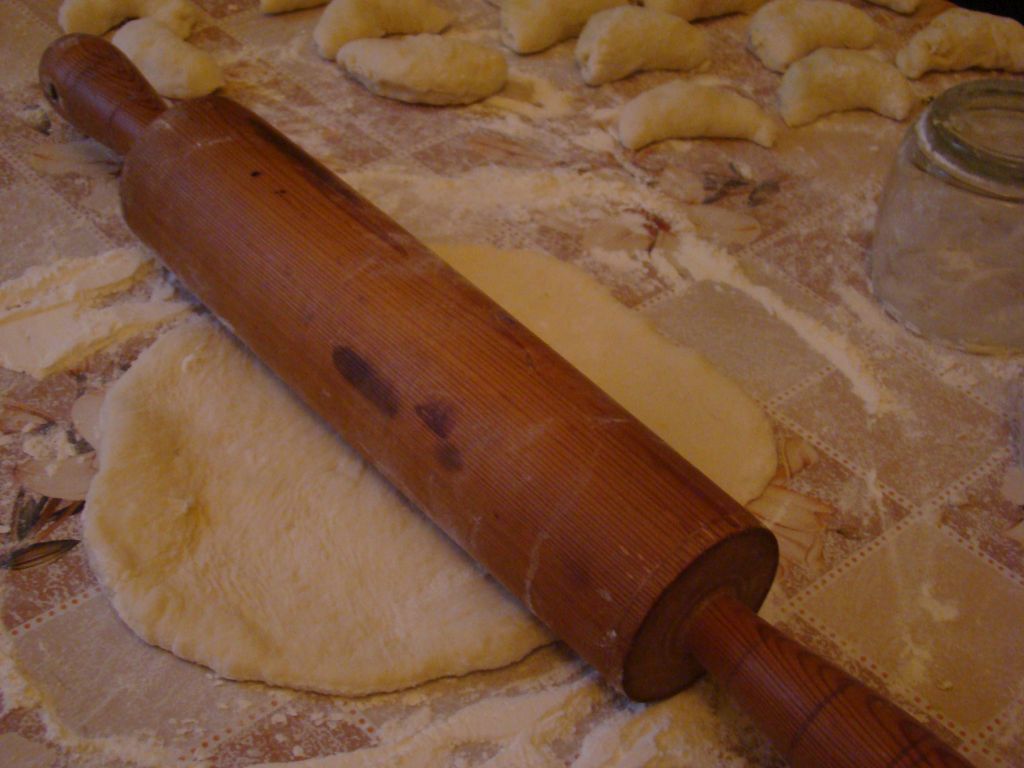 Roll out the dough leftovers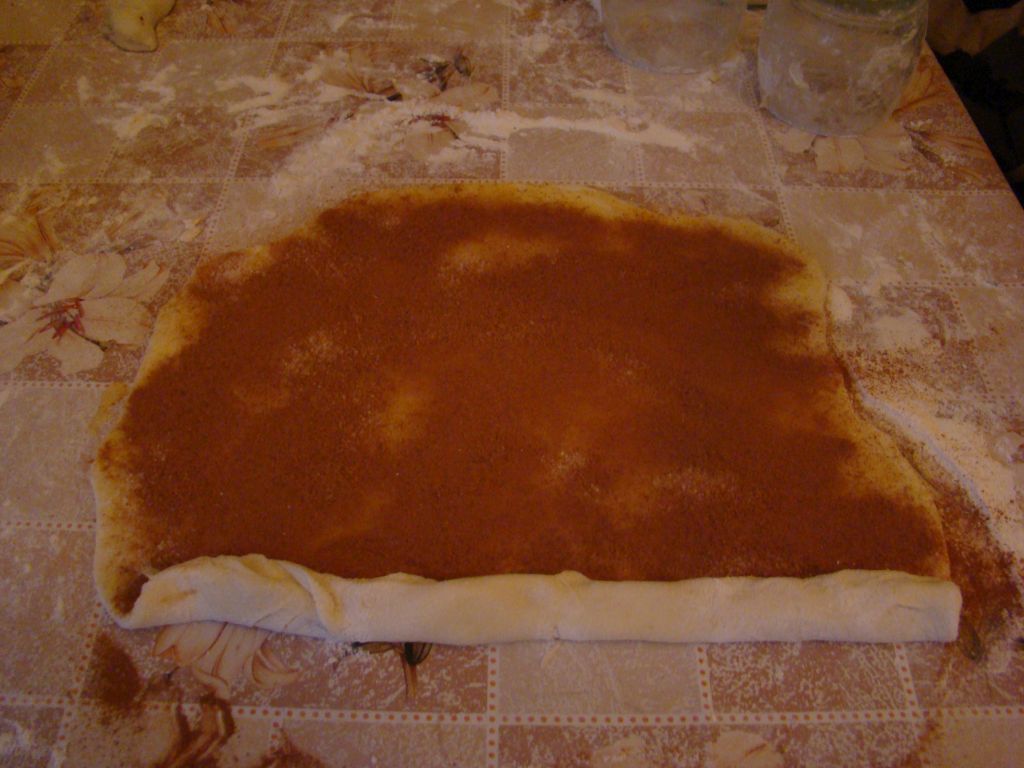 Add whipped egg, sugar and cinnamon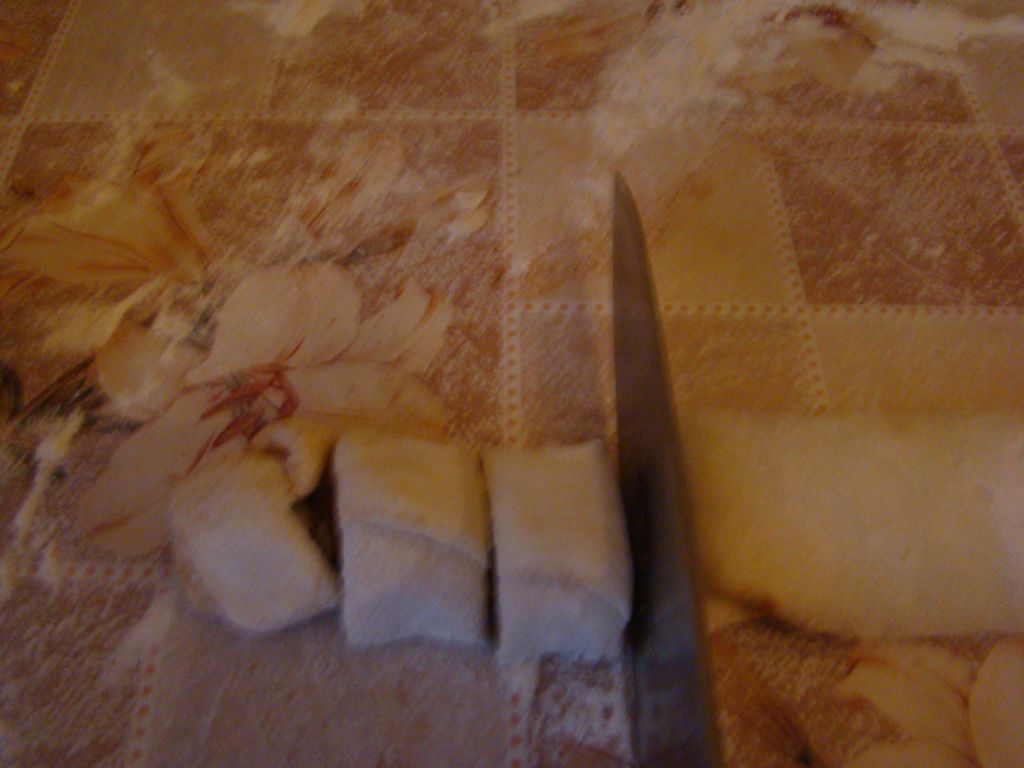 Wrap it up and cut with a sharp knife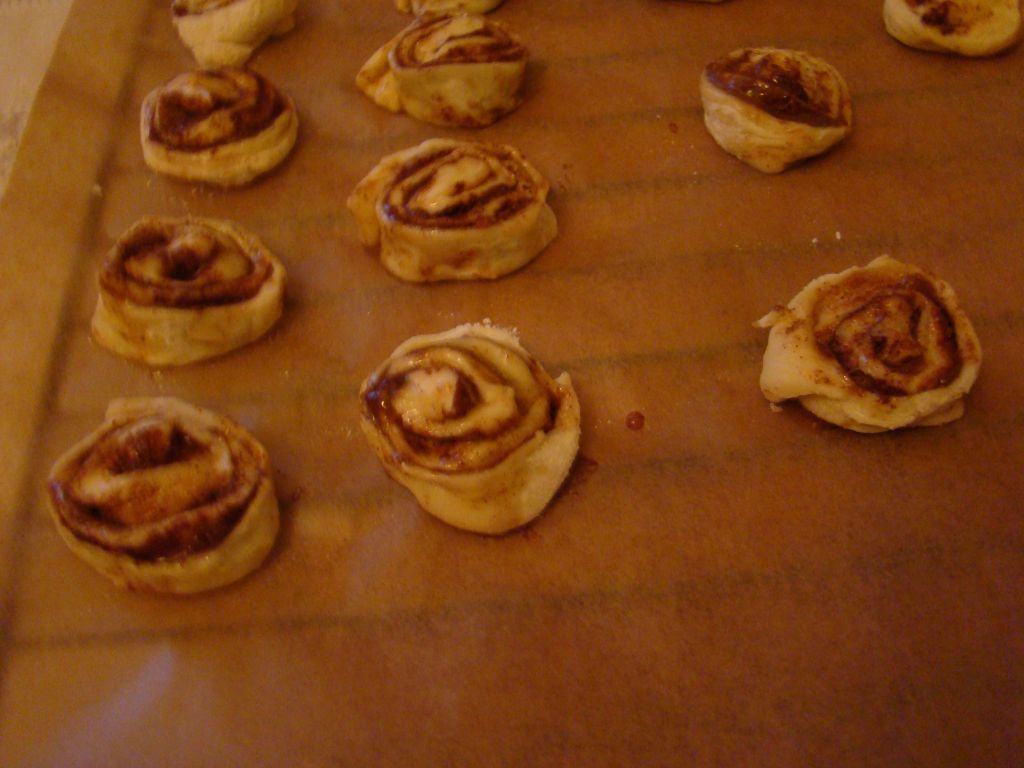 Cinnamon buns on a baking paper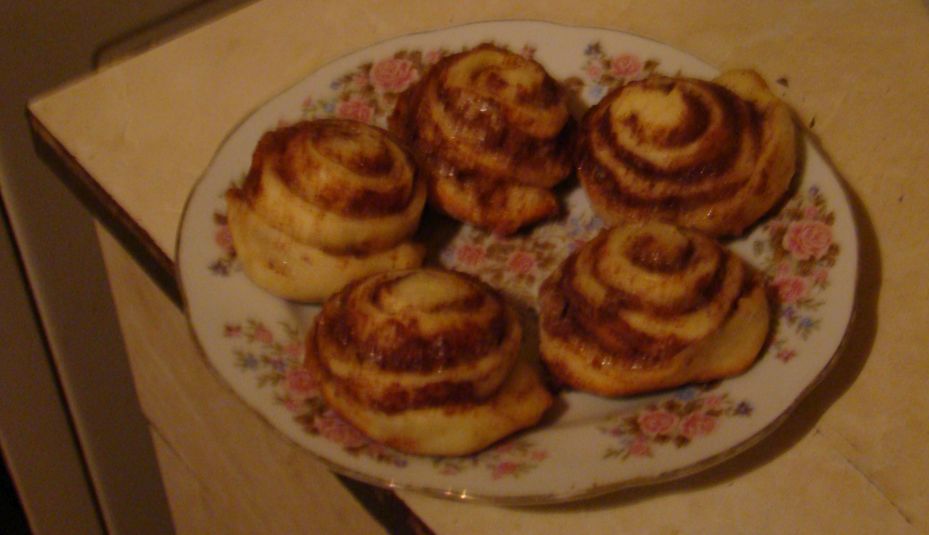 The Result
Tips from a Pro:
If dough is prepared with butter, then when cooled of, pirozhki faster stays harder, if prepared with oil longer stays softer.
Damned - you didn't understood a word here, right?! :)
But these are the words I learned in English today: spring onions, whipped egg, sift, sifter, puddled, leaven