Some time ago we find some offer on Facebook offering rafting tour in Georgia for 2 days - on Mtkvari river. Tour included raft, safety wests, oars, overnight in tents. It sounded pretty good, and we decided to claim this offer. Said - done!
Our rafting tour started Saturday morning from Tbilisi (minibuss waited for rafters next to Radisson Blue and it was supposed to leave Tbilisi at 9:00 AM)
As usualy doing something unexpected I don't plan it very detailed - for me it was clear - it's rafting, what should I plan here? I'm paying my money - and everything rest is handled by organizators.
We started our trip to our destination place - Khetvisi fortress: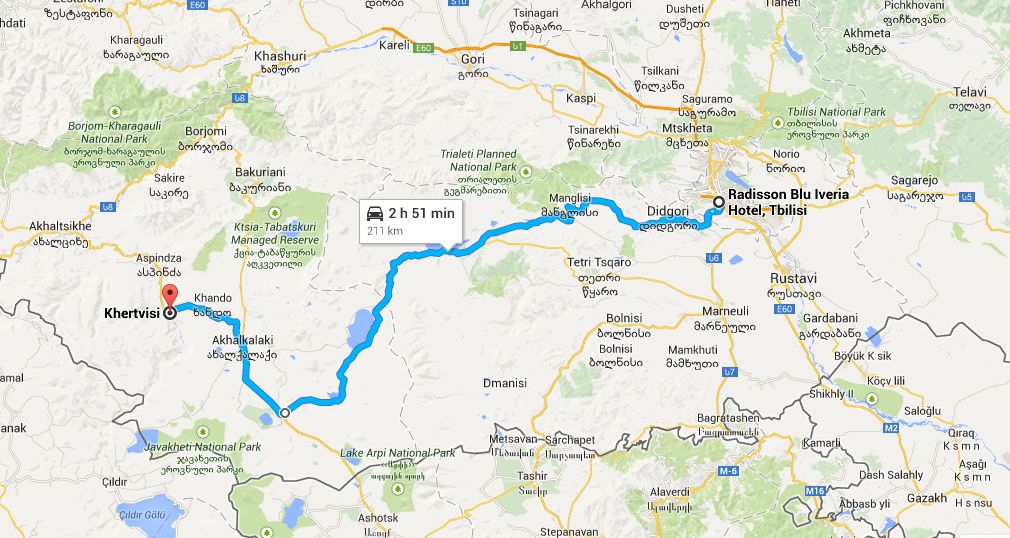 In above map you can see our route - according to Google maps the distance from Tbilisi to Khetvisi fortress is about 211 km and time to drive 2 hours and 51 minute. We made this route in 5 hours. Well we did stop to take some scenic views:
Update:
One of the team members - Bogdan Egikov, pointed that my map is not precise, he gave me route according to his records: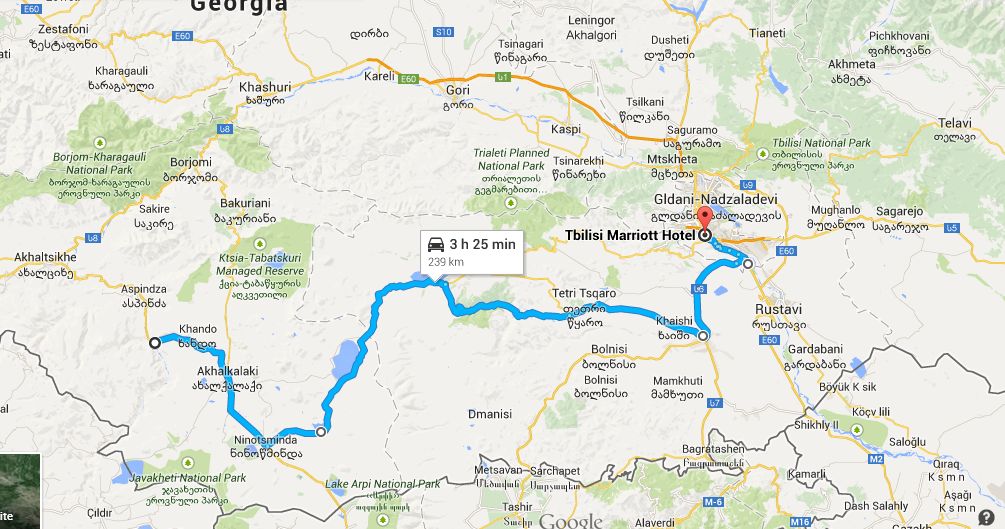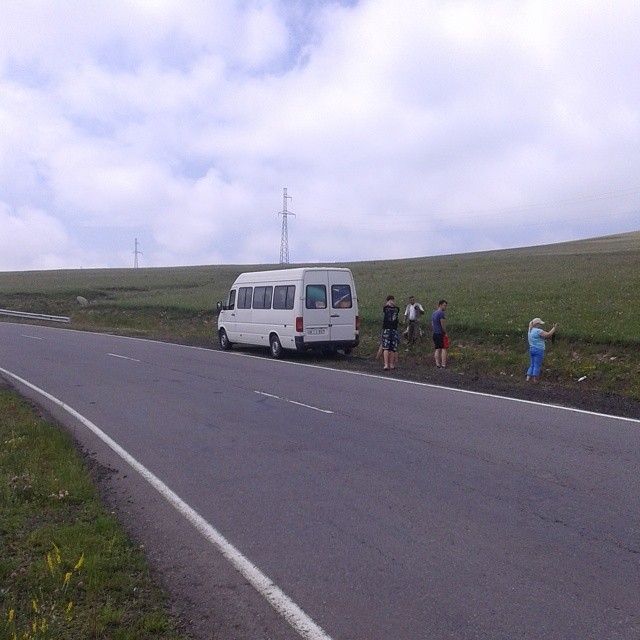 Stop in mountains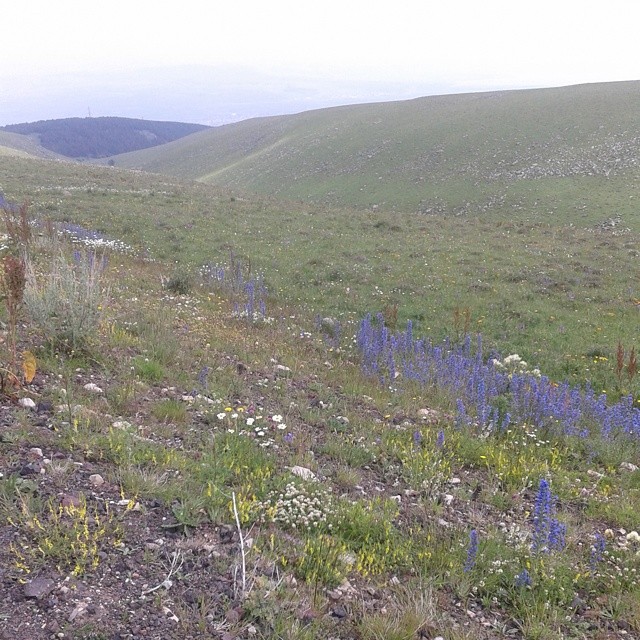 Alpine meadows
Our drive took as through Samche-Javaheti region. One of the specific for this region - it's widely populated by Armenians, and driving through some cities in this region - I got the Little Armenia feeling. Let me explain - Armenia is another great destination where to go - of course if you are not afraid of so called "Ghost of Communism" - in Armenia every street name is in Russian. Although Armenians do have their own - unique language Armenian, seems they like to affiliate themselves with Russia (if you are in Geopolitics - you already might now how closely Armenia is related to Russia). In cities of  Samche-Javakheti region signs are in Russian as well.
After couple of our we were at our Rafting starting point - Khetvisi fortress, some claim Alexander the Great has been here.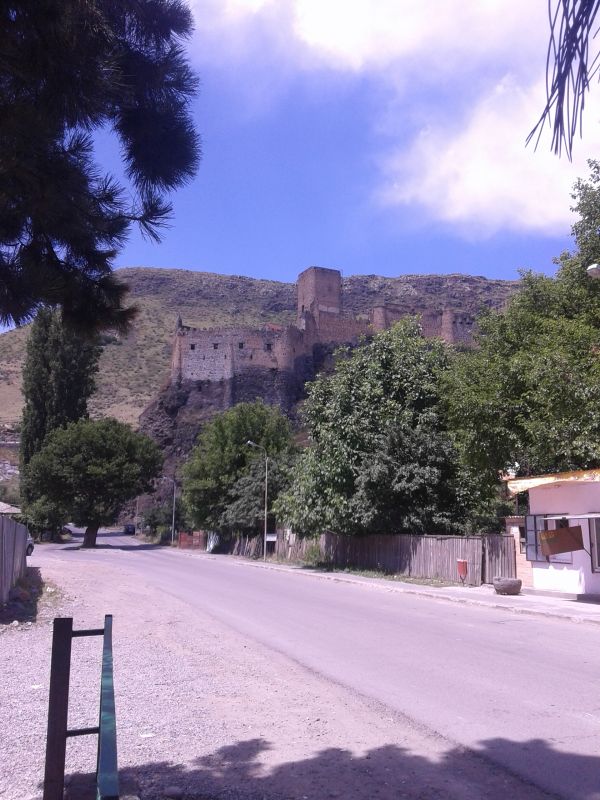 Khertvisi fortress
We had a quick lunch here and organisers started to fill up the boat with air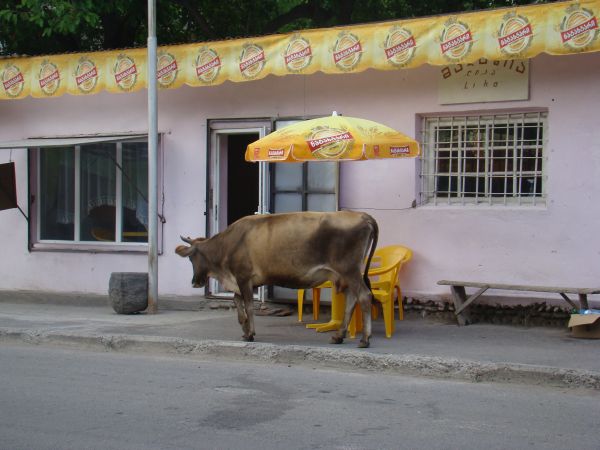 Trademark of Georgia - Cows are everywhere.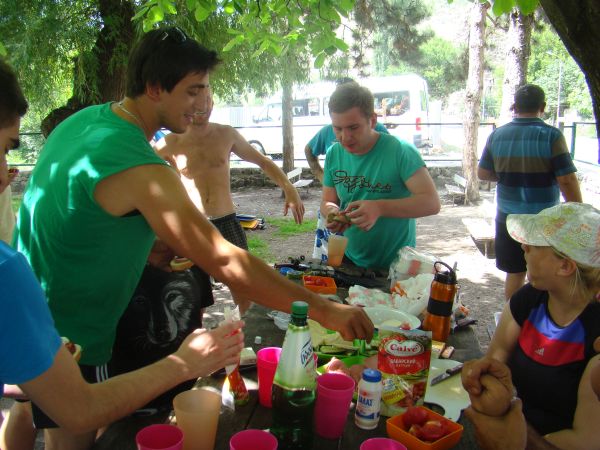 Meal before start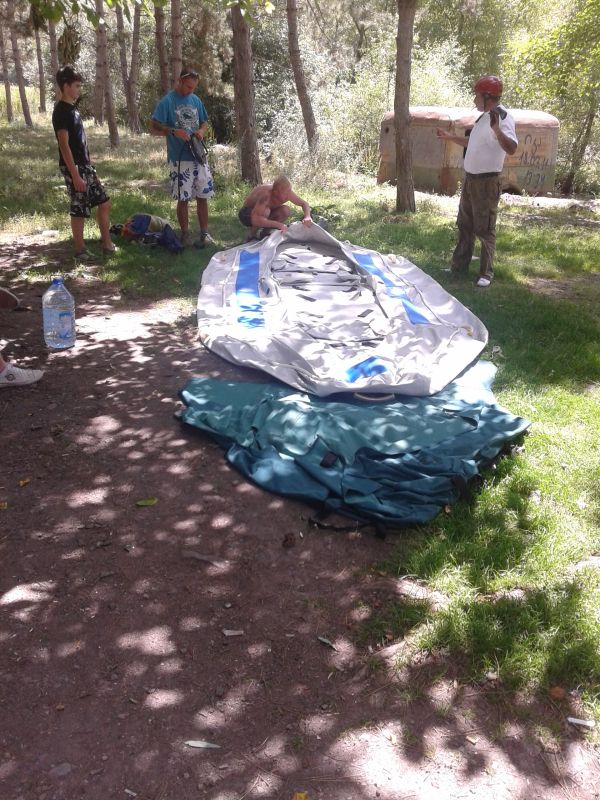 Our rafting instructor Stas Miroshnichenko inspects the boat
Speaking of our instructor Stas from Ukraine - this dude seems a fantastic guy - with huge rafting experience in Russia (Syberia). Latter that evening talking next to fireplace - Stas told us his stories about rafting not only in Russia, but in India and other places. Although I'm not a rafting expert, just a Sunday rafter, for me it was interesting to hear his stories. Stas can speak about river flows for hours, and he definetly knows the best raftting places in Georgia.
Actually - he seems very crazy dude - he has left his comfort zone (looking through his FB profile - it turns out he has worked as visiting professor at University of Strasbourg) - to be in more connection with nature. I guess Stas is not only a great rafter, but we could learn from him about survival in rough environment. I mean - kinda Robinson Cruso with Ph.d. 
Our raft then started. Unfortunately I was aware of taking my phone or photo camera in boat, so I don;t have pictures from our first raft track - Khertvisi - Aspindza.
Overall the raft was pretty OK, the river was pretty slow, with not many obstacles or dangerous rocks on it. Well ofcourse there was a rocks and obstacles, but nothing to be afraid from. Since the team was with different skill level for raft, we made a pretty long raft. Some 3-4 hours for some 15km. I felt a little exhausted, and when we approached our camp place - I wanted two things to have some meal and to have a cozy bed and plenty of sleep. Instead of this we got a tent, sleeping mattress, fireplace and some ex-USSR camping food - buckwheat with stew - not not regular stew - the Soviet style stew. I'm not against that - It was great, but I did choose instead to take some bread with Sulguni cheese and soon I went for sleep.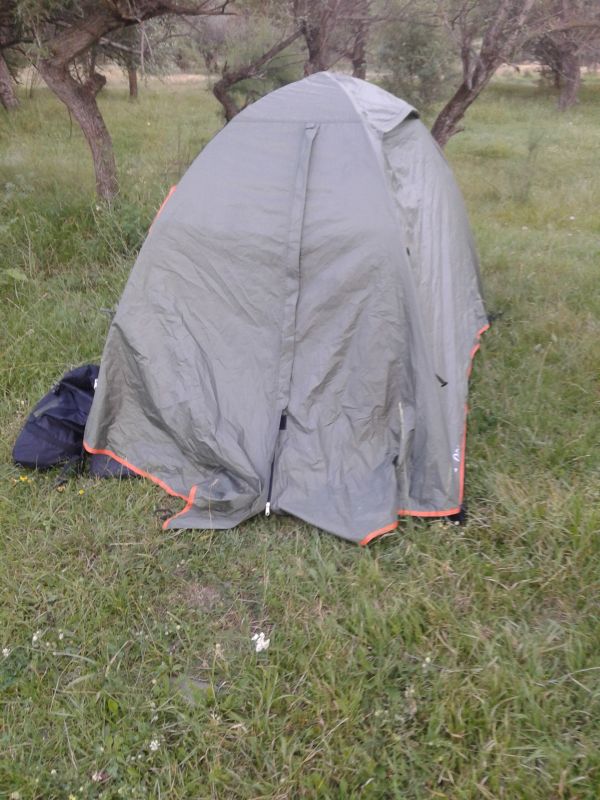 Our tent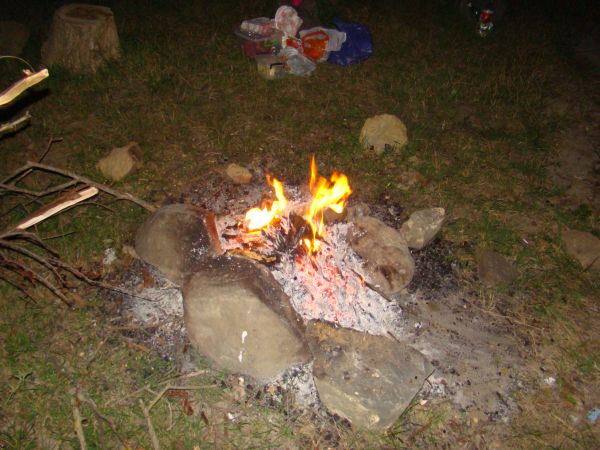 Fireplace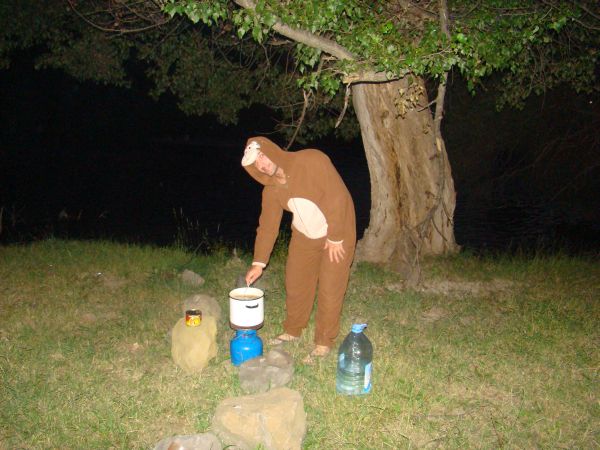 "Monkey" - Irakli preparing buckwheat with stew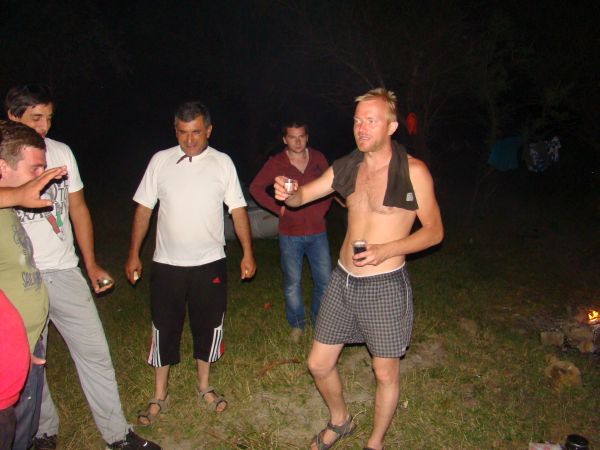 Team gathering around Stas
Next morning I decided not to join for second raft - because of I was exhausted from first - no, it is normally fine for me, not to choose to do something, when not all are in. Since in first day raft there were people pretending they are doing raft, and there were people with right attitude putting all their muscle and body strength to keep boat moving ahead, not just lazy drifting. My hands was in blebs and I got some muscle pains - So I decided not to join, instead to take some nice looking photos.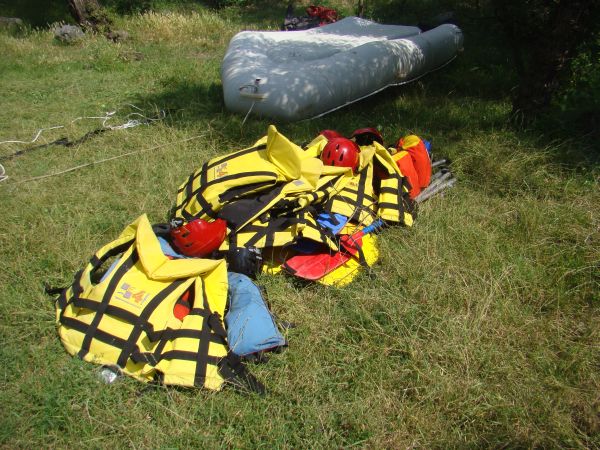 Boat, safety west's and helmets in rest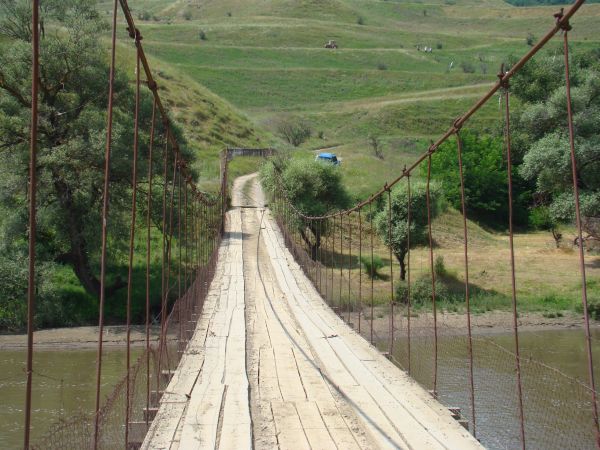 Wooden bridge next to our camping place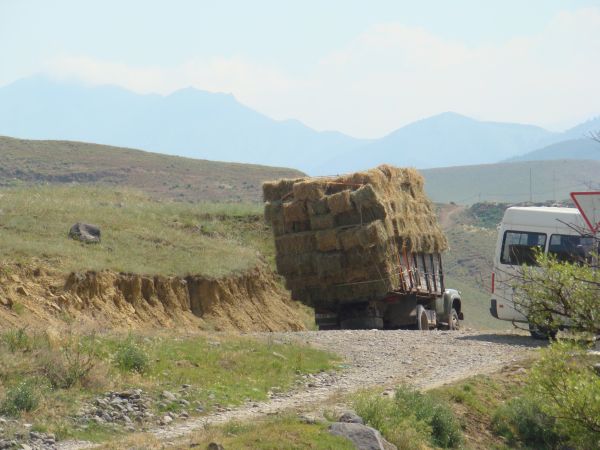 Truck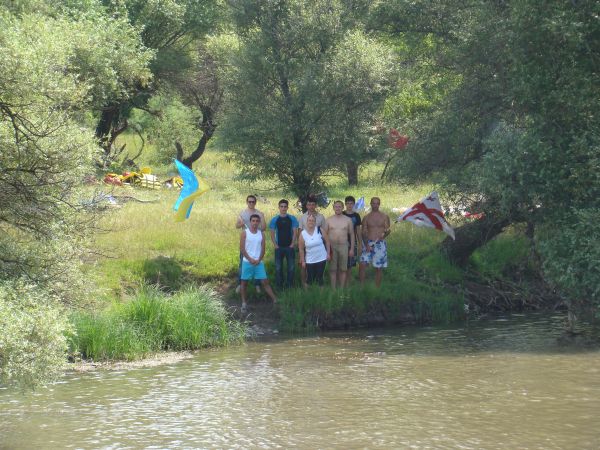 Team (some of them) with Ukrainian and Georgian flags
Then we picked our raft stuff (boat, west's e.t.c) and headed to Rabati castle in Ahaltsikhe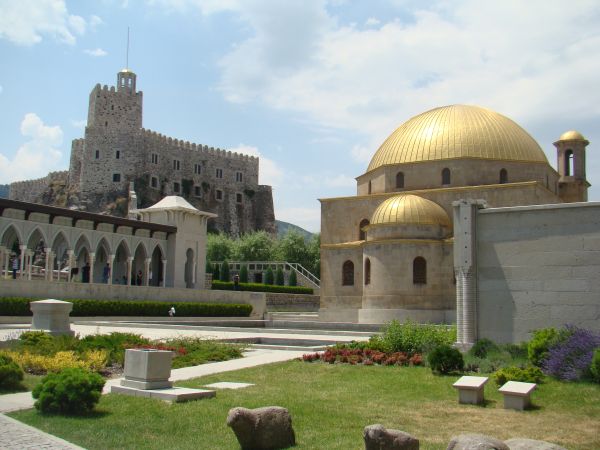 Rabati Castle
After short visit of Rabati  our second track of rafting started, in which I didn't take participation, but I did take some photos although: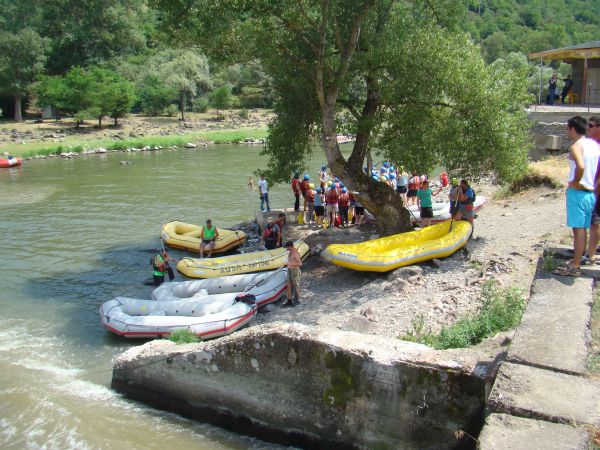 We met more rafters and decided to join them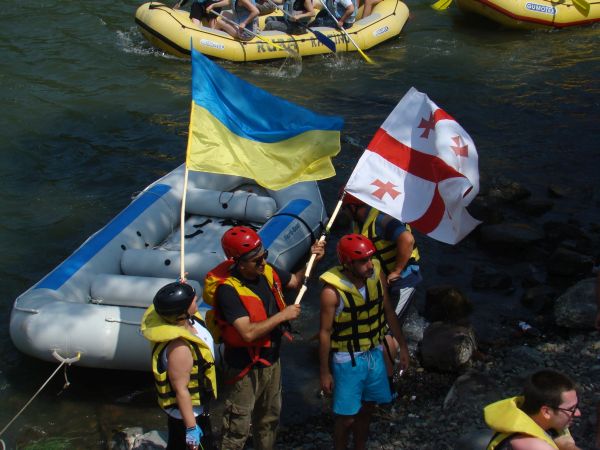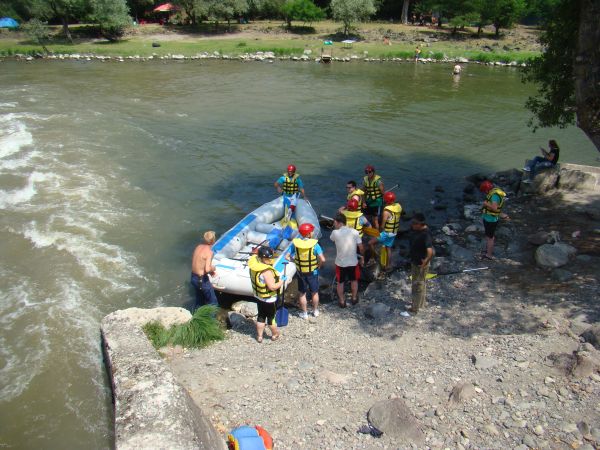 Team is getting ready for start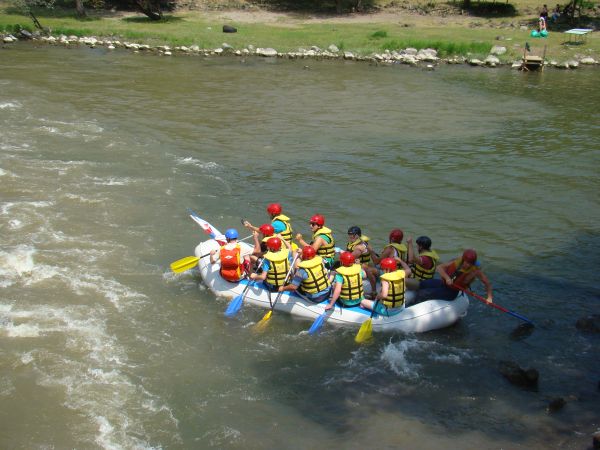 Team has started their second day raft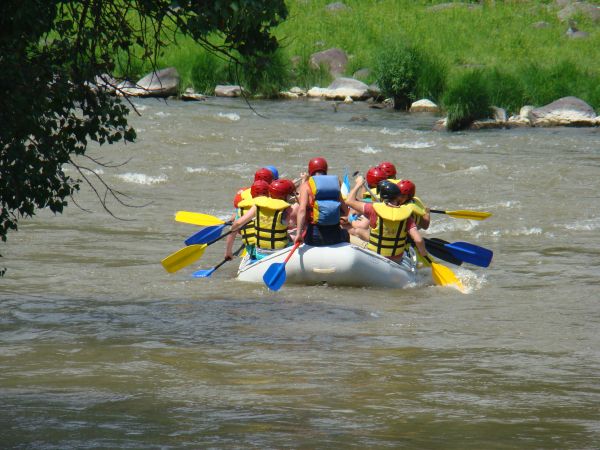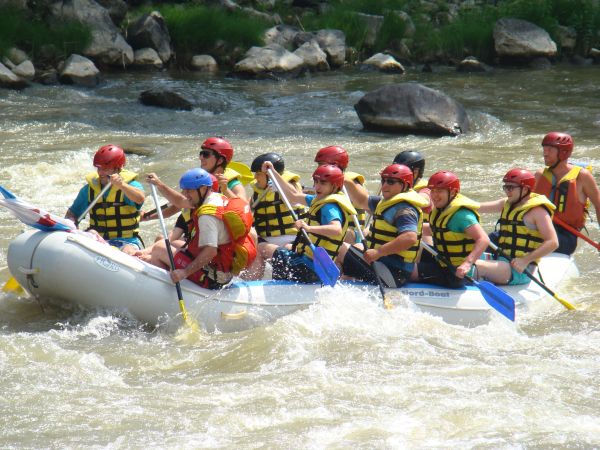 Facing obstacles
In overall this was another great experience in Georgia.  And of of the features Georgia can offer is its mountain rivers. Although there were some organization problems with this rafting tour - overall impressions are great - and I would like to repeat rafting in Georgia again.
Feel free to contact Stas (instructor) while he is in Georgia: +995557927924
or contact organiztor of this tour Giorgi: 555982092
The Price? 65 GEL for 2 day rafting tour in Georgia - a for a lot of scenic views.