Remember the Soviet Union? Ever wondered what happened to those countries after collapse of Soviet Union? In our days - former soviet countries is called CIS, Baltic states and Georgia. Why so strange name? Well, shortly after collapse of Soviet Union, Russia, Belarus and Ukraine formed CIS - Commonwealth of Independent States, where latter all other countries from former Soviet Union joined, except Baltic States, when in 2008 - Georgia - Russia war happened, Georgia left CIS, and now to identity those former Soviet Union countries, they are called - CIS, Baltic states and Georgia.
Well of course it doesn't means they just changed their name, no - each of the countries is going their separate way, alone or together in smaller blocks. Like Baltic states have joined European Union. Armenia, Georgia and Azerbaijan may be referenced as South Caucasus, or Caucasus countries and so on.
If taken all together and put in one pot, what would they GDP nominal would look?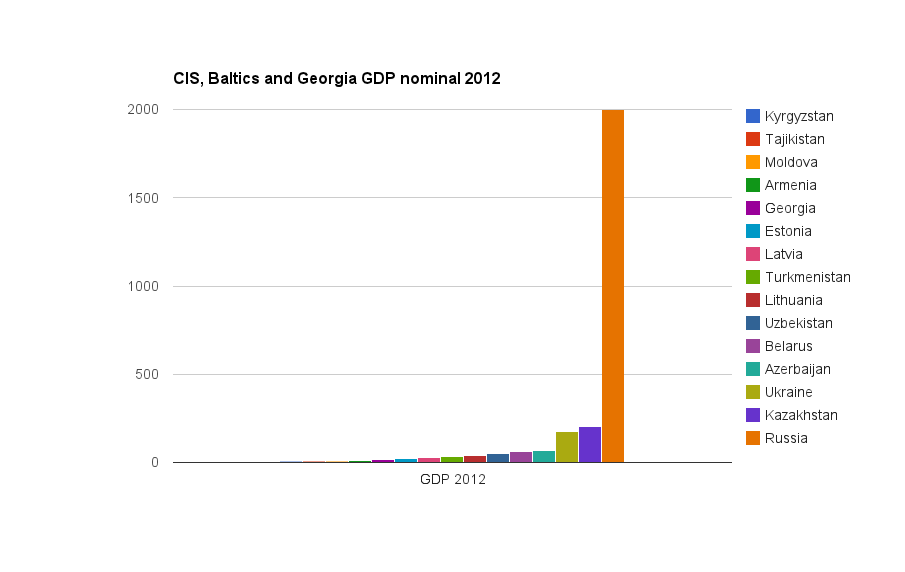 As you can see from chart above - Russia is main economy of those former Soviet Union countries, which is just logical right? Russia is the worlds largest country, and it has more population. In 2012 smallest economies of former Soviet Union was Kyrgyzstan, accounting 6.7 bln USD GDP nominal, while it's largest - Russia soared at 2 trillions. In total former Soviet Union countries in 2012 generated 2.732 trillions USD
Lets break the things up and see how it looks if viewed from percentage units point: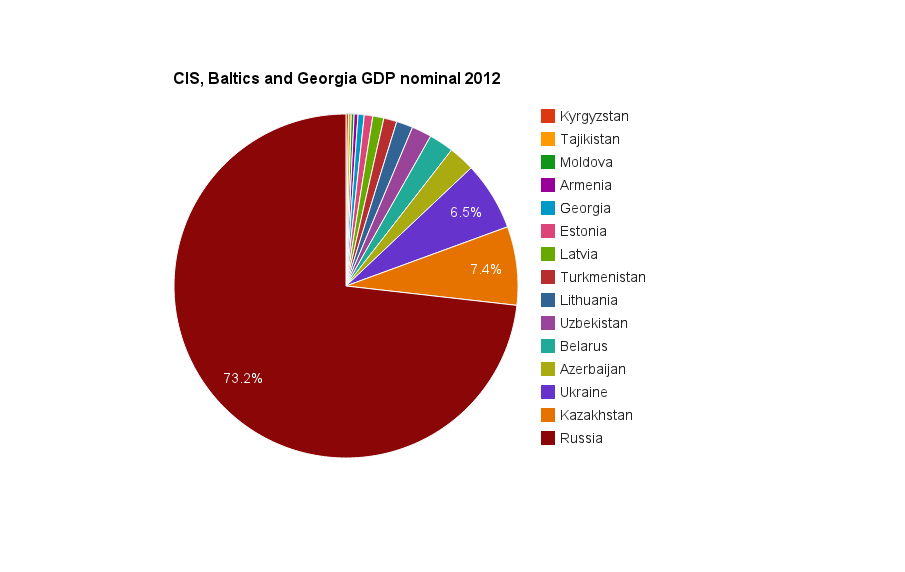 Now it's better seen, who accounts what amount of GDP. Russia has taken 73.2%, while second placed Kazakhstan 7.4%, third placed Ukraine 6.5%, and all other countries makes just 12.9%.
Maybe you have heard of upcoming Eurasian Union, where participates, Russia, Kazakhstan, Belarus and Armenia had told to join? I have heard people laughing of idea of creation of Eurasian Union, but don't you agree these numbers are quite impressive? 2 of the largest former Soviet Union economies are on the block, and more coming, just Ukraine has expressed it's will eventually to join European Union.
Is Ukraine a loss for Russia's ambitions to create a Eurasia Union? It's is of course, but still, in upcoming years it seems Russia has decided to work with strong partners, and Ukraine is not the strongest. Ukraine has a great population (about 46 millions), but still it's GDP per capita is very low (about 3 thousand USD per capita). So does Russia now really needs Ukraine? I guess not. But in upcoming, lets say 10 years, a lot of can change. And I do believe that Eurasian Union will be 4/5 greatest economy in world, after European Union, USA, China, Japan.
So I started to talk about GDP nominal, let take a look about GDP nominal in former Soviet Union countries, what was it in 2012.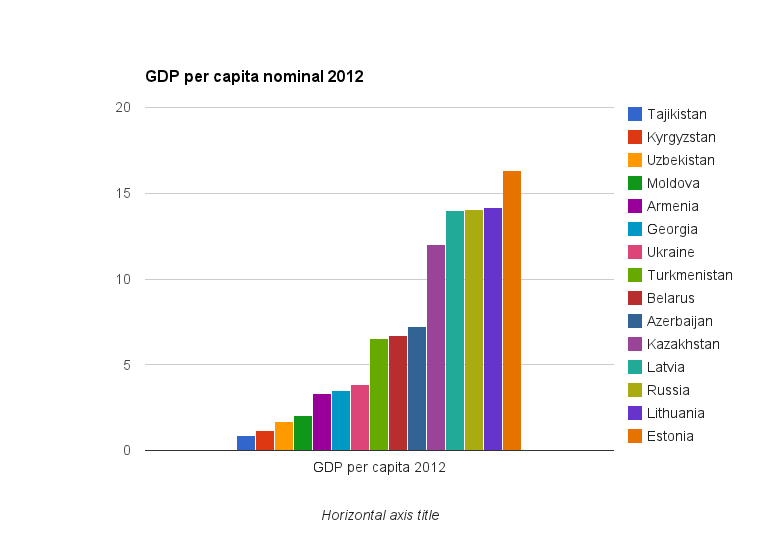 The smallest GDP per capita in 2012 was in Tajikistan reaching just 870 USD per capita, while the greatest was in Estonia reaching 16.31 thousands USD. From chart above I would like to divide:
Russia, Kazakhstan and Baltic states (GDP per capita 12-16 thousands USD)
Azerbaijan, Belarus, Turkmenistan (GDP per capita 6.5- 7.2 thousands USD)
Ukraine, Armenia, Georgia (GDP per capita 3.5 - 3.8 thousands USD)
Uzbekistan, Kyrgyzstan, Tajikistan (GDP per capita 0.87 - 2.030 thousands USD)
What can we see? The better conditions in GDP per capita terms are in Baltic states, Russia and Kazakhstan, the worst situation is in Central Asia - Uzbekistan, Kyrgyzstan and Tajikistan. But still, the Gap is pretty narrow, if compared to developed economies like
Nordic countries
, or USA.
For me, it's interesting to observe how each of these countries are developing separately, how combined in smaller blocks, and how compared between themselves.
Which of the countries first will reach 20 thousand GDP per capita? Will it be Estonia?
maybe Kazakhstan
? or maybe Russia?