In 2014 will be already 10 years since Rose Revolution events happened here in Tbilisi, Georgia.
As we probably already know, after Rose Revolution - Mikheil Saakasvhilli took power in country, by being elected as President of Georgia.
On October 27th again will be elections here in Georgia, and new president will be elected. I have allready written my thoughts about this.
What happened in those almost 10 years, when Mr. Saakashvilli was (and still few days are) president of Georgia? Well most tragic thing is the war with Russia in 2008, in result of Georgia lost control over South Ossetia and Abkhazia.
So called Western World always like to speak about democracy and freedom, what this 10 year Democracy and Freedom period has given to Georgia in economical means?
Recently I have allready created few charts related to Georgian GDP 1990-2014, but now I would like to display some charts exclusively for period 2004-2014.

Raw data by years:
2004: 5.125 bln USD
2005: 6.411 bln USD
2006: 7.761 bln USD
2007: 10.172 bln USD
2008: 12.799 bln USD
2009: 10.766 bln USD
2010: 11.638 bln USD
2011: 14.434 bln USD
2012: 15.829 bln USD
2013: 16.3 bln USD*
2014: 17.11 bln USD*
In past 10 years, Georgia have increased their economy in average by 3 times.
Now lets take a look on GDP per capita changes in Georgia 2004-2014: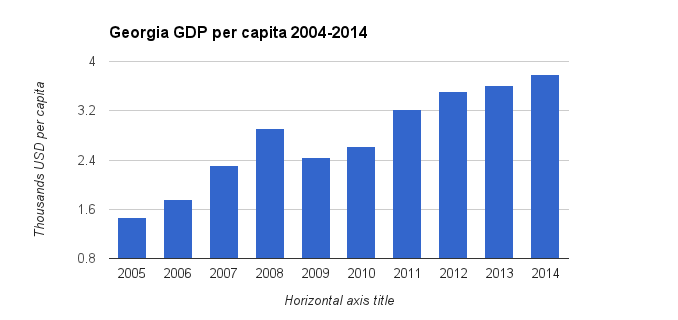 Here is the raw data:
2004:
1.186 thousands USD per capita
2005:

1.469 thousands USD per capita
2006:

1.764 thousands USD per capita
2007:

2.317 thousands USD per capita
2008:

2.919 thousands USD per capita
2009:

2.44 thousands USD per capita
2010:

2.613 thousands USD per capita
2011:

3.219 thousands USD per capita
2012:

3.508 thousands USD per capita
2013:

3.61 thousands USD per capita*
2014:

3.791 thousands USD per capita*
GDP per capita as well has been grown for more than 3 times, which is just logical.
Can we say that this is great democratic achievment? Freedom? I wouldn't say so.. I'm not willing to call Armenia as undemocratic, or not free country, but Armenia, have seen the same or similiar growth in the same time period. Please take a look on my Armenian GDP comparision charts.
In 2004 GDP per capita (nominal) in Armenia was 1.182 thousands USD, in 2012 it was 3.337, according to 2014 prognosis it will be 3.670 thousands per Capita.
How can we speak of role of Rose Revolution, democracy and freedom, if those 2 neighbouring countries have almost identical results in past 10 years?
*Prognosed values according to IMF