As Father's Day is approaching (it's celebrated in US on June 21) - I decided to list a few power tools a father might like - and I'm speaking of String Trimmers.
Since I recently become a lucky home-owner with a large grass fields just obviously I started to familiarize myself with String Trimmers. I had a chance to test a few fuel powered trimmers, but at the end of the day I'm still looking on something more lightweight and power-able either on batteries either on cord. And I was surprised to learn that these ones comes with a very reasonable price.
Also I learned that Black & Decker brand is among most popular string trimmers.
Please find Best Selling String Trimmers list on Amazon (June 2015)
Please note this list contains affiliate links to Amazon.com, by clicking on links on this page and by making a purchase on Amazon site, I will earn an affiliate income from that. Prices for string trimmers listed on this page is retrieved by using Amazon Product Advertising API and is updated daily.
Black & Decker LST136W 40V Max Lithium String Trimmer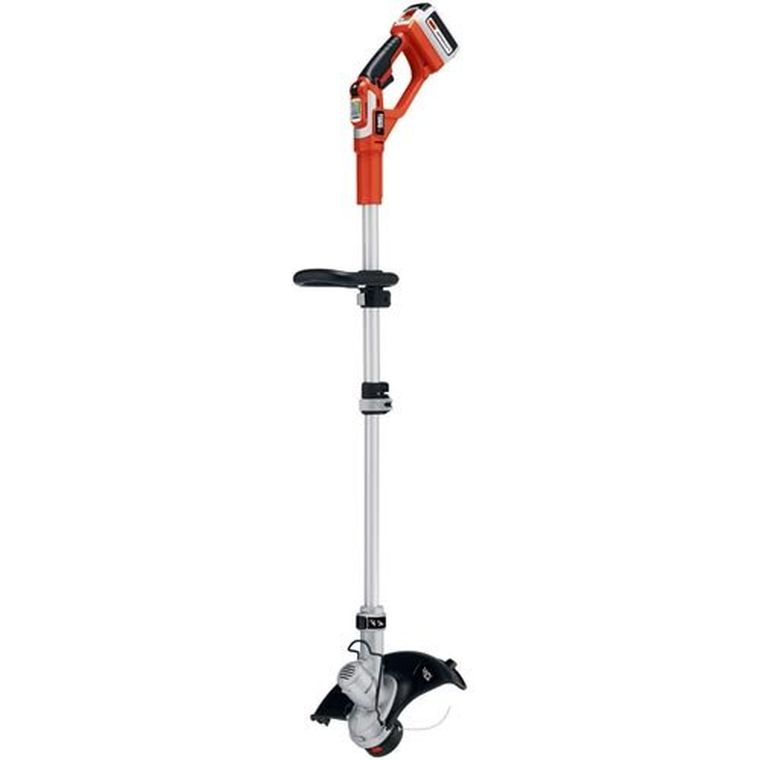 Designed for cutting efficiency and the freedom of cordless convenience, the 13-inch cordless LST136W trimmer and edger delivers more power from the motor to the cutting string so you can get the job done faster. Thanks to Black & Decker's exclusive PowerDrive Transmission, you'll be able to trim grass in hard-to-reach areas where mowers cannot cut while also maintaining a neat edging along hard surfaces.
The PowerDrive Transmission delivers more power from the motor to the cutting string so you can get the job done faster

40V MAX* lithium battery for long runtime

PowerCommand dial to choose between max power and max runtime

The Automatic Feed Spool ensures continuous work without bumping

Easily converts from trimmer to edger with a quick turn of the shaft
GreenWorks 21212 4Amp 13-Inch Corded String Trimmer
The GreenWorks products that you purchase have a ZERO carbon footprint. We'll say that again - our entire product line will never release an ounce of carbon emission into the air. 4 Year Warranty - Double The Industry Standard. When looking for lawn tools, we know you're thinking about quality. You're looking for something that will get the job done and get you back to your weekend. That's why GreenWorks backs every tool with a full four-year warranty - we know our products will perform at the highest level and always be reliable. GreenWorks high quality products are manufactured to last. That's why we back every product with a warranty that's twice the industry standard. We'll provide all the power you need without polluting the air or forcing you to keep hauling your gas can to the nearest station (especially in the middle of a mow). No more tune-ups or maintenance. No more emissions. Fifty-four million Americans mow their lawns every weekend, according to the EPA, using 800 million gallons of gas each year. Along the way, homeowners spill more than 17 million gallons of gas while refueling. That's equivalent to the 1989 Exxon Valdez disaster. It's time to move beyond clumsy, harmful gas-powered mowers. It's time for GreenWorks to be your lawn tools for life. Power cord not included.
Black & Decker LCC140 40-volt Max String Trimmer and Sweeper Lithium Ion Combo Kit
The Black & Decker LCC140 40v Max String Trimmer & Sweeper Lithium Ion Combo Kit features a 40 V Max Lithium Ion battery which offers a longer lifespan and offers a state of charge indicator that allows user to know the capacity of the battery. This kit includes (1) 2.0 Ahr lithium battery pack for 30% more run time per battery pack than our previous LBXR36. The 40v Max - 36v nominal voltage, system also works with other 40v Max and 36v lithium tools. This unit is two-tools-in-one: a trimmer that easily converts to edger to cut along sidewalks and driveways for a clean, manicured look. The string trimmer has a 13" cutting swath and features a PowerDrive Transmission which delivers more cutting power to get the job done faster, along with a PowerCommand dial to choose between max power to tackle thick weeds and max runtime to increase battery life. The Automatic Feed Spool ensures continuous work without bumping and having to stop to adjust the spool. The sweeper is light and powerful and easily clears debris from hard surfaces like patios, decks, walks, drives and garages. This unit is lightweight at just 4.7 pounds for quick and easy blowing of debris and offers a low noise design allows for quiet operation. The sweeper also features Power Command controls speed for the option of either maximum run-time or maximum power. Black & Decker's electric lawn and garden equipment releases zero emissions in your yard, helping to reduce your carbon footprint. Kit includes: (1) LST136 40v Max String Trimmer, (1) LSW36 Sweeper, (1) LBXR2036 Battery, (1) LCS436 Charger.
Black & Decker GH900 14-Inch String Trimmer and Edger, 6.5 Amp
The Black & Decker GH900 14" 6.5 Amp Corded String Trimmer and Edger is built with a lightweight ergonomic design with adjustable height and pivoting handle positions which give maximum comfort and control. The 6.5 amp motor and high torque transmission provide maximum performance when trimming through the toughest weeds, grass and overgrowth and the Power Drive Transmission prevents bogging down in heavy grass and weeds. This unit features AFS automatic feed system which ensures continual work without bumping or having to stop to feed the spool. It is designed with 2-in-1 easy conversion wheeled edging- just rotate to convert from trimmer to edger and the Smart Edge mode gives more control and accuracy in edge mode for straighter and cleaner edging results. Commonly used for trimming grass in hard to reach areas where mowers can not cut and for maintenance edging along hard surfaces. Includes: (1) GH900 Trimmer/Hedger, (1) AF-100 spool, (1) Auxiliary Handle and (1) Guard.
Black & Decker LCC420 String Trimmer and Sweeper Lithium Ion Combo Kit, 20-volt
Black & Decker NST1118 10-Inch Cordless Trimmer and Edger, 18-volt
Toro 51480 Corded 14-Inch Electric Trimmer/Edger
WORX GT 2.0 WG160 Cordless Lithium Grass Trimmer/Edger and Mini Mower, 20-volt
DEWALT DCST920P1 20V MAX 5.0 Ah Lithium Ion XR Brushless String Trimmer
WORX WG175 32-volt Lithium MAX Cordless Grass Trimmer and Edger with Wheel Set