The Summers in Tbilisi can get damn hot, I mean +40 Celsius, common - it's not serious without air conditioning. And I'm not the person complaining.
So we decided to head to Borjomi, visit Borjomi National Park for some fresh and mountainous air, and to find a boutique hotel for an overnight stay.
This is not the first time of me heading to Borjomi, the last time I was there was during our rafting trip. As well you can find a photo set of Borjomi in Autumn I made in October 2013.
I decided to write this post and highlight some options for cheap and pretty fast travel between Tbilisi and Borjomi using the Marshrutka service.
I made the photos using my phone and published them to my Instagram wall as well (Learn more about how I turned my Instagram account into a photo blog)
About Tbilisi-Borjomi transfers
There are a few options to travel to Borjomi from Tbilisi available. One of them is by train, another great and by me most often preferred option is to choose Marshrutka (Minibus) service. Another option is to take a Taxi, but it might too pricey.
There are two places in Tbilisi, I know for sure where you can find a minibus heading to Borjomi. One of the places is located in Didube, second is located next to Tbilisi Railway station.
The price per person might vary for 6-8 GEL. This time we paid 7 GEL for Tbilisi-Borjomi by using Tbilisi - Akhatsikhe minibus.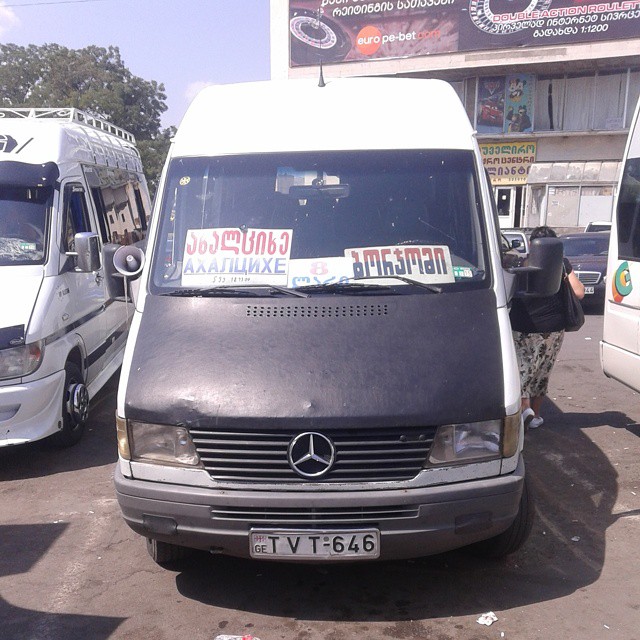 Minibus at Tbilisi Railway Station. The Sign on it says - AKHSALTIKHE (Georgian, Russian)
The minibusses leave every round hour, starting 6 AM until late evening. Total time for the drive from Tbilisi to Borjomi ~ 2 hours.
This time we waited for 40 minutes in the open sun to leave Tbilisi. Did I mention it was +40 Celsius?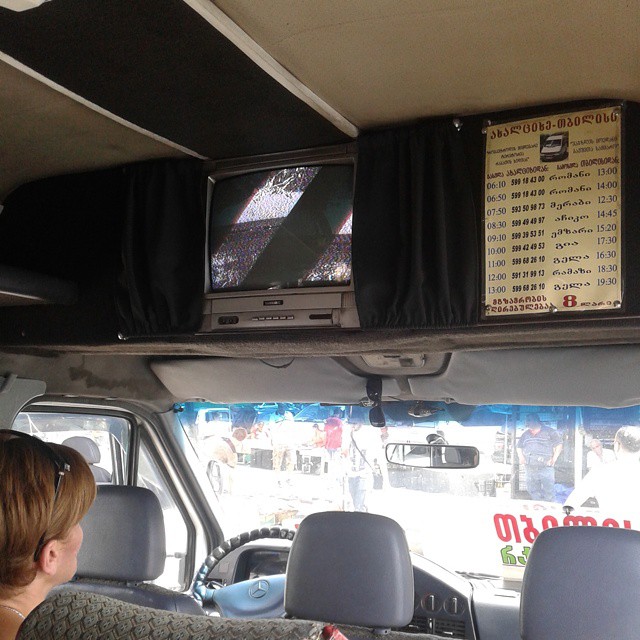 TV in Minibus
Our Minibus was equipped with a TV - it actually did not work, but still - formally they had a TV Set in Tbilisi- Borjomi route.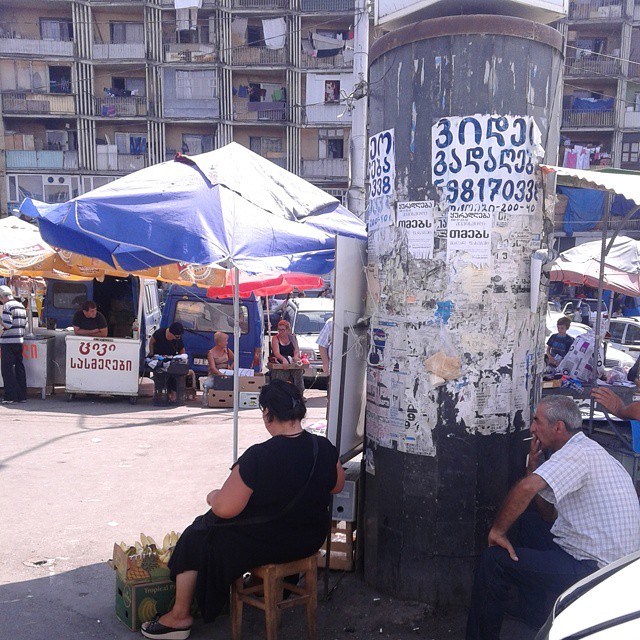 Market near Tbilisi Railway Station
Make sure you buy some mineral water before departure!
One thing to mention - it's rare when minibusses drivers turn on the air conditioner (most often the cars are so old, that they are just broken) - so the only option on hot summer days like this - is wide open windows. (Take a scarf - to not get cold)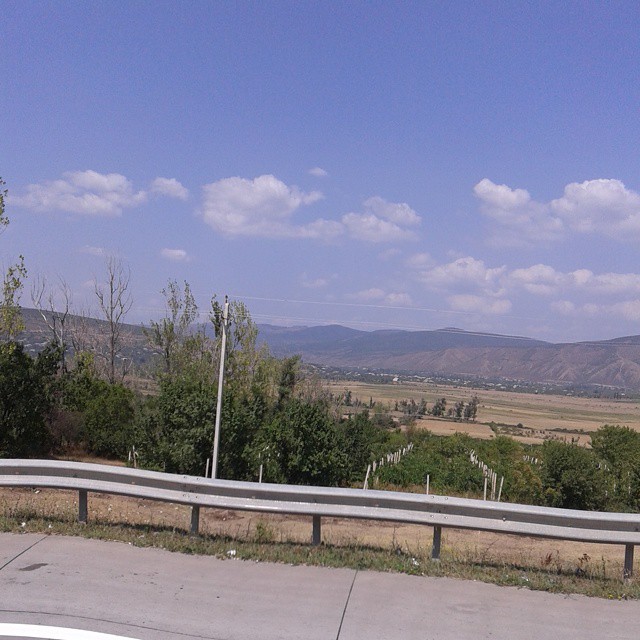 View to Georgian Countryside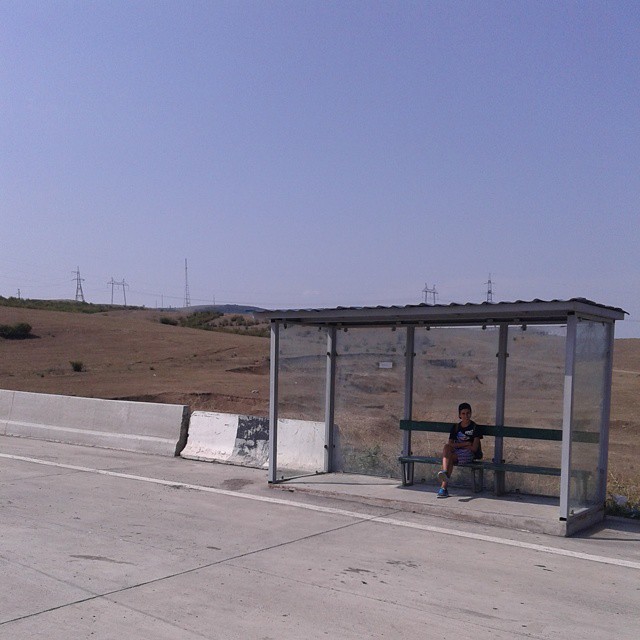 Bus stop near Gori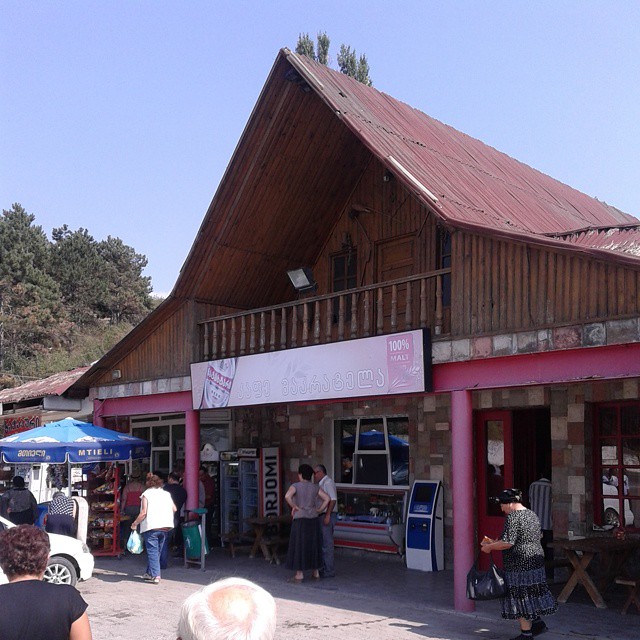 Bistro somewhere in the middle of our route
We had a 5-minute stop at some bistro, where you can try to buy a coffee, soda, or nuts.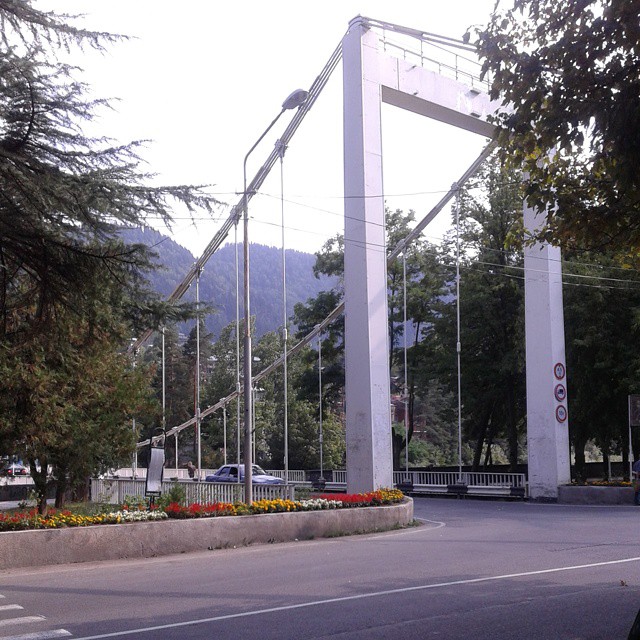 Borjomi Bridge
We stopped marshrutka near this bridge in Borjomi, for our further Borjomi exploration.
In total, our drive took 2 and a half hours. Drive took us through Gori and Khashuri towns.
Speaking of transfer options in Georgia, you might find useful articles like.