Looking for some incredibly fast machine?
Think PC with Intel Core i9 processor and the powerful NVIDIA GeForce RTX 3090 graphics card.
The GeForce RTX™ 3090 is a big ferocious GPU (BFGPU) with TITAN class performance. It's powered by Ampere—NVIDIA's 2nd gen RTX architecture—doubling down on ray tracing and AI performance with enhanced Ray Tracing (RT) Cores, Tensor Cores, and new streaming multiprocessors. Plus, it features a staggering 24 GB of G6X memory, all to deliver the ultimate gaming experience.
Disclosure: This article contains affiliate links to Amazon.com, by clicking on links on this page and by making a purchase on the Amazon site, I might earn an affiliate income from that. Prices for laptop computers listed on this page are retrieved using Amazon Product Advertising API and is updated daily. For actual prices please refer to the product page on Amazon.
OMEN - GT13-0090 30L Gaming Desktop PC, NVIDIA GeForce RTX 3090 Graphics Card, 10th Generation Intel Core i9-10850K Processor, 32 GB RAM, 1 TB SSD, Windows 10 Home (GT13-0090, 2020) Shadow black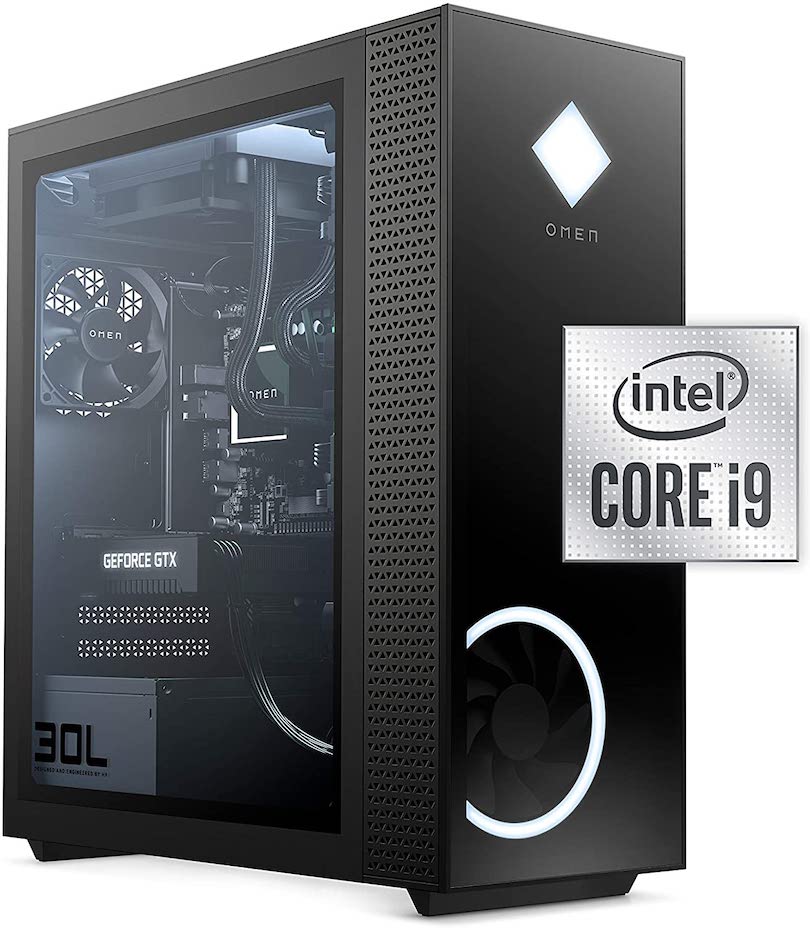 ULTIMATE GAMING – The GeForce RTX 3090 delivers the ultra-performance that gamers crave, powered by Ampere—NVIDIA's 2nd gen RTX architecture; with 24 GB GDDR6X dedicated memory, your 4k gaming experience will never look smoother
MAKE IT YOURS – Let your desktop reflect your style with easy to upgrade hardware and OMEN Command Center's growing list of customization and optimization features
POWERFUL PROCESSOR – Game, stream, create, and edit multimedia content faster than ever with 10th Generation Intel Core i9-10850K processor with liquid cooling
BOOST YOUR PERFORMANCE – Get up to 10x faster performance than a traditional hard drive with 1 TB of PCIe NVMe M.2 SSD storage
HYPERX DDR4 MEMORY – With 32 GB of RAM, everything from browsing multiple web pages to playing games gets a boost
VR READY – Enjoy optimal VR performance as your desktop is VR ready right out of the box
List price: $3,829.99 Buy this computer on Amazon (Paid link)
Mytrix Gamer Supreme by_CyberPowerPC Liquid Cool 3090 Gaming Desktop, Intel Core i9-11900KF, GeForce RTX 3090, 64GB RAM 3200MHz, 2TB PCIe SSD+2TB HDD, RGB, HDMI/DP/RJ45, Mytrix HDMI 2.1 Cable, Win 10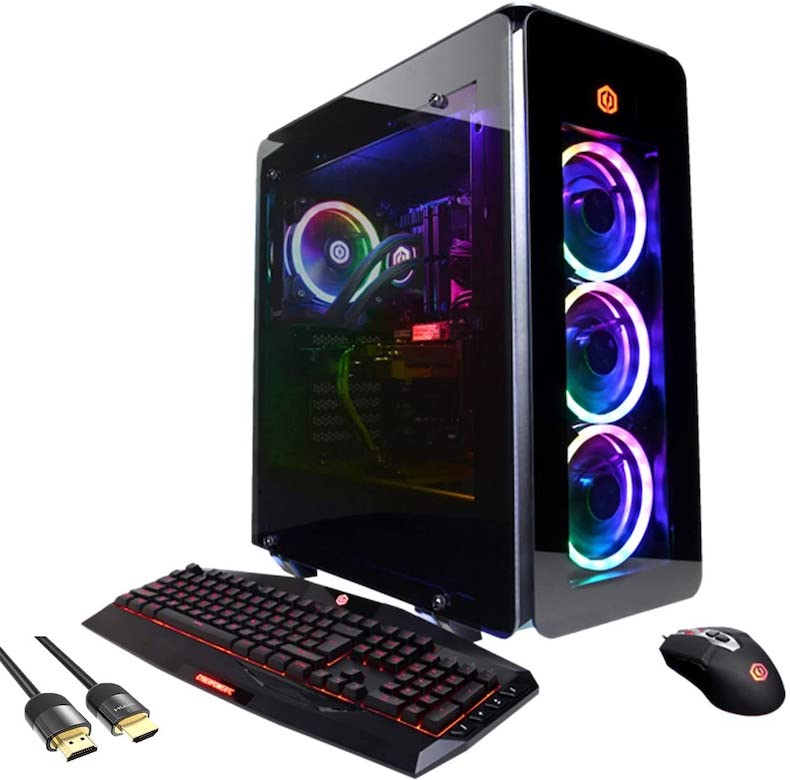 Wield the power and become the world's best with this beast. Experiencing a 30% boost in computing from last generation, Gamer Supreme PC is equipped with the 11th Gen Intel Core i9-11900KF processor with the upmost computing power to bring you an unparalleled gaming experience. It's the most powerful gaming desktop that is born for Esports and delivers an exceptional gaming experience
GeForce RTX 3090 delivers the ultimate gaming experience. These sleek, powerful gaming rigs are powered by the new Ampere RTX architecture. The Geforce RTX 3090 graphics bring real-time ray tracing, artificial intelligence, powerful DLSS technology and up to 8K gaming experience
Ultra-fast DDR4 3200MHz DIMM RAM and NVMe M.2 Solid State Drive bring you an unparalleled gaming experience. Higher efficiency makes your work easier and play better
With the exclusive 120mm CPU liquid cooler, the rig allows for maximum amount of heat dissipation and handles the most hardware intensive games without breaking a sweat. Enjoying AAA games is definitely a breeze for you. The Gamer Supreme features four system cooling fans; three in the front pulling cool air to circulate inside desktop and one in the rear to push out all the heat, exiting the build
With the built in RGB lighting, animate and take your gaming experience to the next level by simply pressing the LED button. Supplement your gaming experience with RGB keyboard and mouse. The perfect storm of gaming peripherals and Gamer Supreme create a pro-level gaming environment for professional gamers
List price: Buy this computer on Amazon (Paid link)
2021 Latest ELUK OMEN 30L NVIDIA RTX 3090 Gaming Desktop PC (RGB Liquid Cooled Intel i9-10850K, Z490 Mobo, 750 Watt Platinum PSU, Windows 10 Pro, 1TB NVMe SSD + 2TB HDD, 32GB HyperX RGB RAM)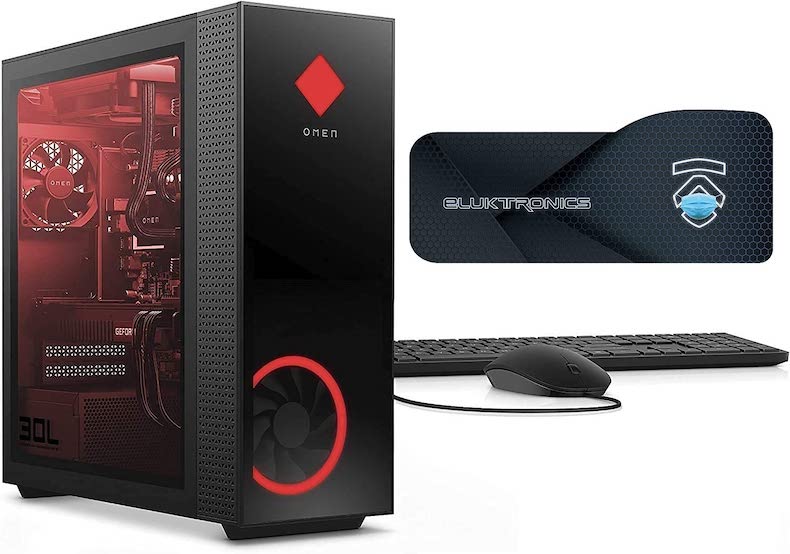 Impressive chassis with tempered glass side window, RGB color customization, industry's best hardware & technology; Easy access door for ease of expandability!
10th Gen Intel Core i9-10850K (3.6GHz/5.2GHz) 10 Core Overclockable Desktop Processor + OMEN Customizable RGB Liquid Cooling
24GB NVIDIA GeForce RTX 3090 VR Ready Graphics Card; 750 Watt Cooler Master Platinum Efficiency Power Supply
1TB Performance PCIe NVMe M.2 SSD + 2TB 7200RPM Secondary Storage Hard Drive
32GB Kingston HyperX DDR4 3200MHz XMP RGB RAM; Z490 Motherboard; Windows 10 Professional; Intel AX201 Wi-Fi 6
List price: $4,499.95 Buy this computer on Amazon (Paid link)
Empowered PC Sentinel Gaming Desktop (Intel Core i9-10900KF with Liquid Cooling, NVIDIA GeForce RTX 3090 24GB, 64GB RAM, 1TB NVMe + 2TB HDD, 850W PSU, AC Wifi, Windows 10 Home) Gamer Tower PC Computer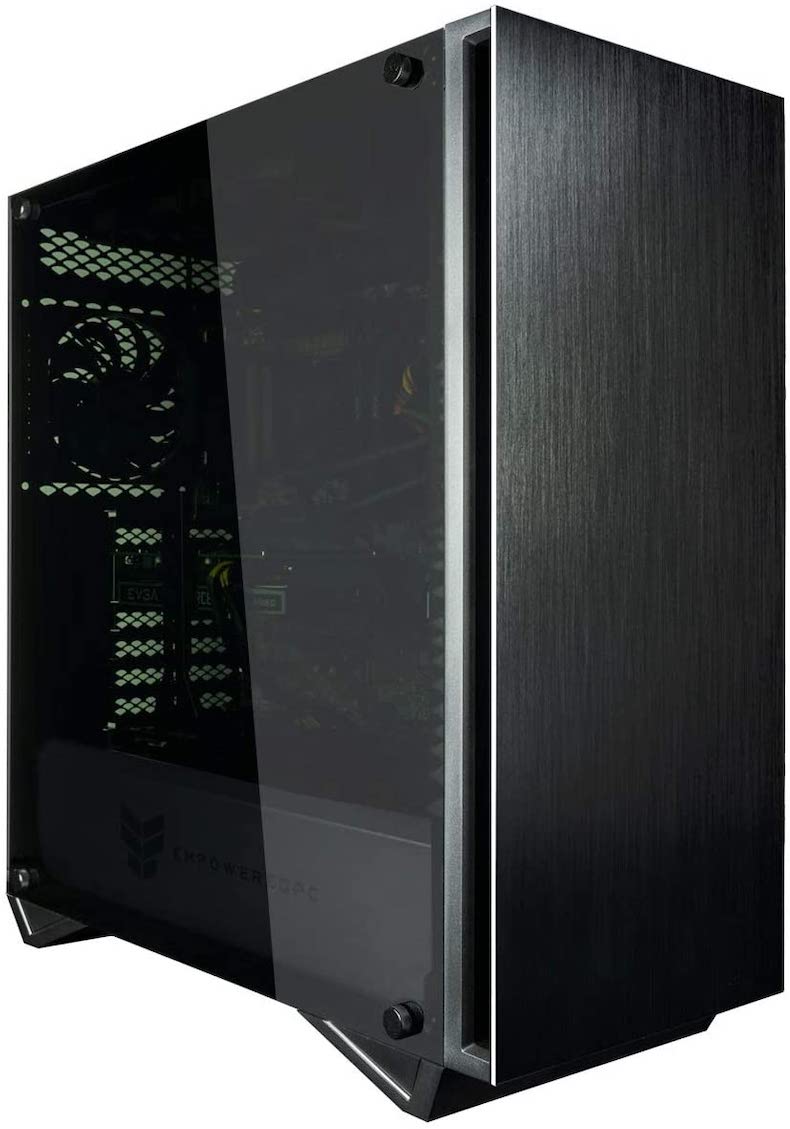 Processor: Intel Core i9-10900KF Ten Core Processor (20MB Cache, 3.7GHz-5.3GHz) 125W (Liquid Cooled)
RAM: 64GB DDR4 2933MHz | Hard Drive: 1TB NVMe Solid State Drive + 2TB 7200rpm Hard Disk Drive
Graphics: NVIDIA GeForce RTX 3090 24GB GDDR6X | Motherboard: Z590
Power Supply: 850W Gold PSU | Operating System: Windows 10 Home x64
Accessories: USB AC WiFi Adapter & Wired LED Backlit USB Gaming Keyboard and Mouse Included 
List price: $4,599.99 Buy this computer on Amazon (Paid link)
CYBERPOWERPC Gamer Xtreme VR Gaming PC, Liquid Cool Intel Core i9-10900K 3.7GHz, GeForce RTX 3090 24GB, 16GB DDR4, 1TB NVMe SSD, 2TB HDD, WiFi Ready & Win 10 Home (GXiVR8080A20)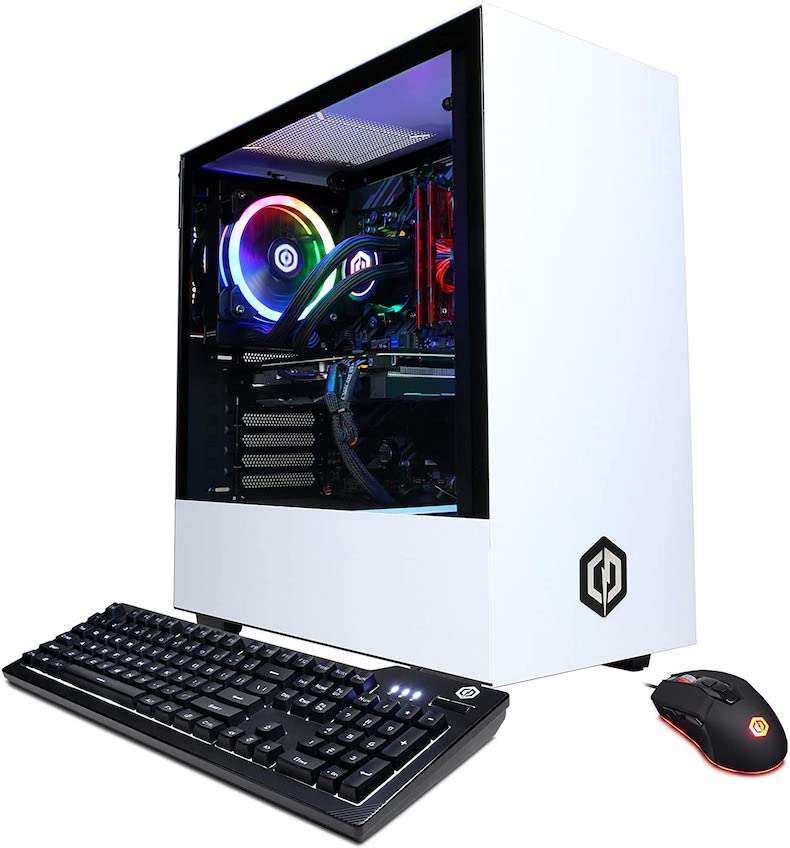 System: Intel Core i9-10900K 3.7GHz 10-Core | Intel Z490 Chipset | 16GB DDR4 | 1TB PCI-E NVMe SSD | 2TB HDD | Genuine Windows 10 Home 64-bit
Graphics: NVIDIA GeForce RTX 3090 24GB Video Card | 1x HDMI | 2x DisplayPort
Connectivity: 6 x USB 3.1 | 2 x USB 2.0 | 1x RJ-45 Network Ethernet 10/100/1000 | 802.11AC Wi-Fi | Audio: 7.1 Channel | Keyboard and mouse
Special feature: Liquid cool CPU | Tempered glass side case panel | Custom RGB case lighting | USB Gaming Keyboard | RGB 7 colors gaming mouse
1 year parts & labor | Free lifetime tech support
List price: $5,289.00 Buy this computer on Amazon (Paid link)
CUK MEG Trident X by MSI Gaming Desktop PC (Intel Core i9 K-Series, 64GB DDR4 RAM, 1TB NVMe SSD + 2TB HDD, NVIDIA GeForce RTX 3090 24GB, 750W PSU, Windows 10 Home) Gamer Computer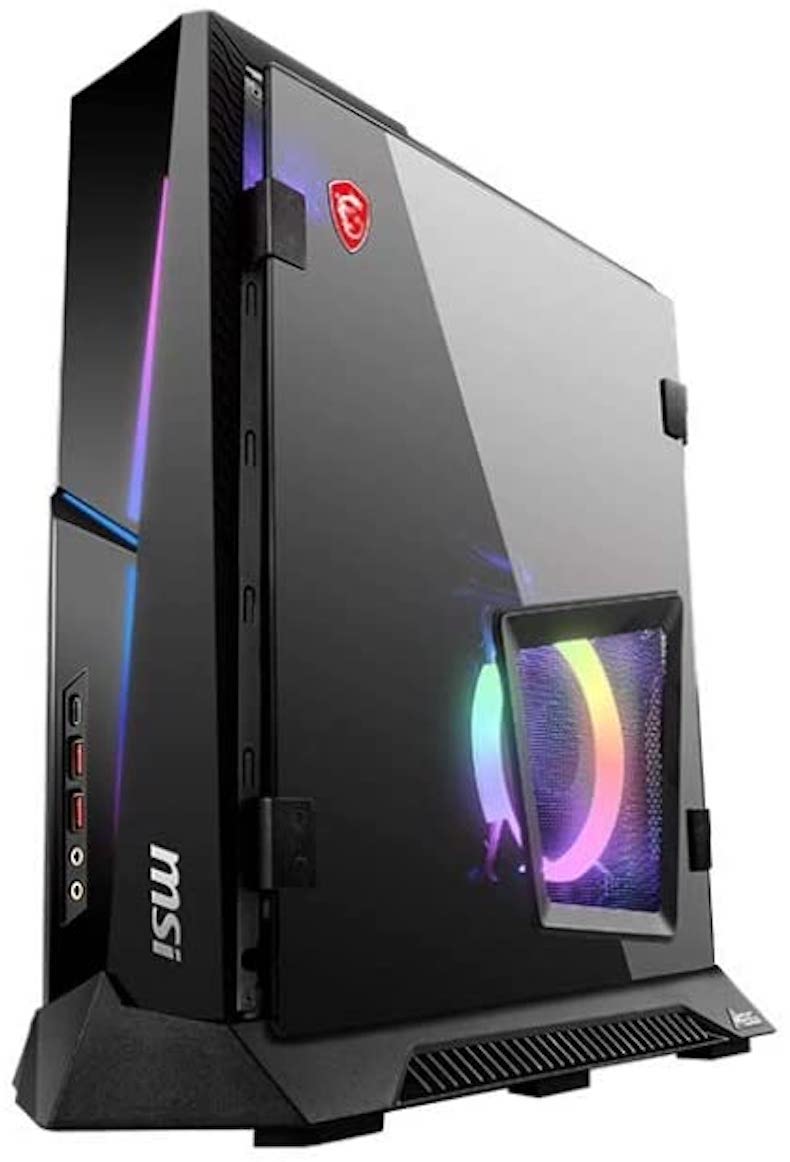 Processor: Intel Core i9-10900KF Ten Core Processor (20MB Cache, 3.7GHz-5.3GHz) 125W
RAM: 64GB DDR4 2933MHz | Hard Drive: 1TB NVMe Solid State Drive + 2TB 5400rpm Hard Disk Drive
Graphics: NVIDIA GeForce RTX 3090 24GB GDDR6X | Operating System: Windows 10 Home x64
Power Supply: 750W Gold PSU | Accessories: Clutch GM11 Mouse & VIGOR GK30 Keyboard Included
i9-10900KF / 64GB RAM / 2TB HDD / RTX 3090 Upgrades 
List price: Buy this computer on Amazon (Paid link)
CUK Stratos Micro Gaming Desktop (Liquid Cooled Intel i9-11900KF, 128GB DDR4 RAM, 2TB NVMe SSD + 4TB HDD, NVIDIA GeForce RTX 3090 24GB, 850W Gold PSU, Windows 10 Home) Gamer PC Computer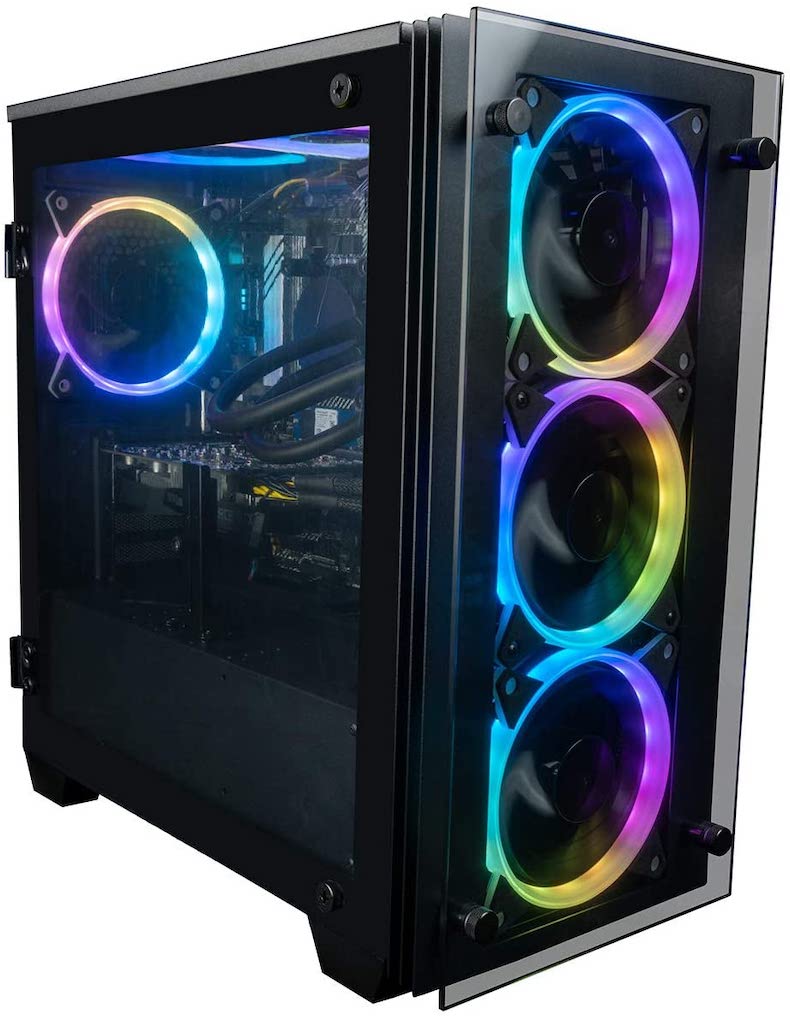 Processor: Intel Core i9-11900KF Eight Core Processor (16MB Cache, 3.5GHz-5.3GHz) 65W (Liquid Cooled)
RAM: 128GB DDR4 3000MHz | Hard Drive: 2TB NVMe Solid State Drive + 4TB 7200rpm Hard Disk Drive
Graphics: NVIDIA GeForce RTX 3090 24GB | Motherboard: Z590M Motherboard
Power Supply: 850W Gold Power Supply | Operating System: Windows 10 Home x64
Accessories: 802.11 AC Wireless + Wired LED Backlit USB Gaming Keyboard and Mouse Included 
List price: $5,099.99 Buy this computer on Amazon (Paid link)
CUK Continuum Micro Gamer PC (Liquid Cooled Intel Core i9-11900KF, 64GB RAM, 1TB NVMe SSD + 2TB HDD, NVIDIA GeForce RTX 3090 24GB, 850W PSU, AC WiFi, Windows 10 Home) Gaming Desktop Computer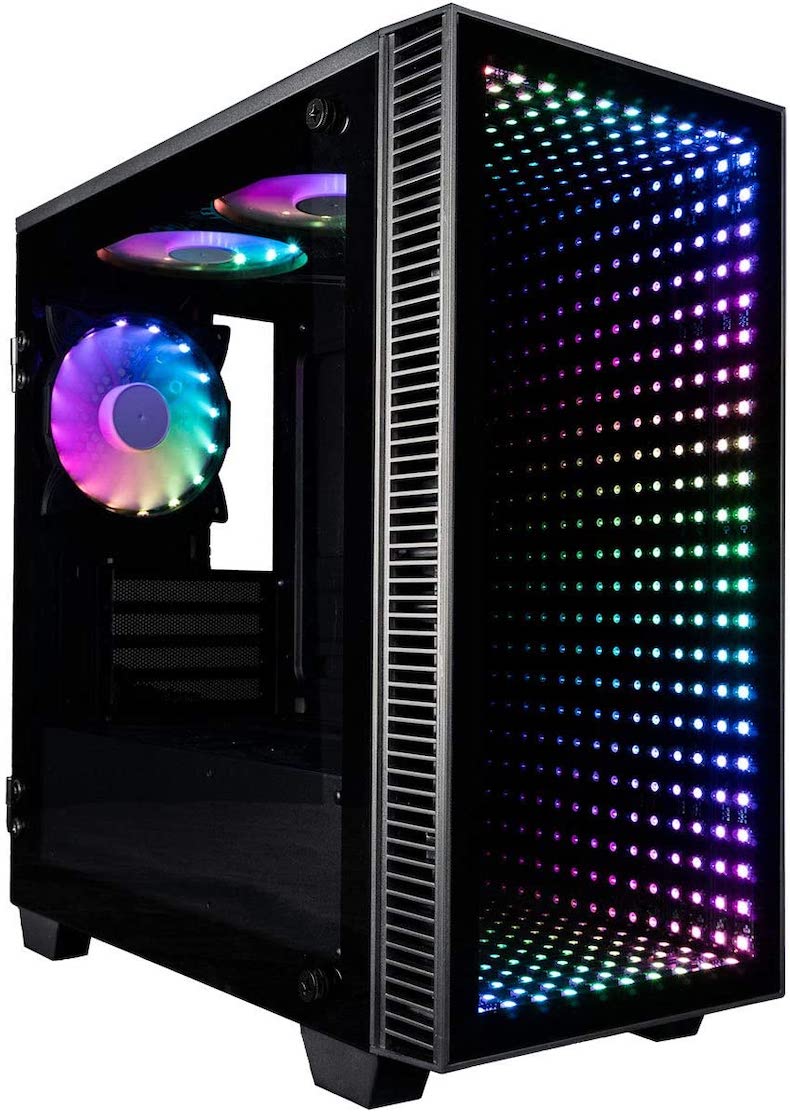 Processor: Intel Core i9-11900KF Eight Core Processor (16MB Cache, 3.5GHz-5.3GHz) 125W (Liquid Cooled)
RAM: 64GB DDR4 3000MHz | Hard Drive: 1TB NVMe Solid State Drive + 2TB 7200rpm Hard Disk Drive
Graphics: NVIDIA GeForce RTX 3090 24GB GDDR6X | Motherboard: Z590
Power Supply: 850W Gold PSU | Operating System: Windows 10 Home x64
Accessories: USB AC Wifi Adapter & Wired LED Backlit USB Gaming Keyboard and Mouse Included
List price: $4,699.99 Buy this computer on Amazon (Paid link)
CUK Mantis Gamer PC (Liquid Cooled Intel Core 11th Gen i9, 64GB RAM, 1TB NVMe SSD + 2TB HDD, NVIDIA GeForce RTX 3090 24GB, 850W PSU, AC WiFi, Windows 10 Home) Gaming Tower Desktop Computer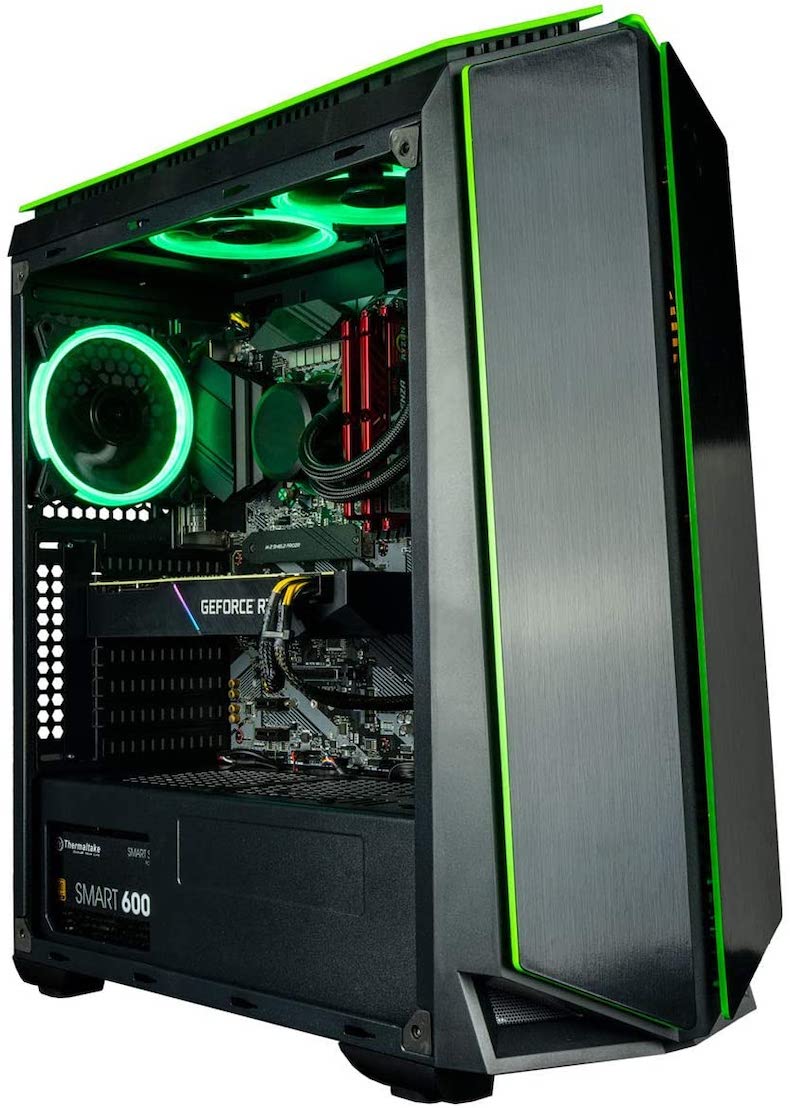 Processor: Intel Core i9-11900KF Eight Core Processor (16MB Cache, 3.5GHz-5.3GHz) 95W (Liquid Cooled)
RAM: 64GB DDR4 2933MHz | Hard Drive: 1TB NVMe Solid State Drive + 2TB 7200rpm Hard Disk Drive
Graphics: NVIDIA GeForce RTX 3090 24GB GDDR6 | Motherboard: Z590
Power Supply: 850W Gold PSU | Operating System: Windows 10 Home x64
Accessories: USB AC WiFi Adapter & Wired LED Backlit USB Gaming Keyboard and Mouse Included 
List price: $4,699.99 Buy this computer on Amazon (Paid link)
OMEN 30L GT13-0090 Gaming Desktop Gamer Tower PC, NVIDIA GeForce RTX 3090 Graphics, 10th Intel Core i9-10850K Processor (64GB DDR4 RAM | 1TB PCIe SSD | 2TB HDD) Windows 10 Bundle JTD Mouse Pad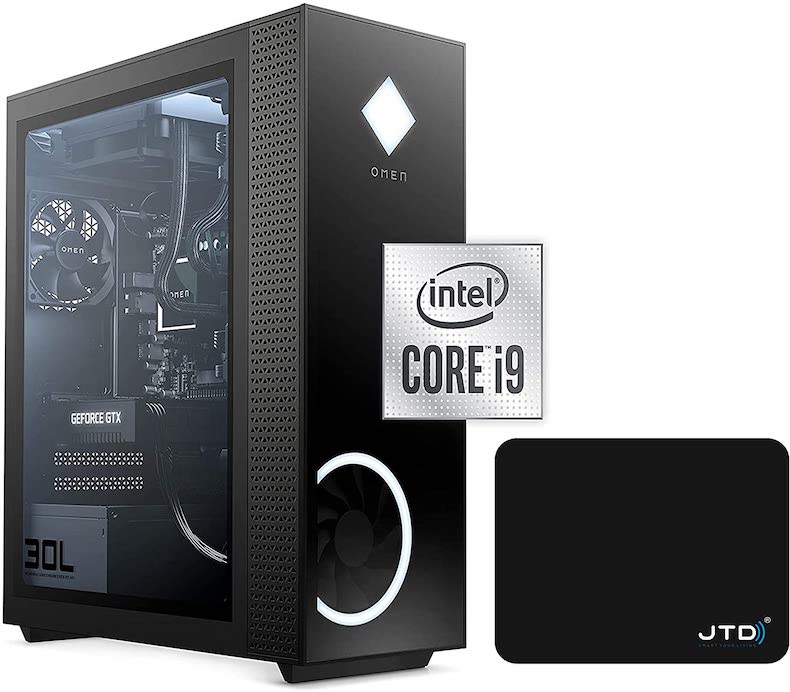 Sure, skills are important, but with the OMEN 30L Desktop PC's powerful processor, stunning graphics, and a large front fan you really can't make any more excuses for losing
The GeForce RTX 3090 delivers the ultra-performance that gamers crave, powered by Ampere—NVIDIA's 2nd gen RTX architecture; with 24 GB GDDR6X dedicated memory, your 4k gaming experience will never look smoother
Game, stream, create and edit multimedia content faster than ever with 10th Generation Intel Core i9-10850K processor with liquid cooling
Enjoy optimal VR performance as your desktop is VR ready right out of the box
Windows 10 Home Bundle with JTD Mouse Pad
List price: Buy this computer on Amazon (Paid link)
Cobratype Poison Gaming Desktop PC - Intel Core i9 11900F, RTX 3090, 32GB DDR4, 2TB NVMe, Windows 10 - Free AIO Liquid Cooler While Supplies Last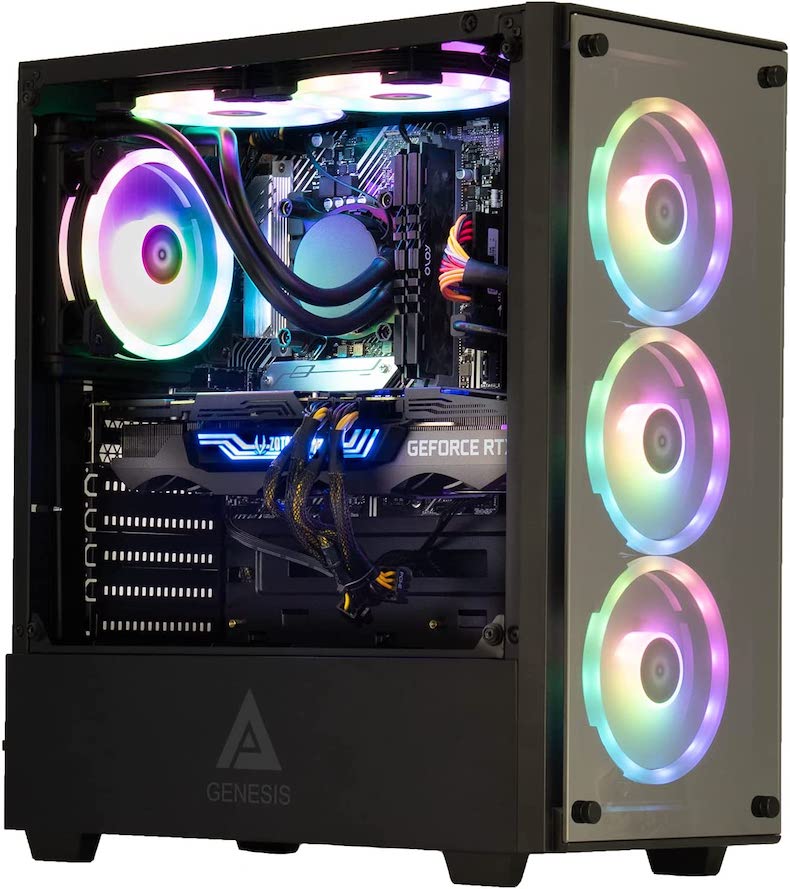 RTX 3090 10GB GDDR6X
Intel Core i9 11900F
2TB NVMe
32GB DDR4
AIO Cooler
List price: Buy this computer on Amazon (Paid link)
ASUS ROG Strix G35CZ Gaming Desktop PC, GeForce RTX 3090, Factory Overclocked Intel Core i9-10900KF, 32GB DDR4 RAM, 1TB PCIe SSD + 2TB HDD, Dual Hot-Swap SSD Bays, Windows 10 Professional, G35CZ-XB998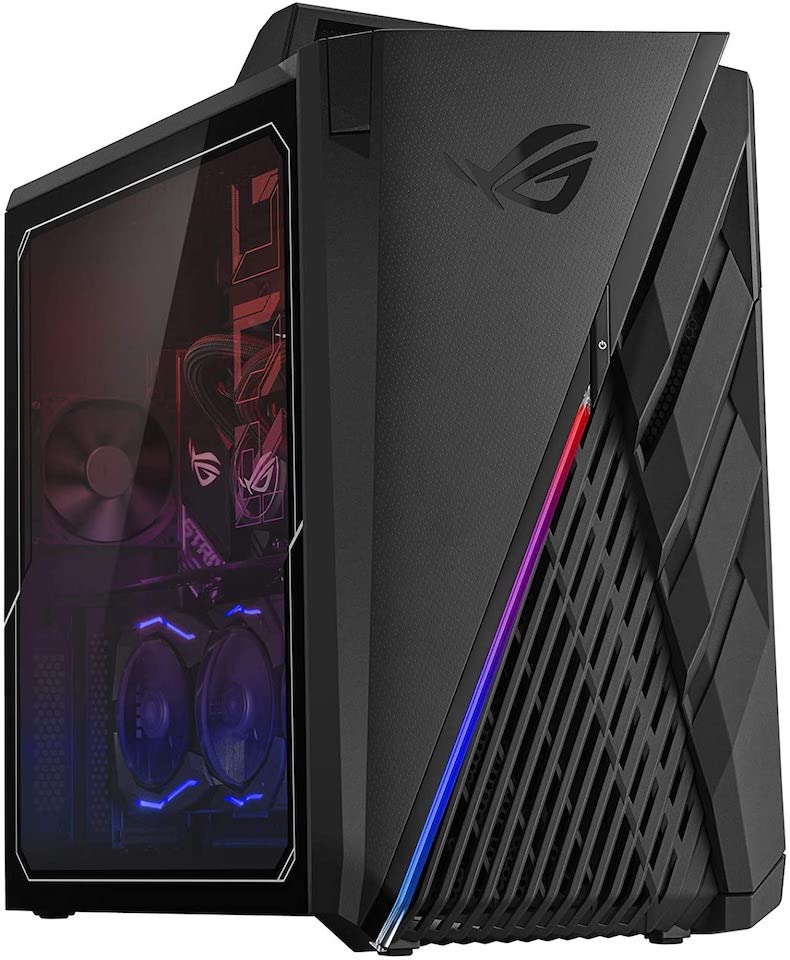 Vertically mounted NVIDIA GeForce RTX 3090 24GB GDDR6X | GPU Ports: 1x HDMI, 3x DP
Liquid cooled Intel Core i9-10900KF processor, full-core factory overclock
1TB HyperDrive PCIe NVMe M.2 SSD (up to 3200MB/s) + 2TB 7200RPM HDD | 32GB 3200MHz DDR4 RAM | Windows 10 Pro
eSports and LAN-party ready with dual hot-swap SSD bays that let players quickly switch between games or expand their storage
Game your way with ASUS Aura Sync RGB chassis lighting and a transparent glass panel | Gaming keyboard & mouse included
List price: $4,399.99 Buy this computer on Amazon (Paid link)
Empowered PC Grandia (Intel Core i9, 64GB RAM, 1TB NVMe SSD + 3TB HDD, NVIDIA GeForce RTX 3090 24GB, 750W Gold PSU, AC WiFi, Windows 10 Home) Gaming HTPC and DevBox Workstation Desktop Computer

Processor: Intel Core i9-10900F Ten Core Processor (20MB Cache, 2.8GHz-5.2GHz) 65W
RAM: 64GB DDR4 2933MHz | Hard Drive: 1TB NVMe Solid State Drive + 3TB 7200rpm Hard Disk Drive
Graphics: NVIDIA GeForce RTX 3090 24GB GDDR6X | Motherboard: B460M
Power Supply: 750W Gold Power Supply | Operating System: Windows 10 Home x64
Features: Positive air pressure design for excellent cooling/quietness and dust-prevention. | Accessories: 802.11 AC Wireless USB Adapter / Wired LED Backlit USB Gaming Keyboard and Mouse Included 
List price: $4,399.99 Buy this computer on Amazon (Paid link)
CUK Aegis R by_MSI Gaming Desktop (Liquid Cooled Intel Core i9-11900KF, 64GB DDR4 RAM, 1TB NVME SSD + 3TB HDD, NVIDIA GeForce RTX 3090 24GB, Windows 10 Home) Gamer PC Computer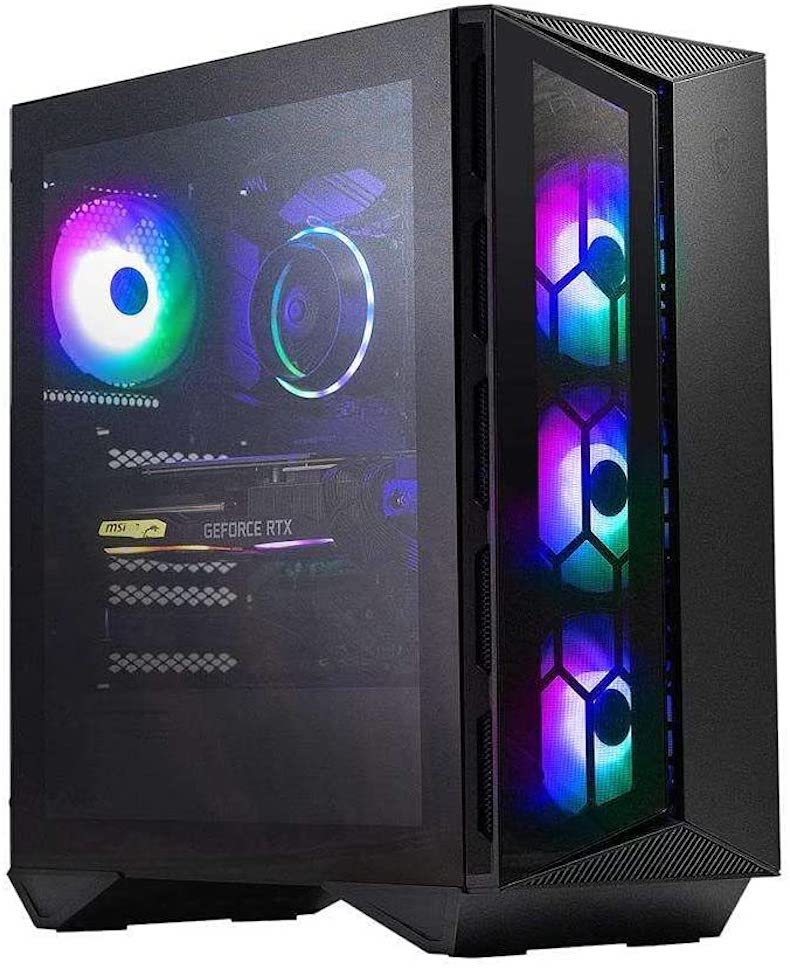 Processor: Intel Core i9-11900KF Eight Core Processor (16MB Cache, 3.5GHz-5.3GHz) 125W (Liquid Cooled)
RAM: 64GB DDR4 2933MHz | Hard Drive: 1TB NVMe Solid State Drive + 3TB Hard Disk Drive
Graphics: NVIDIA GeForce RTX 3090 24GB GDDR6 | Operating System: Windows 10 Home x64
Power Supply: 850W Gold PSU | Accessories: Gaming Mouse & Keyboard Included
i9-11900KF / 64GB RAM / 1TB NMVE SSD / 3TB HDD / RTX 3090 Upgrades
List price: $4,599.99 Buy this computer on Amazon (Paid link)
CUK ASUS TUF GT301 Gaming PC (Liquid Cooled Intel Core i9, 64GB RAM, 1TB NVMe SSD + 2TB HDD, NVIDIA GeForce RTX 3090 24GB, 750W PSU, AC WiFi, Windows 10 Home) Tower Gamer Desktop Computer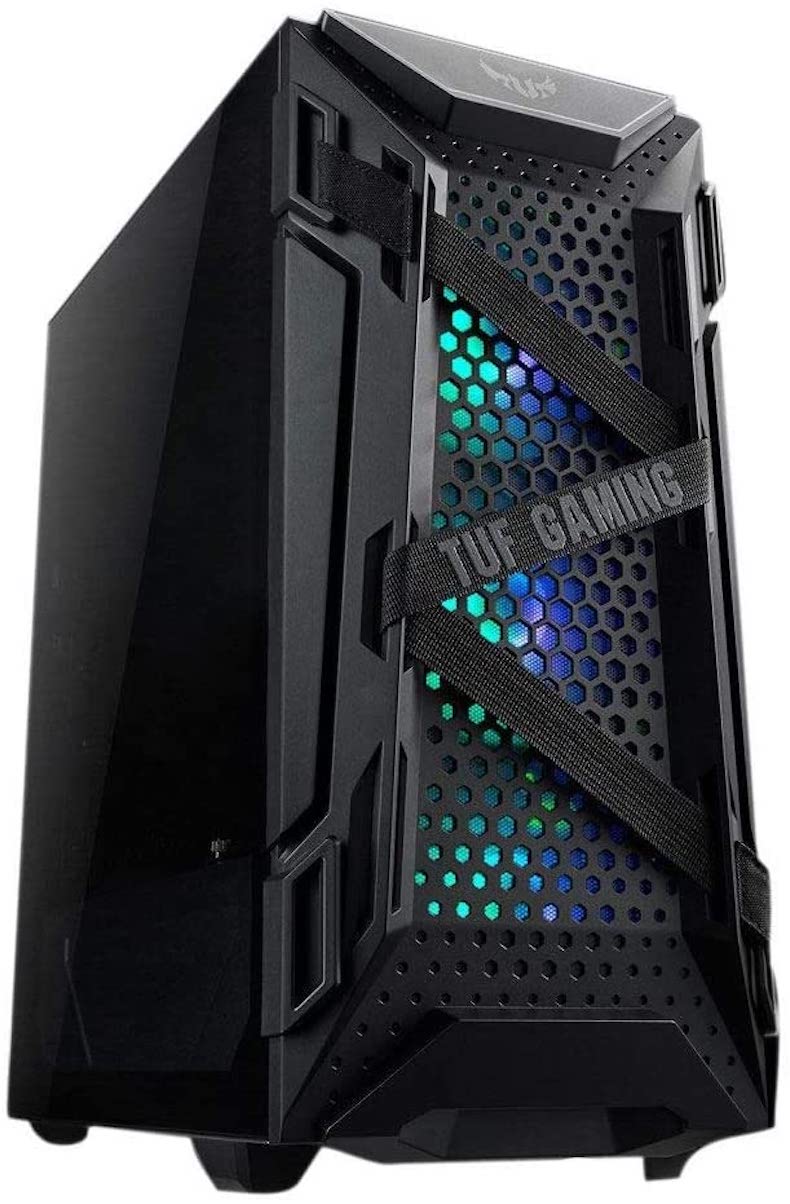 Processor: Intel Core i9-10900F Ten Core Processor (20MB Cache, 2.8GHz-5.2GHz) 65W (Liquid Cooled)
RAM: 64GB DDR4 2933MHz | Hard Drive: 1TB NVMe Solid State Drive + 2TB 7200rpm Hard Disk Drive
Graphics: NVIDIA GeForce RTX 3090 24GB GDDR6X | Motherboard: B460M Motherboard
Power Supply: 750W Gold PSU | Operating System: Windows 10 Home x64
Accessories: Wired USB Keyboard and Mouse Included 
List price: $4,699.99 Buy this computer on Amazon (Paid link)
Empowered PC Sentinel Gamer PC (Liquid Cooled Intel Core i9 K-Series, 64GB RAM, 1TB NVMe SSD + 2TB HDD, NVIDIA GeForce RTX 3090 24GB, 850W PSU, AC WiFi, Windows 10 Home) Gaming Tower Desktop Computer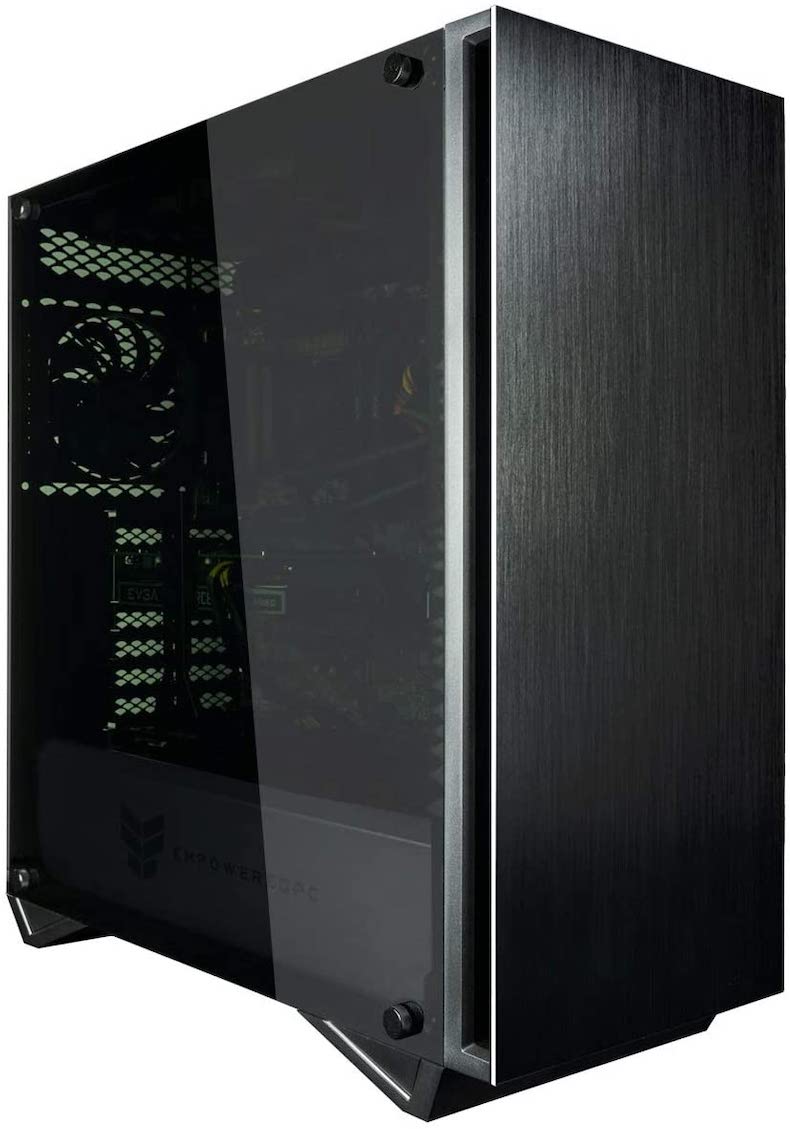 Processor: Intel Core i9-11900KF Eight Core Processor (16MB Cache, 3.5GHz-5.3GHz) 125W (Liquid Cooled)
RAM: 64GB DDR4 3000MHz | Hard Drive: 1TB NVMe Solid State Drive + 2TB 7200rpm Hard Disk Drive
Graphics: NVIDIA GeForce RTX 3090 24GB GDDR6X | Motherboard: Z590
Power Supply: 850W Gold PSU | Operating System: Windows 10 Home x64
Accessories: USB AC WiFi Adapter & Wired LED Backlit USB Gaming Keyboard and Mouse Included 
List price: $3,899.99 Buy this computer on Amazon (Paid link)
CUK ASUS TUF GT301 Gaming Tower Desktop (Intel Core i9 K-Series with Liquid Cooling, NVIDIA GeForce RTX 3090 24GB, 128GB RAM, 2TB NVMe SSD + 4TB, 850W PSU, AC WiFi, Windows 10 Home) Gamer PC Computer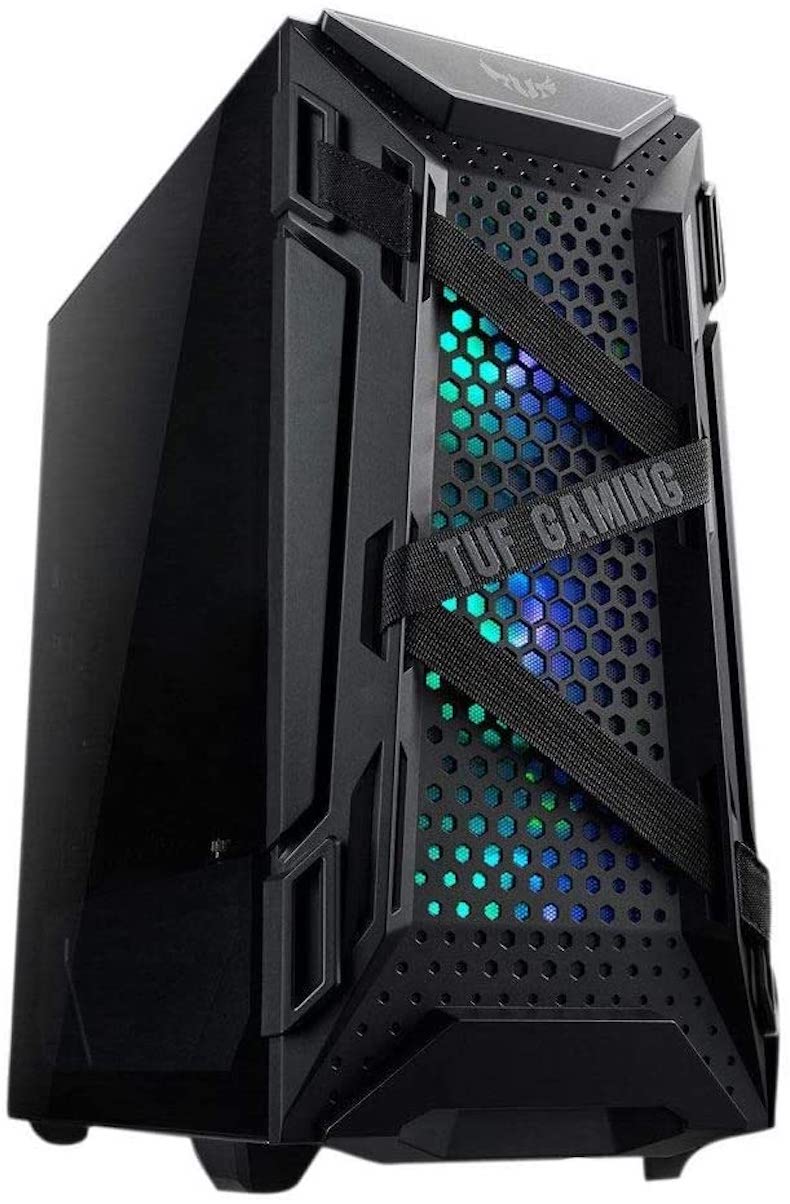 Processor: Intel Core i9-10900KF Ten Core Processor (20MB Cache, 3.7GHz-5.3GHz) 125W (Liquid Cooled)
RAM: 128GB DDR4 2933MHz | Hard Drive: 2TB NVMe Solid State Drive + 4TB 7200rpm Hard Disk Drive
Graphics: NVIDIA GeForce RTX 3090 24GB GDDR6X | Motherboard: Z490 Motherboard
Power Supply: 850W Gold PSU | Operating System: Windows 10 Home x64
Accessories: USB AC WiFi Adapter & Wired LED Backlit USB Gaming Keyboard and Mouse Included | 3-Year CUK Limited Warranty 
List price: $4,599.99 Buy this computer on Amazon (Paid link)
CUK Aegis R by MSI Gaming Desktop (Liquid Cooled Intel Core i9, 64GB DDR4 RAM, 1TGB NVMe SSD + 3TB HDD, NVIDIA GeForce RTX 3090 24GB, 850W PSU, Windows 10 Home) Gamer PC Computer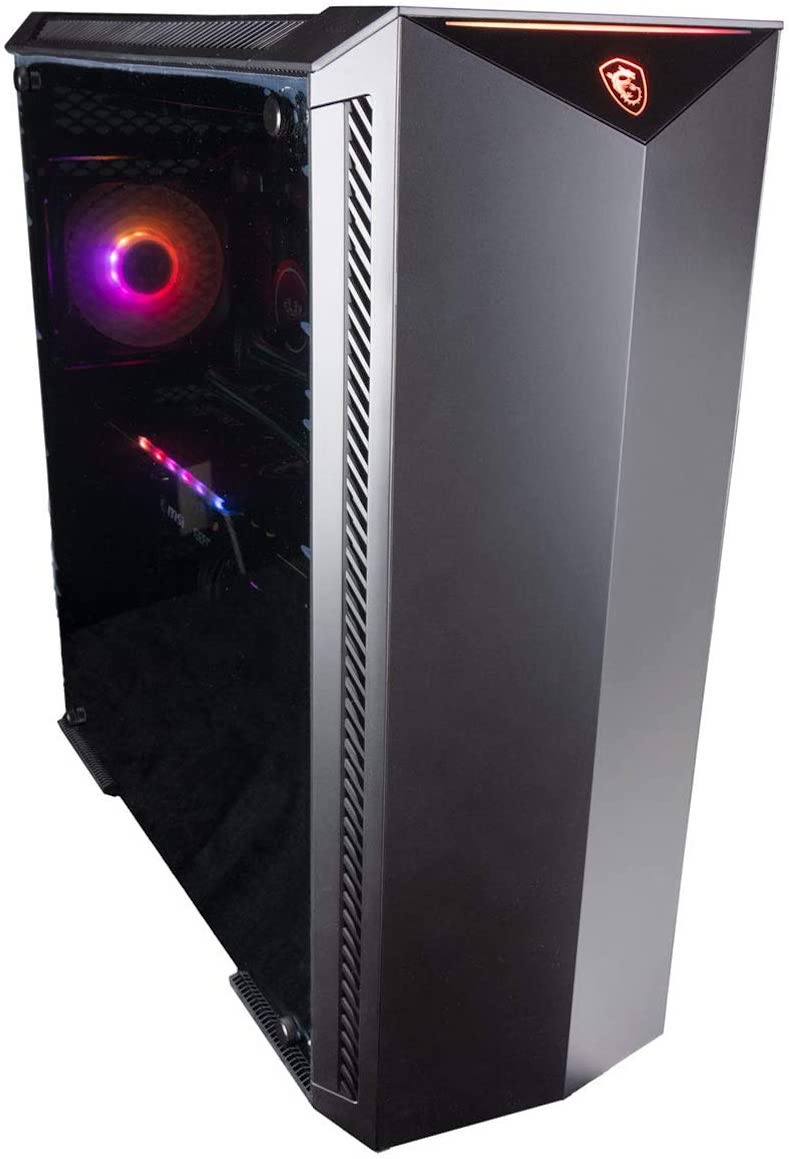 Processor: Intel Core i9-11900KF Eight Core Processor (16MB Cache, 3.5GHz-5.3GHz) 125W
RAM: 64GB DDR4 3000 MHz | Hard Drive: 1TB NVMe Solid State Drive + 3TB 7200rpm Hard Disk Drive
Graphics: NVIDIA GeForce RTX 3090 24GB GDDR6 | Motherboard: Z590-A Motherboard |Operating System: Windows 10 Home x64
Power Supply: 850W Gold PSU | Accessories: USB AC Wifi Adapter & Wired LED Backlit USB Gaming Keyboard and Mouse Included
Intel i9-11900KF / 64GB RAM / 1TB M.2 NVME / 3TB HDD / RTX 3090 Upgrades | 3-Year CUK Limited Warranty
List price: Buy this computer on Amazon (Paid link)