Château Mukhrani is a winery located in Mukhrani village, Mtskheta-Mtianeti region (somewhere between Mtskheta town and Natakhtari village), Georgia . Idea to head here first arise to friend of mine (another expat)  living here in Georgia.  Friend of me pre-booked a guided wine tasting tour at this place.
On a rainy Saturday morning, after a short visit of Jvari monastery we straight headed to Château Mukhrani. During this tour I learned a few interesting things and facts about Georgian wine making, but most of the time I was practicing my DSLR photography (again with help of my friend).
Although we had agreed our tour will start at 10:00 A.M. arriving on site some 10 minutes late we were informed that our guide will be here just after another 40 minutes, we were invited to a wine tasting room to have a free coffee or tea. So the story can be told now: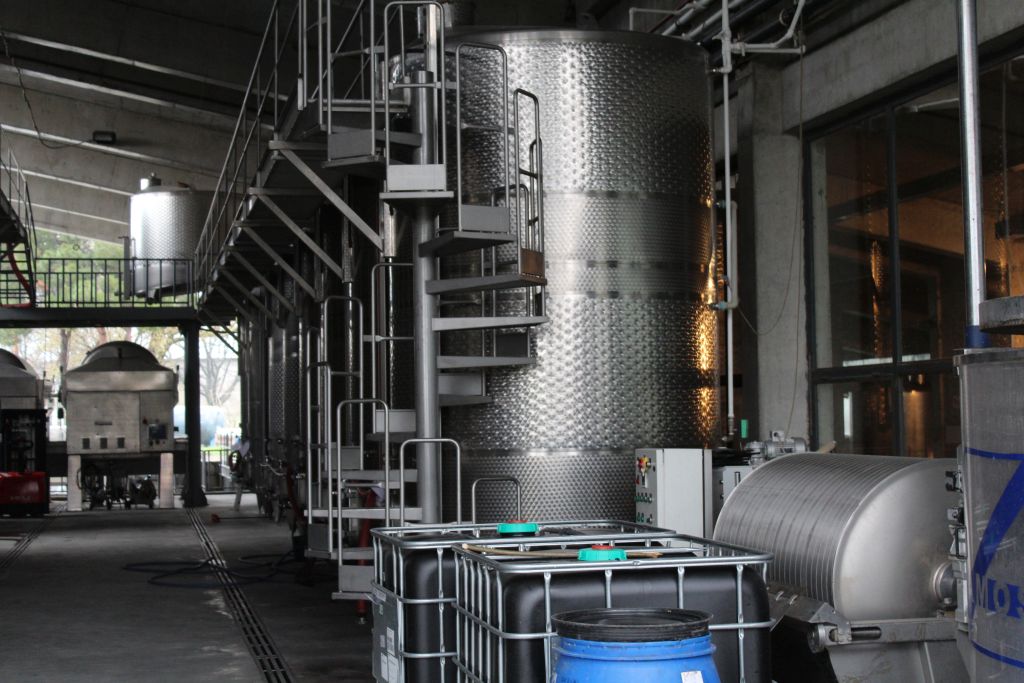 Wine storing devices at Château Mukhrani
Our self guided tour started in front of these aggregates / machines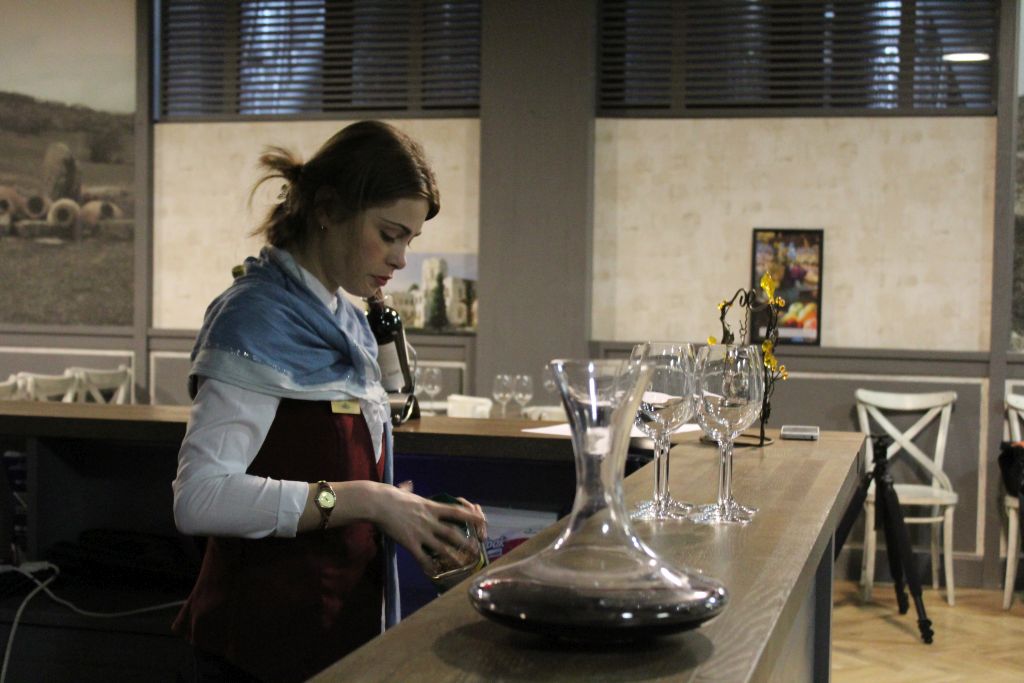 Wine tasting room at Château Mukhrani
We were invited to this lovely wine tasting room to have a cup of coffee or tea while waiting our guide arriving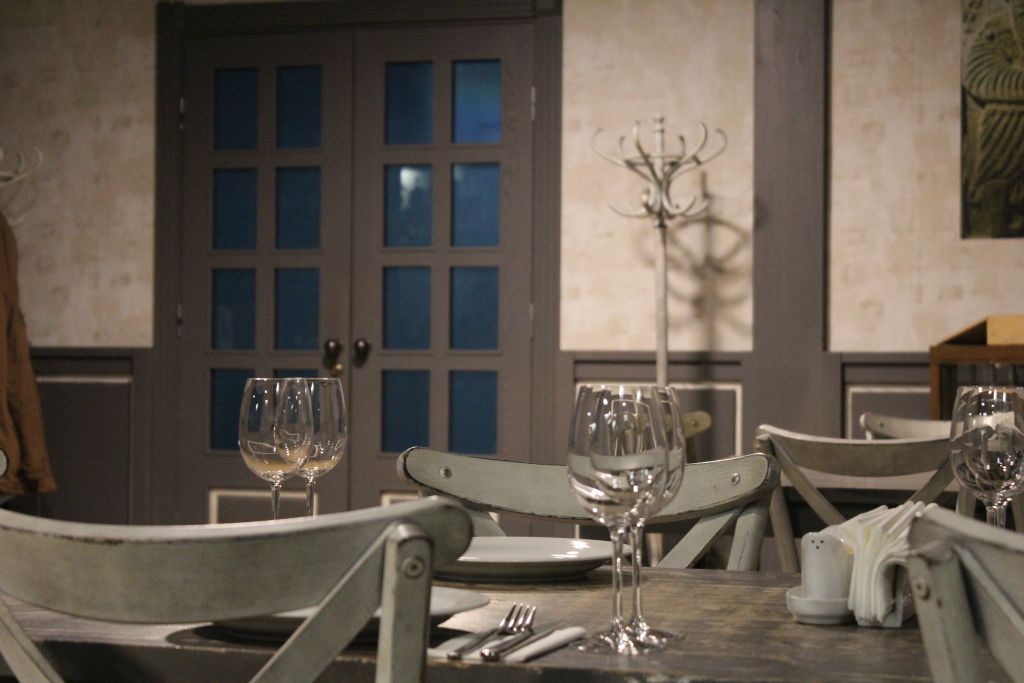 Wine tasting room at Château Mukhrani
I was so caught up with a new camera I just couldn't to stop taking pictures
Our guide arrived and we started our tour passing by another wine making devices / containers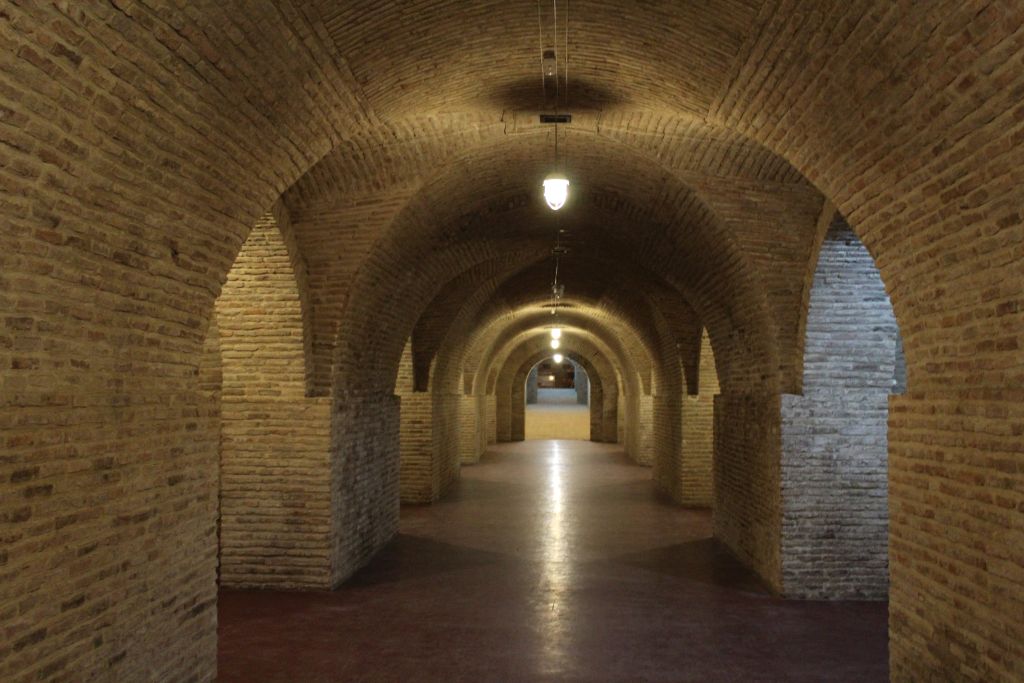 Wine cellars at Château Mukhrani
We entered a kind of wine cellar labyrinths, listening history of this place. 
The tour guide told that Château Mukhrani produces around 500, 000 bottles of wine per year. 60% of wine goes for export while the rest 40% stays for domestic Georgian market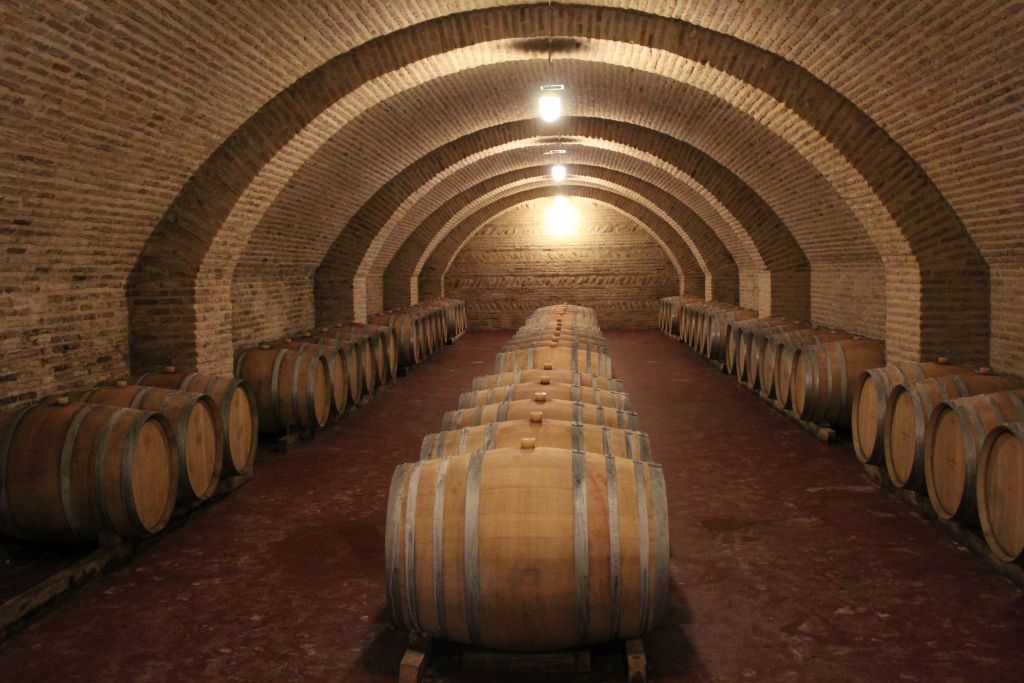 Wine cellars with oak barrels at Château Mukhrani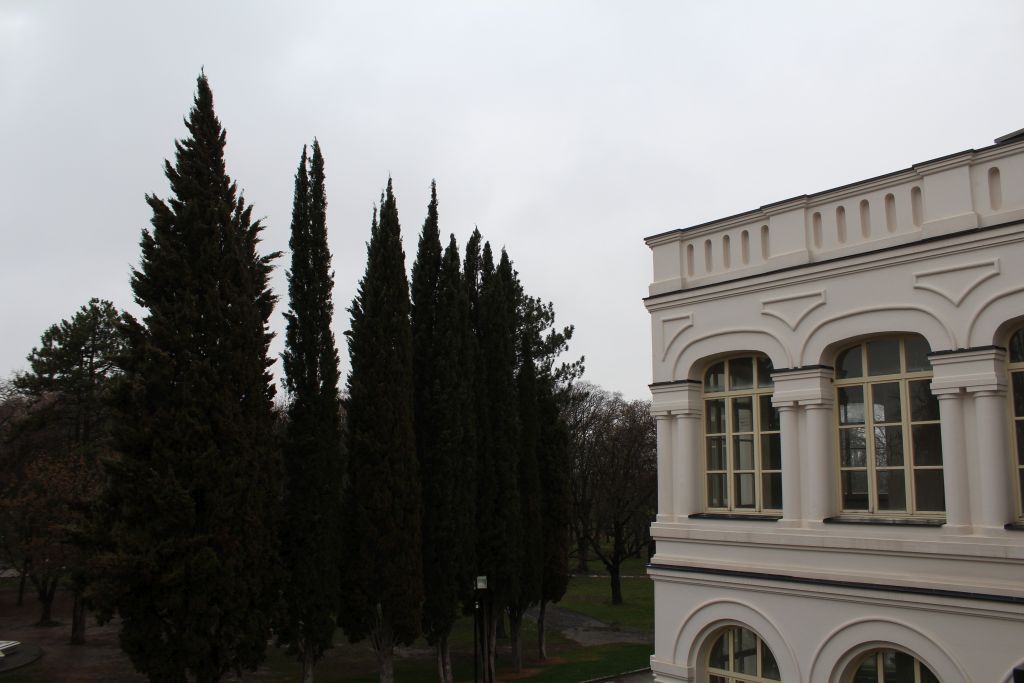 Outdoor terrace at Château Mukhrani
We were allowed to enter on the rooftop outdoor terrace here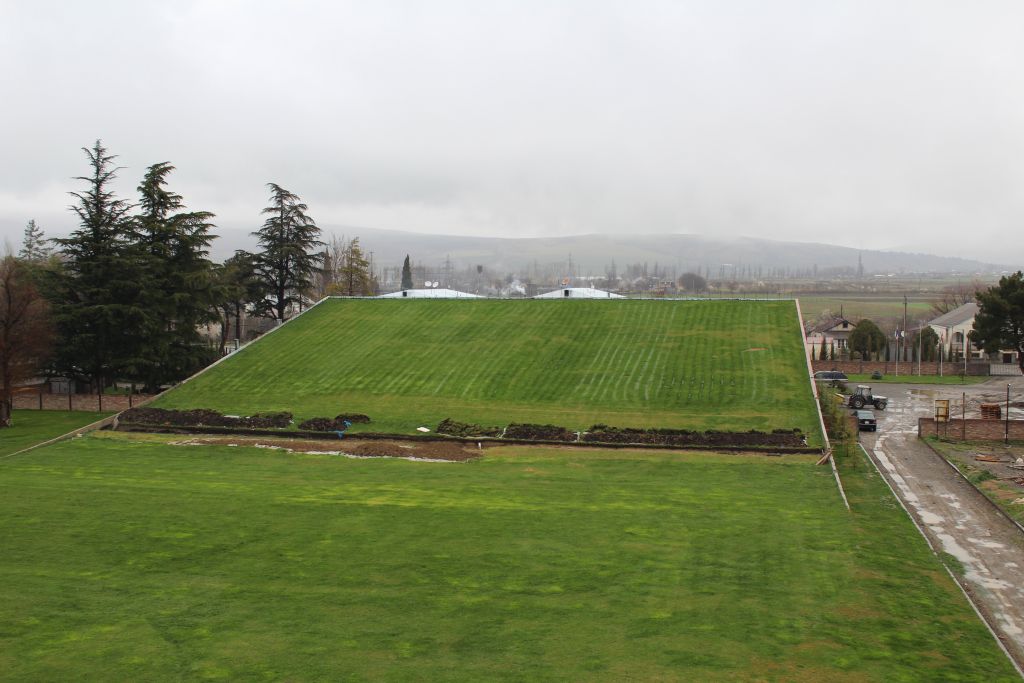 Grass covering rooftop for wine cellars at Château Mukhrani 
At first when I noticed this I thought - what a strange soccer field - turns out under this grass covered roof are located those wine cellars we just walked through.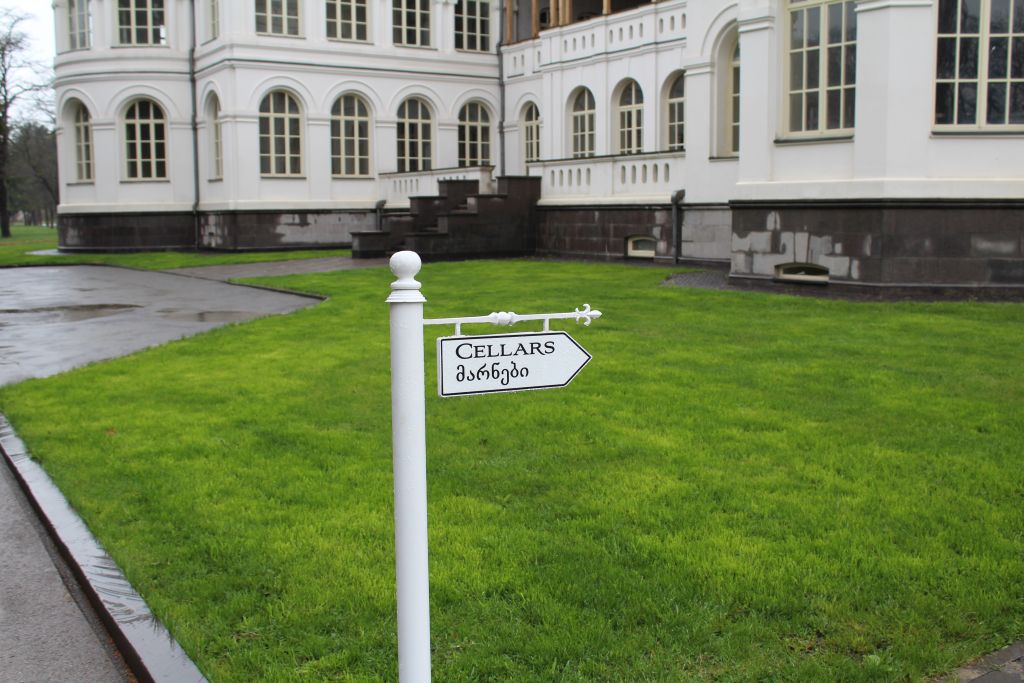 Château Mukhrani
The above picture reminds me some scenes from English made movies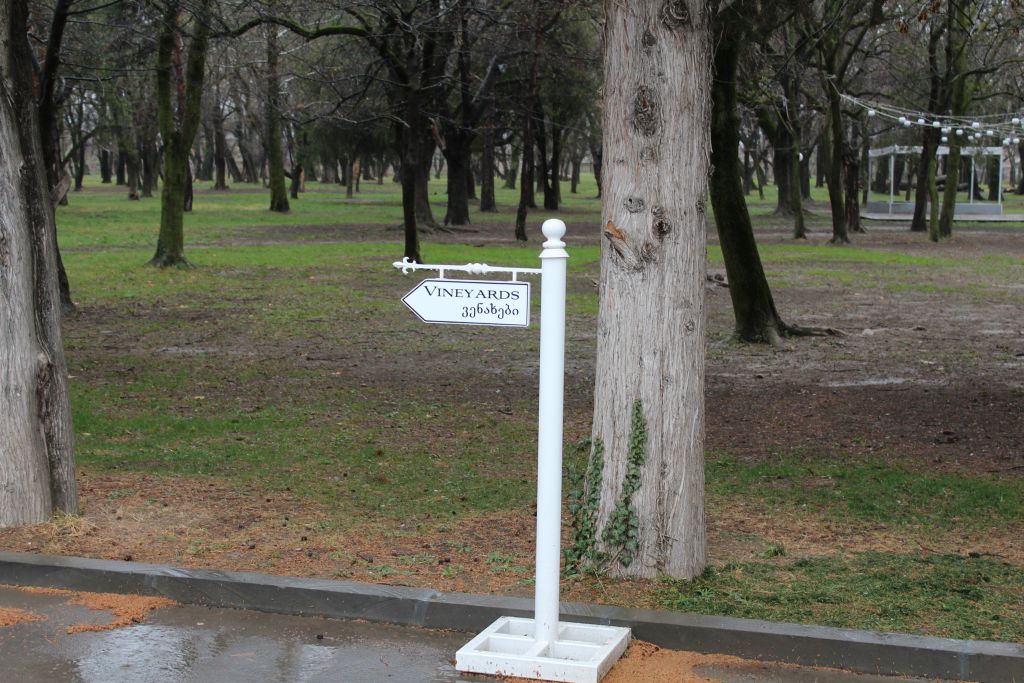 Road to vineyards
Since the weather were bad our guide asked do we really would like to see vineyards. I thought what a strange questions, if you are at winery you definitely should visit a vineyards. Latter it turned out that the road heading to vineyards is heavily muddy.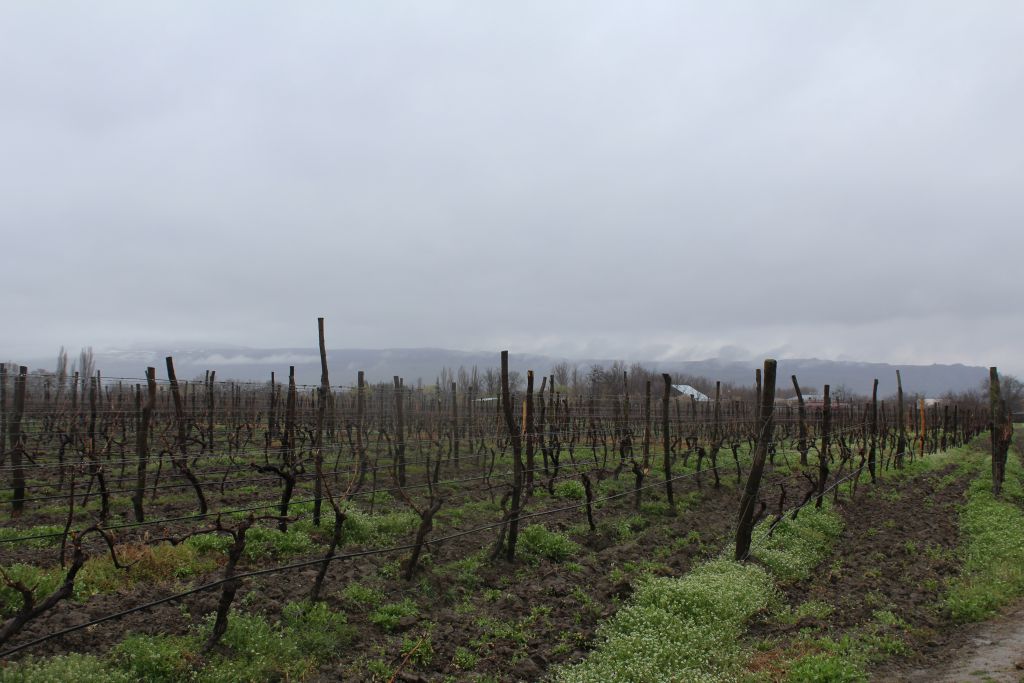 Vineyards at Château Mukhrani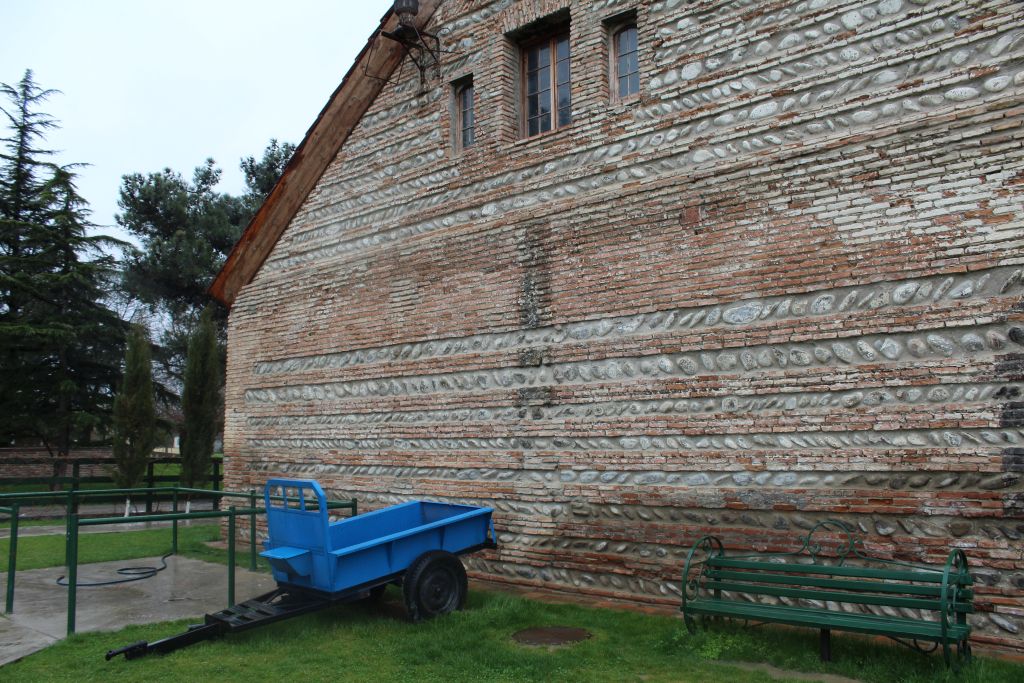 Horse stables at Château Mukhrani
Unfortunately I didn't managed to take any good quality photos of horses and stable inside here, so I'm jut adding this brick wall of stable to let you know - they have a horse stables here as well, and if you are interested you can pre book a horse riding here as well.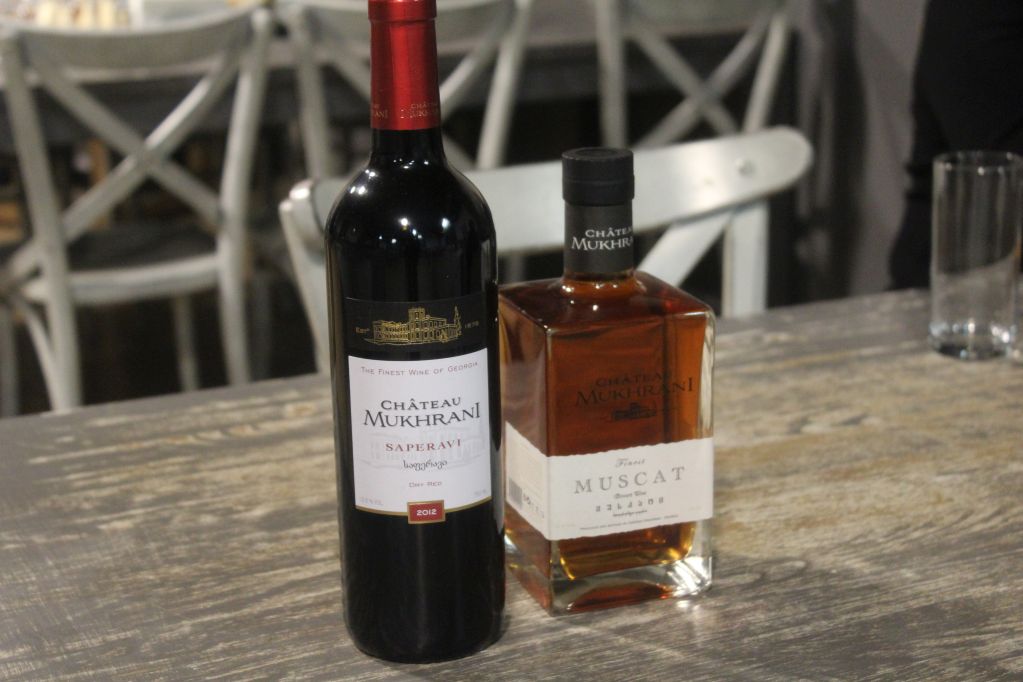 Wine tasting Château Mukhrani
Our tour ended at the same place it started at the wine tasting roam, those of you willing to taste wines made at this winery can pay additional money and ... taste wine.​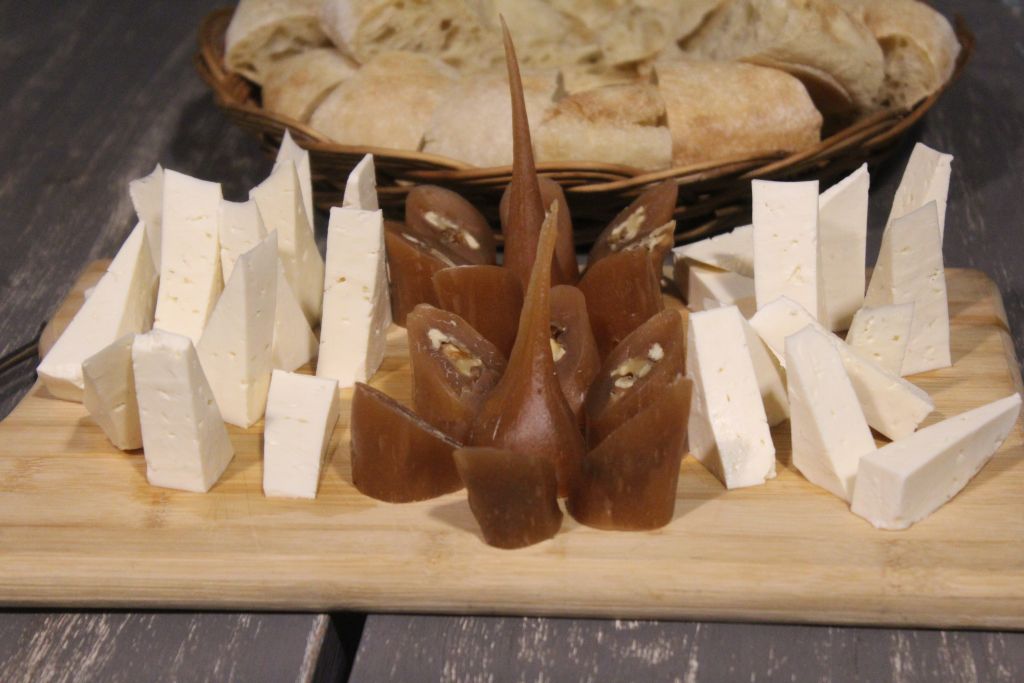 Georgian cheese and churchela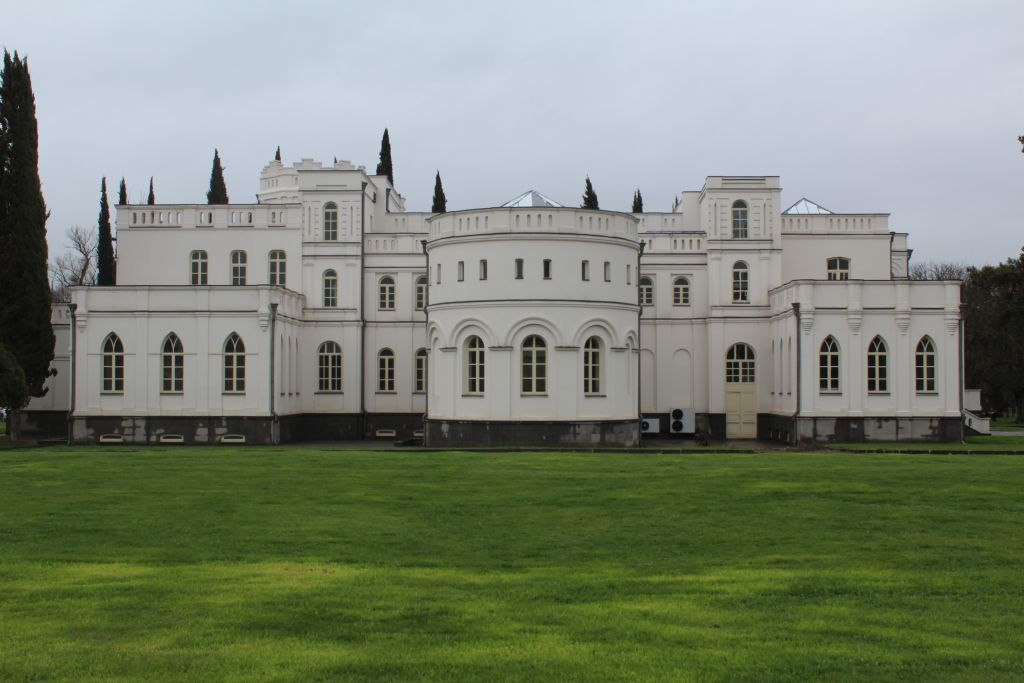 Château Mukhrani front view
I actually almost missed this shot but my friend Johann kindly invited me to this standing point, put my camera on tripod, regulated settings on camera and allowed  me to press a shutter button. I'm calling it a teamwork! 
About costs:
A guided tour at Château Mukhrani will cost you around 10 GEL ($4.45 / EUR 4.08) per person. Guided tour with wine tasting will cost you around GEL 35 ($15.50 / EUR 14.30)
About Château Mukhrani
Château Mukhrani is based on the historical tradition of wine-making in Mukhrani region. This is the first and the only true Georgian Royal Chateau, which unites four key components: vineyards, winery, castle and history. In 1512 Mukhrani became the prince's estate, governed by the Bagrationi royal family. Mukhranian wine production was established by Ivane Mukhranbatoni a famous representative of royal family, political and public figure of the 19th century. In 1876, Ivane Mukhranbatoni returned from France with Chateau concept knowledge and since then the history of Château Mukhani's winemaking starts.
During the Soviet time Château Mukhrani was abandoned and almost destroyed. In 2003, International Group Marussia Beverages with Georgian partners founded the Château Mukhrani Company. Group intended to revive the estate to its former glory and re-establish production at Mukhrani, combining modern and traditional technologies. New investment group aims to create strong international brands, which will serve as a profound representative of Georgian wine on international market.
In 2007, major investment was made in new winery of Château Mukhrani. Now it is equipped with ultra-modern technology and corresponds with ISO 9001:2005 Food Safety and ISO 9001:2008 Quality Management standards.
Along with modern winery, Château Mukhrani Cellar was also reconstructed, returning to unique origin, which has great historical value. Today the cellar is fully reconstructed and stores 60 000 barrels of wine at constant temperature of 15C.
Since 2007, Château Mukhrani is making wine from grapes harvested in its own vineyards. To make the wine more exquisite and truly unique, winery receives grapes for processing maximum in 15 minutes from harvesting.
Visit www.chateaumukhrani.com to learn more