That day finally come and I have finally photographed the legendary Georgian Parliament building in Kutaisi. After picking up my mom at Kutaisi International Airport and before heading towards to Tbilisi, we made a short excursions around Kutaisi and villages near Kutaisi.
It took me just a few seconds to capture this amazing landscape of futuristic parliament building.
The Georgian Parliament Building in Kutaisi has been the home of the Parliament of Georgia since its inauguration on May 26, 2012, replacing the Parliament building at 8 Rustaveli Avenue in Tbilisi.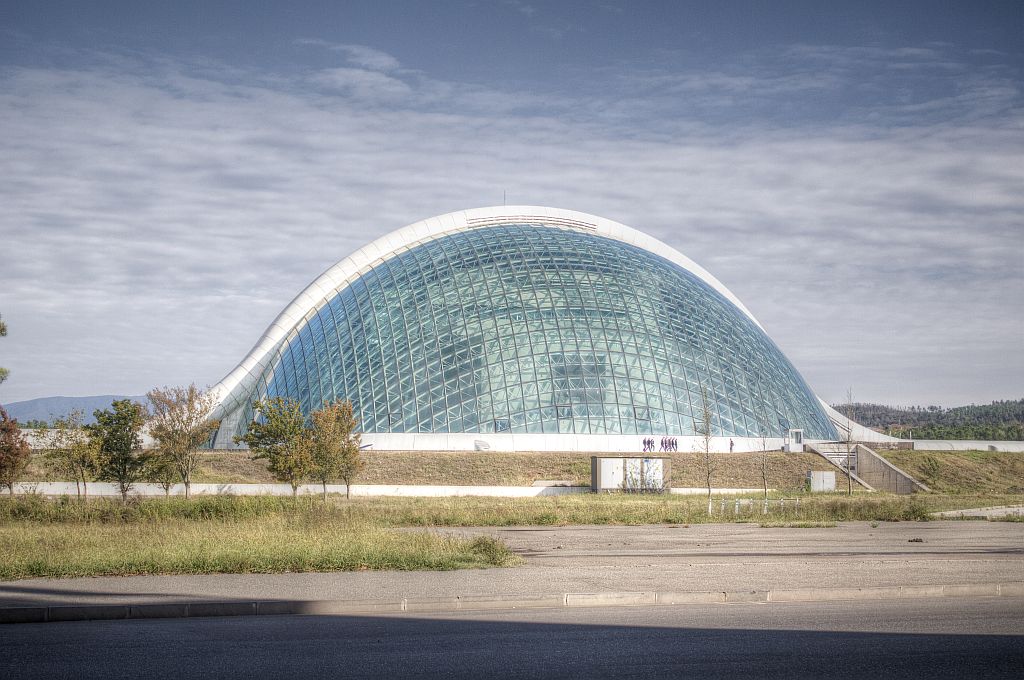 Georgian Parliament building in Kutaisi
I have been dreaming of picture like this for some years already, since 2012 at least. Now, I feel very proud of myself and my photography skills.
The government, during the building's construction, promoted it as a symbol of Georgia's bright, democratic future. Its location in Kutaisi was touted as a boost for the regional economy there as well as a way to knit the country closer together. Critics state that the building is a waste of money, and that having Parliament in Kutaisi, while the rest of the government remains in Tbilisi, is inefficient.
Back in the days I was wondering about possible short future of this parliament building. Read: Mystery with Kutaisi Parliament building
From different sources, I have heard that Parliament will be relocated back to Tbilisi, starting Spring 2013. (Ups, it's still standing there), latest I red an article, that Parliament will be relocated February 2014. (As on October 2015, no information heard of relocation)
I believe it's great that Kutaisi has such interesting architectural building. Of course I would enjoy the view even more if in the background we could see other tall sky scrapers instead just of plain grasslands but hey.. Kutaisi has all the opportunities to attract some fat cats to complete this miracle of architecture. 
It;s said the total cost of this building was about $83,000,000