Georgia teaches one useful thing - everything is relative - So did happened at last weekend of August, when following previous weekend's trend for getting out of Tbilisi, we decided to book a hotel in remote Napareuli village (some 20 km from Telavi) - so at Saturday morning we decided to take marshrutka to Telavi and then from Telavi to take a taxi. 
First things first - I found that marshrutkas leaves to Telavi from Samgori. We catched a Taxi and went to our Marshrutka station. Taxi driver didn't agree with me that we need Samgori, so he took us to Isaani.
At Isani there are no marshrutakas going to Telavi - so after advising Taxi driver not to be a smart-ass - we drove to Samgori.
Unfortunelty our marshrutka at 11:00 left Samgori, and we had to wait another 45 minutes. No way we are going do that - we quickly found another marshrutka going to Sighnaghi.
Since my Georgian geography - although more than average, unfortunately not enough to understand - Sighnaghi is not what we need.
Anyway we headed to Sighnaghi, while driver claimed that at Signaghi there will definitely be another marshrutka from Sighnaghi to Telavi. So wrong. Don't ever believe Georgian drivers - I made sure this that day twice.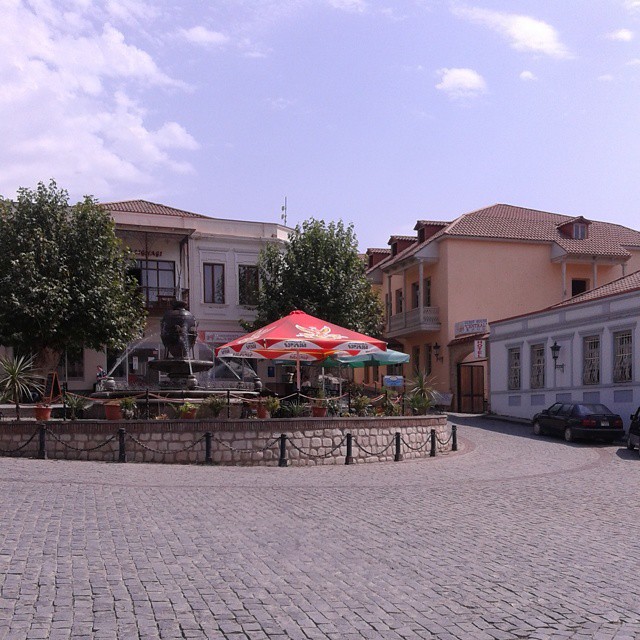 Sighnaghi Town Square
Sighnaghi seemed like completely empty, no people on the streets, while it was already 13:00 when we arrived.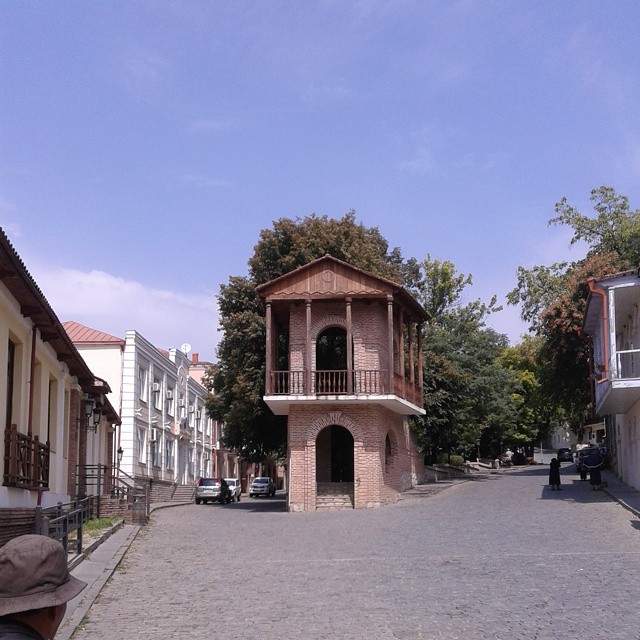 Tower in Sighnaghi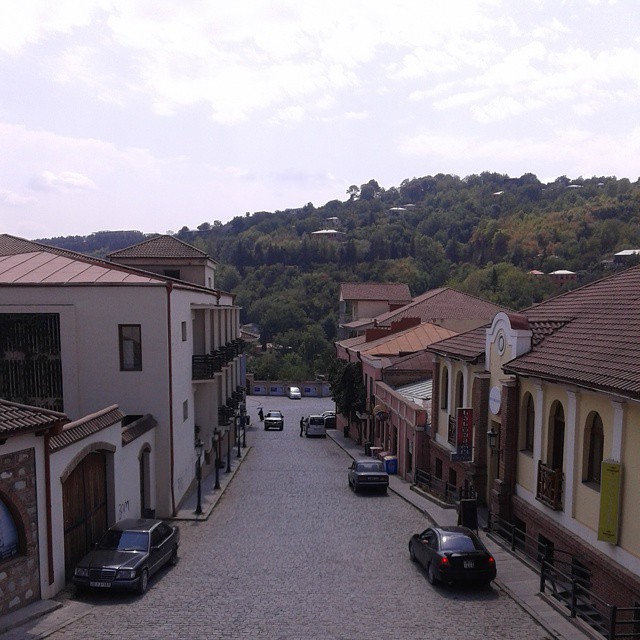 View from Sighnaghi tower
Although Sighnaghi for some might look like a nice and charming province city, in fact I would call this as an element of Georgia's "façade democracy" - you see - Sighnaghi recently undergone a major reconstruction, it has been rebuilt from scratch - if you keep looking on lovely rooftops of Sighnaghi, you might think - hey - what a wonderful city - I guess people live there happily and wealthy. Wrong! Well, I do believe every Georgian lives happily, it's in their nature, but about wealth we can argue.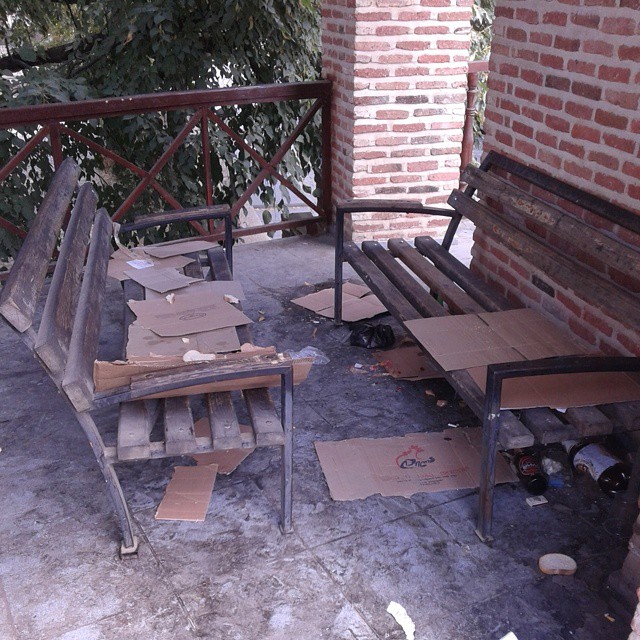 Inside the Tower
What look's lovely from distance, might look ugly from closer focus. In above picture you can see the same Tower, this time inside view - for me it seems as some dog shelter.
Speaking of dogs and other animals here in Sighnaghi, they seems really friendly, we met many dogs, who accompanied our Sighnaghi trip. They are not afraid from people, and that leads me to think, that in Sighnaghi locals love animals.
After few city shots, we went straight to restaurant to have our supper, we found place called Nikala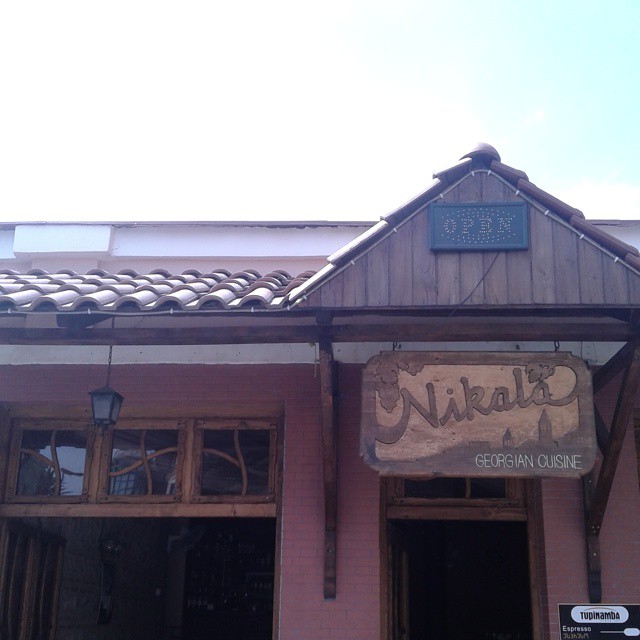 Nikala Restaurant Sighnaghi
This place was completely empty and our host at this restaurant was really eager to find out were are we from. The Answer - from Tbilisi, didn't quit satisfied her, though I spoked to her 50% Georgian, 50% English. After we ordered dolma, on my question - is that traditional Georgian dolma, or perhaps traditional Armenian tolma - she got pity - and said - It's Georgian traditional dolma. And asked me - am I Armenian? I answered - do I look like Armenian? She said - I don't know - maybe! - I replied - then I'm Armenian.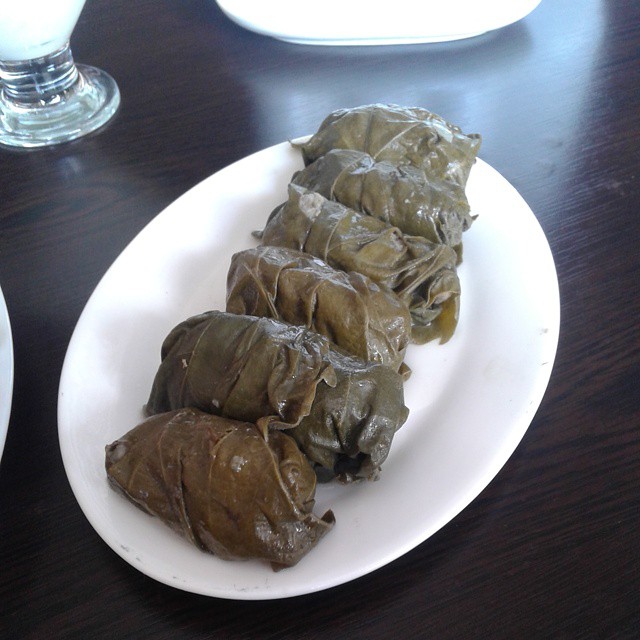 Georgian Traditional Dolma
We ordered here additional pork barbecue, some salads, coffee's and lemonades. 
Hostess was so pity, not finding out were am I originally from - so she continued to speak with me Georgian only - since I can speak Restaurant Georgian pretty well - it was not hard for me to understand her.
Overall cheque here 27 GEL. And I must admit food was excellent at Nikala restaurant
We made a few weak attempts to negotiate a Taxi to Napareuli, but none of them met our requirements  - to drive there for 40GEL, anyone asked 70GEL and more.
OK, screw you Napareuli, we are going to stay this time in Sighnaghi. And it was not long, lady approached us - after few general politeness phrases, she offered us an apartment for 10GEL... I said - OK, lady we are interested in apartment, but definitely not for such a low price - I mean - what can you get for 10GEL, place to put your tent?
It's not an serious deal... She continued, offering us a room for 30 GEL with Wi-FI and TV. This already sounded tempting, so we agreed to go take a look at her place. Damned - the same Soviet Style beds, shower out-side. No way - I'm avoiding such places. I mean, I'm not a wealthy man, but I have my needs, and shower is one of them. I need shower in my apartment, so I can access it anytime I want.
Politely I told her, that her place is really good, but this time, we wont agree. We need more. 
Few meters of her place we found a hotel/restaurant - I asked, do you have rooms, and what's the price.
This lady told me, they have rooms for 30 GEL. I asked, OK, do you have shower inside? Yes, they do - but we then must go to another her place - right opposite to that hotel. And we went - the room she showed us for 30 GEL was without windows, narrow and without any air inside. No, NO, No - Lady, this is not a hotel, this is some homeless shelter.
It turned out she has another room, for 50 GEL, with shower inside. Although the room again was without windows, though with garage doors (yeah as I latter found out, we stayed at garage).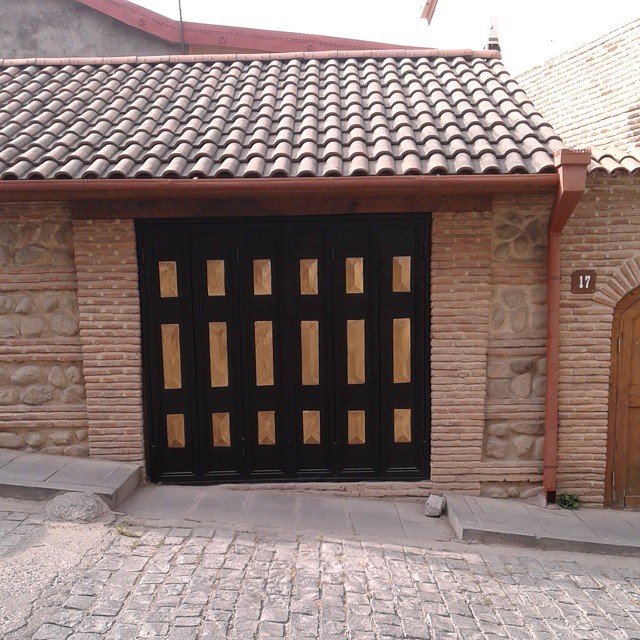 Our "hotels" garage doors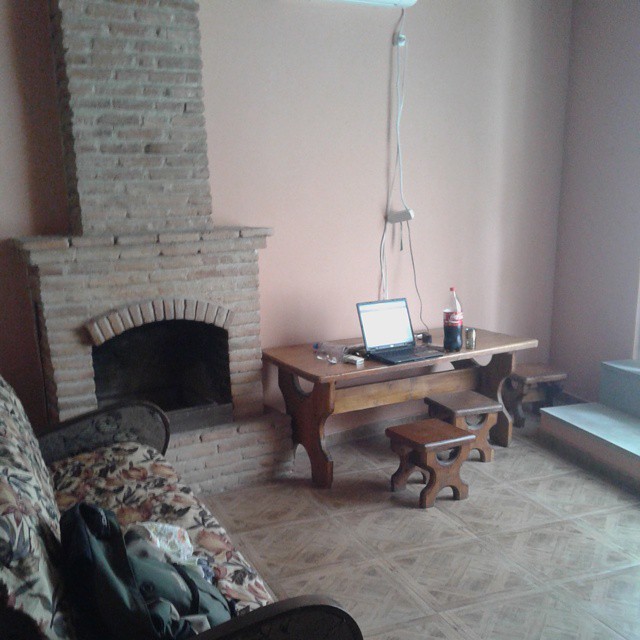 This is how our apartment looked inside
Our Landlord lady offered us to have our supper at her restaurant with discounts. So we headed opposite the street to restaurant.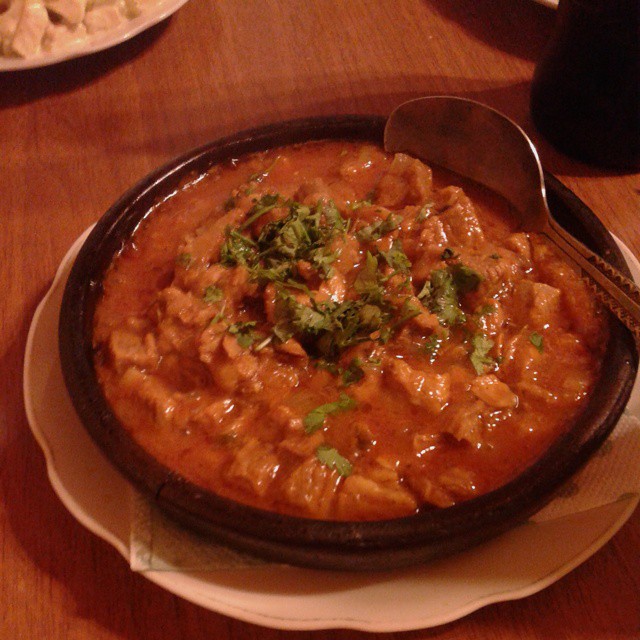 Ostri
By paying our bill, landlord lady, have forgotten all their promises, and no discounts, but little, but still overpricing (2GEL). Pointing we have been overpriced for our 25 GEL bill paying 27GEL, she did some mystic calculations and find, yes - her fault, it's 25GEL.
Now again back to city.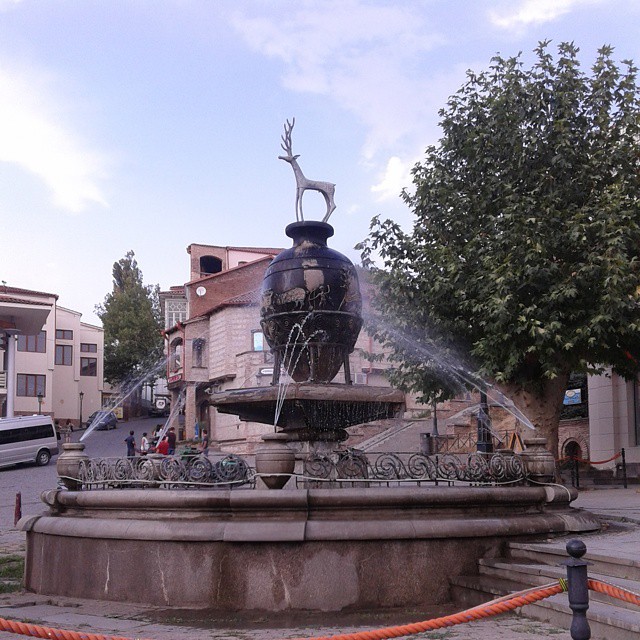 Fountain at Sighnaghi city centre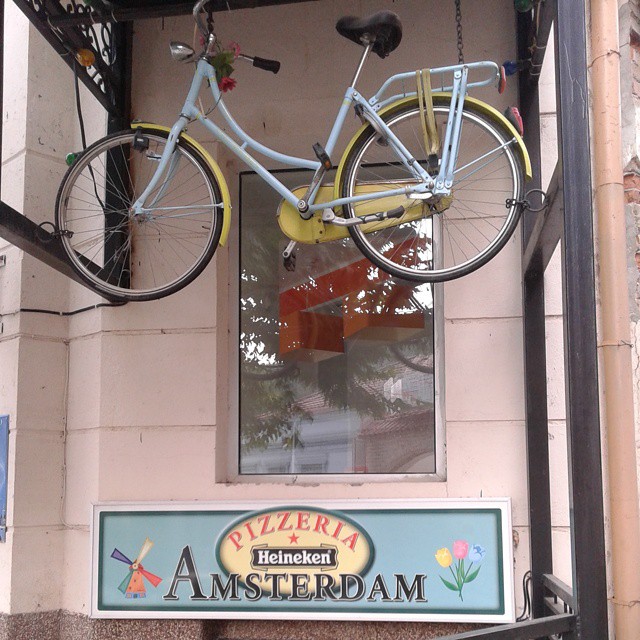 Creative Decorations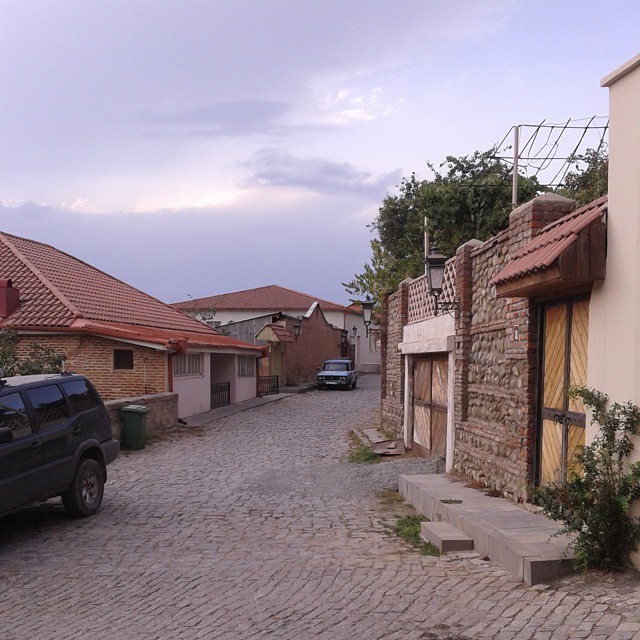 Renovated streets of Sighnaghi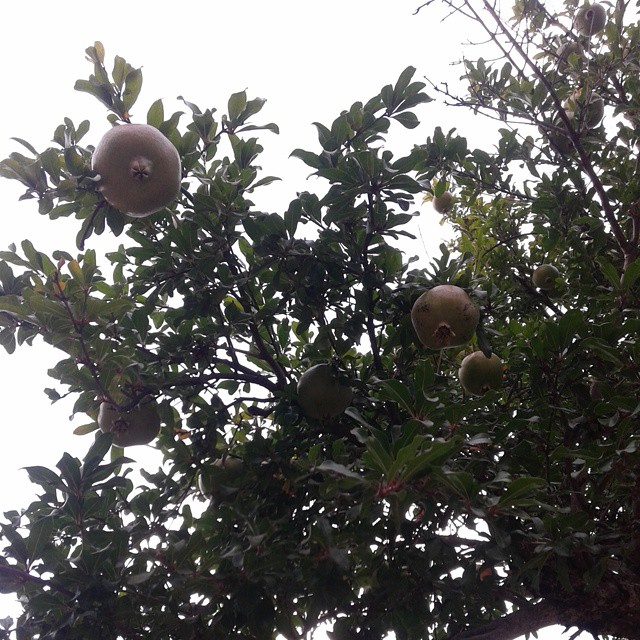 Pomegranates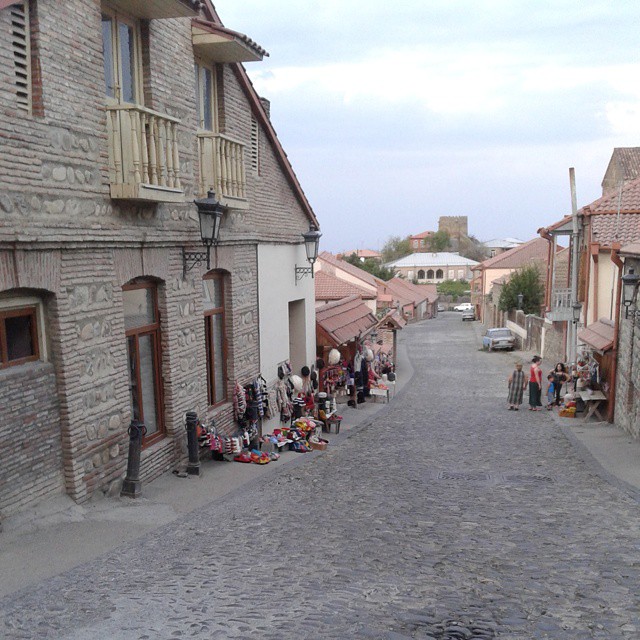 The Knitting ladies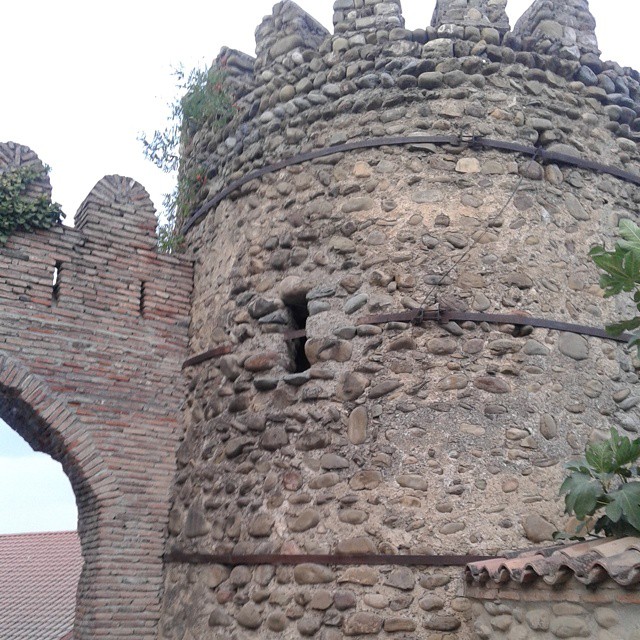 Sighnaghi Fortification Tower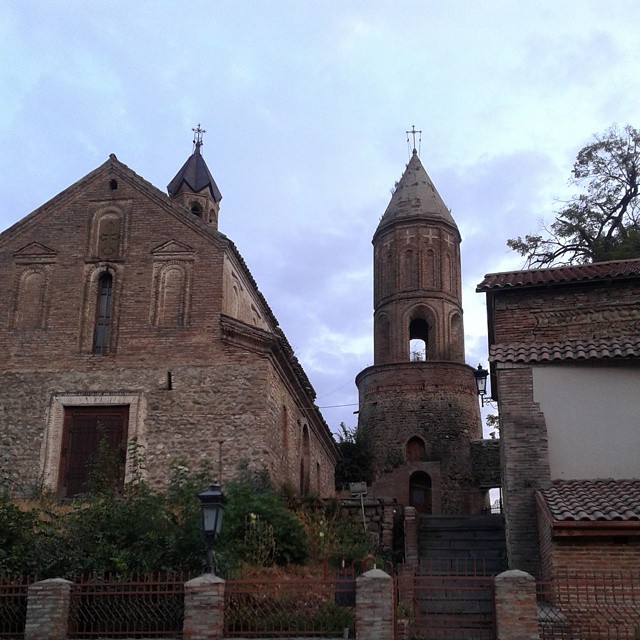 Church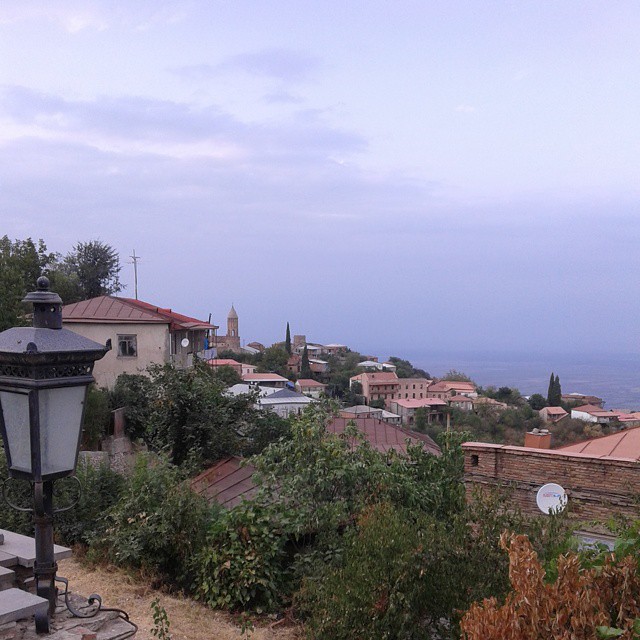 View to Sighnaghi town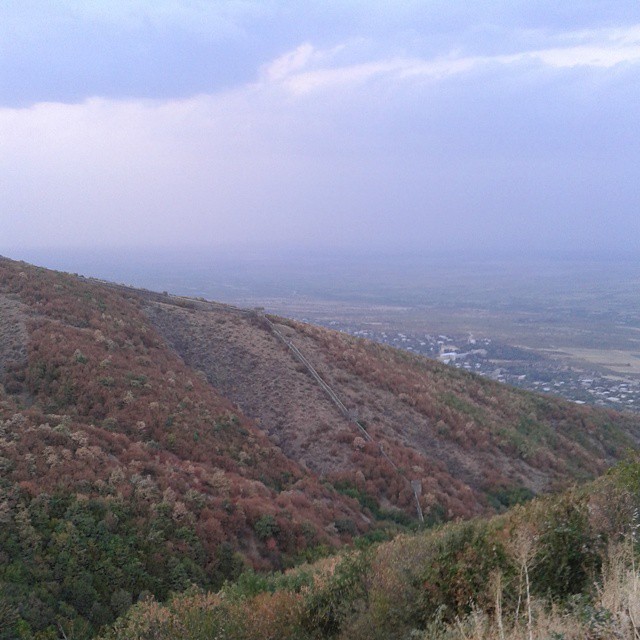 Fortification wall of Sighnaghi
Sighnaghi's fortifying wall is one of the biggest in Georgia, its area occupies 40 hectares. Town wall has 23 towers, each one named for a nearby town, and 6 gates, its width is 1.5 m, height 4.5 m and total length is 4.5 km. A small section of the wall has been restored for tourism. You can enter this portion through the tower at the gate on the road to Sakobo/Tsnori where there is also a restaurant. This "tourist track" as the signs call it, will spit you out on the same road, above where you entered.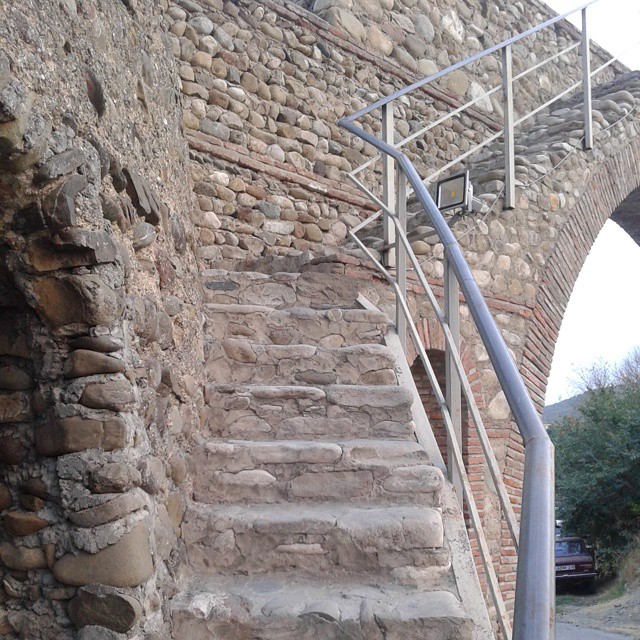 You can climb up this tower
We were lucky enough, when we entered a restaurant here, wedding fiesta happened here, some Ukrainian or maybe Russian newly-weds enjoyed Georgian Style supra here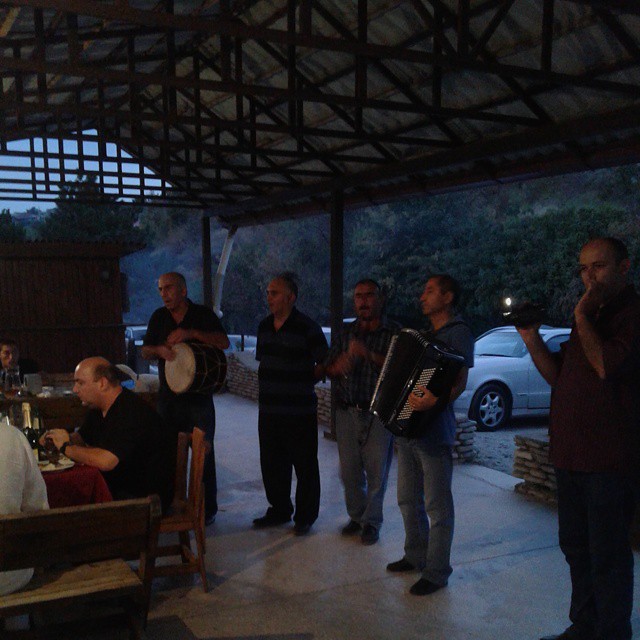 Chapel singing
Meanwhile we enjoyed at this restaurant pork barbecue and  Nadugi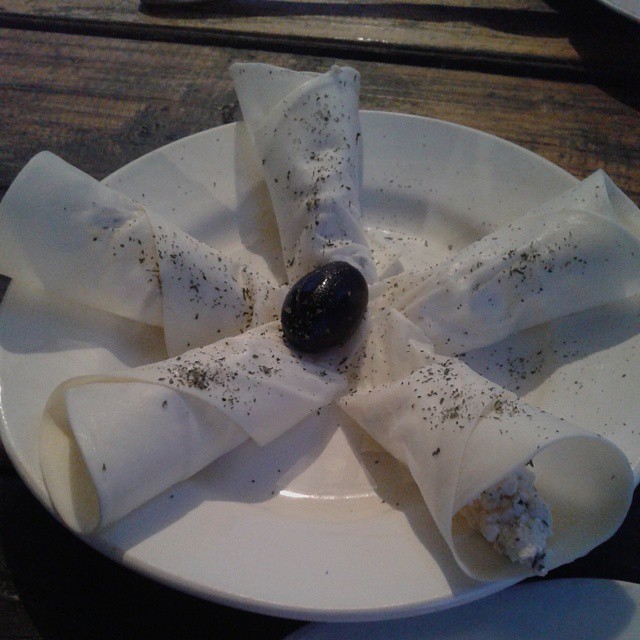 Nadugi
After fine spent evening we went back to our garage, and enjoyed here a lovely Turkish coffee on the side walk, right net to our entrance doors: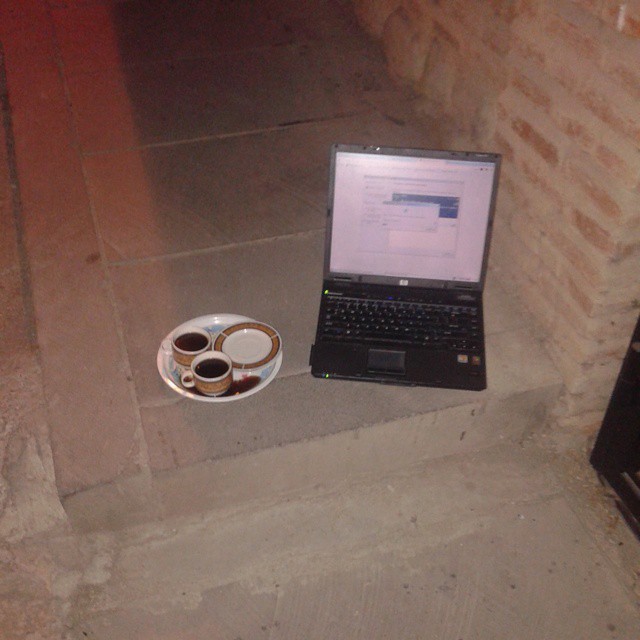 Turkish coffee on the side walk
Next morning we were off for Tbilisi.
So in brief, that was my Sighnaghi Travel guide for one day. I'll tell you this - Sighnaghi is a lovely city, but there is nothing much to do - except to eat a lot of tasty Kakhetian food.