I had an honour to participate in event called Start-up challenge Georgia, which was held in Sheraton Metekhi in Tbilisi, Georgia.
I had a chance to listen to speakers like James Chung,  Spike Morelli, Marco Rubin and Warren Haber. Most interesting from what I hear I found on presentation of James Chung, his case study of investing venture capital in AgaMatrix company was pretty interesting. 
Here is what this event is all about: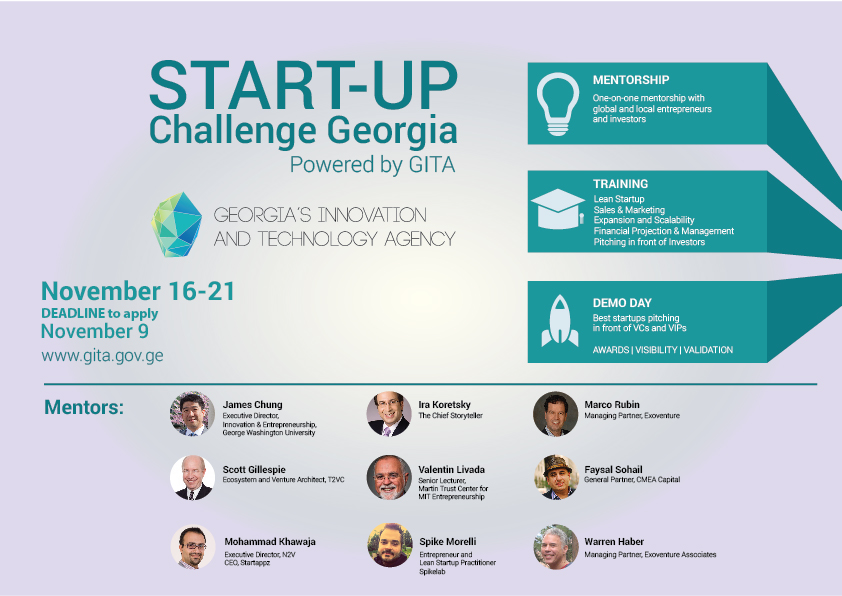 Startup Challenge Georgia
Georgia's Innovation and Technology Agency is inviting all eligible applicants to participate in the Startup Challenge Georgia on November 16-21, 2014 in Tbilisi, Georgia. A weeklong training is open to entrepreneurs who have an early-stage technology startup or have an idea and thinking of productizing it.
ELIGIBILITY CRITERIA
Eligible applicants must meet the following criteria
• Must have a developed concept or product in a user-testing stage or already available on the market
• Product should be IT/web, mobile, energy, agriculture, or health
VALUE
• Participants will receive intense training from leading US and Georgian entrepreneurs and investors.
• Get one-one-one mentorship
• Pitch Coaching Workshop
• Get exposure through media
• Get exposure through GITA channels (website, Facebook, etc)
• Participate in the startup showcase
• Pitch in front of VIPs in your community and US investors
JUDGING CRITERIA:
• Scalable Product
• Product or service addresses a real problem on the market
• Already demonstrated some traction with customers
About Gita
Georgia's Innovation and Technology Agency is the native resolution of the Government, the Ministry of Economy and Sustainable Development under state control and its sub-entity of public law. Agency is assigned to coordinate and mediate an important role in the country in terms of innovation and technology development. The Agency shall ensure the achievement of the tasks facing the country and contribute to innovation and technological development based on economic welfare
Innovation and creativity is a necessary precondition for the sustainable growth and development of the country. That's why Innovation and Technology Agency was established on February 19, 2014 in Georgia. Since 2000 the global economy grow by 3.2% annually, the main key to this growth is innovation. Innovation is a key source of competitiveness, economic growth and social transformation.
According to a World Bank report, published in June 2013, "Innovation in Georgia" Georgian companies which are actively using innovations in their work are developing faster and are creating 30% more jobs than not - innovative companies.
Innovation is particularly important for the state. Since it is a tool for creating new jobs, growing revenues and for presentation newer and wider investment opportunities. Minister of Innovation and Technology Agency focuses on the formation of services, tools, programs and infrastructure projects.
The Agency participates in the private and public sector knowledge, innovation and commercialization of research results and promote innovative entrepreneurship. One of the important directions of the formation of information society projects and programs necessary for the management and coordination of the implementation of the uniform policy.
The Agency contributes to the introduction and use of information and communication technologies and innovations in various fields in order to improve their efficiency. Particularly in the financial and business - in order to increase their competitiveness in the sector and the introduction of innovative technologies by entrepreneurs and start-up business financing incentives for innovative projects.
The Agency is actively involved in technology parks, innovation centers, innovation labs, accelerator and business - incubators for the creation and development.
The Agency is also open to international relations. Targeted programs and projects planned through innovation and technology, including information and communication technologies in the field of cooperation with international organizations and donors.