Tbilisi airport is airport where my Georgia's experience started more than 3 years ago - when I first landed here. I found that I have made no article regarding to one of the corner stones where most travels starts in Georgia.
So a few days ago - I had an opportunity to visit a Tbilisi airport (actually I'm visiting airport for some 2-3 times per month).
And here are my instagram's of Tbilisi airport.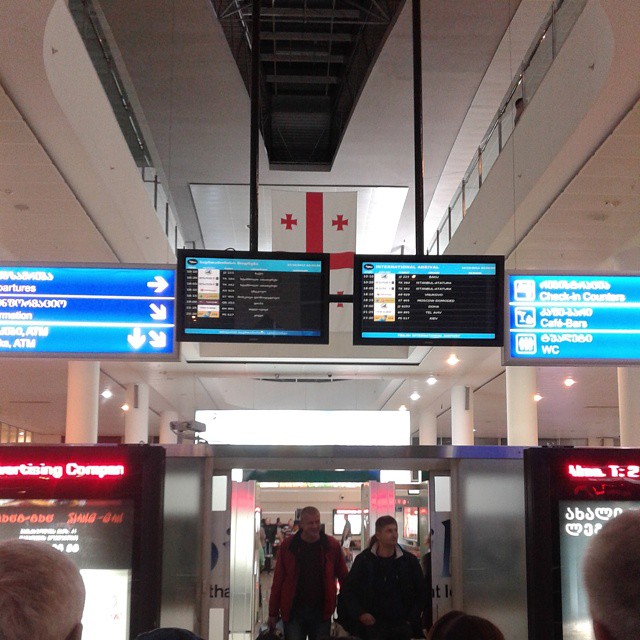 Arrivals at Tbilisi airport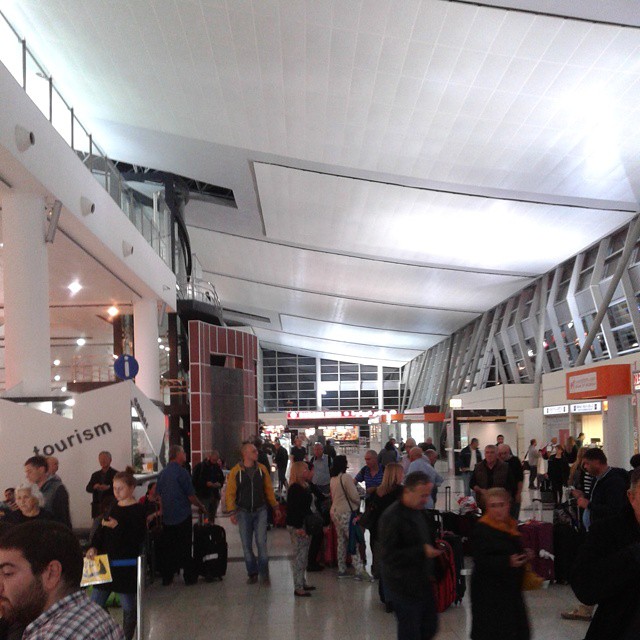 Main hall at Tbilisi airport
Tbilisi airport is really a tiny one - the main hall is probably some 200 meters long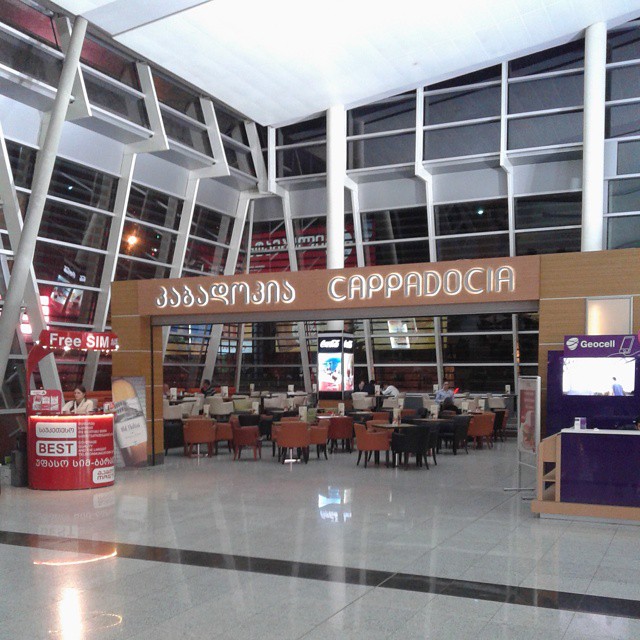 Coffee shop Capadocia at Tbilisi airport
One of the nice features at Tbilisi airport - you can smoke at coffee shops (both at Arrivals sections and both in Departure section)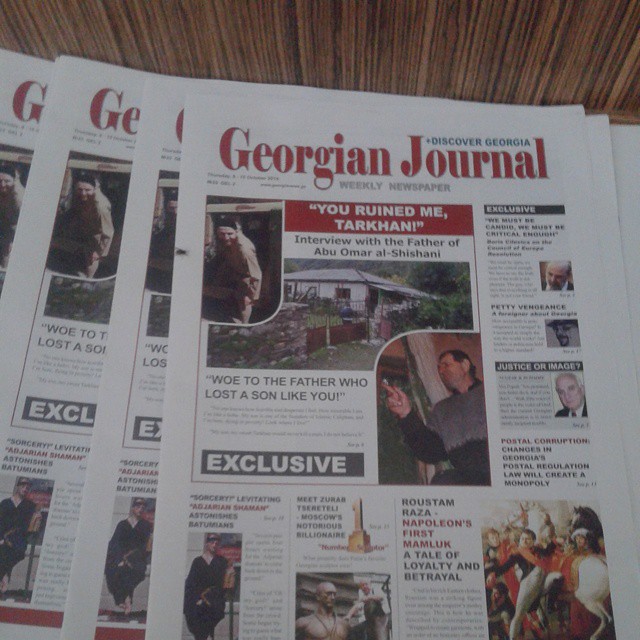 Georgian Journal
You can have a free English language local newspappers here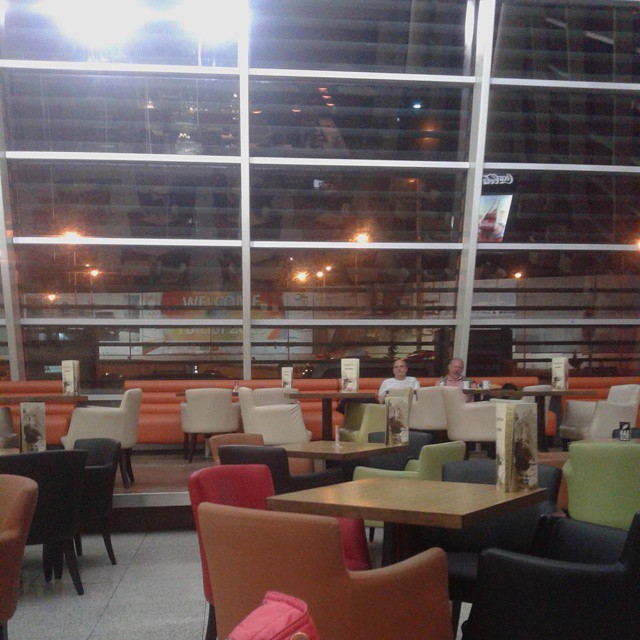 Indoor interior at Cafeteria 
About Tbilisi Airport
Tbilisi International Airport  (IATA: TBS, ICAO: UGTB) formerly Novo Alexeyevka International Airport, is the main international airport in Georgia, located 17 km (11 mi) southeast of the capital Tbilisi.
February 2007 saw the completion of a reconstruction project, with the construction of a new international terminal, a car park, improvements to the apron, taxiway and runway and the acquisition of ground handling equipment.
A rail link to the city centre has been constructed, with an infrequent rail service of 6 trains per day each way. George W. Bush Avenue leads from the airport to downtown Tbilisi.
The airport has a contemporary and functional design. It is designed to provide the optimum flow of both passengers and luggage from the parking lot to the planes, with a 25,000 square meter total usable area. There is scope for future expansions without interrupting terminal operations. It has high-tech contemporary systems, keeping passenger convenience and efficiency of the terminal operations in mind, throughout functional spaces organized in an elegant manner.
The food and beverage operations are carried out by BTA at 7 points with a staff of 75, while ATU provides Duty Free services at its four stores.
The implementing agency and the borrower for the project is TAV Urban Georgia, a concessionaire and special purpose vehicle for the construction and operation of the airport. The total project cost was 90.5 million USD. The capacity of the new terminal building is 2.8 million passengers per year.
Many international airlines now operate from Tbilisi, connecting it with major European and Asian destinations. This also allows passengers flying to or departing from Georgia to benefit from the choice of additional destinations offered by the large European transit airlines who serve Tbilisi from their hubs.
TAV Airports Holding, which owns 76% shares in Tbilisi airport operator TAV Urban Georgia, agreed with the Georgian state-owned United Airports of Georgia to reconstruct the unused runway, one of the two runways at the Tbilisi airport. The old runway will be reconstructed and extended according to ICAO standards and code F regulations and will be able to accept all type of aircraft, including the Boeing 748-8, Airbus A380-800, Antonov An-225 and Antonov An-124. A new F Code taxiway is also planned.
"The operational rights of TAV Urban Georgia have been extended for 10 years 9 months from February 2027 to November 8, 2037 within the scope of the agreement of Built-Operate-Transfer in exchange for the reconstruction investment," TAV Airports Holding said in a statement on August 24. "It has been planned to get the investment on reconstruction of the runway started in September 2012 and complete the project in less than 2 years," the company said. Tbilisi International Airport is operated by TAV since October, 2005. In Georgia the company also operates airport in Batumi for 20-year term starting from May, 2007
History
The first airport terminal building was constructed in 1952. Designed by the architect V. Beridze in the style of Stalinist architecture the building featured a floor plan with symmetric axes and a monumental risalit in the form of a portico.
The two side wings featured blind arcades in giant order. A new terminal building was finished in 1990, designed in the International style.
In 1981 Tbilisi airport was the 12th largest airport in the Soviet Union, with 1,478,000 passengers on so-called central lines, that is on flights connecting Tbilisi with cities in other Soviet republics.
In 1998 the number of passengers had shrunk to 230,000 per year.