A huge traffic surge to this website was experienced on November 15 when total unique user count reached 7,732. The vast majority of them were coming from Turkey. 
Update: Learn how I got 10,000 Page views in a day
This was already third traffic spike to my blog, previous record was set back in January (2015) with 3,584 users. While the first serious traffic spike my blog experienced almost two years ago, when total daily traffic surged just above 1,000 daily users. For the couple of last months this is actually a daily traffic norm to my blog - well above 1,000 daily users every day, though the first traffic spike seemed very impressive for me.
Does 7,500 daily users impress me today? Yes, of course, though the excitement is not so huge as it was first time. Anyway 7,500 is a pretty decent number, so there is a reason to cover article on them.
I believe there will be some who are going to smile about such results, I mean those of you who are receiving traffic more than 10,000 unique visitors per day, but for me - well, it is still a great achievement. Best so far! Best of it, my hosting provider Linode handled this surge with ease. I'm glad for that, because of money paid to Linode is pretty high - about $60 per month. 
If you are just starting out and are not expecting huge traffic spikes, you don't have to pay such high fees I'm paying. You can get started with Bluehost shared hosting as low as $3.95/mo

Traffic spike, more than 7,500 users a day
So here are the log files from my Linode manager: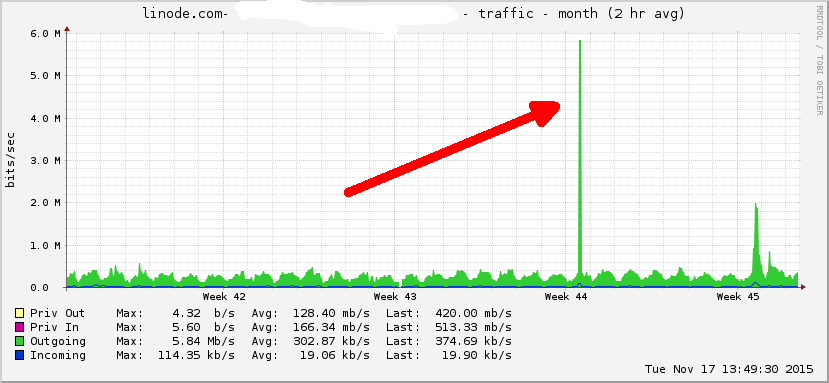 Linode Network
A huge spike in outgoing network reported here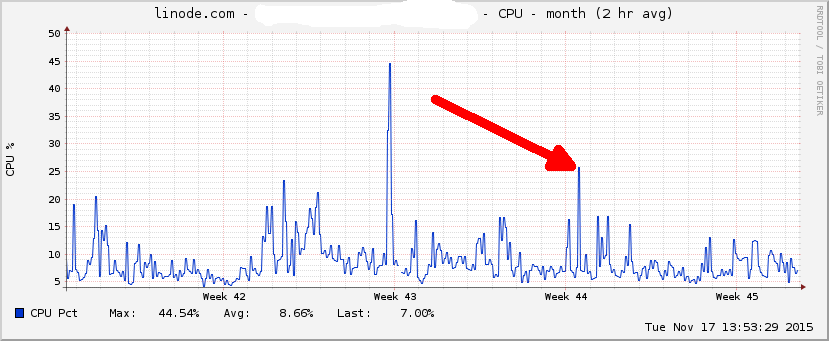 Linode CPU
Nothing unusual on CPU usage as well, got about 25% CPU usage on November 15. As you can see from above graph just few days before CPU rate were higher, actually I experienced some problems with my Drupal site and after that CPU surge fine tuned some things (removed unused modules e.t.c).
The only thing I noticed on my Linode VPS - increase in outgoing network traffic.
This leads me to think that with my existing server configuration I could go up to 100,000 monthly visitors without headaches, in fact I would say that existing configuration could handle about 250,000 monthly users (without spikes and surges). 
What made such traffic spike?
I July I created an article on minimum wages in European Union 2015. I believe this article got shared on Turkey's Facebook profiles and got a lot of attention. Why I'm saying "I believe"? Because I don't know for sure. Google Analytics reported this traffic as direct traffic. Since I don't believe there were more than 7,000 users in one day who would enter my blog's address directly in their browsers I did a Google Search and learnt that in Turkey traffic is might be intercepted. Google's Public DNS intercepted in Turkey

Acquisition sources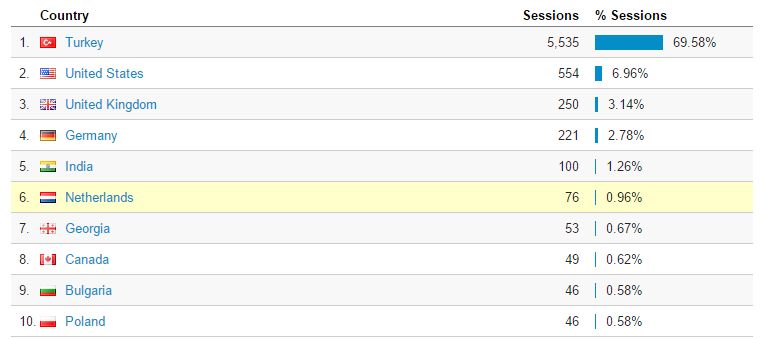 Traffic by country
In Conclusion (Waiting for fourth traffic spike)
Traffic spikes come and go, I'm not focusing on traffic spikes, I'm more interested in steady (predictable) traffic growth. One thing is common for traffic spikes, they might come a a surprise (as it happened this time and did happened all previous times).
One thing you should pay attention is your hosting plan, either you sit on a shared hosting or have your VPS, investigate how much traffic it can handle. Speaking of me - I believe my existing server configuration could handle up to 20,000 unique visitors in a day (of course, time will show)