Just like 64GB RAM laptops, laptops with 128 GB RAM are specially upgraded to meet the needs for very demanding processing.
Most of the 128 GB RAM laptops come with the latest Intel Core i9 processors, but also Intel core 7 is featured quite frequently. . 
These beastly powerful mobile workstations come with a price attached, expect to spend at least $3,000 up to $7.000 for a 128 GB RAM laptop
A quick note: This article contains affiliate links to Amazon.com, by clicking on links on this page and by making a purchase on Amazon site, I might earn an affiliate income from that. Prices for laptop computers listed on this page are retrieved using Amazon Product Advertising API and are updated daily. For actual prices please refer to the product page on Amazon.
Lenovo ThinkPad P17 Gen 2 Intel i9-11950H, 17.3'' FHD(1920 x 1080), IPS Screen, IR Camera, 128 GB DDR4 RAM, 2TB NVMe SSD, NVIDIA RTX A2000 GDDR6, Backlit KYB, Fingerprint Reader, Win10 Pro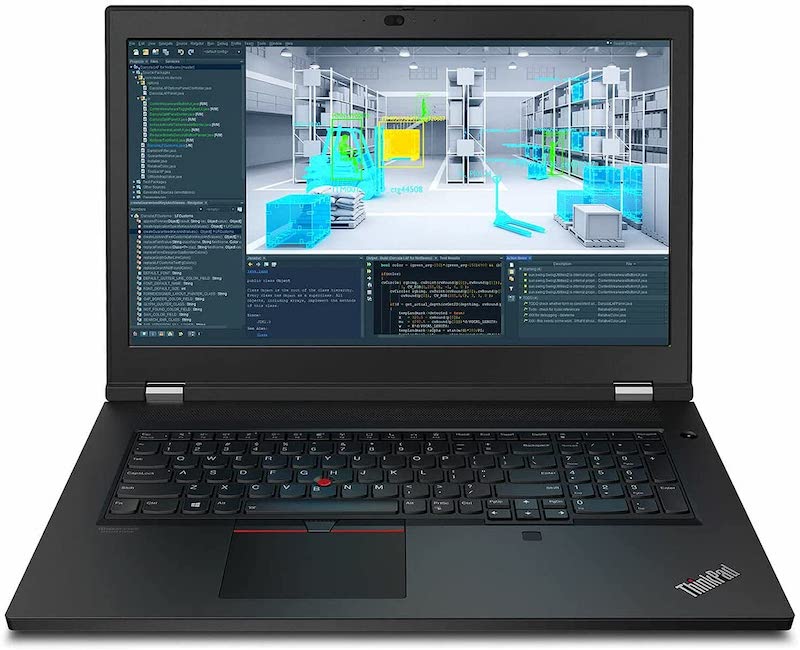 Processor: Intel Core i9-11950H (8C / 16T, 2.6 / 5.0GHz, 24MB)
Memory: 128 GB SO-DIMM DDR4-3200 Non-ECC; Storage: 2TB SSD M.2 2280 PCIe NVMe
Display: 17.3" FHD (1920x1080) IPS 300nits Anti-glare, 100% SRGB; Graphics: NVIDIA RTX A2000 4GB GDDR6
Dimensions (WxDxH): 415.44 x 280.81 x 24.31-32.45 mm (16.36 x 11.06 x 0.96-1.28 inches) Weight: 3.67 kg (8.09 lbs)
List price: [amazon B09HN1WXJR listpriceformattedprice] Buy this laptop on Amazon (Paid link)
Lenovo ThinkPad P53 Workstation Laptop - Windows 10 Pro - Intel Xeon E2276M, 128GB RAM, 2TB NVME + 2TB 2.5 Inch Storage SSD, 15.6" 4K HDR OLED 3840x2160 Touch Display, NVIDIA Quadro RTX 5000 16GB
Intel Xeon 2276M Processor (12M Cache, up to 4.7 GHz) - 2TB NVME PCIe SSD and 2TB 2.5 Inch Solid State Drive for Storage -128GB PC4 DDR4 SDRAM, 2666MHz SODIMM
15.6" 4K OLED (3840x2160) Anti-Glare, 500 nits, HDR Dolby Vision, 100% DCI-P3 Color Gamut, Touch Display - NVIDIA Quadro RTX 5000 Discrete Graphics with 16GB GDDR6 VRAM - Stereo Speakers
Built in HD 720p Webcam with Dual noise-cancelling Microphones - Intel Wi-Fi 6 AX200, Bluetooth Version 5.1 - Fingerprint Reader
2x USB 3.1 Gen 1 (one Always On), 3x USB Type-C / Thunderbolt 3, Mini DisplayPort 1.4, HDMI 2.0, Ethernet (RJ-45), headphone / microphone combo jack, 4-in-1 reader (MMC, SD, SDHC, SDXC), security keyhole
Windows 10 Pro 64-Bit - ThinkPad Precision Spill-Resistant, Backlit Keyboard with Full NumberPad / 6-cell Li-Polymer (90Whr) Internal Battery / 170-Watt AC-Adapter
List price: [amazon B089P3XPHH listpriceformattedprice] Buy this laptop on Amazon (Paid link)
MSI GT75 TITAN-013 Premium Gaming Laptop (Intel i9-8950HK 6-Core, 128GB RAM, 2TB Sata SSD, 17.3" FHD 1920x1080 IPS Display, RTX2080, Win10 Pro) VR Ready with MSI Loot Box
10th Gen Intel Core i7-10750H 2.60GHz Processor (upto 5 GHz, 12MB Cache, 6-Cores) ; NVIDIA GTX 1660 Ti 6GB GDDR6 Graphics, VR Ready
64GB DDR4 SODIMM RAM; Wi-Fi 6 AX201 Wifi, Bluetooth 5.1, Ethernet LAN (RJ-45), Webcam, Backlit Keyboard
15.6" Full HD (1920x1080) 144Hz Refresh Rate Display; 180W Power Supply, 4-Cell 99 WHr Battery; Space Gray Color
2TB PCIe NVMe SSD; USB 3.2 Gen1, 1 HDMI, Thunderbolt3 (Type-C), USB 3.2 Type-C Gen1, SD Reader, Headphone/Microphone Combo Jack., Windows 10 Pro-64, 1 Year Manufacturer warranty from MichaelElectronics2 (Professionally upgraded by MichaelElectronics2)
Includes ME2 Premium Backack(External USB Power Port for Mobile Device Charging;Anti-Theft Combination Lock security;Multi-Compartment Design), MSI Loot Box Pack
List price [amazon B08WCGCX2G listpriceformattedprice]Buy this laptop on Amazon (Paid link)
Lenovo ThinkPad P53 Mobile Workstation Laptop (Intel i7-9750H 6-Core, 128GB RAM, 2TB PCIe SSD, Quadro T2000, 15.6" 4K UHD (3840x2160), Fingerprint, WiFi, Win 10 Pro) with USB3.0 Hub
9th Gen Intel Core i7-9750H 2.60GHz Processor (upto 4.50 GHz, 12 MB SmartCache, 6-Cores) ; NVIDIA Quadro T2000 4GB GDDR5 Graphics
128GB DDR4 SODIMM RAM; 170W Power Supply, 3-Cell 90WHr Battery, ; Midnight Black Color
15.6" 4K UHD (3840x2160) Display; 802.11ac Wifi, Bluetooth 5.0, Ethernet LAN (RJ-45), 720p HD Webcam, Fingerprint Security System, Backlit Keyboard
2TB PCIe NVMe SSD; 2 USB 3.1 Gen1, 1 HDMI, 2 Thunderbolt3 (Type-C), USB 3.1 Type-C Gen1, SDXC Reader, Headphone/Microphone Combo Jack., Windows 10 Pro-64, 1 Year Manufacturer warranty from GreatPriceTech (Professionally upgraded by GreatPriceTech)
Includes Portable USB 3.0 Data Hub
List price: [amazon B07YM1LBZ8 listpriceformattedprice] Buy this laptop on Amazon (Paid link)
Lenovo ThinkPad P73 Workstation Laptop (Intel i7-9750H 6-Core, 128GB RAM, 4TB SATA SSD, Quadro P620, 17.3" Full HD (1920x1080), Fingerprint, 3xUSB 3.1, 1xHDMI, Win 10 Pro) with USB3.0 Hub
Intel Core i7-9750H 2.60GHz Processor (9th Gen, upto 4.50 GHz, 12 MB SmartCache, 6-Cores) ; 128GB DDR4 SODIMM RAM
NVIDIA Quadro P620 Integrated Graphics
17.3" Full HD (1920x1080) Display; Bluetooth 5.0, Ethernet, 720p HD Webcam, Fingerprint, Backlit Keyboard, Black Color
4TB SATA SSD; 3xUSB3.1, 1xHDMI, 1xThunderbolt, 1xType-C USB, SD Reader, 3.5mm Combo Jack., Windows 10 Pro-64, 6-Cell 99 WHr Battery, 1 Year Manufacturer warranty from GreatPriceTech (Professionally upgraded by GreatPriceTech)
Includes Portable USB 3.0 Data Hub
List price: [amazon B07Z6CJSQ4 listpriceformattedprice] Buy this laptop on Amazon (Paid link)
Lenovo ThinkPad P73 Workstation Laptop (Intel i7-9750H 6-Core, 128GB RAM, 1TB PCIe SSD + 2TB HDD, Quadro P620, 17.3" Full HD (1920x1080), Fingerprint, 1xHDMI, Win 10 Pro) with USB3.0 Hub
Intel Core i7-9750H 2.60GHz Processor (9th Gen, upto 4.50 GHz, 12 MB SmartCache, 6-Cores) ; 128GB DDR4 SODIMM RAM
NVIDIA Quadro P620 Integrated Graphics
17.3" Full HD (1920x1080) Display; Bluetooth 5.0, Ethernet, 720p HD Webcam, Fingerprint, Backlit Keyboard, Black Color
1TB PCIe NVMe SSD + 2TB HDD; 3xUSB3.1, 1xHDMI, 1xThunderbolt, 1xType-C USB, SD Reader, 3.5mm Combo Jack., Windows 10 Pro-64, 6-Cell 99 WHr Battery, 1 Year Manufacturer warranty from GreatPriceTech (Professionally upgraded by GreatPriceTech)
Includes Portable USB 3.0 Data Hub
List price: [amazon B07YC2RYGC listpriceformattedprice] Buy this laptop on Amazon (Paid link)
Lenovo ThinkPad P73 Workstation Laptop (Intel i7-9750H 6-Core, 128GB RAM, 2TB m.2 SATA SSD + 2TB HDD, Quadro P620, 17.3" Full HD (1920x1080), Fingerprint, 1xHDMI, Win 10 Pro) with USB3.0 Hub
Intel Core i7-9750H 2.60GHz Processor (9th Gen, upto 4.50 GHz, 12 MB SmartCache, 6-Cores) ; 128GB DDR4 SODIMM RAM
NVIDIA Quadro P620 Integrated Graphics
17.3" Full HD (1920x1080) Display; Bluetooth 5.0, Ethernet, 720p HD Webcam, Fingerprint, Backlit Keyboard, Black Color
2TB SATA SSD + 2TB HDD; 3xUSB3.1, 1xHDMI, 1xThunderbolt, 1xType-C USB, SD Reader, 3.5mm Combo Jack., Windows 10 Pro-64, 6-Cell 99 WHr Battery, 1 Year Manufacturer warranty from GreatPriceTech (Professionally upgraded by GreatPriceTech)
Includes Portable USB 3.0 Data Hub
List price: [amazon B07Z6D7G6C listpriceformattedprice] Buy this laptop on Amazon (Paid link)
Area 51M Gaming Laptop Welcome to A New ERA with 9TH GEN Intel CORE I9-9900K GEFORCE RTX 2080 8GB GDDR6 17.3" FHD 144HZ AG IPS G-SYNC TOBII EYETRACKING (2TB SSD RAID|128GB RAM|10 PRO)
Processor 9th Generation Intel Core i9-9900 (8-Core, 16MB Cache, up to 5.0Ghz w/Turbo Boost)
Memory 128GB, 4x32GB, DDR4, 2666MHz Upgrade
Hard Drive 2TB RAID 0 (2x 1TB PCIe M.2 SSDs) + 1TB (+8GB SSHD) Hybrid Drive
NVIDIA GeForce RTX 2080 8GB GDDR6 (OC Ready)
Display 17.3" FHD (1920 x 1080) 144Hz Anti-Glare IPS Display w/ NVIDIA G-SYNC + Tobii eyetracking technology
List price: [amazon B07YVNPHTH listpriceformattedprice] Buy this laptop on Amazon (Paid link)
Area 51M Gaming Laptop Welcome to A New ERA with 9TH GEN Intel CORE I9-9900K GeForce RTX 2080 8GB 17.3" FHD 144HZ AG IPS G-SYNC TOBII EYETRACKING (2TB RAID|128GB RAM|10 PRO)
Processor 9th Generation Intel Core i9-9900K (8-Core, 16MB Cache, up to 5.0Ghz w/Turbo Boost)
Memory 128GB, 4x32GB, DDR4, 2666MHz Upgrade
Hard Drive 2TB RAID SSD(2x 1TB PCIe M.2 SSDs) Upgrade
Operating System Windows 10 Pro 64-bit English
Display 17.3" FHD (1920 x 1080) 144Hz Anti-Glare IPS Display w/ G-SYNC + Tobii eyetracking technology
List price: [amazon B084ZF6SLD listpriceformattedprice] Buy this laptop on Amazon (Paid link)
New Precision 7740 Mobile workstations Laptop with i9-9980H, 8 Core up to 5.00GHz Quadro RTX 5000 w/16GB 17.3" UltraSharp 4K IGZO AG Display (4TB SSD|128GB RAM|Win 10 PRO)
Intel Core Processor i9-9880H, 8 Core, 16MB Cache, 2.30GHz up to 4.80GHz Turbo, 45W, vPro
128GB DDR4-2666 SDRAM memory Upgrade Plenty of high-bandwidth RAM to smoothly run your games and photo- and video-editing applications
4TB PCIe Solid State Drive. Save files fast and store more data.
Graphics Card Nvidia Quadro RTX 5000 w/16GB GDDR6 Workstation Video Card
17.3" UltraSharp UHD IGZO 3840x2160 AG NT,No WWAN,IR Cam/Mic,w/Prem Panel Guar 100% Adobe Aluminum
List price: [amazon B07W5K9DJR listpriceformattedprice] Buy this laptop on Amazon (Paid link)
New Precision 7540 Mobile Workstations with i9-9980HK, 8 Core 5.00GHz Quadro RTX 3000 w/6GB 15.6" UltraSharp 4K UHD 3840x2160 AG Display Intel Wi-Fi 6 AX200 + Bluetooth 5.0 (4TB SSD|128GB RAM|10 PRO)
Intel Core Processor i9-9880H, 8 Core, 16MB Cache, 2.30GHz up to 4.80GHz Turbo, 45W, vPro
Memory 128GB, 4x32GB, DDR4 2666MHz Memory Upgrade
Storage M.2 4TB PCIe NVMe Class 40 Solid State Drive Upgrade, Windows 10 Pro
NVIDIA Quadro RTX 3000 w/6GB GDDR6. Intel Wi-Fi 6 AX200 2x2 .11ax 160MHz + Bluetooth 5.0
15.6"UltraSharp UHD 3840x2160 AG,NT,w/Prem Panel Guar 100% Adobe Aluminium,IGZO,IR Cam/Mic No WWAN
List price: [amazon B081ZWG69D listpriceformattedprice] Buy this laptop on Amazon (Paid link)
New ThinkPad P73 Mobile Workstation with Intel Xeon E-2276M vPro up to 4.70GHz 17.3" 4K UHD (3840 x 2160) IPS Quadro RTX 5000 16 GB Fingerprint Reader (2TB SSD|128GB RAM|Win 10 PRO)
Processor Intel Xeon E-2276M with vPro (2.80GHz, up to 4.70GHz with Turbo Boost, 6 Cores, 12MB Cache)
Storage 2TB NVME Solid State Drive Upgrade with Windows 10 Pro Operating System
Memory 128 GB DDR4 2666 MHz (4x32GB) Upgrade 4 DIMM
Display Type 17.3" UHD (3840 x 2160) IPS, anti-glare, 400 nits, Dolby Vision HDR
Graphics Card Quadro RTX 5000 16GB. Wireless Intel AX200 Wi-Fi 6 802.11AX (2 x 2) & Bluetooth 5.0
List price: [amazon B07XB3LJYP listpriceformattedprice] Buy this laptop on Amazon (Paid link)
Lenovo ThinkPad P52 15.6" Full HD Laptop - 8th Gen Intel Core i7-8750H Processor up to 4.10 GHz, 128GB DDR4 RAM, 4TB (2TB x 2) M.2 Solid State Drive, NVIDIA Quadro P1000 4GB GDDR5, Windows 10 Pro
8th Generation Intel Core i7-8750H 2.20 GHz Processor (9 MB SmartCache, up to 4.10 GHz)
128GB DDR4 Memory at 2666MHz, 4TB (2TB x 2) M.2 Solid State Drive, Windows 10 Pro
15.6" Full HD (1920x1080) IPS Display, NVIDIA Quadro P1000 4GB, Wi-Fi 802.11 + Bluetooth 5.0
2 x USB 3.1, 2 x USB-C / Thunderbolt 3, 1 x Mini DisplayPort, 1 x HDMI, 1 x 4-in-1 Card Reader
2-Year Warranty by Techno Intelligence, Trusted Platform Module (TPM 2.0), Fingerprint Reader
List price: [amazon B07Z46VPDM listpriceformattedprice] Buy this laptop on Amazon (Paid link)