Searching for a budget friendly car rental in Italy? Look no more - I can highly suggest FireFly car rental. We used Firefly during our recent week long trip in Italy, prior to that I have used FireFly Spain (see: My Spain and Andorra Travel guide).
We booked our economy Volkswagen Polo car online and picked it up at Milan-Malpensa airport (you must call to FireFly office upon arrival, after then they will send a shuttle bus to pick you up and will take you to the office, our case it was located in town of Case Nuovo).
Unfortunately we hadn't roaming enabled, so our phones were useless at this stage. After some 10 minutes wandering at the Terminal 1 exit in Milan-Malpensa airport what to do next, I approached some Swiss guy (I didn't know he is a Swiss before approached) and asked could I use his phone to call to FireFly office. Swiss guy gave me his phone and I was dialing to FireFly office - the manager at the other end told me that shuttle will be there in 10 minutes. Thank you Swiss guy - you saved our day back there in airport.
We took the full insurance and as a gift got a free GPS device (TomTom), it turned out that our first hotel booked in Italy was just some 100 meters from FireFly office, so after picking up our small Polo car we went straight to the hotel to get some sleep, as it was a vey long trip for us already. See: Holiday Inn Express Milan-Malpensa Airport Hotel (Case Nuove, Italy)
The real driving started just in the next morning, during our next seven days in Italy we drove a lot a visited places like  Genoa, Tuscany, Florence, Venice, Modena and many many other smaller towns. Did I mentioned the leaning tower of Pisa?!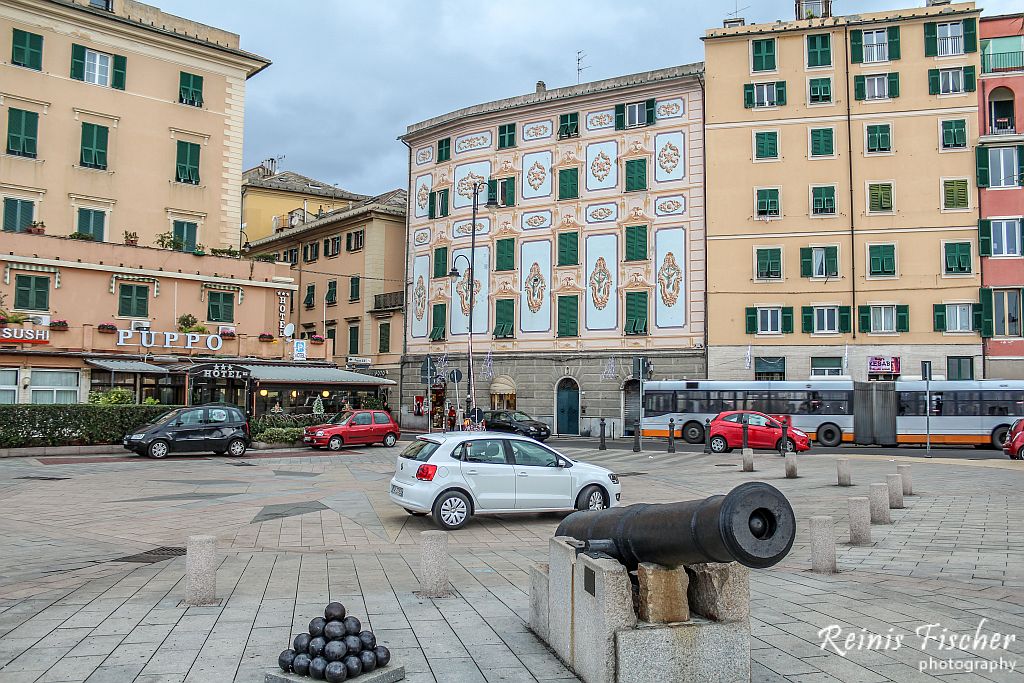 Our Volkswagen Polo parked next to Puppo hotel in Genoa
During our last day in Italy, before departing from Modena to Milan-Malpensa airport an catastrophic event happened - I messed up with the pumps at gas station near Modena- instead of diesel our cars tank got filled with petrol. We still were phone less - luckily I noticed this error, before actually starting engine and headed back to the gas station and explained them the problem and asked again for a phone so I can call to FireFly office. The personal at Modena gas station was very keen to help me out and gave me the phone.
I struck on the phone line for about 40 minutes explaining forth and back the issue what happened to car. Person in the other end of line told me - alright, service call will soon arrive and pick up damaged car, you should wait for service car, and then you should get to Bologna airport where your new replacement car is ready.
I asked how the heck I will get to the Bologna airport from the middle of nowhere (sorry Modena) - he suggested a taxi. I asked to the nice lady at gas station could she call for some budget taxi and negotiate a drive for us to Bologna airport, and guess what, the nice lady did what I asked her.
Our car been evacuated from Modena gas station
After another 20 minutes our small lovely but damaged Volkswagen Polo was taken by the service car and we were sitting in taxi to Bologna airport.  Such my fault - cost us additional EUR 200 + 70 EUR for taxi service to nearest Firefly office in Bologna airport. We were able to get to FireFly office in Case Nuove, drop the car and get timely on our plain departing for Istanbul. Gosh, that was very stressful day
Now, regarding FirefFy - they are pretty much fast, accurate and reliable, regarding to the issue with wrong fuel - it was absolutely my fault.