First month since I started this blog, has passed already. I'm willing to share some results of my first month of blogging.
In total I have posted 66 posts in month of October.
According to Google Analytics, the top 10 most read posts in October:
​[view:referenced_items=block_2]
Now let's see how many visitors I have attracted last month: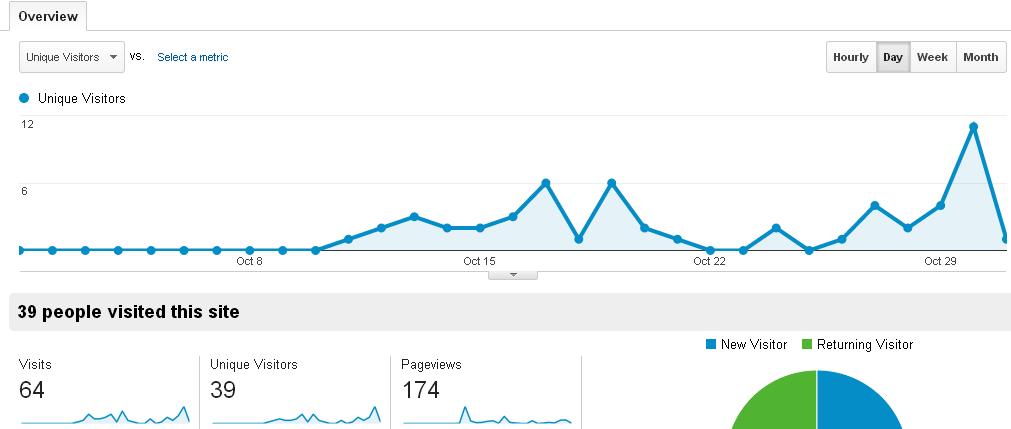 In total I had 39 unique visitors last month. Since I went online just October 10th, this is not showing full month, but still, it gives a clear insight. Is it much? Definitely not! Is it bad? Definitely not!
It just shows, that in average by posting a lot of content doesn't mean anything (yet). The site is very young. It has Page rank N/A. I haven't used much social sharing. In overall 39 unique users for personal blog, in first month, is ok.
What about future? Any forecasts?
Definitely. Statistics without forecast, ain't any statistics,right? I have thought a lot about statistics, how much I want.. There is no clear answer. I have overall expectation to reach 6000 unique visitors by the end of October 2014, but I have no clue, where I'll end up to next year.
Speaking of closer future - In November, I'm looking to get 150-200 unique visitors. I have decided this month to give a try to Twitter, and I'm planing to attract some twitter referrals this month.
Lets speak about Blog statistics in next month again.