I have been into church photography lately and during our latest trip to Germany/ The Netherlands I had a chance to visit the Cathedral of Cologne. I was hoping to make here some good photos but unfortunately I'm not very satisfied with result I got it was a rainy day and I didn't use any tripod. There is still plenty of room to improve my photographer skills. But since I do find this object a pretty magnificent - I just couldn't resist to add it to my blog.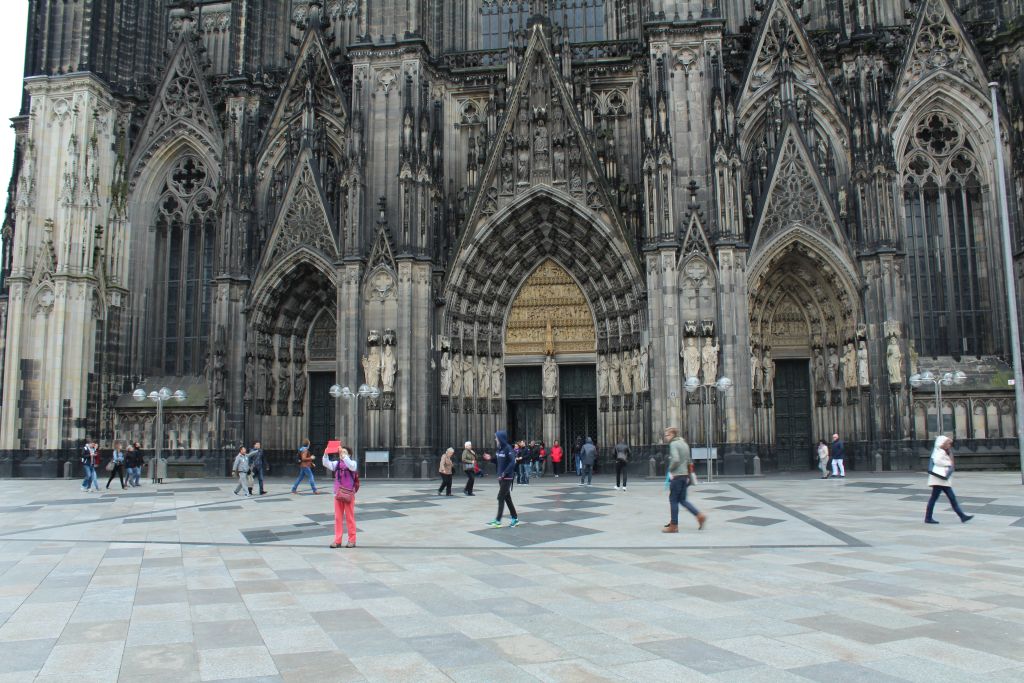 Front view of Cologne's Cathedral
A good tripod is must have for such photography to capture a "tack sharp" image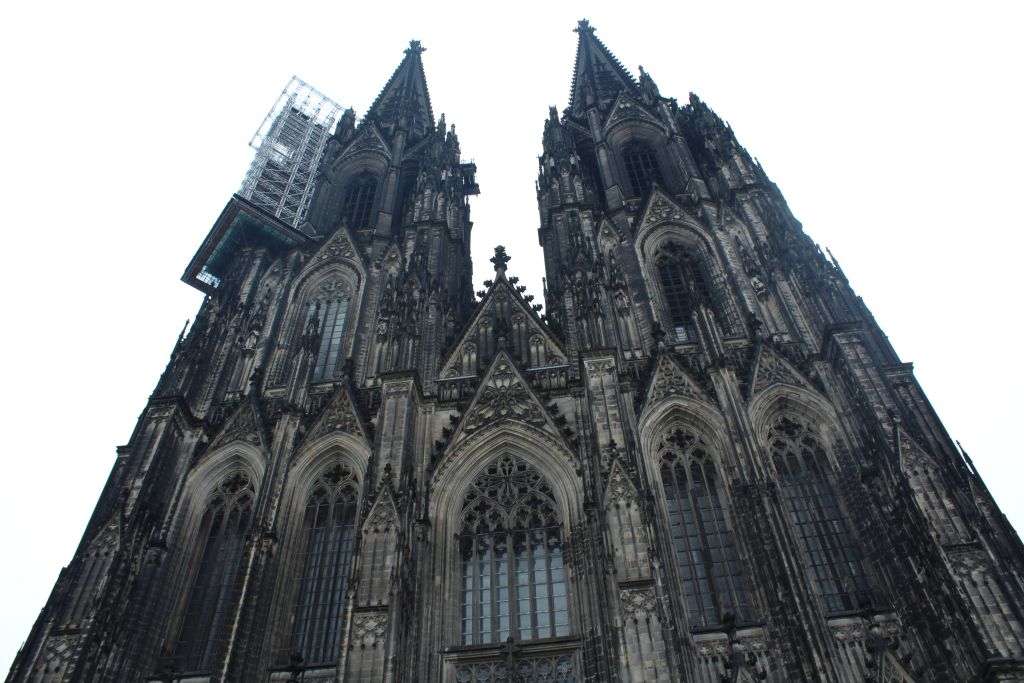 Cologne Cathedral
Well this is the Cologne's cathedral photographed from bottom. Something very wrong with exposition here (no sky in the background)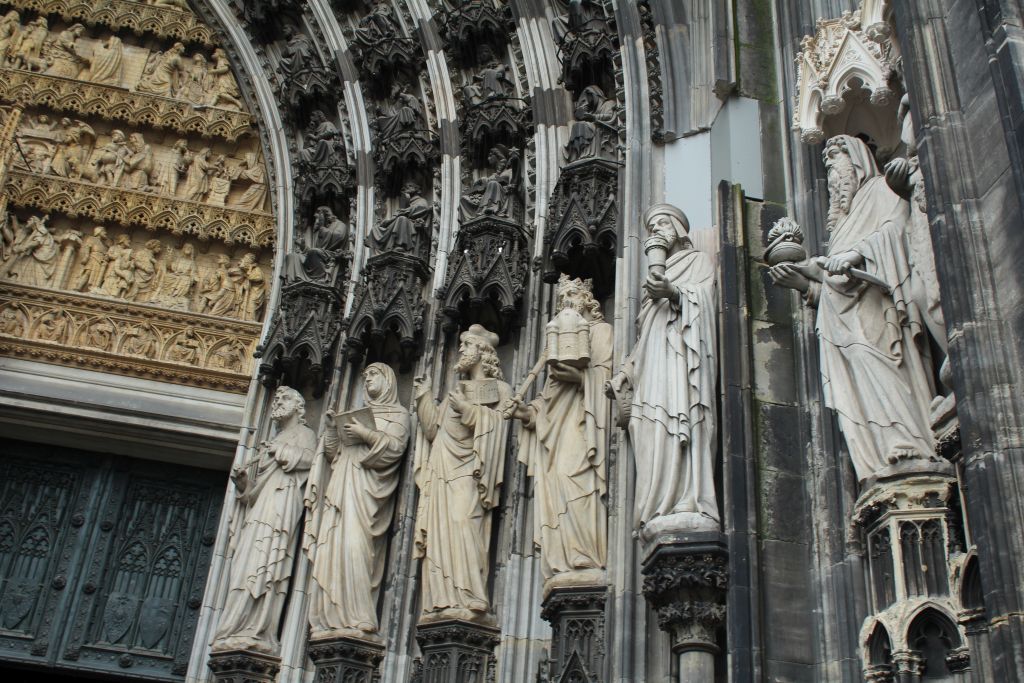 Wall sculptures at Cologne's cathedral
I don't know is that characteristic especially to German architecture or it's characteristic to Gothic style architecture, but I met those wall sculptures almost all the time during my trip in Germany. Please see Aachen Town Hall or Aachen Cathedral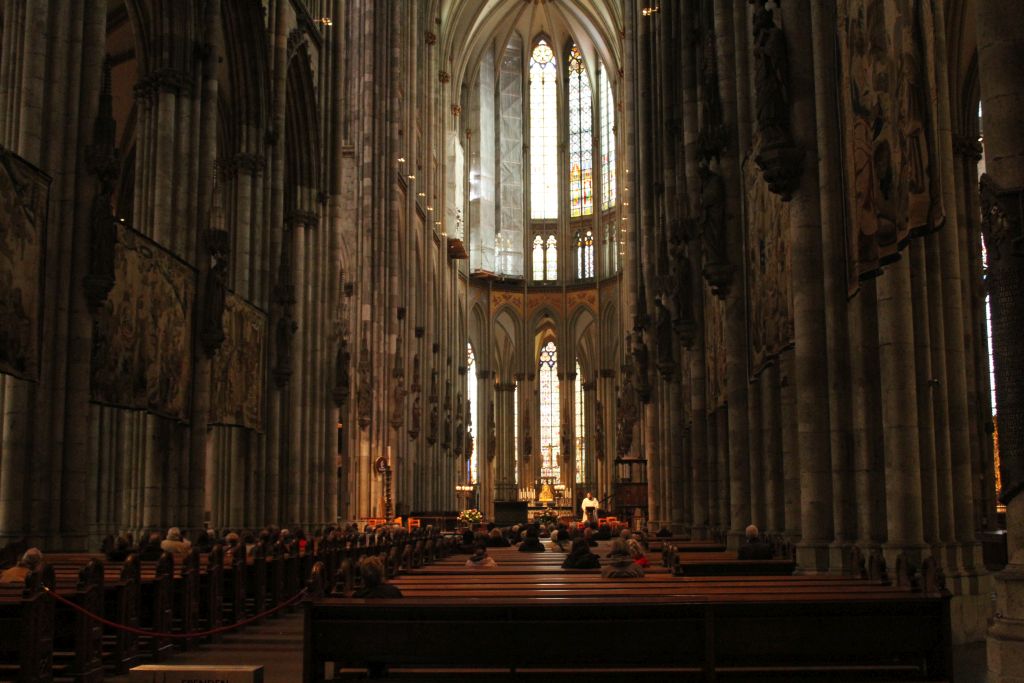 Inside view of Cologne's Cathedral
Alight this is one of the rare pictures I would call a decent. Unfortunately I was not able to make any closer shot, due to a church service been held here.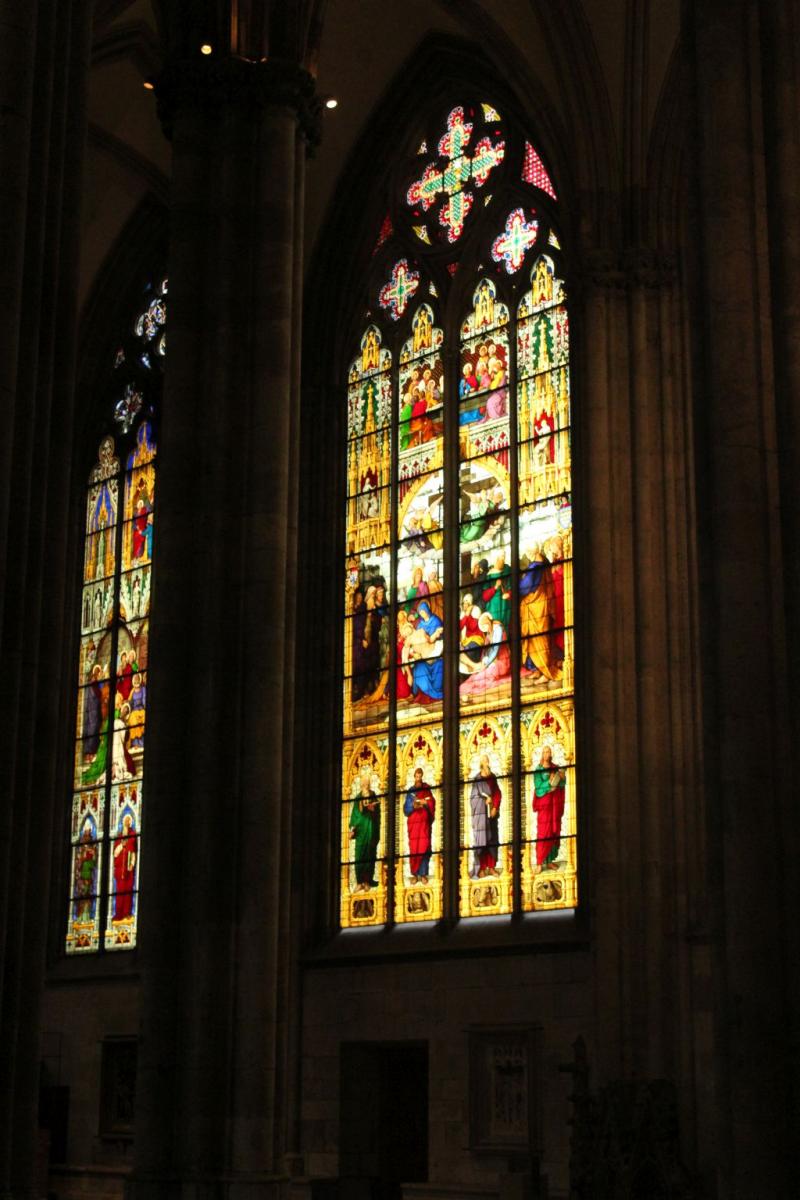 Stained glass at Cologne's Cathedral
About Cologne Cathedral
Cologne Cathedral (German: Kölner Dom)  is a Roman Catholic cathedral in Cologne, Germany. It is the seat of the Archbishop of Cologne and the administration of the Archdiocese of Cologne. It is a renowned monument of German Catholicism and Gothic architecture and is a World Heritage Site.It is Germany's most visited landmark, attracting an average of 20,000 people a day.
Construction of Cologne Cathedral commenced in 1248 and was halted in 1473, leaving it unfinished. Work restarted in the 19th century and was completed, to the original plan, in 1880. It is 144.5 metres (474 ft) long, 86.25 m (283.0 ft) wide and its towers are approximately 157 m (515 ft) tall.
The cathedral is the largest Gothic church in Northern Europe and has the second-tallest spires (after Ulm Minster.) Its two huge spires give it the largest façade of any church in the world. The choir has the largest height to width ratio, 3.6:1, of any medieval church.
Cologne's medieval builders had planned a grand structure to house the reliquary of the Three Kings and fit its role as a place of worship for the Holy Roman Emperor. Despite having been left incomplete during the medieval period, Cologne Cathedral eventually became unified as "a masterpiece of exceptional intrinsic value" and "a powerful testimony to the strength and persistence of Christian belief in medieval and modern Europe".
In 1996, the cathedral was added to the UNESCO World Heritage List of culturally important sites. In 2004 it was placed on the "World Heritage in Danger" list, as the only Western site in danger, due to plans to construct a high-rise building nearby, which would have visually impacted the site. The cathedral was removed from the List of In Danger Sites in 2006, following the authorities' decision to limit the heights of buildings constructed near and around the cathedral.
As a World Heritage Site, and with its convenient position on tourist routes, Cologne Cathedral is a major tourist attraction, the visitors including many who travel there as a Christian pilgrimage.