This post is a result of an experiment I performed for one month in October 2015, I counted my everyday expenses and summed it up to see how much actually it costs to live in Georgia. This information might be useful if you are planing to move to Georgia or just to compare how your country stands to Georgia.
For tracking my (our) everyday expenses I installed Expense Manager Android app on my phone and entered spending just after purchases.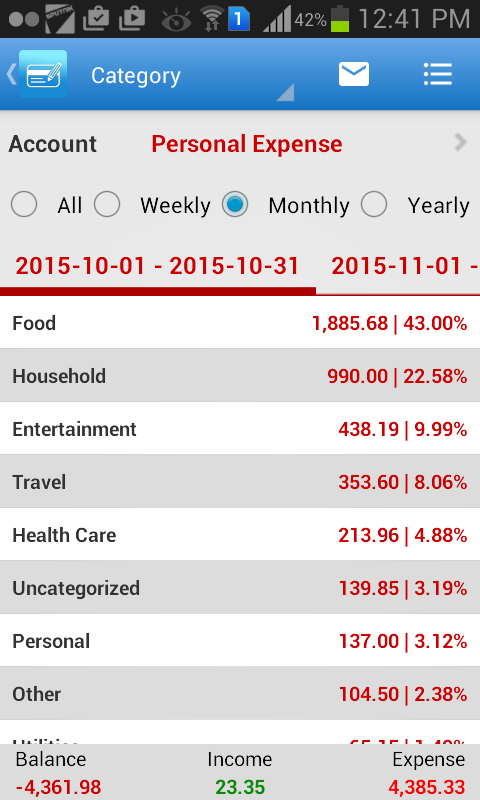 Total expenses in October 2015
In October in total we spent GEL 4,385 which equals to $1,823 or EUR 1,708 (according to exchange rates on November 20,2015)
Now to clarify the results for this experiment I must mention that bellow listed expenses are for family of two + two cats.
Lets start with numbers:
Renting an apartment in Tbilisi - GEL 990 ($411.00 / EUR 385.00)
We have a nice two bedroom apartment in almost city center (it's not Old Town, but still very good neighborhood). Apartments in Tbilisi are pretty affordable, you can get a decent apartment, equipped with fridge, washing machine and other home appliance for about $400 per month. Price may go up, and can be lower - depending on your needs and location. Actually the price we negotiated for our rent was $400 but due to Georgian National Currency fluctuations we paid even more). That happens time on time.
Utilities - GEL 65.15 ($27.09 / EUR 25.37)
Electricity, Internet, water and gas. Now for heating our apartment we are using a gas. In summer months you won't spend much on it, but in wintertime some 100 GEL is optional additional expenses for your budget if you want to live in a warm place. Internet  - you can have some basic internet packages starting some 10 GEL per month. We are spending about 35 GEL for 30 MB/s internet. Electricity - if I remember correct the tariff is about 0.17 GEL per kWh. We had paid in advance for gas, so we didn't spent a tetri this month on it, we started to heat our apartment in middle of October.
Transport - GEL 353.60 ($147.03 / EUR 137.71)
We don't own our car and for getting around in the city or country we are using taxi's, marshrutka's or hire a private driver (for longer trips). Public transport in Tbilisi is cheap - costs 0.5 GEL per ride, while a taxi on average will take you some 5 GEL per ride. Private driver starting 100 GEL per day. My mom arrived to visit me via Kutaisi, so I spent extra on getting to Kutaisi and back using a private car with a driver. Though you can cut down your expenses for traveling between Kutaisi and Tbilisi using Georgian Bus.
Thanks to the private driver I had a chance to visit sites I wouldn't reach other way, during my trip to Kutaisi, we visited Bagrati cathedral, Gelati monastery, Motsameta monastery, spent some money on cool local restaurant Dzveli Gelati, visited Prometheus cave and even took a boat ride there. 
We had an other tour in region of Kakheti this October, we visited sites like Gremi, Nekresi, Telavi and other.
Basically if you don't own a private car and would love to see the country that's the way of doing that - hiring a private driver. If you are looking for one now - here is an article about my private driver Vazha.
Food - GEL 1885.68 ($784.10 / EUR 733.86)
The biggest surprise for me was to discover that we are spending about 43% of our money on food. The most surprising is that we spent about GEL 1000 eating out while "just" about GEL 880 on groceries to be prepared home. We are doing like weekly shopping at local Carefour store. Spending a thousand lari on restaurants is a lot, on the other hand I feel I'm super educated both on Georgian cuisine and know some of the best Tbilisi restaurants.
Although it might looks as an cheap option to eat out in Tbilisi, if you are planing to do it everyday you might end with a hole in your budget. After seeing our total expenses on food for October month, we decided to avoid any restaurants in November instead of spending additional money on groceries to cook at home (this is good for my Food Blogger series)
Entertainment - GEL 438.19 ($182.21 / EUR 170.53)
Usually we are not spending much on Entertainment in Georgia, if you don't count restaurants as an entertainment (sometimes I got this feeling there is actually nothing much to do, than just to spend your days in some of the Tbilisi restaurants). Though in October we bought ticket to two fantastic concerts - Diana Krall visited Tbilisi and The Tiger Lillies performed in Tbilisi. We went to one additional theater performance during October. I would say it was enough cultural experience during October.
Healthcare - GEL 213.96 ($88.97 / EUR 83.27)
Not every month you will spend money on visiting doctors or buying meds, but you should consider this as well. For this month spending nothing serious, couple of doctor visits and a knee treatment for my mom plus some meds.
The Bottom Line
For a good life in Tbilisi you should expect to spend about $1000-$2000 per month.
There are many factors which will help to reduce or even increase your spending if you will opt to live here. My suggestion  - avoid eating too much at local restaurants, instead spend that money on better things - like cooking home for example.
Are you an expat living in Tbilisi or Georgia? Share your thought on cost of living in Tbilisi. My readers and I would love to hear.