Currently (2022) there are no tram or trolley lines in Tbilisi, but not so long ago in history, there were plenty of tram and trolleybus lines not only in Tbilisi but also in Batumi, Kutaisi, Gori, Zugdidi, Ozurgeti, Poti, Rustavi, and even Chiatura. 
What has happened to once pretty impressive routes of trams and trolleys in Georgia?  I guess the harsh history happened. After the Collapse of the Soviet Union - Georgia got troubled with civil wars, and economic hardships so neither trams nor trolleys were a priority.
While you are exploring bits of Georgian history, consider Batumi Real Estate Crypto Investment
I have found an interesting resource http://photo.tramvaj.ru/ (In the Russian language) where some almost 20-year-old pictures (dated 2003) with trams and trolleys in Georgia are listed. Author of all images listed below: © Mike Russell, Reading, GB. Pictures were taken at the begging of September 2003.
You can read the original here: http://photo.tramvaj.ru/georg2003.htm
Tbilisi Tram
From Wikipedia: Tbilisi had a tram network, since 1883 starting from horse driven trams and from 25 December 1904 electric tramway. When the Soviet Union disintegrated, electric transport went to a degradation state within the years and finally the only tram line left was closed on 4 December 2006 together with two trolleybus lines which were left. There are plans to construct a modern tram network.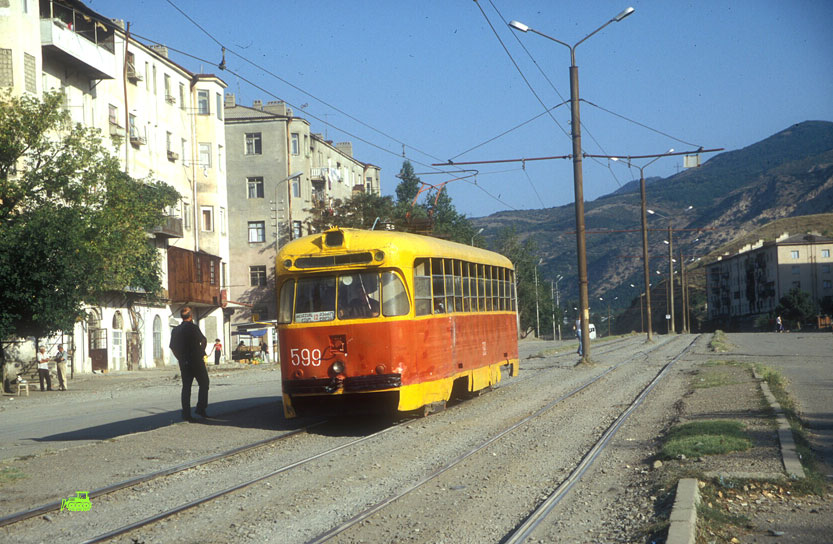 Tbilisi Tram
Car Nr 599 on Route 12 (Didube - Avchala)
Tbilisi Tram KTM 5
Car Nr 181 on Metro Station Didube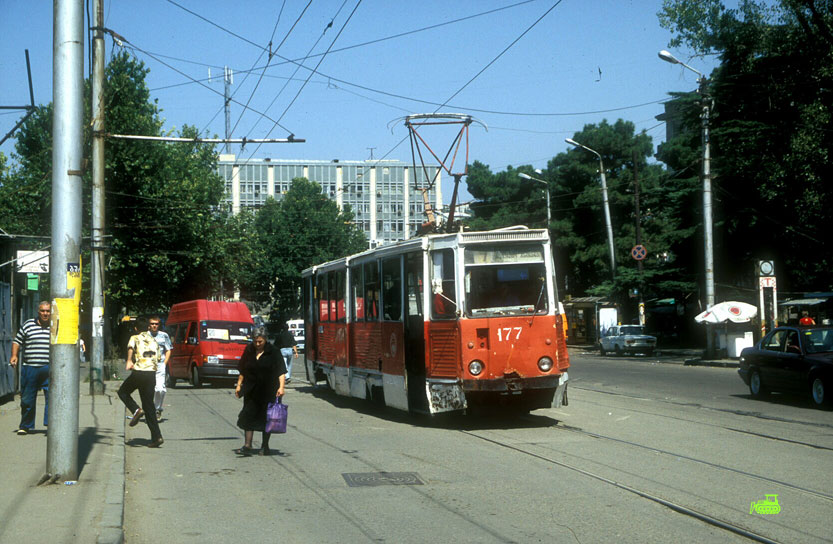 Tbilisi Tram Nr 7 (Isaani Line) KTM -5 car
Tbilisi Trolley
In service from April 21, 1937 to December 4, 2006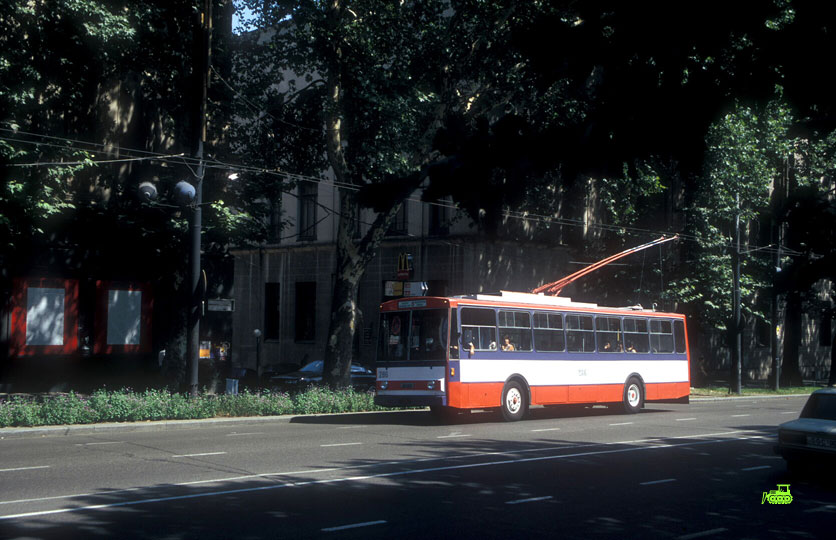 Tbilisi Trolley Škoda 14Tr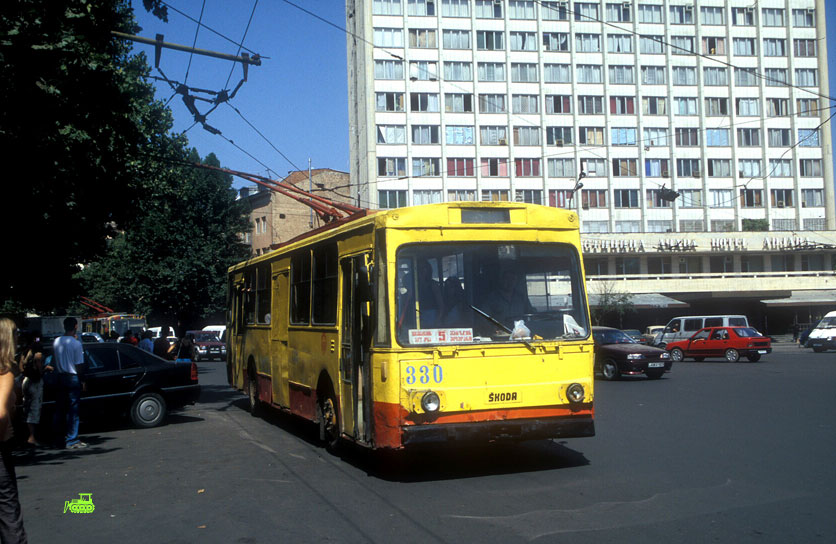 Tbilisi Trolleybus Škoda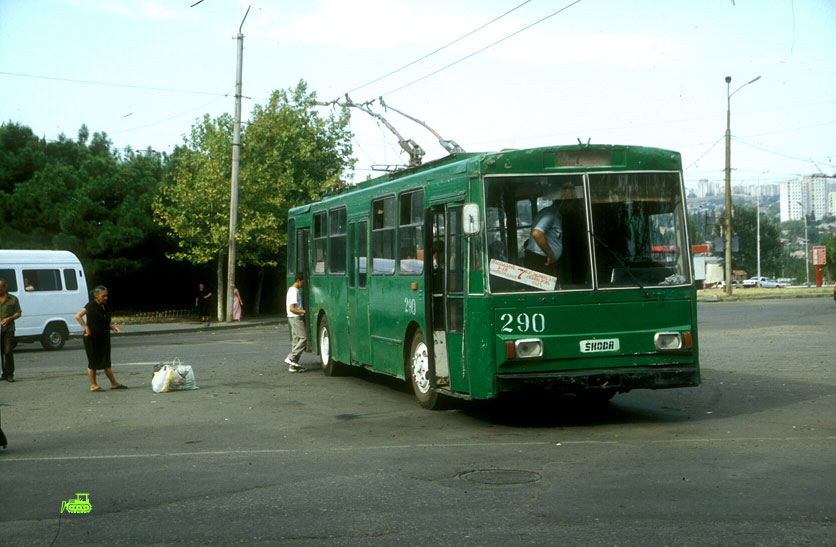 Škoda Trolleybus painted green in Tbilisi
To make it more easy to maintan looks they have decided not to use secondary doors.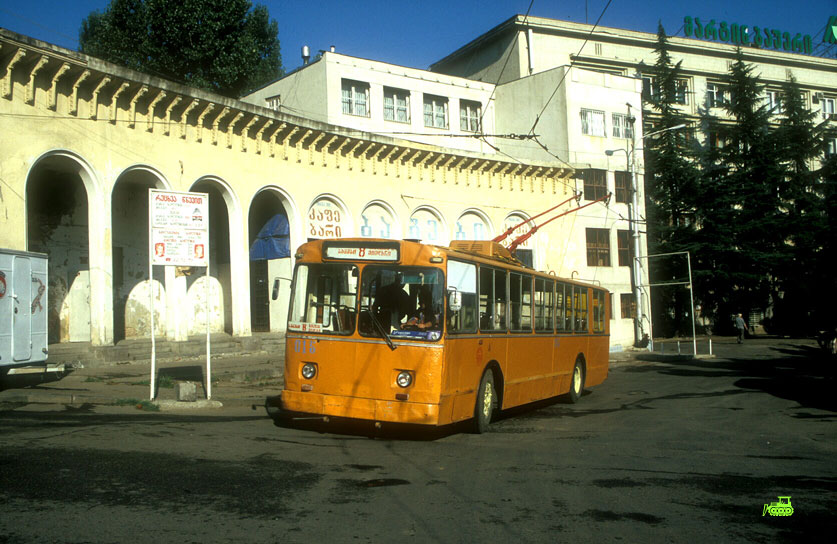 ZiU-9 Trolleybus at Vake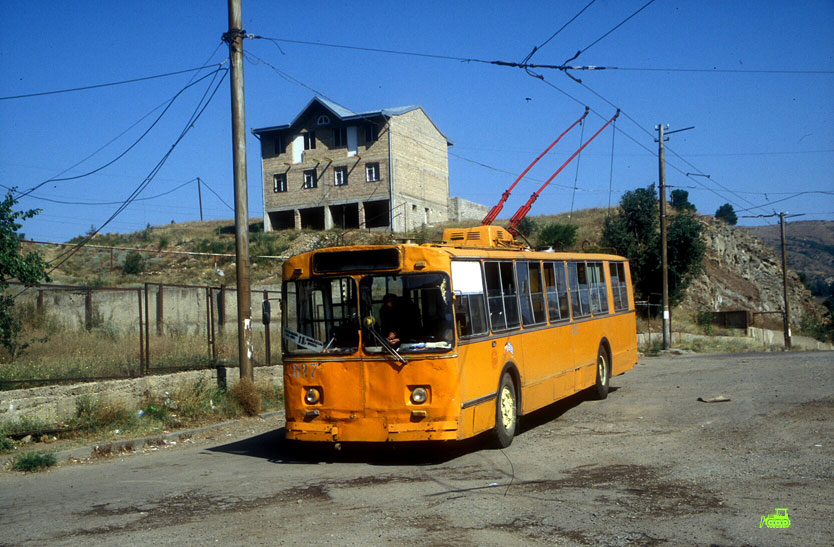 ZiU-9 Trolleybus on its route (Tbilisi suburbs)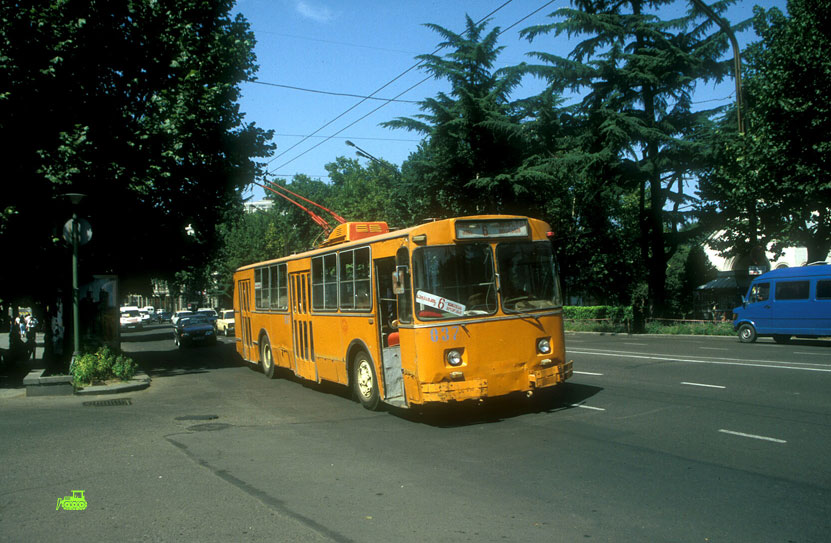 ZiU-9 Trolleybus on Rustaveli Prospect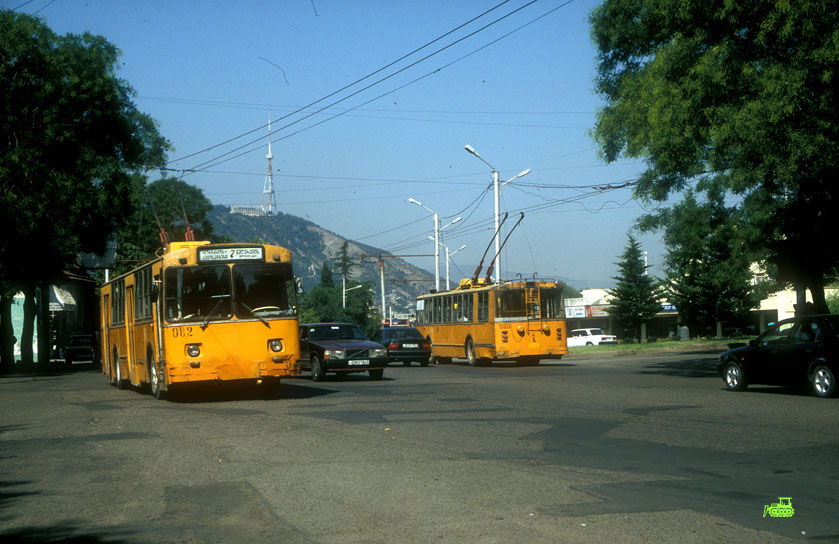 Tbilisi Troleybuses
Gori Trolleybus
Included interurban line to Tiniskhidi village. In service May 1, 1972 - March 24, 2010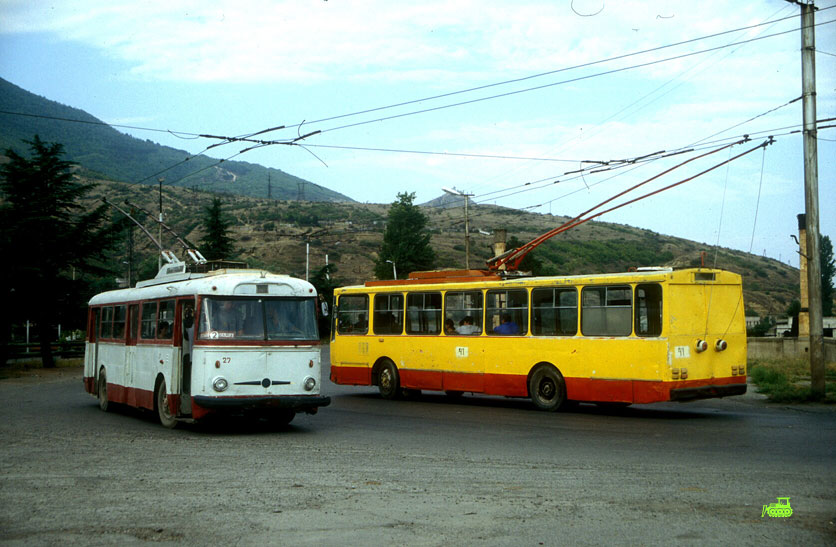 Trolleybuses in Gori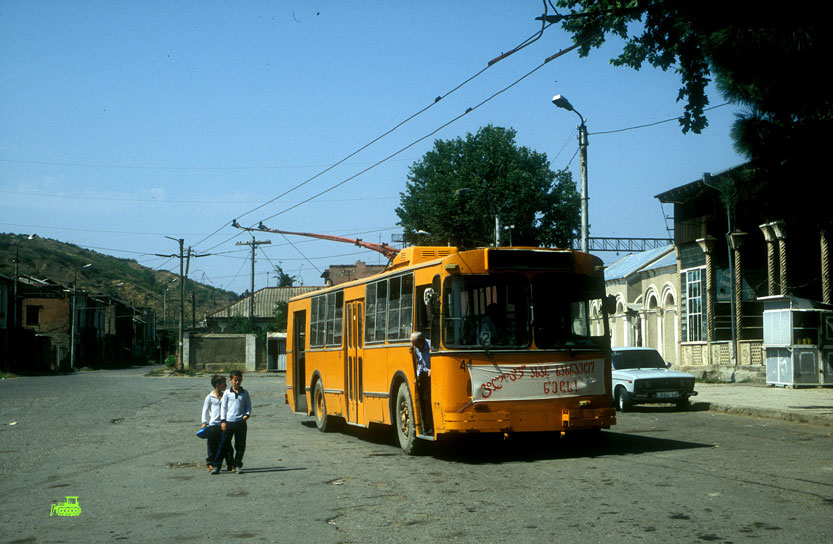 ZIU-9 Trolleybus in Gori
Zugdidi Trolleybus
In service: February 25, 1986 - July 2009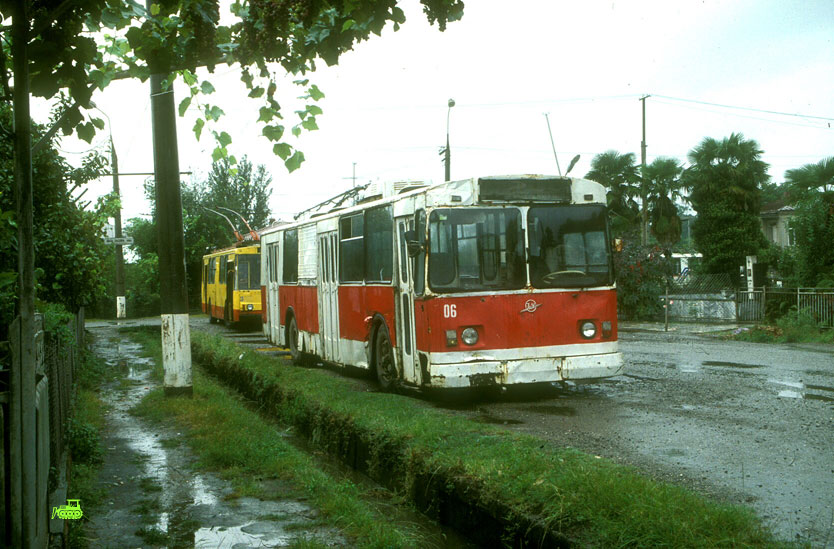 Zugdidi Trolleybus
There was only one route in Zugdidi, ZIU-9 and Škoda trolleybuses run on it.
Ozurgeti Trolleybus
Included interurban line to Dvabzu village. In service: November 28, 1980 - June 2006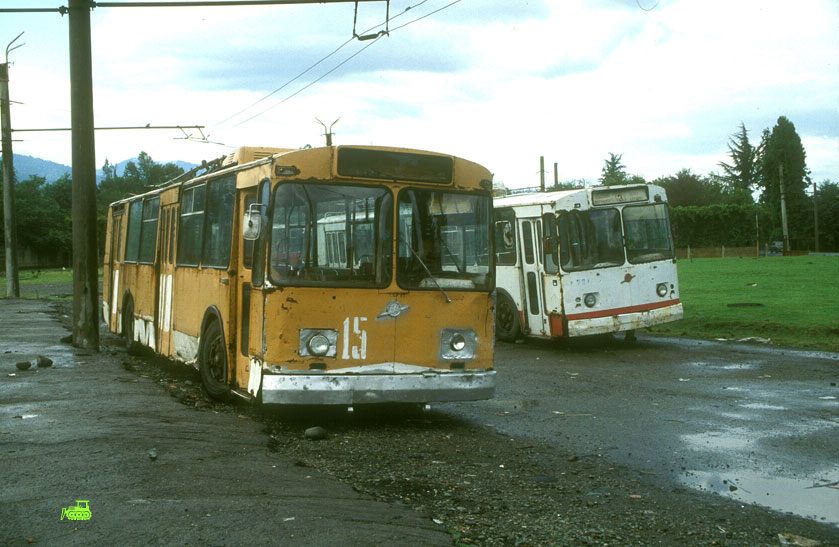 Ozurgeti Trolleybus
Poti Trolleybus
Included interurban line to Maltakva village. In service: May 9, 1981 - December 2004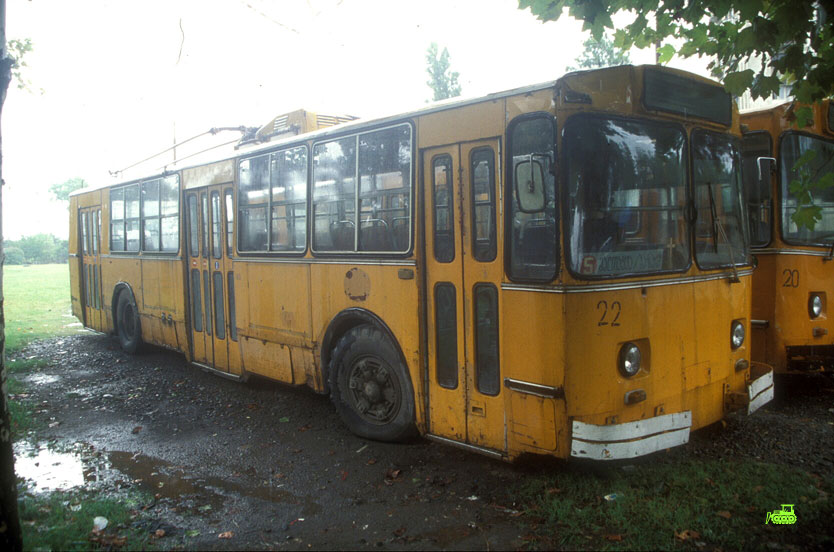 Poti Trolleybus
Rumor has they didn't have enough eletricity to power those ZIU-9 trolleybuses in Poti
Batumi Trolleybus
Included two interurban lines to Makhinjauri and Khelvachauri. In service: November 6, 1978 - 2005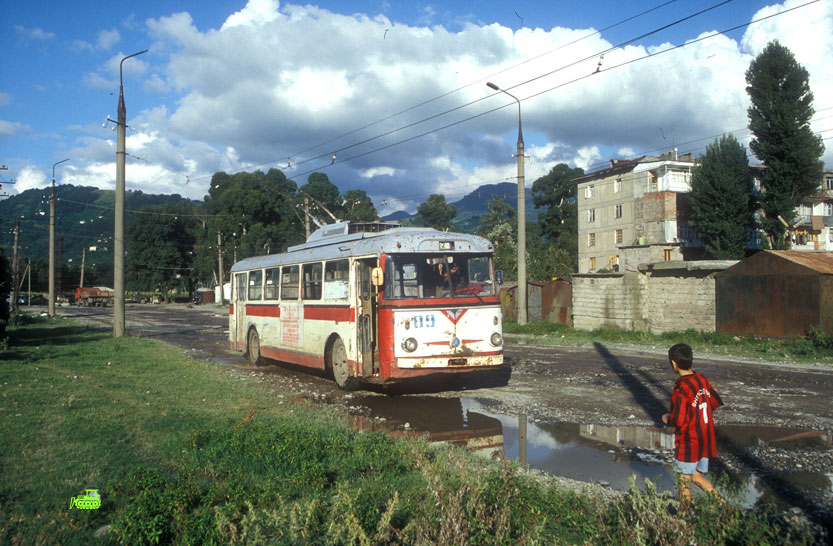 Batumi Trolleybus
Kutaisi Trolleybus
In service: September 11, 1949 - July 25, 2009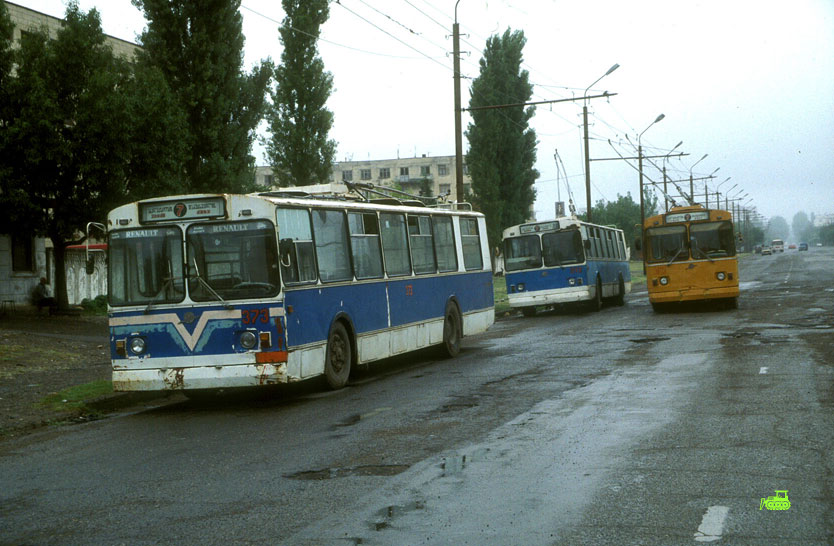 Kutaisi Trolleybus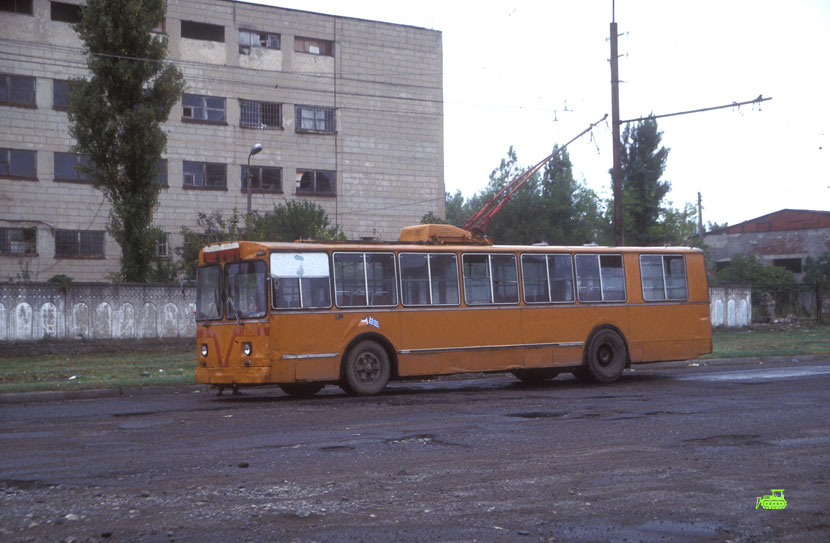 ZIU-9 Trolleybus in Kutaisi
Chiatura Trolleybus
Interurban line to Sachkhere. In service: November 7, 1967 - 2008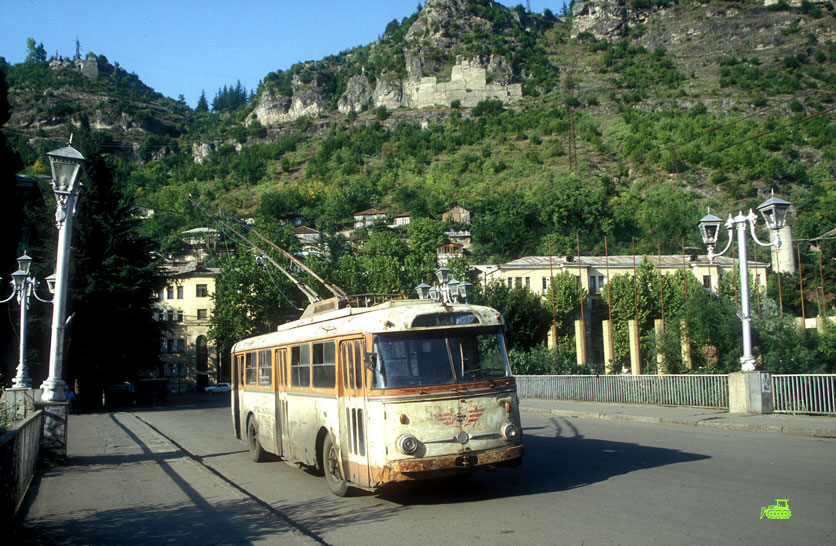 Trolleybus in Chiatura
There was a trolleybus line Chiatura - Sachkhere
Rustavi Trolleybus
In service: February 16, 1971 - September 24, 2009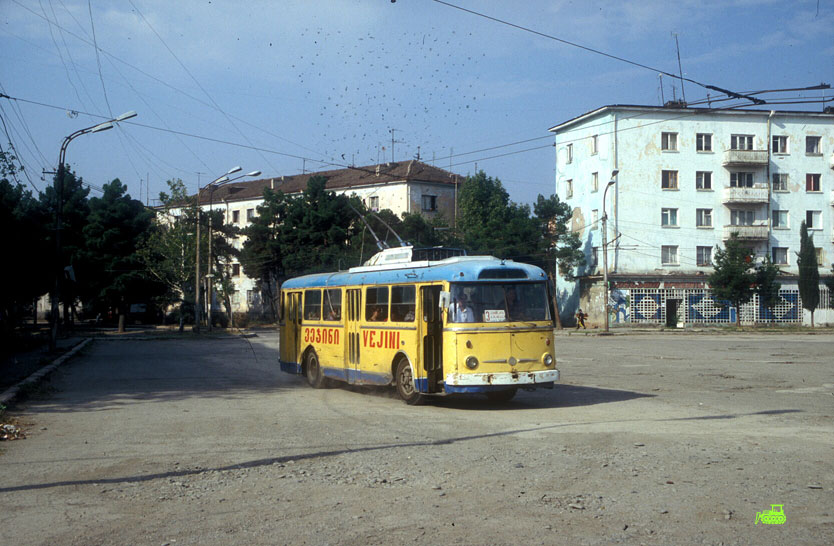 Rustavi trolleybus
As you can see from those pictures taken more than 10 years ago - neither trolleys or trams, neither roads looks in their shape. I guess it's just logical that those lines were abandoed after all. On other hand it's sad. It's sad there were on investments made to upgrade existing cars, modernize lines. After all both trams and trolleys are "green". In our days there is a lot of talk of sustansable energy in Georgia, so I pressume some lines might return, at least to Tbilisi somewere in future.
Used resources: