After the tile removal in the kitchen and hallway area, it was already agreed - I will re-install laminate there. Additionally, after hydro isolation works in the bathroom I decided I will tile again.
I was very scared before the new tile job and measured everything 10 times before applying tile glue. Also, I decided to go for 6mm spacers (instead of 3mm)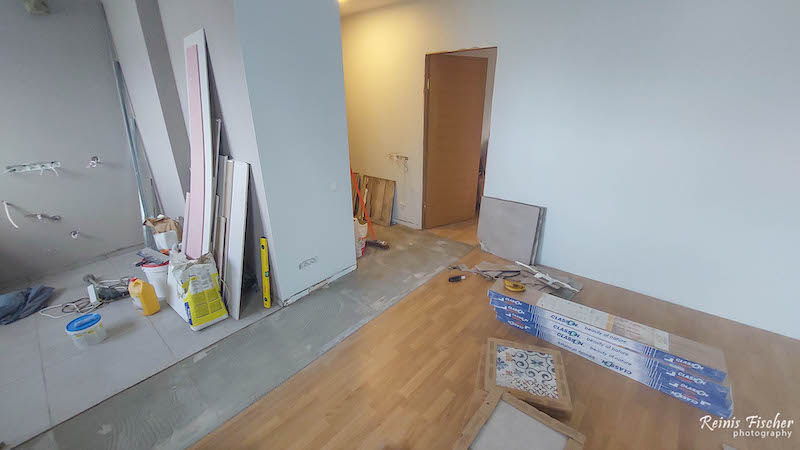 I bought 8m2 of laminate, but was bit short after my first day, bought additioanal 4m2 at the end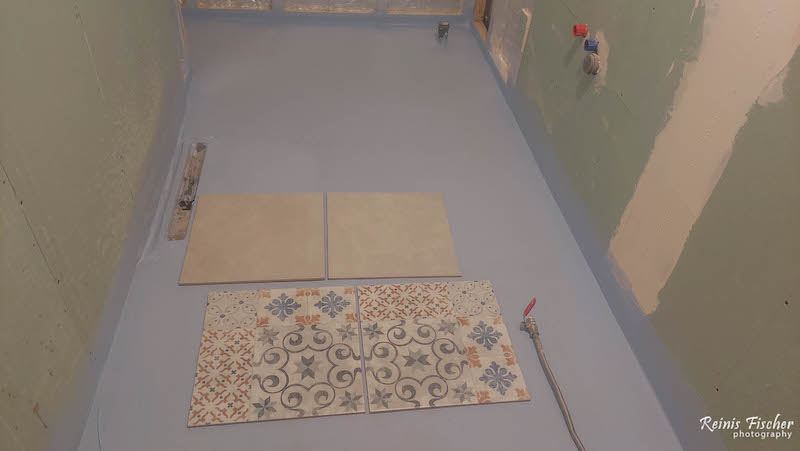 I had to spend a good afternoon deciding on the pattern and composition. But result was worht the time spent.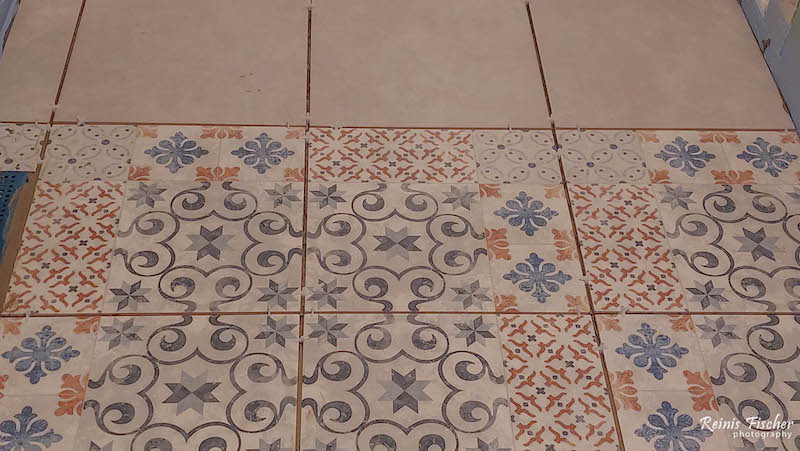 We will have both sauna and shower in the bathroom, using tiles I tried to seperate those spaces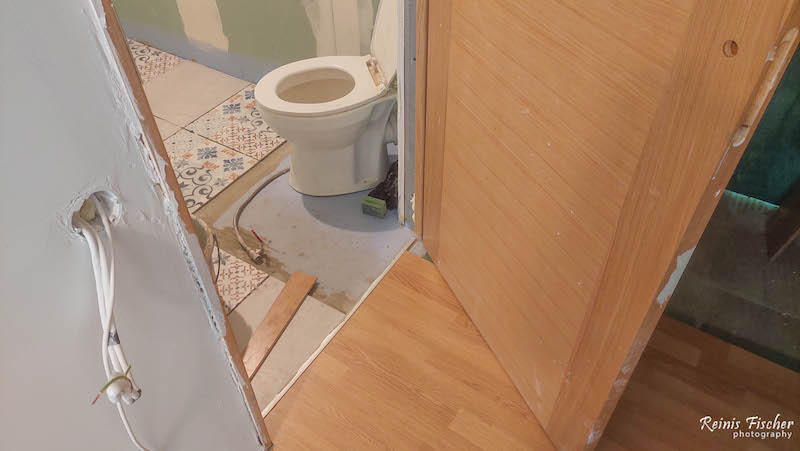 I used a special aluminum divider to separate laminate from the tiles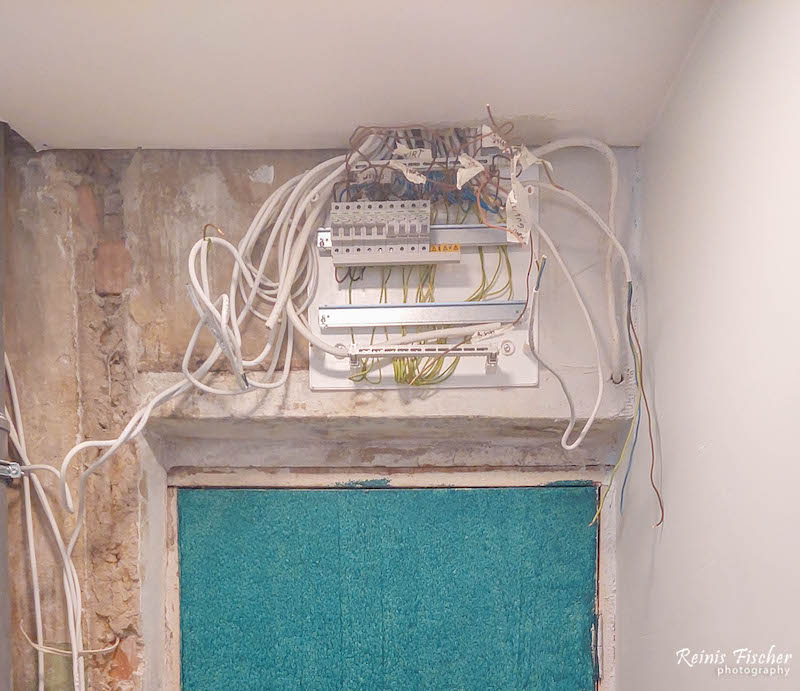 An electrician friend of mine helped to fix the cables (at least some of them)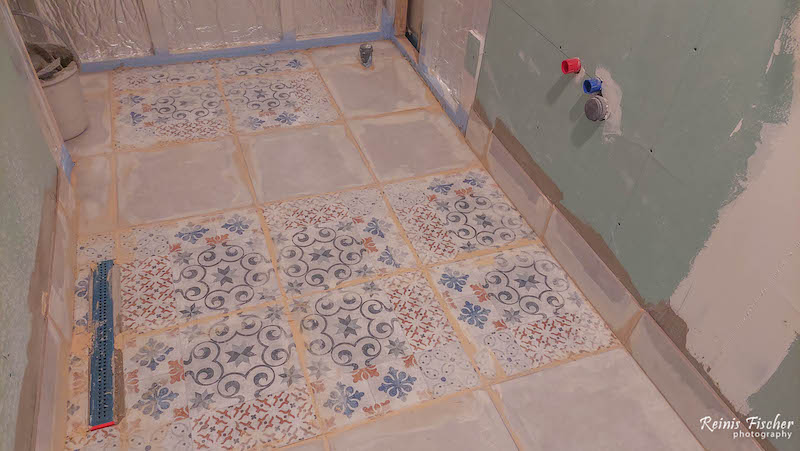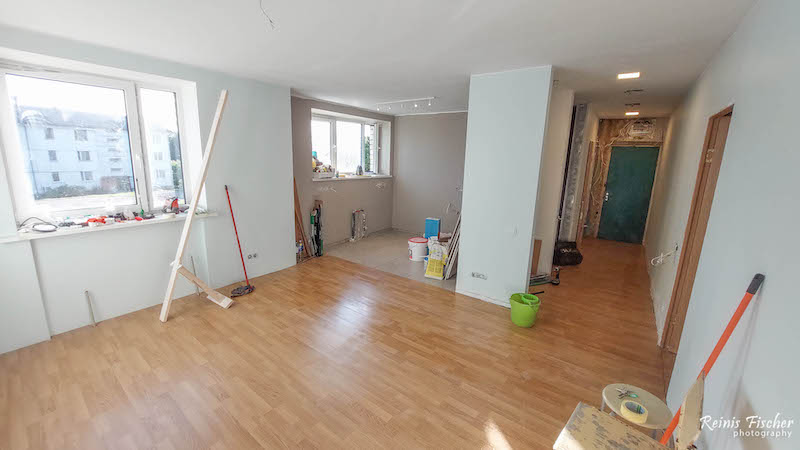 Looks quite awesome now, kind of like a studio
Cost so far:
Water plumbing: EUR 60
Sadales Tīkls: EUR 60
Electrician: EUR 155
Architect: EUR 800
Removing walls and floor: EUR 775
Chalk removing, / wiring: EUR 500
Wall plastering/frame for drywall ceiling (bedroom): EUR 875
New windows: EUR 1,252 
Window replacement: EUR 200
Estrich floor with an underfloor heating system and all plumbing: EUR 1,916
Rock wool for the ceiling, drywall constructions, drywall, and some wiring: EUR 866
Plastering bedroom and living room: EUR 1,200
Chimneysweep: EUR 30
More drywall, rock wool, electric cables, plumbing, and others: EUR 1094
Doors for bedroom and bathroom: EUR 291.58
More sauna, more drywall, more plumbing, more wiring EUR 1,992.56
More sauna, more drywall, more electricity: EUR 370
more plastering: EUR 340
Paint and tools (paintbrush, rolls, gloves, scotch): EUR 74.86
27 Liter of ready-made plaster, dozen of electricity plugs, rolls, and screwdrivers: EUR 45
Paint for walls, additional electricity plugs, and switches: EUR 50
Laminate flooring and tools: EUR 378
Tiles and tools for kitchen and hallway: EUR 400
More tiles, laminate, and tools: EUR 300
Tiles, electricity plugs, and switches, electrician: EUR 250
TOTAL: EUR 14,275