We made a reservation for Republica Hotel Yerevan during our trip to Armenia, to celebrate my birthday on August 6th to August 8th. We chose this hotel - mainly because of it's location (it's located on lively street Amiryan in centre of Yerevan) and it's price (for 2 nights it was 92 000 Armenian Drams, what equals to about EUR 166 or USD 220)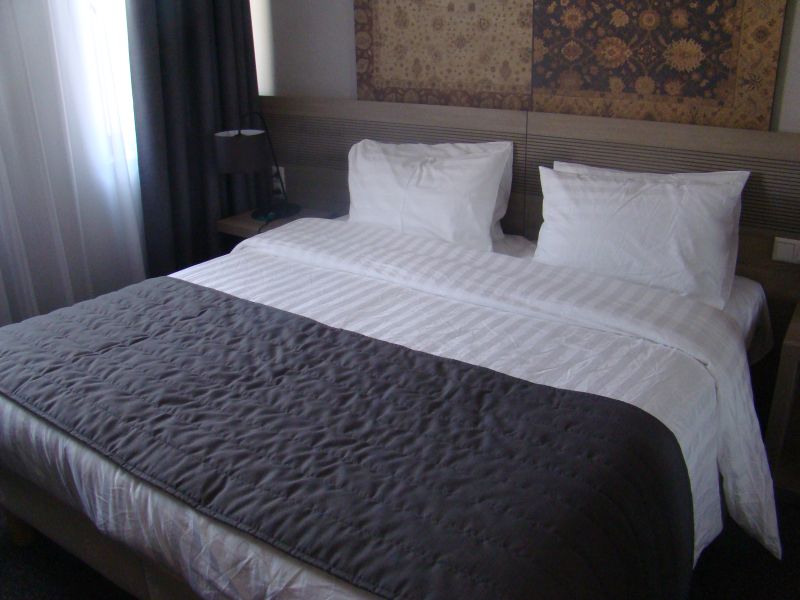 Deluxe room with King sized bed at Republica Hotel Yerevan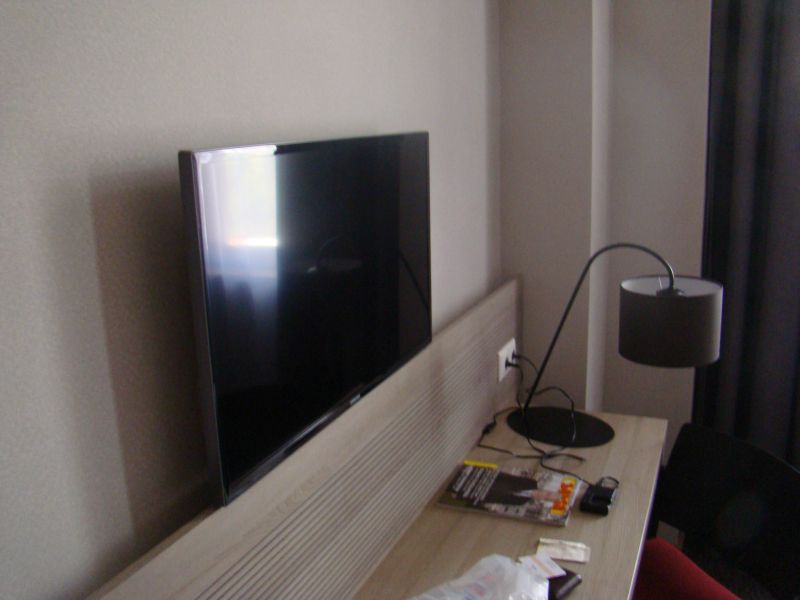 Flat Screen TV opposite to bed
Flat Screen TV is a must have option in every hotel in over days - unfortunately this TV had just some 17 TV channels, some 6 of them was Armenian, 2 or 3 Russian, and rest was some news channels - Euronews, BBC news, Bloomberg. I guess they had one German channel and one Italian. Anyway it was kinda boring to watch TV here - I mean only option left to us was news channels, which repeats one new 24 hours a day. My recommendations for Republica Hotel Yerevan management - you could add some paid channels at least.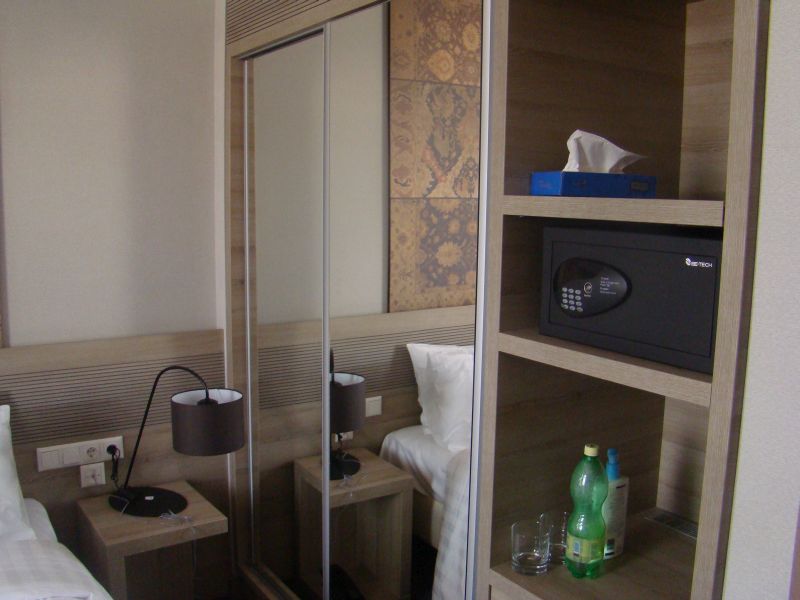 Closet with mirrored slider doors and electronic safe at Republica Hotel Yerevan
I actually for first time used electronic safe to store some value items on it. I have no idea about its security, but anywy - nice to have it. Bellow (cant see in picture is a fridge full with soda, wine and some other alcoholic beverages - it's paid)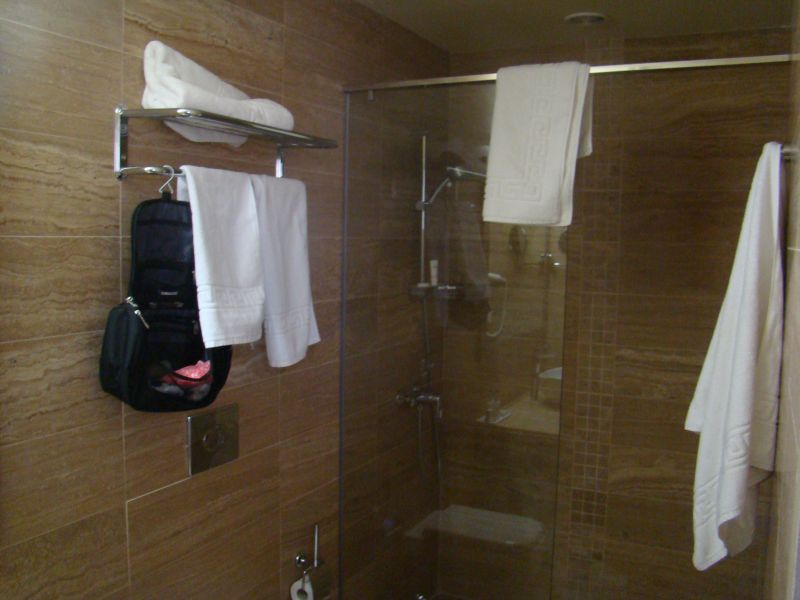 Really nice bathroom at Republica Hotel Yerevan. They offer shower rooms here.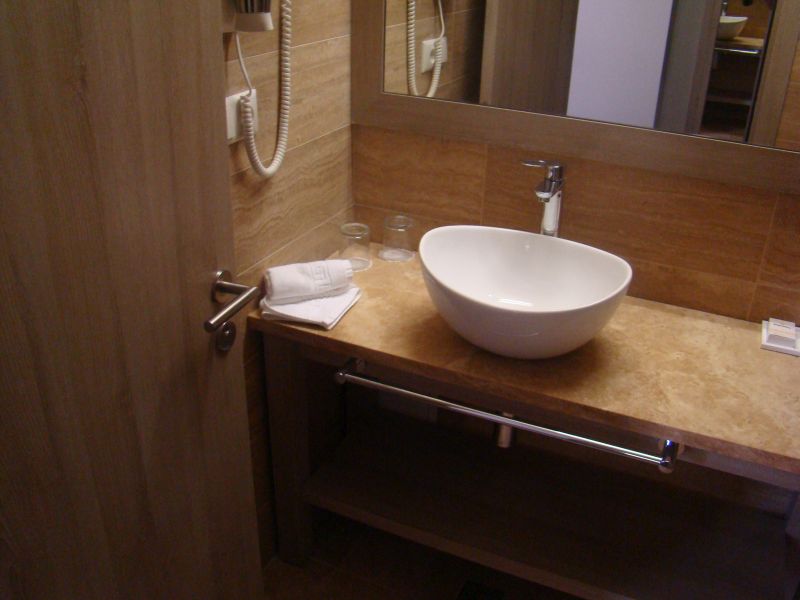 Elegant sink at Republica Hotel Yerevan
The rooms at Republica Hotel Yerevan are non-smoker. At least at the reception desk we we told so. One nice feature - they have balconies for deluxe rooms, where you can smoke or enjoy local courtyards.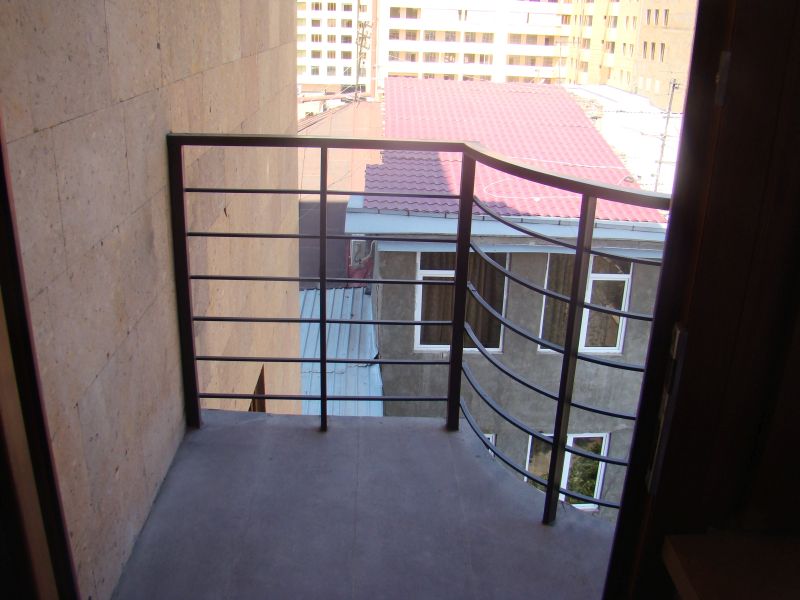 Balcony at Republica Hotel Yerevan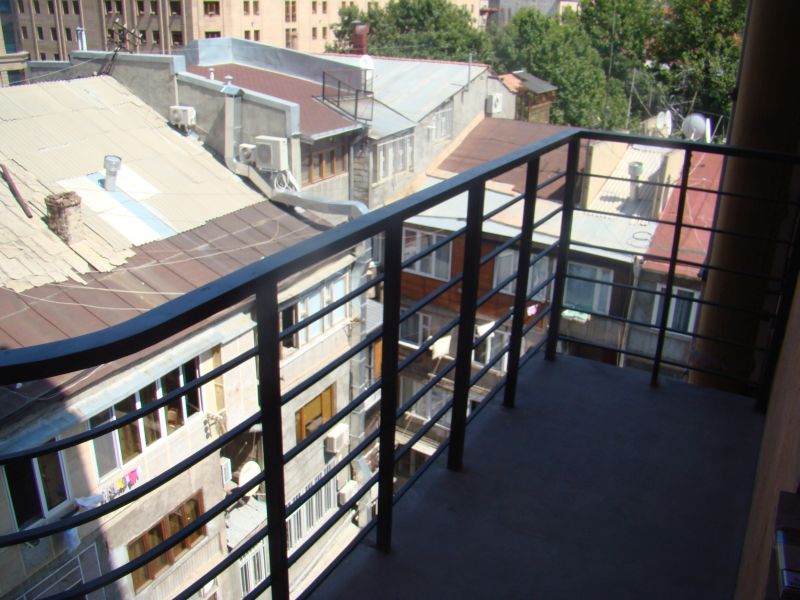 View to the courtyard from balcony at Republica Hotel Yerevan
In overall this is a great luxury hotel situated in heart of Yerevan, what offers great value for money paid (I would call this price a little bit low - but it seems that in Armenia everything is a little bit cheaper, at least when compared to neighbouring Georgia)
This hotel offers free buffet style breakfeasts.
Book Republica Hotel Yerevan on Booking.com
About Republica Hotel Yerevan
Our Hotel is a brand new boutique type hotel located on one of Yerevan's oldest and most walked on streets right in the heart of Yerevan. The location of our Hotel is very central - just a couple of minutes away from the Republic Square of Armenia. Being very much downtown, our hotel is also far enough from the sidewalk to be able to offer our guests some peace and quiet for those who are looking for that.
The location of the Hotel also gives you the opportunity to be within walking distance from most of the sightseeing locations in Yerevan, just to mention a few: Yerevan History Museum, History Museum of Armenia, Parajanov Museum, National Art Gallery of Armenia, Cafesjian Museum of Contemporary Art, Yerevan Opera Theatre, Saint Gregory the Illuminator Cathedral, Cascade Complex, Republic Square with its singing fountains, Charles Anznaour Square, and many others.
The design of our boutique Hotel is done with interesting solutions that combines the old and the new, featuring curious collages of Armenian ancient carpets as well as distinctive details of our very own capital city Yerevan. Having said all that, the rooms have a design that is comfortable and minimalistic, but also equipped with all the necessities both for business as well as leisure travelers.
Our experienced staff is aimed at providing the best combination of five star service and affordable prices to all our guests. Our guests are the key players in our entire operations, thus every request of our guests is treated with utmost attention and care. Our Hotel is specifically designed for travelers who seek personalized service with excellent quality.
Our Hotel has 10 floors out of which 9 are equipped with a total of 56 comfortable rooms. We also have an executive floor and a rooftop terrace that give our visitors the opportunity to see Yerevan from a totally different perspective - from the top! From the windows of our 10 story Hotel you will experience the beautiful views of the monumental Republic Square and the Biblical Mount Ararat.
Breakfast: Our buffet breakfast is done in the best traditions of a traditional Armenian cuisine with freshly baked bread and croissants and handmade cereals with fresh dried fruits. Our variety of hot and cold dishes will satisfy guests from any part of the world. One of the key advantages of our Hotel is our flexibility and customer centric approach. Republica Hotel Yerevan is designed to provide a truly unique, memorable and pleasant visit to Armenia!