The Bridge of Peace in Tbilisi is a pedestrian bridge and one of the most famous tourist spots in the city. It connects district of Tbilisi Old Town with Rike Park over a river of Mtkvari. This bridge is relatively young, it was opened for public just in 2010.
I first discovered this bridge back in 2011, when I first arrived to Georgia. Back then I rented a spacious room in unusual hostel in district of Avlabari, and my first days in Tbilisi I spent there. Just in my third day I decided to find where is that city centre located (I didn't done any planing back then, so I had even not a clue of existence of  places like Liberty square, Rustaveli avenue or whatever).
Back in those days I headed near Residency of President down to the city using Baratashvilli bridge and then I noticed this bridge  -  The Bridge of Piece - I thought - what an interesting bridge they have there, but I first approached it just a few months latter. Don't be as I was - go straight to the Peace of Bridge instead of wondering. 
In a lovely days both tourists and locals pass the Bridge of Peace to enter Rike Park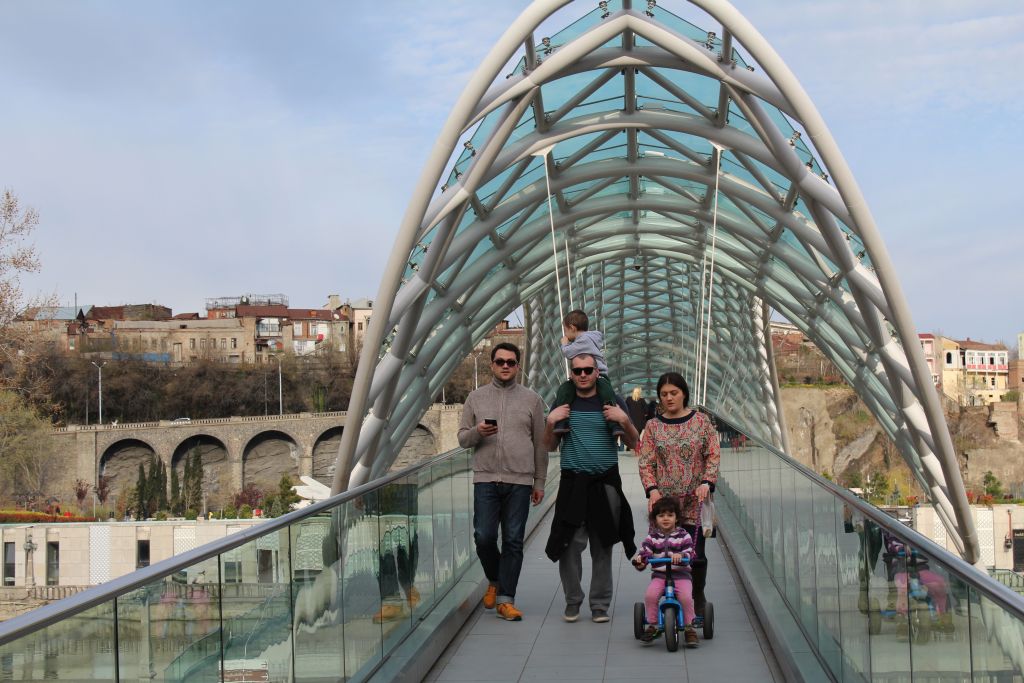 The Bridge of Peace in Tbilisi
This bridge connects Tbilisi Old town with Rike park, from were you can take an aerial tram to have a drive up to Fortress of Narikala
Bridge is constructed in a bow form. There are added zillions of LED lights on the bridge and in the evening you can enjoy a really spectacular views.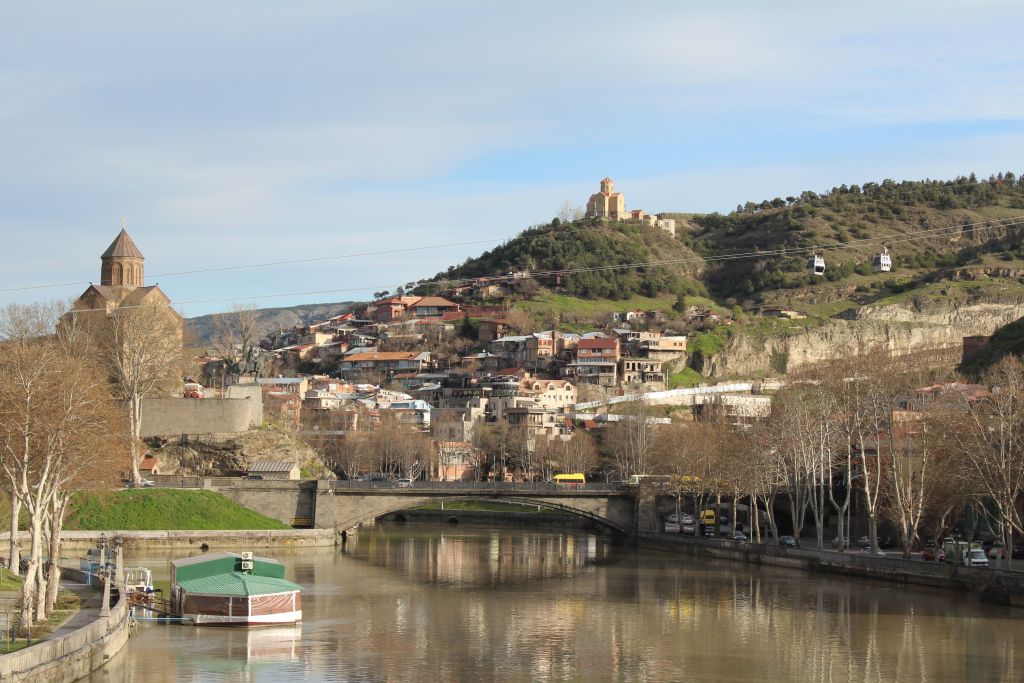 View to Tbilisi Old Town
Just stand at the middle of this bridge and take your best pictures of Tbilisi city. Speaking of photography make sure you have your lens attached. Unfortunately with my KIT lenses I couldn't get any closer shot. Kit lenses are fine.
About Bridge of Peace in Tbilisi
The Bridge of Peace is a bow-shaped pedestrian bridge over the Kura River in Tbilisi, capital of Georgia.
The bridge which stretches 150 metres (490 ft) over the Kura River was ordered by the City Hall of Tbilisi to create a contemporary design feature connecting Old Tbilisi with the new district. The official opening took place on May 6, 2010. The bridge stretches over Kura River providing a unique view of Metekhi Church, Narikala Fortress and statue of city's founder Vakhtang Gorgasali on one side, and Baratashvili Bridge and Presidential Office on the other.
The bridge a design of which reminds of a marine animal has a curvy steel and glass canopy top which shimmers with an interactive light display at night, generated by thousands of white LEDs. The roof is fitted with 1,208 custom LED fixtures designed and installed by the Dutch Primo Exposures and RENA Electronica companies, using 6,040 high-power LUXEON Rebel LEDs with 4,200K color temperature, supplied by Future Lighting Solutions. The handrail glass panels which run along the whole length of the walkway are equipped with embedded linear low-power LED arrays, a product called powerglass, supplied by Glas-Platz from Germany. The lighting is switched on 90 minutes before sunset illuminating Kura River below and buildings on both banks of the river.
The bridge was designed by the Italian architect Michele De Lucchi, who had also designed the buildings of the Presidential Administration of Georgia and Ministry of Internal Affairs; the lighting design was created by French lighting designer Philippe Martinaud. The structure of the bridge was built in Italy and transported to Tbilisi in 200 trucks while the lighting was installed on site during the assembly of the structures.