Okatse Canyon is another breathtaking landmark in beautiful Georgia. The main tourist attraction at Okatse canyon probably is the 780 m long hanging cliff trail with the 20m long platform at the trail end, hanging above the canyon and providing panoramic views.  The canyon is located some 50km west of Kutaisi, Georgia.
I first visited Okatse canyon at the start of September 2021, during a weekend trip to Kutaisi and the area, see: Kutaisi Trip / Tskaltubo, Okatste canyon, Kinchkha waterfall, Martvili
We arrived to the main entry by our own car, and from there hired a local driver for GEL 80 to take us to the start of the trail (its possible to walk by foot and free too). Also GEL 17 entrance fee per adult.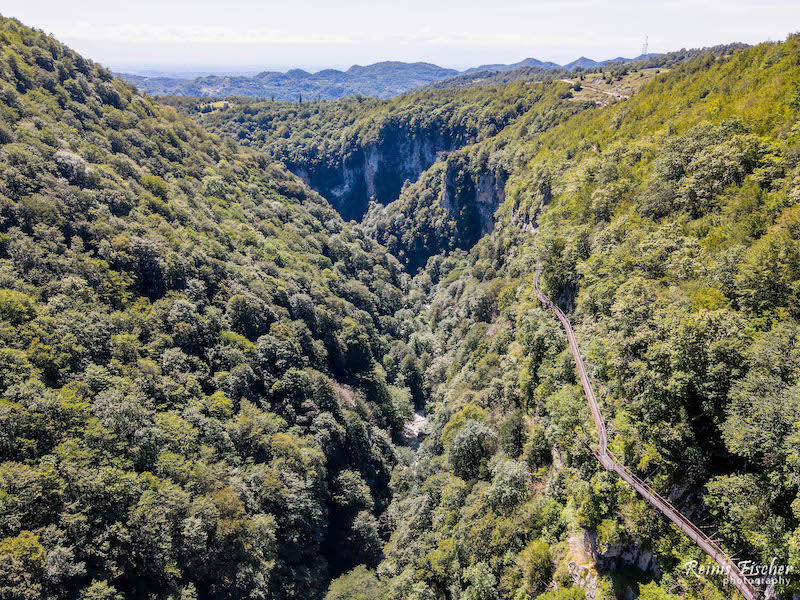 From Okatse Canyon visitor center in Gordi village a 6 km long pedestrian passageway starts with 2300 m long stone paved section in Dadiani historical forest and leads to the Okatse Canyon checkpoint where the 780 m long hanging cliff trail starts.
From here one way ends with the 20m long platform, hanging above canyon and providing panoramic view. This is visitors favorite spot for bird watching and taking selfies. The second 645m long stone paved path with 989 steps of metal stairs smoothly leads to the Okatse river and to the canyon bottom.
Here the width of the canyon is not more than 4 meters, while the depth is 50 meters.It is also possible to get from the visitor center to the canyon checkpoint by car or bicycle. Visitors center offers café, souvenirs shop, lockers and parking lot. Okatse Canyon with Kinchkha Waterfall Natural Monument being main attraction there are also Dadiani forest park and ruins of Dadiani castle.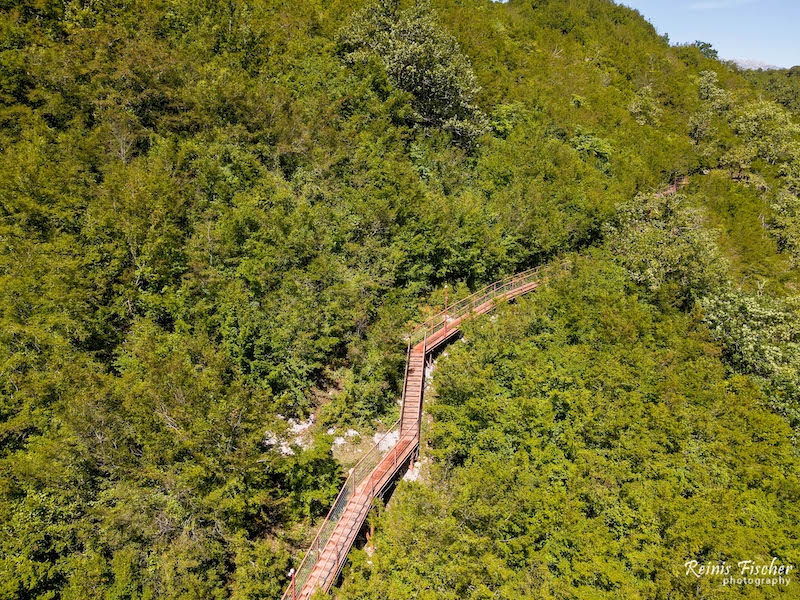 The canyon depth varies from 20 to 100 meters. Canyon has several waterfalls including Kinchkha Waterfall Natural Monument and several tiny lakes, one of them, Oskapo is 60 meters long. In some places the canyon walls almost merge and produce natural caverns, one of them named Boga, from which the canyon bottom can be seen.
Below Boga, the depth of the canyon rises to 100 meters. Geologists identified here a tectonic plume rising from the Earth's crust.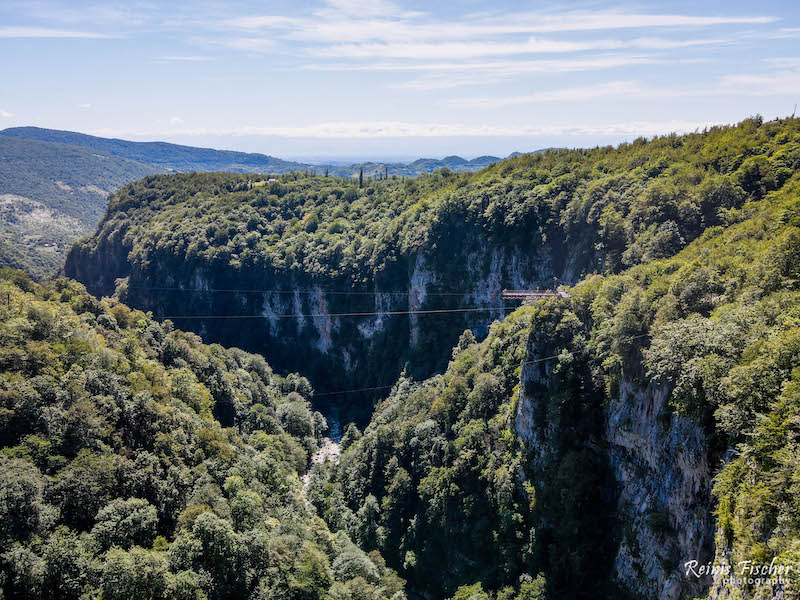 Therefore the lower part of the river valley is elevated by several tens of meters compared to the middle section of the valley. The valley was blocked by a tectonic fracture and a Gordian lake was formed in which clay-sand was deposited. Along the canyon there are several caves from which the karst waters flows into the Okatse River.