At the start of December 2022, Uday, a business partner from Canada arrived in Tbilisi, and we went together to the Meti office in Saburtalo to meet with the developers and sign the documents on-site (we already had them electronically). After the meeting with the developers, we went to the actual construction site in Samgori.
I have been eyeing real estate in Georgia since I originally come up with my idea - buying black frame projects in Batumi, I wanted to raise the capital using a token (and I'm still open) until at the start of September Uday contacted me and showed his keen interest investing in more classical FIAT way.
After some longer e-mail correspondence, one Zoom call, and several meetings with contractors both in Batumi and Tbilisi, we narrowed down to one apartment at the Samgori EcoCity project by Meti.
Timeline
Uday checked at the Mariott Courtyard hotel next to Liberty square and followed my suggestion for opening a bank account at the Bank of Georgia, it turned out his international phone number is not working for receiving sms from the Bank of Georgia, and I kindly provided one of mine numbers. That's what business partners are for, right?
It was Friday morning and after a cup of cappuccino at the hotel's lobby, we took a taxi (or a cab, as Uday likes to call it) and headed to Meti Office in Saburtalo. 
We arrived a little bit early and spent some time talking about projects in Tbilisi, Batumi, Antalya (Turkey), and more.
At some moment I realized that we are actually not buying an apartment in an already built house, but we might be buying a new, built from the ground. The wording "shall be built" in a contract confused me
We decided to check this first with the developer. 
Turned out to be true. I was falsely believing that we are buying in an almost finished 12-storey apartment building. Or I was left to believe during the previous times when meeting with Meti. Instead, we are buying a 47m2 apartment in a planned 15-storey building that is still going to be built from the ground. 
I truly understood this is my fault, for not checking out everything properly. I said to Uday - look, you have come here to Tbilisi from the other part of the globe just because you believed my word and I have let you down. 
The business partner felt disappointed for about 5 minutes, but then we started to work out our options, decided to visit the actual construction site, talk to contractors and then decide.
So we took a cab again and traveled from Saburtalo to Samgori.
Here we met with a contractor from Meti who let us into the actual planned construction site and we had a chance to see, the foundation laid about 1 year ago.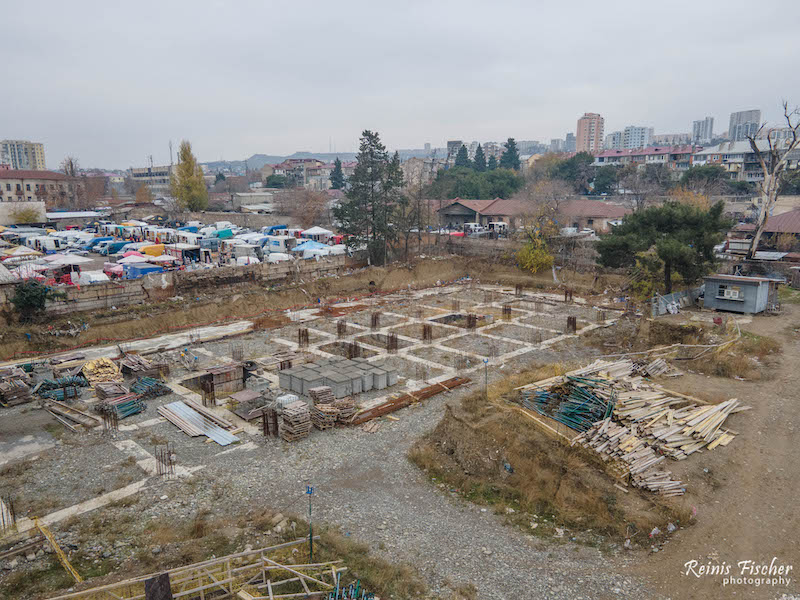 Also, we learned, the developer is having some issues with the construction permit (general redesign plan?), and they are waiting for the issue to be cleared in about a month (January 2023) - it didn't sound encouraging, but also didn't sound false and didn't give us a reason to mistrust this project, just to be more cautious.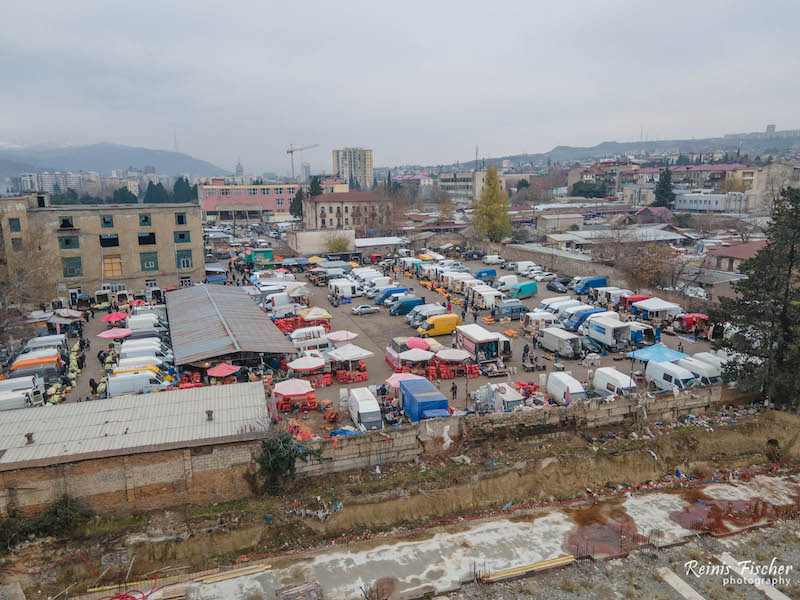 We negotiated our 20% downpayment down to 0% (that increased our price from $580 to $600 per sqm), but at least we spread the risk by not going all in today to find out that we are in trouble just a month later. Smaller monthly payments now will give us more confidence in the future, if some delays happen  (the chance that there will be delays still is high)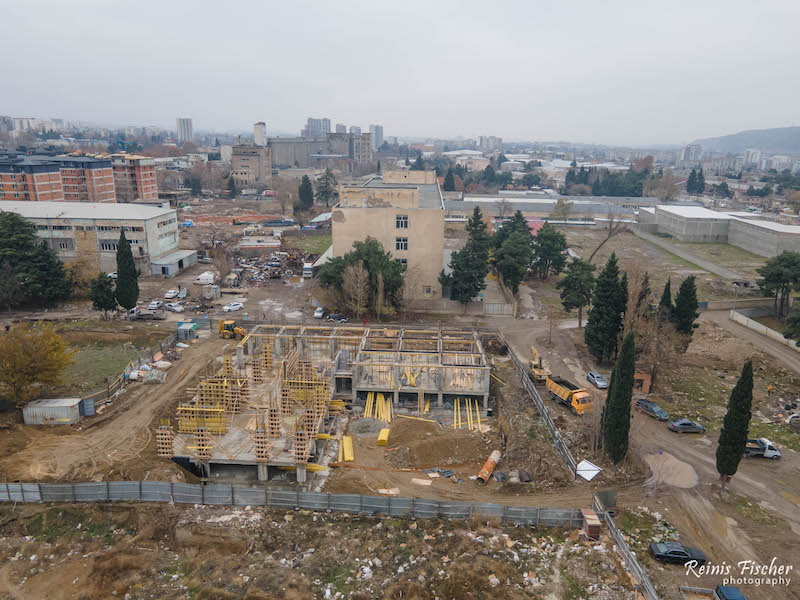 When talking with Uday, we concluded that this deal is still very good, despite seems will take us at least 36 months to exit with a profit (the developer insists on 20).
Anyhow, more confidence will be gained on the day the developer will get a construction permit or when we will see the construction works started. 
In case, the construction project starts soon, we except it to actually be finished by the end of 2025, but we also are concidering early exit strategies, as we believe that the buying price will increase from $600 to $700 per sqm on the day when the actuall construction works will start. As we have secured agreement with a payment of $600 (and developer also agreed to lower it to $580 on the day when we will make increased 20% downpayment.)
i'm confident in the project, the developers seems reputable, but I also acknoweledge, delays might happen and 36 month term might turn out quite optimistic.
Interested to learn more or invest with us? See: Ecocity Samgori, Tbilisi